Popsicle stick crafts are a lot of fun to do with kids, especially young kids! My niece will be visiting next week, and as she's younger than my own kids I thought it would be fun to come up with some easy crafts for her to do. This popsicle stick craft is easy enough for young kids to do with no problem, but it makes a cute ornament that even adults wouldn't mind having on their Christmas tree! Here's how to do this Christmas Tree Popsicle Stick Craft!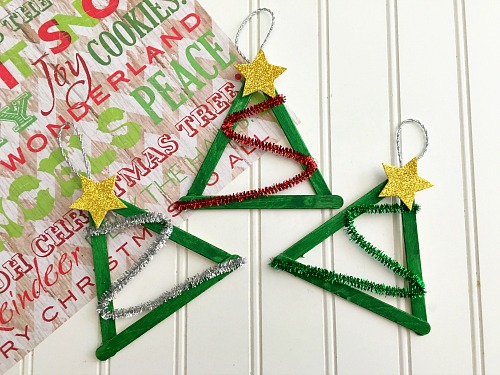 Disclosure: This post may contain affiliate links to Amazon and/or Etsy, which means that I may earn a small commission from some of the links in this post. Please see our Disclosure Page for more information.
Even though my kids are older, they still enjoyed putting together this simple popsicle stick craft. I had a lot of fun with it, too! There's just something nice and relaxing about a simple craft like this. On top of that, all these homemade Christmas ornaments we're making will be a very frugal way to decorate our Christmas tree this year!
Christmas Tree Popsicle Stick Craft
Materials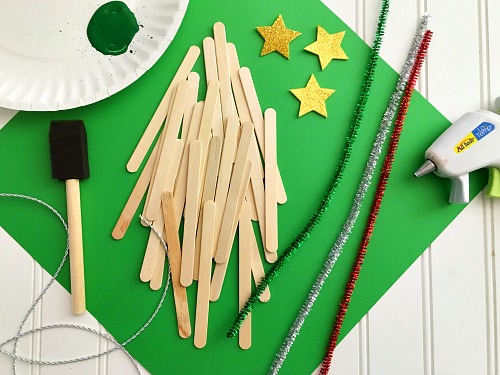 Popsicle/craft sticks
Green craft paint
Foam glitter star stickers
Sparkly pipe cleaners
Silver skinny rope ribbon
Hot glue/hot glue gun
Scissors
Paint brush/foam brush
Directions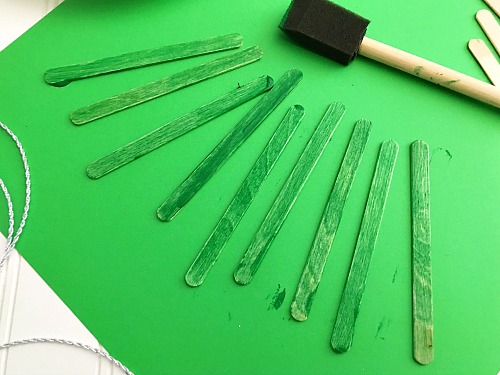 1. Lay out an old newspaper or a piece of scrap paper before you start.
2. Paint your popsicle sticks green, three for each tree, and let dry.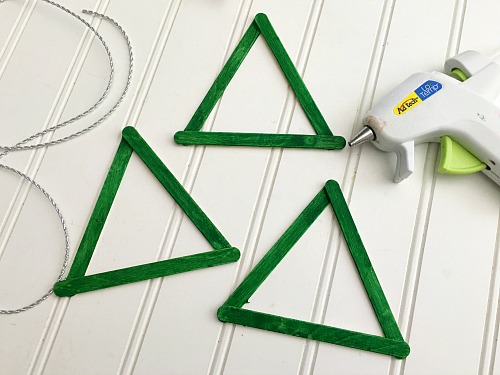 3. Hot glue the ends together to make a triangle.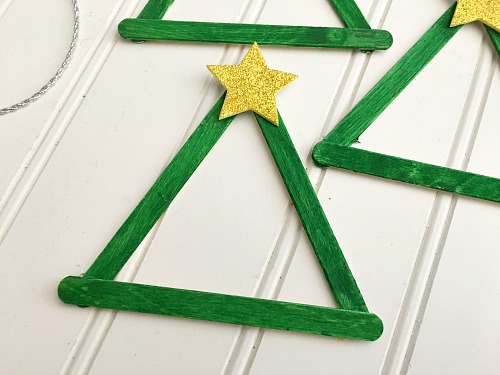 4. Hot glue a star sticker to the top of your triangle.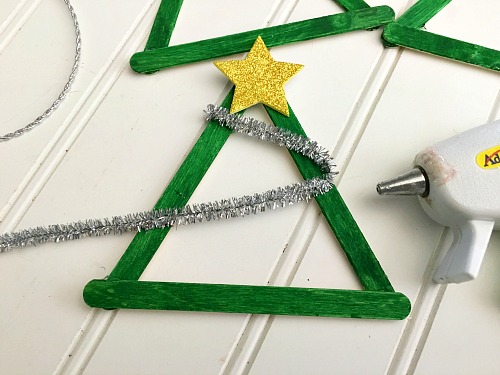 5. Take a pipe cleaner, shape it into a zigzag, then glue it to the bottom left corner and to any other parts of the triangle that it touches.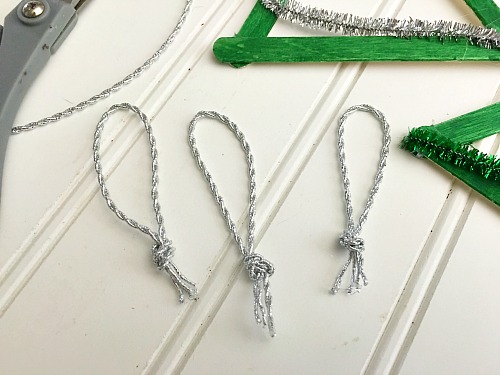 6. Cut a piece of skinny rope about 6 inches, fold in half, and tie the ends into a knot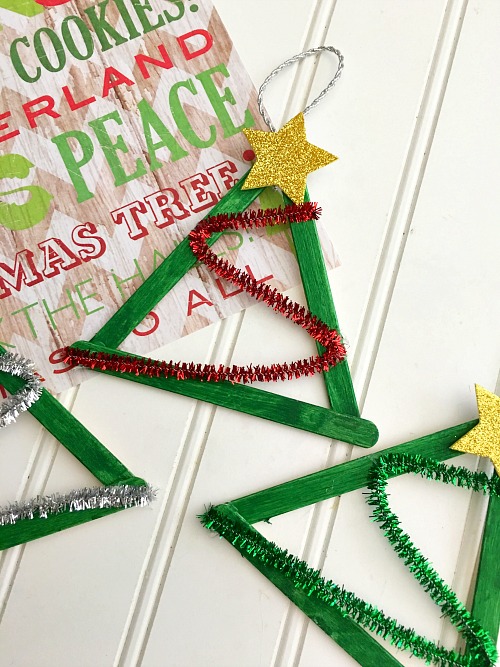 7. Hot glue your loop onto the back of your popsicle stick Christmas tree.
Then your DIY Christmas tree ornament is finished and ready to be hung up and displayed! Since this Christmas tree popsicle stick craft is so easy, why not repeat it a few more times with different colored pipe cleaners. That's what I did, and made a cute trio of trees to hang up!
Do you have any popsicle stick Christmas ornaments?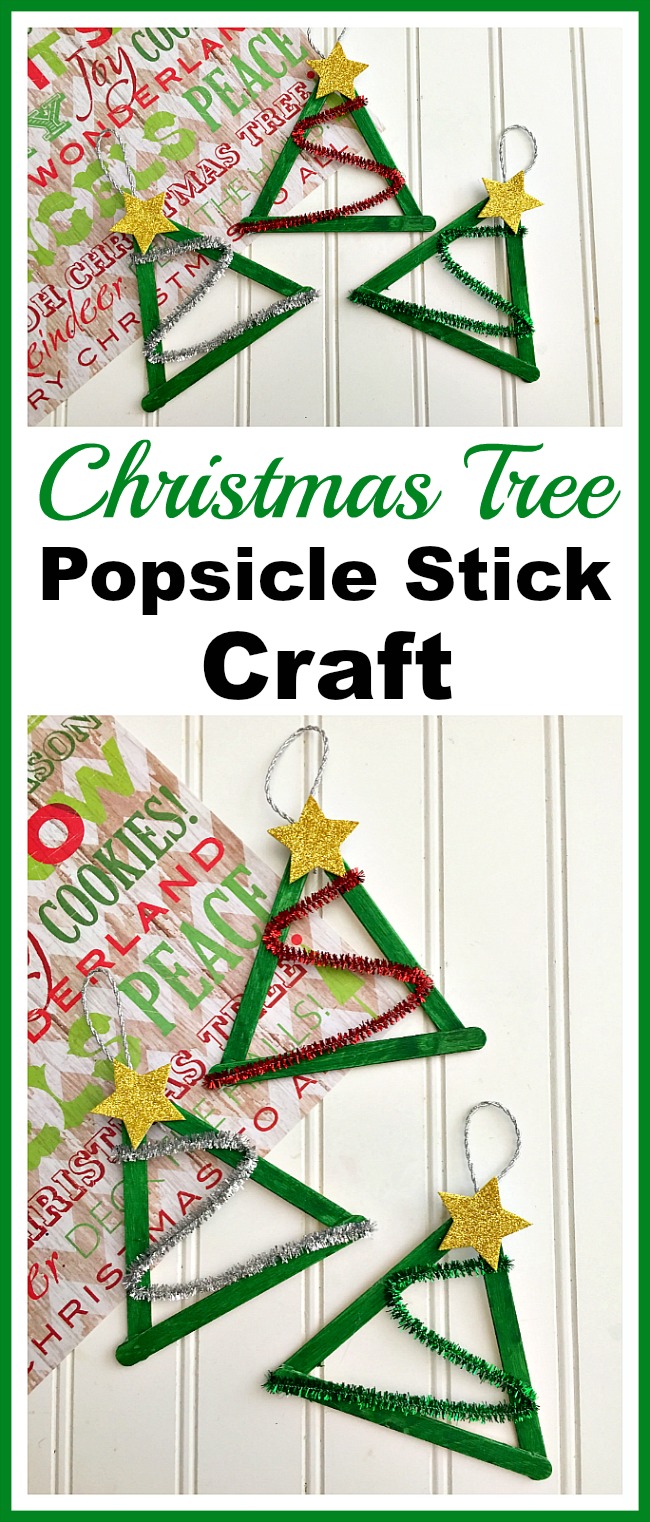 This post contains affiliate links to Amazon. Please see our Disclosure Page for more information.
You might also be interested in: