Do you have a fake Christmas tree? Many people get artificial Christmas trees because they're more convenient and allergy friendly. There are many different sizes and colors to choose from, and some are even pre-lit! On top of that, you don't have to water them, or deal with sap, bugs, or needles dropping. But while fake Christmas trees can be low-maintenance choices, you do still have to be careful how you store them. Store your tree the wrong way and it can get bent, lose plastic needles, or even change color! Here's How to Store Your Fake Christmas Tree to Keep It in Great Condition!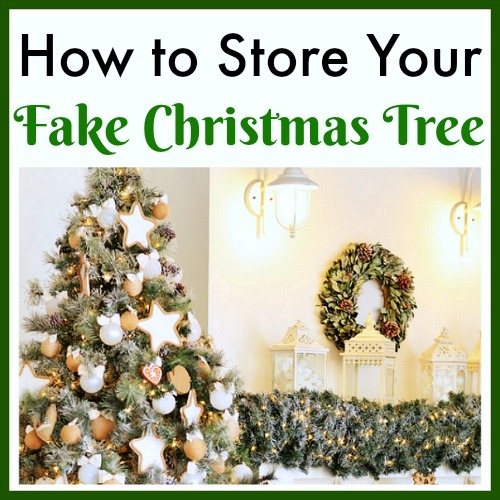 Disclosure: This post may contain affiliate links to Amazon and/or Etsy, which means that I may earn a small commission from some of the links in this post. Please see our Disclosure Page for more information.
We've had an artificial Christmas tree for the last couple of years, and we think it was a great decision! Unfortunately, we're on tree #2 now because we didn't know about these artificial Christmas tree storage tips! Our first tree was white when we got it, but by the next year it was half yellow-brown. So we learned the hard way about fake Christmas tree storage! Luckily we've stored our newest tree appropriately, so it still looks beautiful!
How to Store Your Fake Christmas Tree
1. Fold It Up Carefully
Before you can store your fake Christmas tree in its box, you'll want to fold it up properly. Failing to fold it up nicely and instead just bunching up all the branches can harm the tree over the many months it'll be put away. If your tree is pre-lit it can be especially bad, as you could create a short in the wiring, making it so your tree can't light up next year! Folding up an artificial tree can be a prickly, bothersome experience if you're not too skilled at it, but trust me, it's worth taking your time. And besides, folding it up properly will give you a second chance to make sure you removed all the ornaments! You don't want any of your cute DIY Christmas ornaments getting broken!
2. Wrap the Tree
After folding up your tree, you won't just want to go and shove it back in its box. When you store your fake Christmas tree, you have to remember, it's going to be in its box until next Christmas. That's a really long time! During that time your uncovered tree will be shoved up against the brown cardboard insides of its box. It'll also likely be in a garage, basement, or shed, where temperatures can fluctuate, there may be moisture, and so on. White artificial trees are particularly vulnerable to all of this, and will quickly turn yellow or brown if not properly stored, though green trees can also turn brown. So buy an artificial tree cover or get some white cloth to tightly wrap your tree in. It's a very quick thing to do, and it'll help your tree to last!
3. Put the Tree in a Box
Again, remember to be gentle with your tree. Don't shove it in its box. If getting it back in its original box is too difficult, you can buy a bigger plastic tree box. But either way, I'd recommend keeping your tree in a box. There are some heavy-duty tree bags, but I'm not sure those are the absolute best way to store your tree. While they will protect your tree from its environment, they won't do much if a heavy box happens to fall on the bag, or maybe one of your kids trips and falls on it. Your tree is safest from impact danger when in a box.
4. Place the Tree Box Mindfully
Don't want to open up your tree's box to see a bunch of bent branches or dropped plastic needles? Then you'll want to be careful in your placement of your tree's box in your garage, basement, etc. Don't put it somewhere it can easily fall over or be knocked over. The ideal location is laid horizontal along a wall. A tree stored vertically can tip over too easily (though storing it with its stand on can help with this). You also won't want to store your tree's box next to sunlight, moisture, or drafts, if you can help it.
If you follow these simple tips to store your fake Christmas tree, next year when you go to unpack it, it'll look just as great as it does now!
How do you usually store your fake Christmas tree?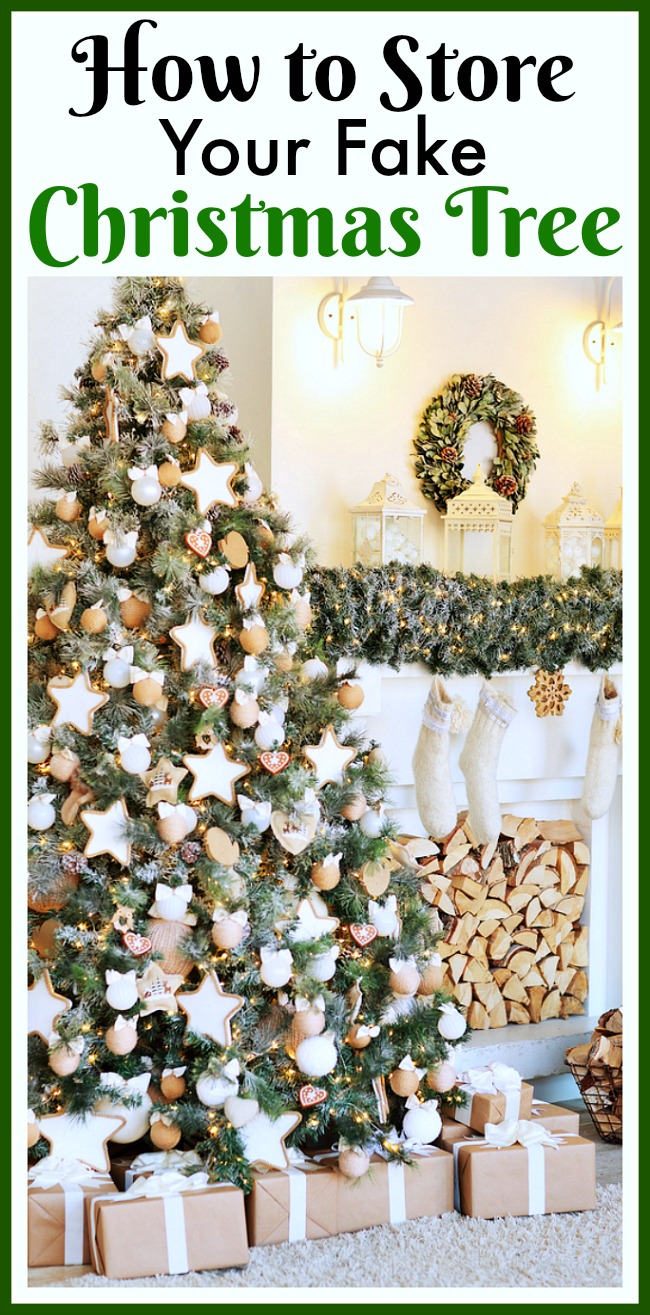 This post contains affiliate links to Amazon. Please see our Disclosure Page for more information.
You might also be interested in: