Budgeting isn't easy. Because everyone's income and expenses are different, it's impossible to find a one-size fits all budgeting guide for your family's budget. Which means you may wind up leaving some important things out of your budget! To help keep you from skipping anything important, here are 10 Things You're Forgetting to Budget For!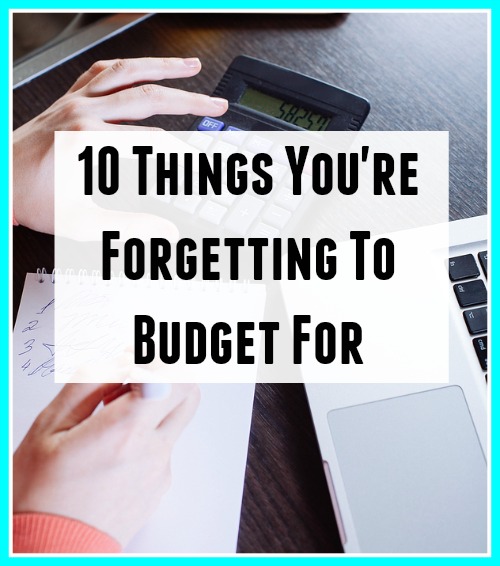 Disclosure: This post may contain affiliate links to Amazon and/or Etsy, which means that I may earn a small commission from some of the links in this post. Please see our Disclosure Page for more information.
Forgetting to budget for things can really mess up your family's budget! The small things will add up, and forgetting to budget for bigger things can very negatively affect your finances! So before calling your budget done, make sure you're not leaving any of these things out and make sure you're recording them in your budget binder!
10 Things You're Forgetting to Budget For
1. Gifts
Many people remember to budget for Christmas because it's such a big holiday. But not as many remember to budget for the smaller gift-giving occasions in their lives, like birthdays, Mother's/Father's Day, Valentine's Day, anniversaries, etc.
2. Lawn Maintenance
Something else you may be forgetting to budget for is expenses related to maintaining your yard or garden. Even if you don't hire someone to do your lawn, you still have lawn maintenance related expenses. This might include new plants, grass seed, wood chips for flower beds, maybe a new rake, or even a new lawn mower (or yearly lawn mower maintenance)!
3. Special Pet Expenses
You may be setting aside money for regular pet expenses like food, toys, treats, and flea, tick, and heartworm medication. But are you remembering to budget for your pet's yearly vet visit? And are you setting aside extra money in your savings for the possibility of an emergency vet visit? Those can be very expensive!
4. Special Activities
Do you enjoy going to see a play once a year? Or do you like to do a bunch of fun activities with the kids during their school breaks? Even if the amount you spend on these types of things varies, it's worthwhile to budget for special activities that typically happen during the year.
5. Yearly Fees
Are yearly fees something that you're forgetting to budget for? This includes fees such as AAA or other roadside service assistance, Amazon Prime, homeowner's association fees, annual termite coverage renewal, annual credit card fees, annual memberships (gyms, hobby clubs), and subscriptions (magazines, newspapers, paid website subscriptions).
6. Extra Taxes
Do you have a side hustle? If you make enough, you may need to pay tax on that income. Have you earned a lot of gift cards from a points program? That could be taxable too. And don't forget that you also have to pay taxes on things like money you gained from gambling, and on interest from certificates of deposit and savings accounts!
7. Extra Medical Expenses
While insurance can cover the brunt of your medical expenses, likely not everything is covered under your plan (especially if you want to do something labeled as alternative medicine by your insurer). And don't forget about your yearly deductible! Set aside money so that you can cover your deductible and some extra medical expenses without worry.
8. Extra School Expenses
Even if your kids go to public school, you still likely encounter some extra school expenses (beyond the usual back-to-school costs). Make sure you're not forgetting to budget for things like field trips, yearbooks, uniforms or special outfits, lunch money, special project supplies, teacher gifts, and fundraisers.
9. Extra Holiday Expenses
Gifts aren't the only expenses you'll encounter during holidays! Don't forget about special holiday decor, holiday food (especially for Thanksgiving and Christmas!), and travel costs.
10. Extra Travel
Something you really want to make sure you're not forgetting to budget for is extra travel occasions. You may be remembering to budget for your holiday travel and a vacation, but are you also traveling at other times of the year? Do you travel to check up on family? Is a relative graduating, expecting a baby, or planning to get married soon? All of this may result in extra travel costs for you!
How many of these things are you forgetting to budget for? You may want to set up sinking funds for large expenses.
**This post contains an affiliate link. Please read our disclosure statement for more information.

You might also be interested in: