Most of us don't want to have to spend more time in the kitchen than necessary. But if you want to save money, making your meals at home is a great way to make room in your budget for other things. Luckily, there are ways you can optimize the time you spend in your kitchen, if you know some clever kitchen tips and tricks! Here are 10 Time-Saving Cooking Hacks You'll Wish You Had Known Sooner!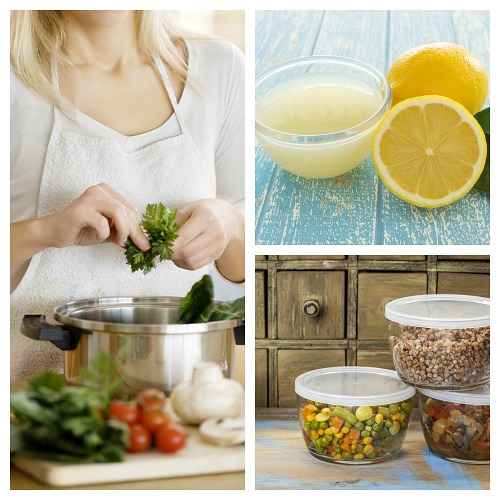 Disclosure: This post may contain affiliate links to Amazon and/or Etsy, which means that I may earn a small commission from some of the links in this post. Please see our Disclosure Page for more information.
I like to cook, but even I don't want to be in the kitchen for hours. So if I can find ways to reduce food prep time and clean up time, I'm happy! Of course, one of the best ways to reduce how much time and money you spend on home cooking is to make a meal plan. If you're a newsletter subscriber, don't forget to get your free printable and editable watercolor meal planner from our free resource library!
10 Time-Saving Cooking Hacks You'll Wish You Had Known Sooner
There are a lot of time-saving cooking hacks you can be using to reduce how long you're in the kitchen! You won't believe you've never tried these!
1. Organize your pantry
A disorganized pantry can be a pain. It will cost you a lot of time trying to find ingredients, and if it's too poorly organized you may not be able to find some things that you need at all (even if they're actually in there). This could easily ruin a good meal, and a good day. So take some time and get that pantry organized! Use storage containers, place like items together, and label everything well. For some great ideas and inspiration, check out these 10 pretty pantry organizing ideas!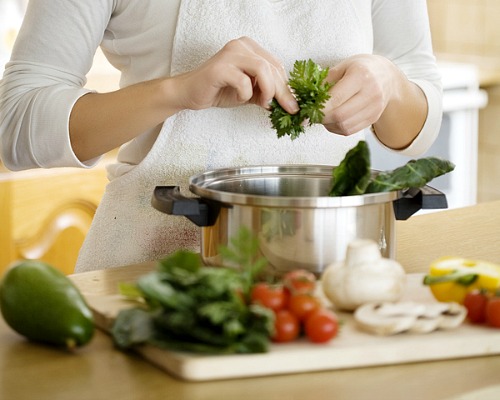 2. Buy pre-prepped food
If you have a little wiggle room in your grocery budget, buying pre-prepped food can save you a lot of time. Buying pre-chopped onions, pre-chopped spices, and chicken griller packs instead of a whole chicken that you have to carve can save you valuable time when it comes time to make dinner. Of course, if you're trying to live frugally you won't want to buy these all the time. But it doesn't hurt to buy a few pre-prepped things to have on hand for busy days. After all, it'd be better to spend a few dollars more to get some pre-prepped ingredients rather than have to resort to getting takeout or going out to eat.
RELATED: Quick Meals to Make Instead of Eating Out
3. Clean your blender by powering it
My family uses our blender every day to make smoothies. But smoothies can take some time to put together, and afterwards we don't feel like spending a lot of time scrubbing the blender down. Luckily, a time-saving cooking hack is to just add some water and soap to the blender. Then power it on and blend the soapy water for a minute or two. As long as you do this right away (before anything can set to the walls of the blender) it's usually very effective.
4. Use honey on cooking burns
We've all gotten burned in the kitchen at least once, whether from splashing oil, boiling water, or the hot edge of a pot (which is how I usually get my kitchen burns). A natural and inexpensive way to soothe those burns without having to stop what you're doing and leave your kitchen is to use honey! First run the burned area under cool water for a few minutes. Then gently dry the area and apply some honey. Cover that with a bandage/gauze so it can set. It will help soothe the burn, and is also anti-inflammatory and anti-bacterial. A study actually showed that small burns treated with honey healed faster than those treat with antibiotic creams! But of course, if it's a serious burn, skip all of this and just consult a doctor.
5. Use vinegar to clean up grease
Distilled white vinegar is a great cleaning agent, mainly because it's all-natural and inexpensive! While it can't disinfect as well as hydrogen peroxide or a commercial counter cleaner (so shouldn't be used to clean up meat prep areas), it makes a nice basic kitchen cleaner if you're just trying to wipe something up in the middle of a cooking session. It also can help you clean up grease easily! Just put the vinegar in a spray bottle, spray it on the greasy counter/cabinet, let it sit for 5-10 minutes, then wipe the area clean. Just don't use this on porous stone countertops, like granite or marble.
RELATED: 7 Things You Should Never Clean with Vinegar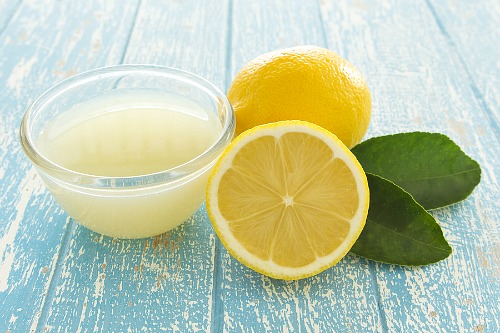 6. Quick clean your microwave
To remove the stuck on food inside your microwave, mix  1 cup water, 1/2 cup vinegar, and  3 Tablespoons lemon juice in a microwavable bowl or measuring cup. Then run the microwave for 4 minutes. When the microwave is finished, leave everything for a few minutes. It's the steam that's doing the cleaning, so you don't want to open the door too soon. Then use oven mitts to remove the hot bowl/measuring cup, and wipe the down the inside of the microwave with a sponge. Food that was stuck on will now be easy to wipe away! If you need to, you can repeat this method at 1 minute intervals (the liquid will still be very hot so will steam again quickly) to loosen up extra stuck on food.
7. Freeze your coffee
Fancy having an iced latte later? With this clever time-saving cooking hack, you can set yourself up for easy iced lattes later on! Just cook your coffee, let it cool, then pour it in an ice tray and put it in the freezer. The frozen coffee will allow you to have a quick fix by just adding milk to make a latte.
8. Freeze your extras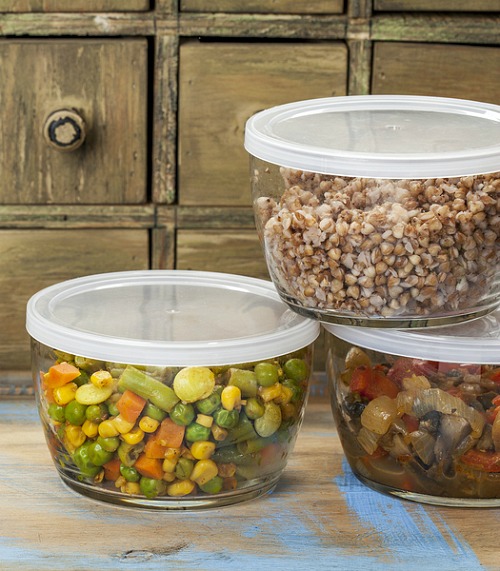 When you make sauce, if you have extra, freeze it! The next time you're making a meal that uses that sauce, you'll be able to use that extra sauce and save time on sauce prep. The same goes for rice, cooked meat, extra chopped onion, and more! You don't have to make freezer meals, but keeping your extra prepared ingredients is just as good as buying pre-prepped ingredients from the store (without the added cost)!
9. Use a potato to save over-salted dishes
Over-salting happens to even the best of us home cooks, but it doesn't mean your dish is ruined. Instead, get a raw potato, wash and peel it, the put it in your dish while it finishes cooking. When you're ready to serve your meal, remove the potato and your dish will taste less salty! This is because potatoes are excellent salt absorbers (that's why it takes a lot of salt to season potatoes well).
10. Prep ahead for smoothies
Like I mentioned in #3, my family makes smoothies every day. We love our smoothies, and we love how quick it is to whir them up in our blender! But it's the prep time that we don't love. Luckily, we've been using this time-saving cooking hack for a while- do food prep for your smoothies! Chop your greens, fruits, and vegetables, ahead of time, then package them into freezer bags where 1 bag = 1 blender full of smoothie. Then when it's time to make a smoothie, just dump all those ingredients in the blender and whir it up. This is just like buying those pre-packed smoothie mixes at the store, but way cheaper, plus you know exactly what's going into your smoothies!
With all these smart time-saving cooking hacks you'll be able to make frugal, healthy meals for your family, but not spend all your time doing it!
Do you know any clever time-saving cooking hacks and tips? Share them in the comments!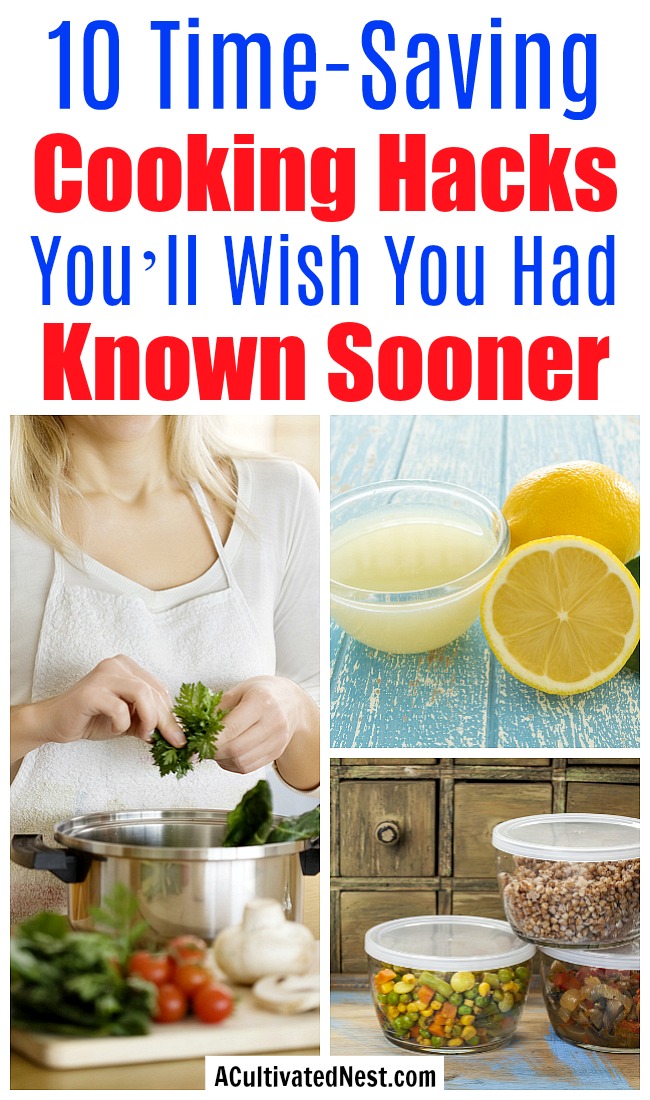 You might also be interested in: 10 Clever Kitchen Tips You Need to Know