It can be hard to make a fresh cooked meal for every single breakfast, lunch, and dinner. Whether you're busy because of a new baby, a long day running errands, or other life events, it can be hard to find the time to cook. One alternative is eating out but that's a budget buster! Or you could eat frozen convenience food from the grocery store, but too much of that isn't healthy. If you want to save your budget and  don't want to resort to commercial freezer food, then you should consider homemade freezer cooking! Here are 15 delicious and time-saving Freezer Meal Recipes for breakfast, lunch and dinner to get you started!
Disclosure: This post may contain affiliate links to Amazon and/or Etsy, which means that I may earn a small commission from some of the links in this post. Please see our Disclosure Page for more information.
Freezer cooking is when you do the majority of the prep work ahead of time, freeze the meal, and then put it in the oven, crock-pot, grill, or stove top when you need it. It's an easy and quick way to have a home cooked meal on a busy day, and just requires a couple of hours work ahead of time. If you're new to freezer cooking I would ease myself in with just making one or two recipes to begin.
15  Freezer Meal Recipes
Freezer Breakfast Meal Ideas
[1]
Smoothie Kits
[2]
Sausage and cheese breakfast biscuits
[3]
Loaded egg potatoes
[4]
Make A Head Pancakes
[5]
Freezer Oatmeal cups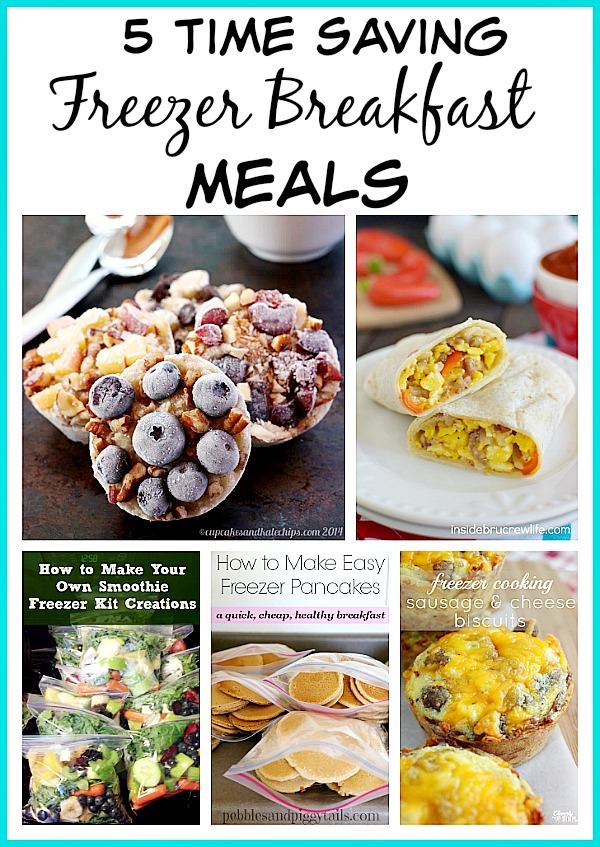 Freezer Lunch/Dinner Meal Ideas
[6]
Freezer Friendly Ham and Cheese Pockets
[7]
Chicken, broccoli, bacon, and potato bake
[8]
Pioneer Woman Freezer Lasagna roll-ups
[9]
My dump and go chicken dinner recipes
[10]
Easy Freezer Friendly Chicken Parmesan Casserole
[11]
No boil three-cheese freezer manicotti
[12]
Freezer Chicken Strips
[13]
Stromboli and pepperoni rolls
[14]
Lemon garlic dump chicken
[15]
Make Ahead Meatloaf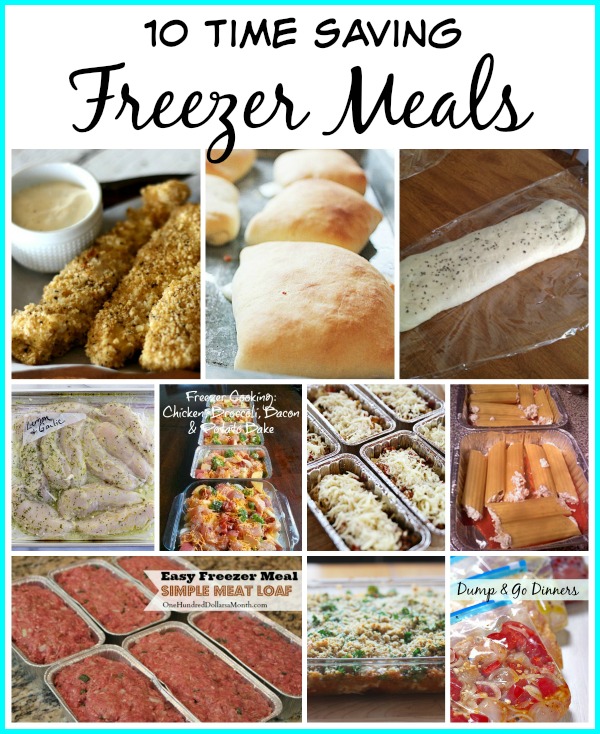 You can make freezer meals for breakfast, lunch, and dinner. And if you plan your freezer meal prep session well, you can wind up saving prep time overall! You do this by (1) preparing meals in bulk, and (2) preparing multiple ingredients at once (like cutting up enough onion at once for 5 different recipes). And since most freezer meals can stay in the freezer for months, if you do a good job you can wind up just having a freezer meal prep day once every month!
Have you ever tried freezer meal cooking?