How to Make Homemade Shower Jellies.
Homemade jellies are simple to make and a great alternative to commercial products. You know exactly what is going in them and you can personalize the scent! Need a homemade gift, a fun at-home project with the kids, or need to fill up your bathroom pantry? Check out these 20 Fun DIY Shower Jellies!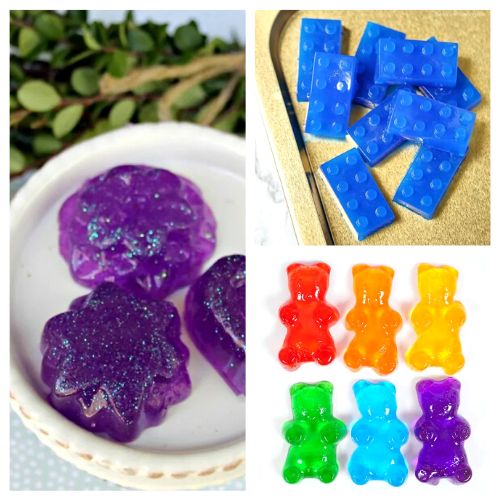 Disclosure: This post may contain affiliate links to Amazon and/or Etsy, which means that I may earn a small commission from some of the links in this post. Please see our Disclosure Page for more information.
There are so many cute shapes and fabulous scents you can give your DIY shower jellies!
20 Cute DIY Shower Jellies
Before you start on your DIY shower jellies, here are some things to keep in mind:
Unflavored Gelatin. All the recipes call for unflavored gelatin powder to make the wiggly base. Amazon is a great place to buy this in bulk.
Add your own scents. The great thing about making your own soap is you get to add whatever scent you would like. This allows you to use essential oils or your favorite soap scent to scent your shower jellies.
Skip the dye. You can always skip the dyes if you don't want to have that in your shower jellies. The color just makes them fun, but they will work the same without it.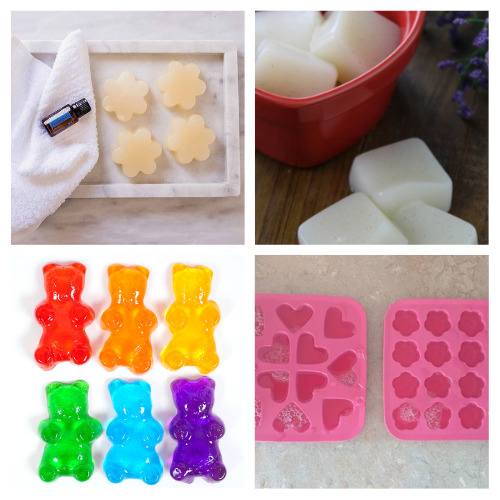 1. Homemade Shower Jellies from Happy Money Saver
2. Lavender Shower Jellies from Rebooted Mom
3. Gummy Bear Jelly Soaps from Happiness is Homemade
4. Shower Jellies made with scented soap from Home Talk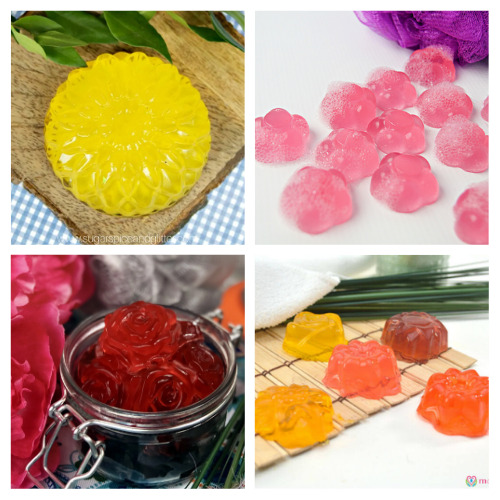 5. All Natural Vegan Jelly Soap from Sugar Spice and Glitter
6. Flower-shaped Shower Jellies from Inspiring Savings
7. Rose Shower Jellies from By-Pink
8. Honey Lavender Shower Jellies from Mama Instincts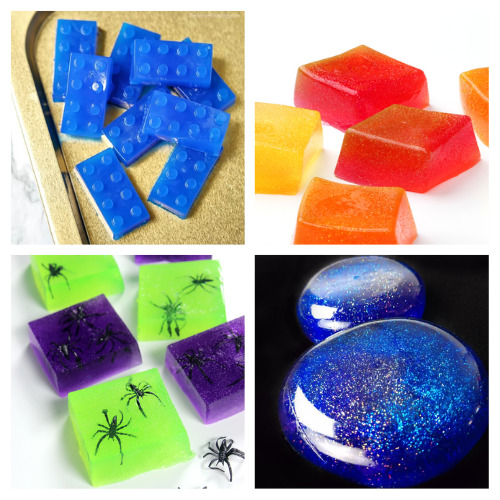 9. Homemade Lego Jelly Soap from The Soccer Mom Blog
10. Shimmery Soap Jellies from Soap Queen
11. Creepy Crawly Soap Jellies from Soap Queen
12. Galaxy Soap Jellies from Essentials by Catalina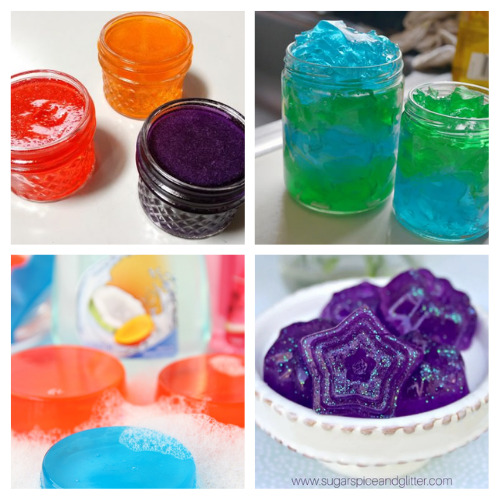 13. Jelly Soaps in mason jars from Essentials by Catalina
14. DIY Shower Jelly from Rookie Mag
15. Jelly Soap from Bitz N Giggles
16. Jiggly Jelly Soap from Sugar Spice and Glitter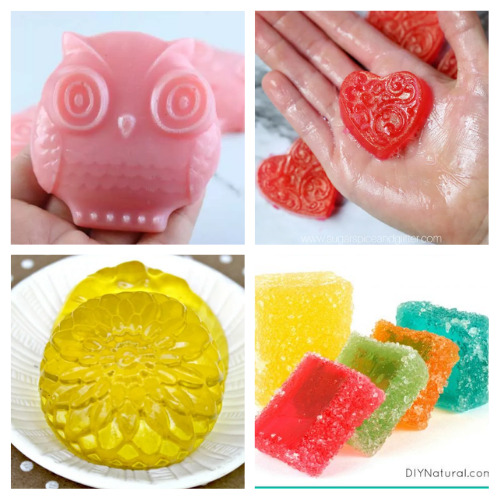 17. Owl Shower Jellies from Home Talk
18. Copycat Lush Jelly Soap from Sugar Spice and Glitter
19. Homemade Bath Jelly from Craft Bits
20. DIY Kids' Jelly Soap from DIY Natural
Do you like to use jelly soaps?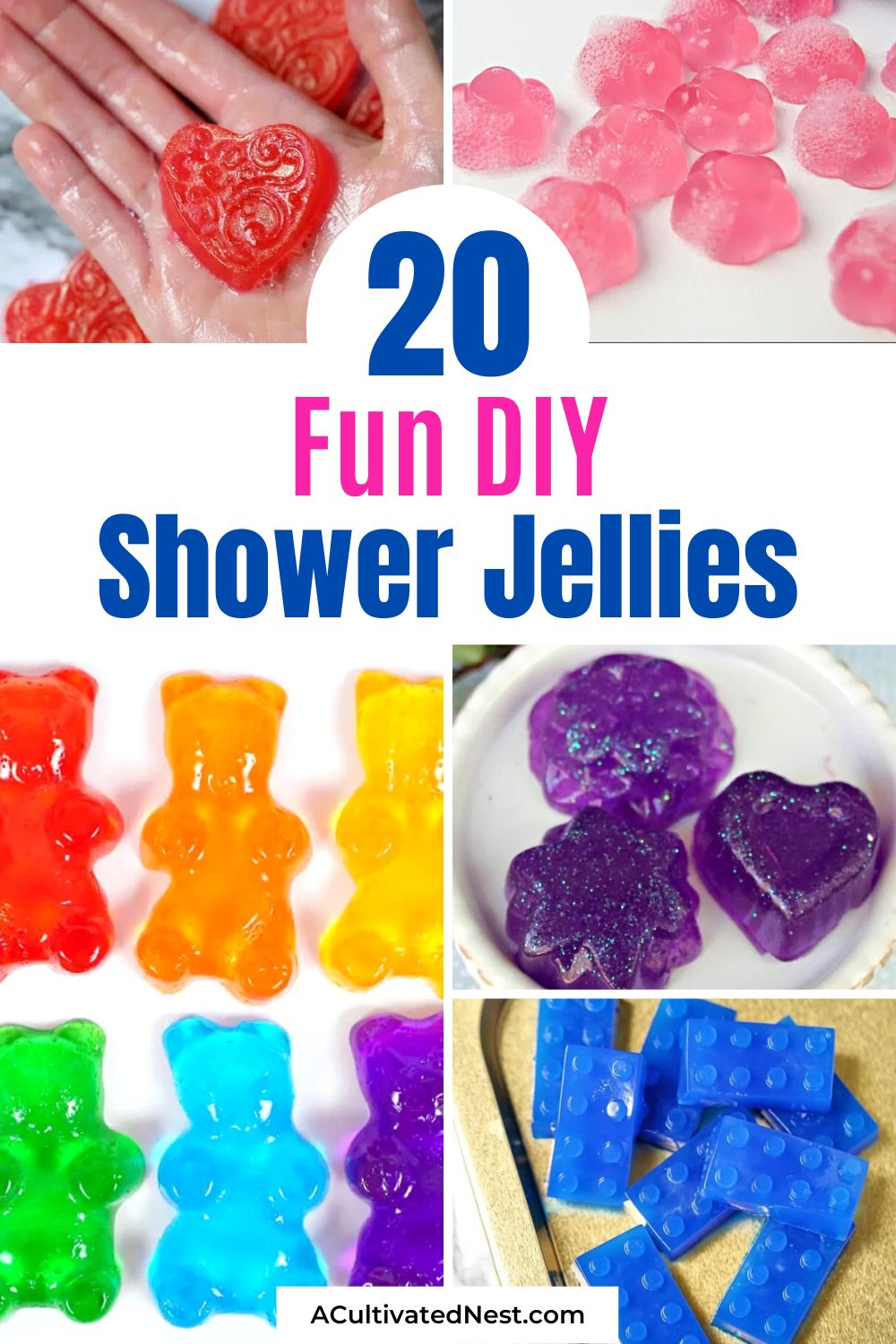 You might also be interested in: 15 Luxurious DIY Bath Bombs