Bathroom Dollar Store Organization Ideas.
Find the perfect way to keep your bathroom tidy and organized with these dollar store bathroom organization ideas! Staying organized can be so beneficial for adding space to a tiny house, reducing stress, and making your routines more time-efficient but it can also be really expensive to buy professional organization solutions. So for some frugal organizing ideas, check out these 20 Genius Dollar Store Bathroom Organization Hacks!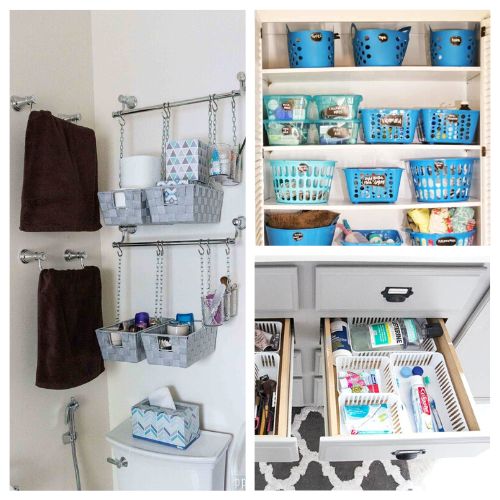 Disclosure: This post may contain affiliate links to Amazon and/or Etsy, which means that I may earn a small commission from some of the links in this post. Please see our Disclosure Page for more information.
I love using the dollar store as a source for budget-friendly supplies. And it's a great place for organizing supplies, too! You're sure to be inspired by all these great dollar store bathroom organization hacks!
20 Genius Dollar Store Bathroom Organization Hacks
Here are some things to consider when you start organizing your bathroom with these dollar store bathroom organization hacks:
Can't find your color? Spray paint the plastic bins to make them match your color scheme. It won't take long and the spray paint will cover easily.
Get rid of things. Some of your storage problems may be that you have too much stuff. Get rid of things that are expired or haven't been used in a year.
Get bins that fit what you are storing. Don't get a huge bin for hair ties; buy bins that find the size of the object being stored. This will help you stay organized instead of throwing a bunch of things into a bin. That's no different than throwing everything in a drawer.
1. Corral your bathroom supplies from The Soccer Mom Blog
2. Lazy Susan under the sink from The Soccer Mom Blog
3. Contact paper inside your cabinets from Sarah Hearts
4. Dollar Store Bathroom Shelf from Home Talk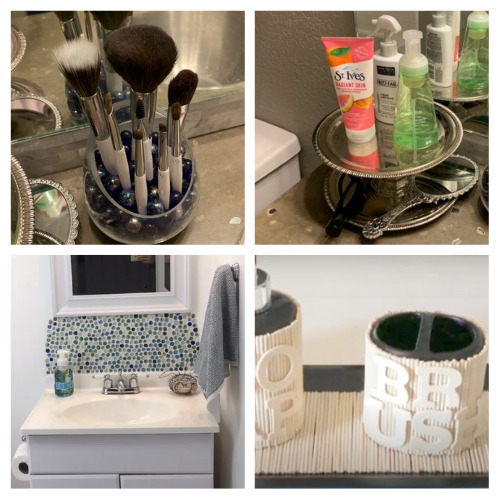 5. Makeup brush holder from Home Talk
6. Bathroom supply stacker from Home Talk
7. Dollar Store Backsplash from Home Talk
8. Bamboo skewer bathroom remodel from Home Talk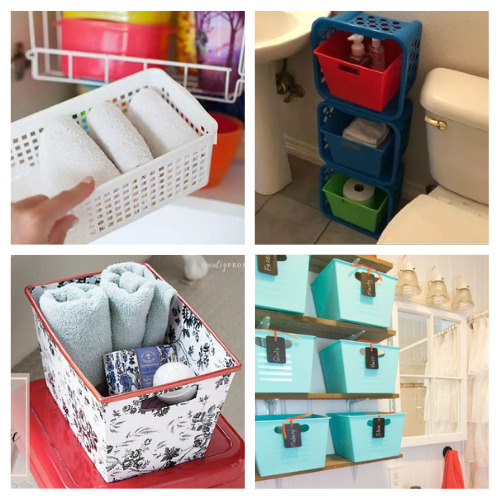 9. Towel storage from Queen Bee of Honey Dos
10. Create a stackable storage shelf from Home Talk
11. Cover a plastic bin in fabric for beautiful storage from Home Talk
12. Storage shelf bins above the toilet from Martys Musing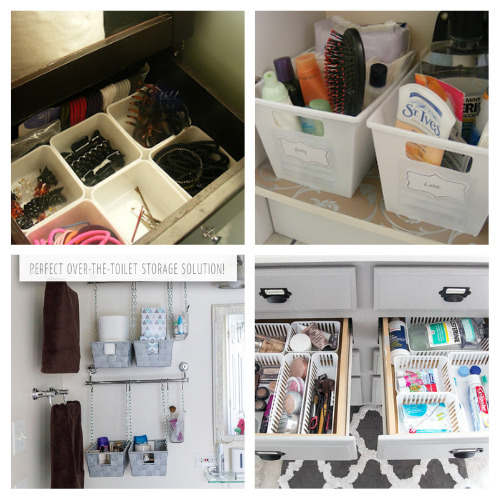 13. Small squares for little things from Imperfect Homemaking
14. Labelled bins from Imperfect Homemaking
15. Hanging Bins from Practically Functional
16. Drawer organization from The Summery Umbrella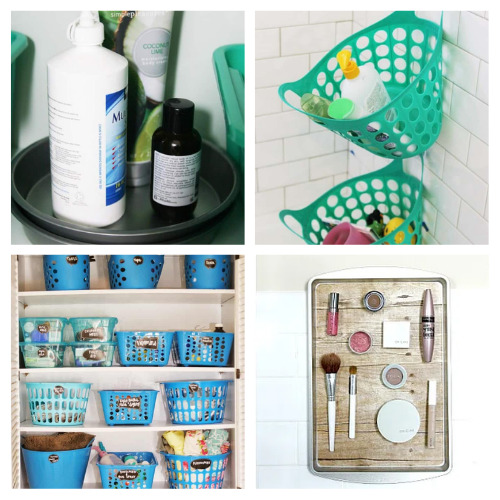 17. Make your own lazy Susan from Homemade Ginger
18. Shower bins from Homemade Ginger
19. Closet organization from Homemade Ginger
20. Magnetic makeup board from The Crazy Craft Lady
How do you keep your bathroom organized?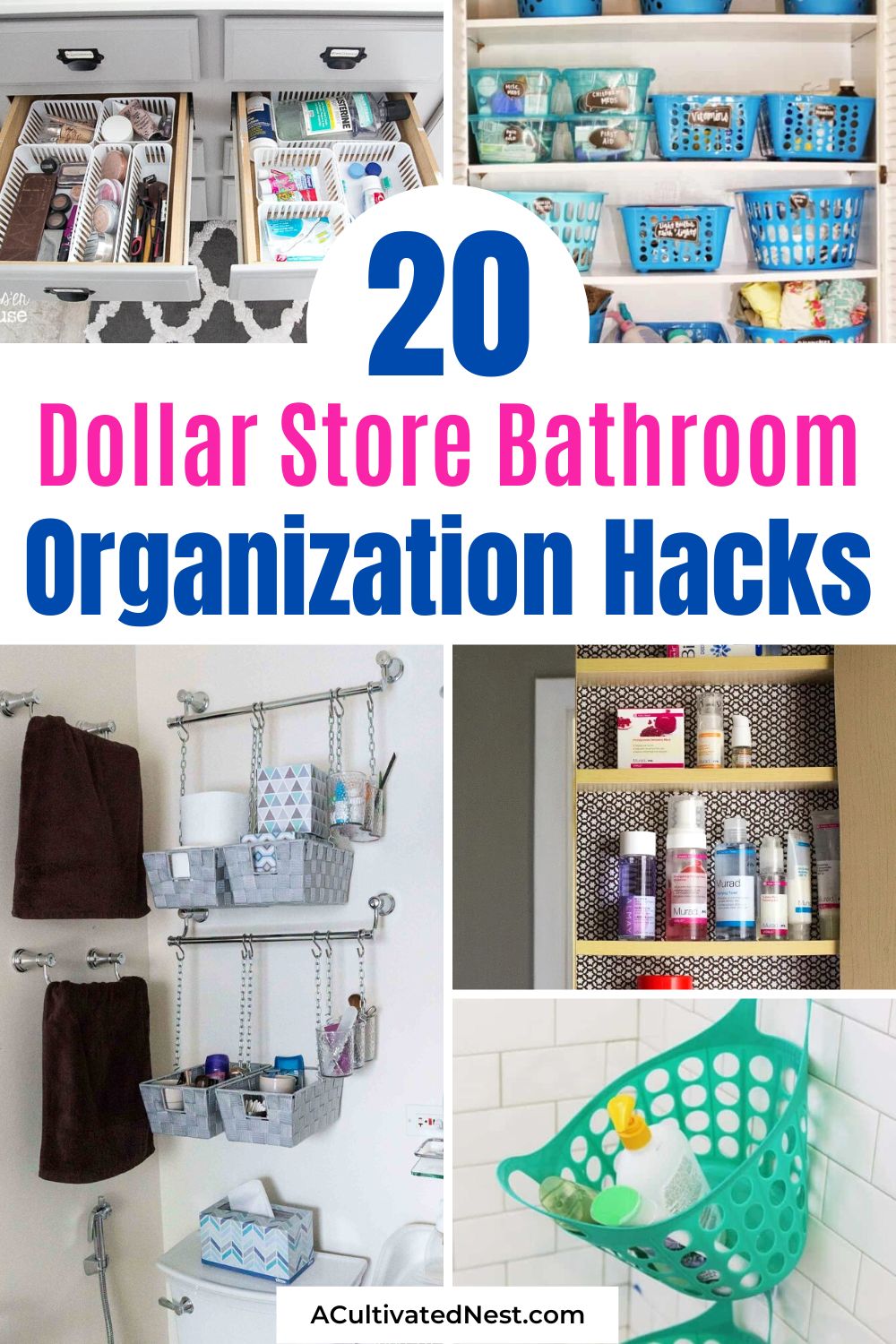 You might also be interested in: 15 Ways To Organize Your Entire Home From The Dollar Store