If we're being honest, a lot of times we eat out because we don't feel like cooking or we're in rush and don't think we have time to cook anything. Although we know it's a lot healthier to eat at home and cook our own meals, those fast food places can still be hard to resist when you're pressed for time or don't feel like cooking. It's important to have meals that are readily available to cook, so you don't have to waste money in the drive thru. That's why I like to keep a few meals in the freezer that are easy to re-heat. But sometimes you just need a quick meal you can make instead of eating out.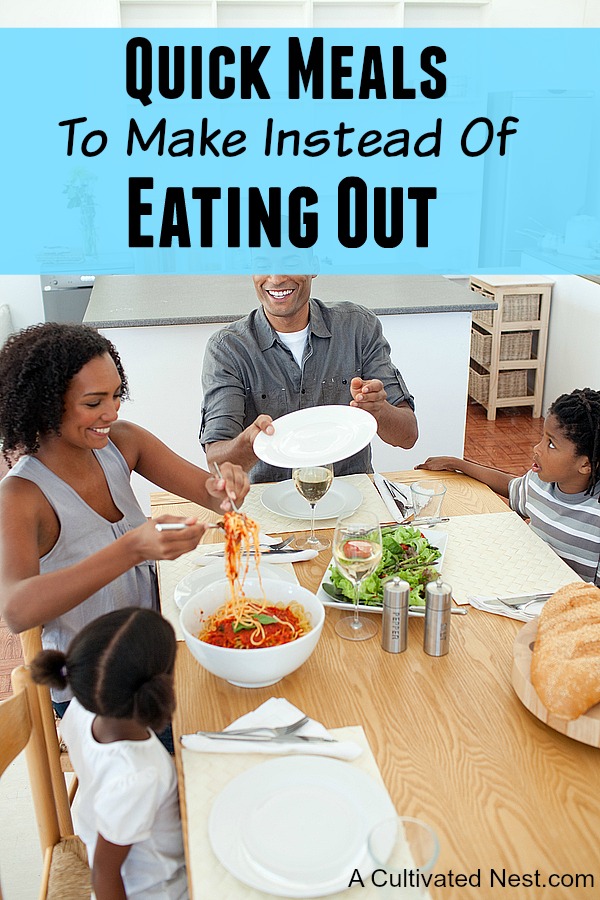 Disclosure: This post may contain affiliate links to Amazon and/or Etsy, which means that I may earn a small commission from some of the links in this post. Please see our Disclosure Page for more information.
Here are some meals that are pretty quick to put together that can help you stay out of the drive thru and stay on budget!
1. Grilled Cheese
Yes, this is a magnificent go to meal when you don't have a lot of time and you're in a hurry. Grilled cheese sandwiches are great because you can make these to order. If one child loves turkey, make a grilled cheese with turkey. If your spouse loves ham, then make a grilled cheese with ham.  It's so easy to add a slice of tomato or some meat etc to each individual grilled cheese sandwich. Sometimes we forget simple meals like this because we're so lost in the world of making elaborate meals that take up our time and money!
2. Breakfast for Dinner
Breakfast doesn't seem to be such a fast meal when it comes to morning time, but it can be a  quick dinner idea. When time is running out and you NEED to eat at home, but are at a loss for what to fix, then consider breakfast for dinner. You can keep this as healthy or unhealthy as you wish. Omeletes, scrambled eggs and frittatas are all really quick. Pancakes and waffles take a little more time but are quick as well if you use a mix (which can be homemade or store bought). The best part is you're cooking at home and avoiding those drive thru lanes and saving money!
3.  Macaroni and Cheese w/ add ins
A favorite quick meal in my household is macaroni and cheese with some peas, a can of tuna or some meat added in like leftover ham, sausage or nitrate free hotdogs. I do use boxed gluten-free mac & cheese and I add shredded cheese as well as using the cheese packets. But boiling noodles is boiling noodles (so you can make it from scratch if you prefer).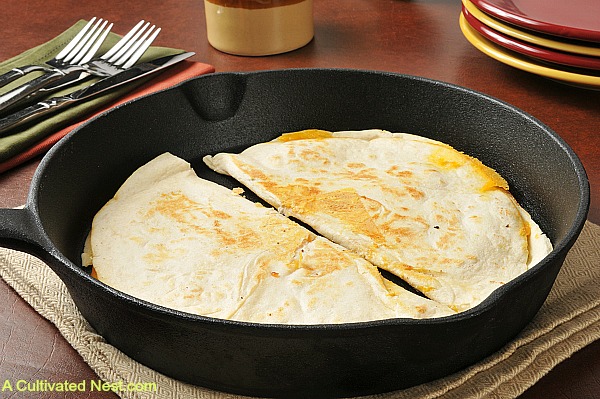 4. Quesadillas
If you're like me and always have some tortillas on hand (I keep them in the freezer) you can make quick quesadillas in a pan on top of the stove if you don't have a quesadilla maker. Plain cheese quesadillas are great with some salsa or if you have some frozen cooked ground beef or chicken you can add that as well.
5. Stir Fry
One of our favorite quick meals is stir fry. Take all of the extra veggies from your fridge, chop them up, and add a bit of soy sauce and chicken and there you have it. Stir fry is something you can cook in less than 30 minutes and it helps you to avoid the drive thru after the craziness of a busy day, plus you can stay on budget!
6. Homemade Sub Sandwiches
Another favorite of ours is to make our own homemade sub sandwiches. We take whatever items are in our fridge and get to work. This is actually a fun meal because we like to see who can be the most creative. Turkey, ham, salami, cheese, pickles, tomatoes, and onions are items most people have in their kitchen already. If you can keep your will power and avoid going through the drive thru, this is one meal worth making.
7. Pasta with garlic/butter or a jar of sauce
My other go to meal is to make some thin pasta (so it cooks faster) with a jar of spaghetti sauce or to make a garlic/butter sauce and top with some freshly grated parmesan cheese. There's pasta that you can buy that's a "quick cook" kind. Another thing I do for a quick pasta meal is to keep a package of fresh tortellini in my fridge (the kind you find in the refrigerator section of the grocery store).  I make that with some tomato sauce for a quick meal. Also, I learned from watching Hell's Kitchen 🙂  that water boils faster if you start with warm water vs cold and to cover the pot with a lid.
I used to think it was my job to make each and every meal a fabulous one and have come to realize that's just not true (or possible). Sometimes you just need to serve a quick yet nutritious meal and get on with your day and now you can with these fast meals to help you stay on budget.
This post contains affiliate links to Amazon, which means that I may earn a small commission from some of the links in this post. Please see our Disclosure Page for more information.
You might also be interested in: Dump & Go Dinners (make ahead chicken freezer cooking recipes)
What are your go to quick meals?