Do you love using your crockpot? I don't think I could live without mine! Saturdays are always busy days for my family so my crockpot sees a lot of use on that day. Here's a crockpot recipe that's sure to become a family favorite. The chicken is so tender it just melts in your mouth and the sauce has really good flavor. This easy creamy crockpot chicken recipe is just delicious!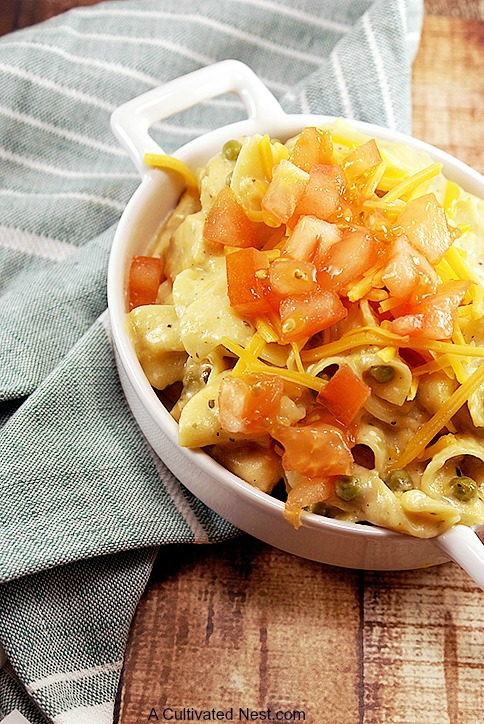 Creamy Crockpot Cheddar Ranch Chicken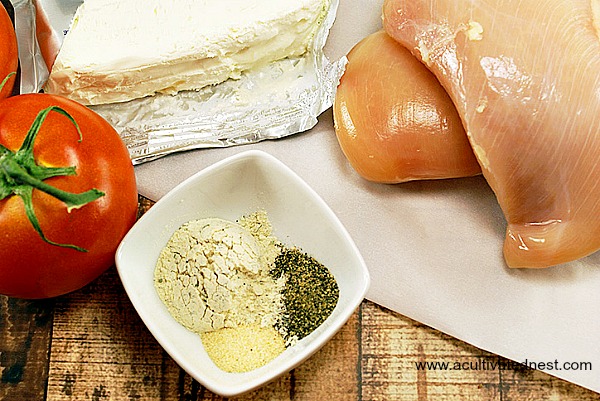 Ingredients
3 boneless skinless chicken
6 cups chicken broth
1 packet of ranch dressing mix (dried packet kind or use my homemade ranch dressing mix)
1 small bag of frozen peas
½ teaspoon garlic powder
¼ teaspoon salt
1/2 teaspoon pepper
8 oz cream cheese
3 cup shredded sharp cheddar
1 tablespoon corn starch + 1 tablespoon water
16 oz bag of Egg Noodles (or the dumplings will work fine!)
tomatoes (optional)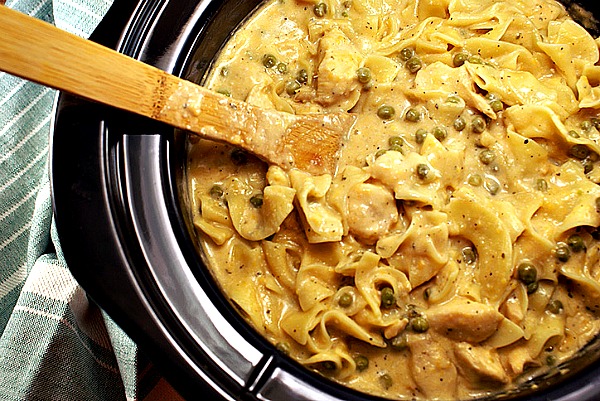 Directions:
1. Cut chicken breast into 1/2″ cubes and place in crockpot.
2. Cut cream cheese into strips.
3. In a 5 quart crockpot, add in: Chicken broth, ranch dressing packet, garlic powder, salt, pepper, cream cheese, and 2 cups of shredded cheese.
4. Cook on high for 3 1/2 hours.
5. Add remaining cheese and cornstarch mixture (with water), and stir until well blended.
6. Add in egg noodles and frozen peas, and fold into sauce.
7. Cover and cook for approximately 20-30 minutes, or until noodles are tender and sauce has thickened. (be sure to check your noodles – all crockpots are different. You can also make the noodles separately if you prefer)
Top this creamy crockpot chicken dish with some chopped tomatoes if you like. I like to serve this with a salad.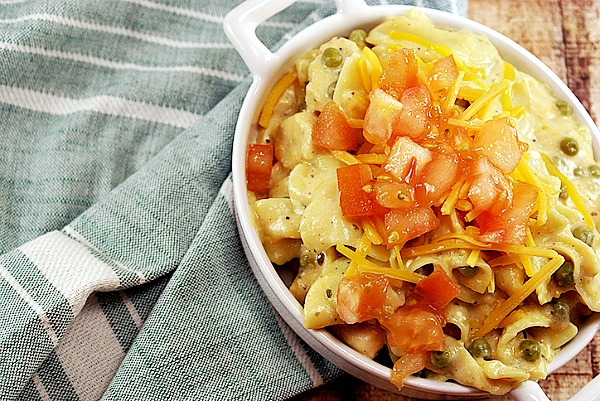 I'm sure it'll be a family favorite for you too!

This post contains affiliate links to Amazon, which means that I may earn a small commission from some of the links in this post. Please see our Disclosure Page for more information.
Print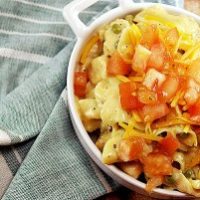 Creamy Crockpot Cheddar Ranch Chicken
Author:

Prep Time:

15 mins

Cook Time:

4 hours

Total Time:

4 hours 15 mins

Yield:

6

Category:

Crockpot
---
Ingredients
3 boneless skinless chicken
6 cups chicken broth
1 packet of ranch dressing mix (dried packet kind or use my homemade ranch dressing mix)
1 small bag of frozen peas
½ teaspoon garlic powder
¼ teaspoon salt
1/2 teaspoon pepper
8 oz cream cheese
3 cup shredded sharp cheddar
1 tablespoon corn starch + 1 tablespoon water
16 oz bag of Egg Noodles (or the dumplings will work fine!)
tomatoes (optional)
---
Instructions
Cut chicken breast into 1/2″ cubes and place in crockpot.
Cut cream cheese into strips.
In a 5 quart crockpot, add in: Chicken broth, ranch dressing packet, garlic powder, salt, pepper, cream cheese, and 2 cups of shredded cheese.
Cook on high for 3 1/2 hours.
Add remaining cheese and cornstarch mixture (with water), and stir until well blended.
Add in egg noodles and frozen peas, and fold into sauce.
Cover and cook for approximately 20-30 minutes, or until noodles are tender and sauce has thickened. (check your noodles as some crockpots run hotter than others)
Top with chopped tomatoes if you like (optional)
You might also like: Quick Italian Pork Chops