Many families are turning to coconut oil to solve their health, beauty, and household issues. Just one jar of coconut oil can have hundreds of uses, making it a product that really gives you a bang for your buck. If you have been curious about coconut oil and what it can do for you, take a look below at these 7 uses for coconut oil that you can try.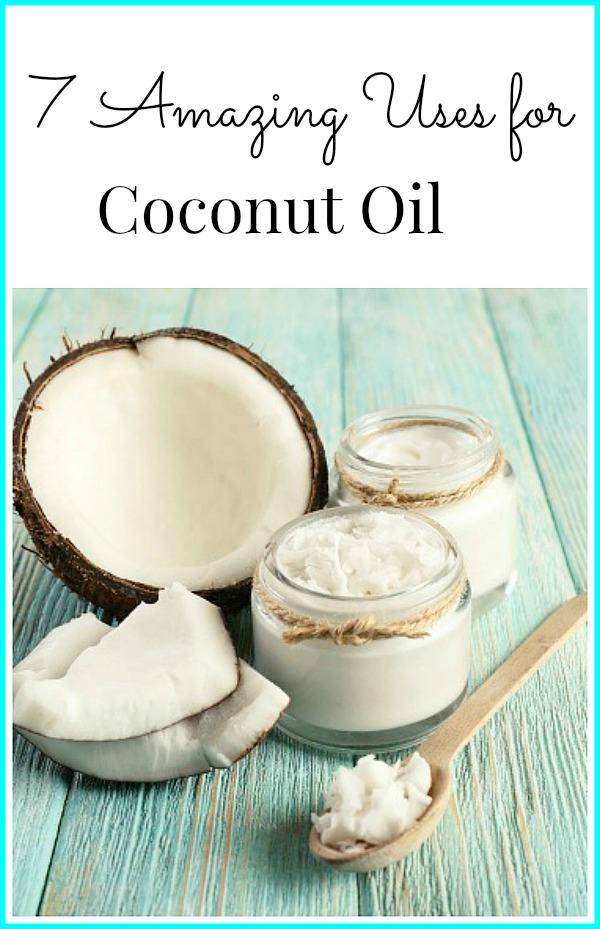 7 Uses for Coconut Oil
Disclosure: This post may contain affiliate links to Amazon and/or Etsy, which means that I may earn a small commission from some of the links in this post. Please see our Disclosure Page for more information.
1. Use it in your recipes.
You can use coconut oil just as you would butter or cooking oil.  You can use it to grease your pan. Put some in your smoothies to add a "good" fat. You can also use it coffee in place of coffee creamer. It is a healthier option and will make your recipes taste great!
2. Give your beauty products a boost.
Add a few drops of coconut oil to your body lotions, body butter, and hair conditioner to make them nutrient rich. Your body will love the moisture and nutrients the coconut oil will add. Just open the product up, add a few drops, shake, then use!
3. Remove make up.
A little coconut oil on a cotton ball is all you need to remove make up. It is much gentler on your skin and you don't need to worry about pulling, stretching, or irritating your skin.
4. Make your manicure magical.
Add a few dabs of coconut oil to your cuticles and massage for moisture and conditioning. You can also add some to your hand lotion before giving yourself a luxurious hand massage.
5. Lessen the look of wrinkles.
Use a few dabs of coconut oil around your eyes to add moisture and lessen the appearance of wrinkles. This method will also work on other areas where wrinkles are concerned, adding moisture and helping plump the skin and lessen the wrinkling.
6. Love your lips.
A little coconut oil on the lips can help soothe dryness and prevent cracking. Treating your lips will also help your lipstick stay in place adhere nicely. While applying oil to your lips add a little to your teeth to make them shine.
7. Get the perfect pedicure.
Coconut oil can remove rough, dry patches on your feet and heels when applied daily. It can also moisturize your cuticles, soften nails, and get your feet looking great. While you are at it, try some on your knees and freshly shaven legs as well.
See how amazing coconut oil can be? Give these uses for coconut oil a try and see what it can do for you.
You may also like:
Cinnamon Vanilla Whipped Body Butter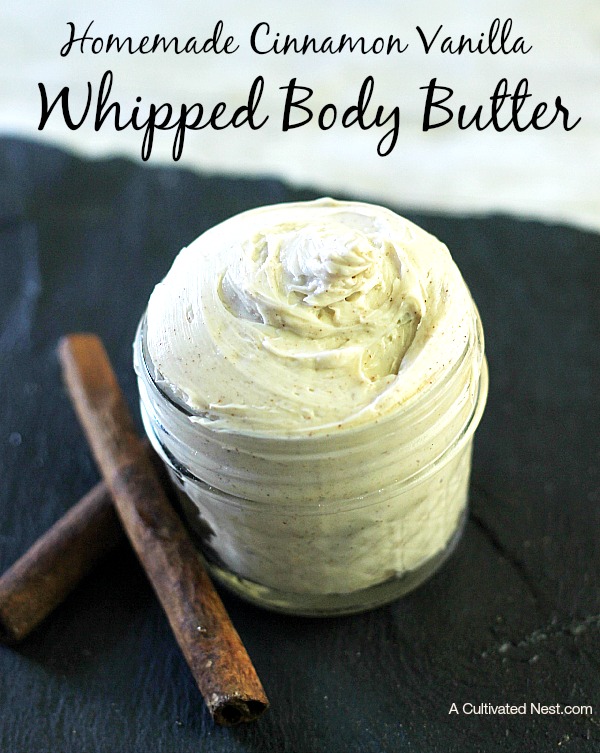 Written for A Cultivated Nest by Katie Femia