Do you remember that old saying? Well I think it still applies to many areas of life, but today I'd like to discuss meal planning. I sort of got out of the habit this summer and our grocery bills show it! So I'm back to planning our weekly meals! Menu planning is simply planning out what you're going to eat for a given time period. Some people do one week, others 2 weeks, some a month and I'm sure there are some really organized people out there that do a 3 month plan! I do my meal planning once a week.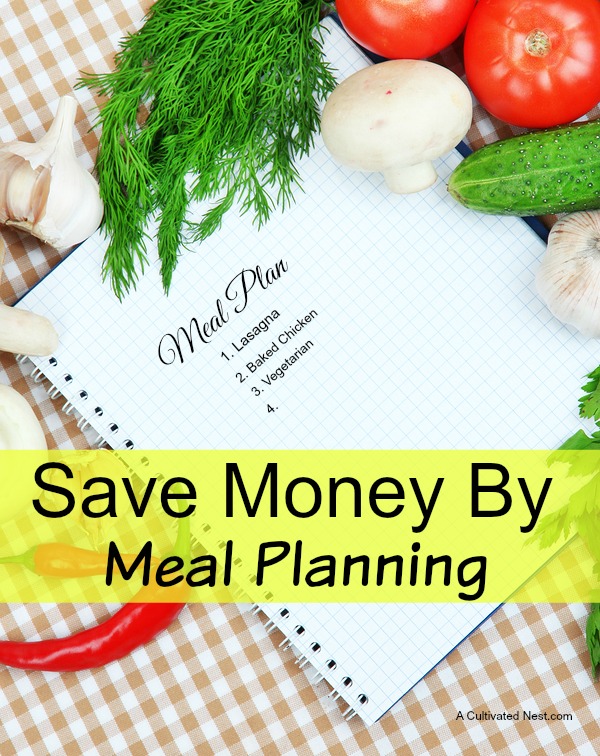 Why is menu planning good?
Disclosure: This post may contain affiliate links to Amazon and/or Etsy, which means that I may earn a small commission from some of the links in this post. Please see our Disclosure Page for more information.
Why is it important to spend time doing this in the first place? Well it #1 reason is that it  saves you money for one thing! If you know what you're going to eat the chances of you eating out or getting take-out are less and it also allows you to use up what you have. It also saves you time in that you don't have to scramble to come up with something to cook. No "it's 5 pm what's for dinner" drama! I think those are 2 very good reasons to meal plan!
How to set up your meal plans.
There are a couple of ways you can approach menu planning. You can plan your meals either from your pantry,  from weekly sales, or plan what to have and shop for those recipes.
1.  Planning from sales means that you take your grocery stores' flyers, see what's on sale that week. Most people will plan around what protein is on sale. So if chicken breasts and pork chops are on sale then that's basically what you'll be having for dinner that week. Different dishes made with those two proteins.
2. Planning from your pantry means I shop my pantry and decide what to make. Since I grocery shop mostly to replenish my pantry, almost everything I make is made with something that's already been purchased on sale. Brenda has some very good posts on how to stock a pantry on her blog – Thoughts on How I Stock My Pantry Part I and How I Stock Up Part II if you don't know where or how to begin. Having a pantry is really, really, really important! Really!!
3. Another method is to plan what you are having and then shop for those items. But that isn't a good way to save money on your grocery budget.
4. You should also look at your family's schedule when planning. I have a general idea of at least the kind of cooking I will be doing during the week. For example, every Friday night is family movie night. It's the only time we eat dinner in front of the TV so I usually make finger foods like chicken fingers & fries, or hot dogs, something that's not messy to eat off a TV tray. Saturday's I know is our busiest day so I usually plan on a crock-pot meal or something that can be made quickly like stir-fry or salad. Sundays is a more relaxed day and I usually make a more complicated meal or try something new since I know I have more time at home.
How Many Meals To Plan
Some people will need to plan 3 meals a day and some will only need to do their most important meal, be it dinner or lunch.
Some people like to have a specific menu for each day. This is what I do and I just take out the protein to defrost the night before. Some people feel there's no flexibility doing it this way (and I used to too but have since changed my mind).  Usually you've got to take your protein out the day before to defrost anyway, so unless you're reheating something already cooked (like in Once A Month Cooking, freezer meal crockpot recipe ) you more or less can't really go by what you've got a taste for anyway (unless you run to the store and that's not frugal)!
Some use a more flexible schedule where you have a list of meals for say two weeks but they're not assigned to a specific day. You cross off that meal from your list when you make it.
To decide what to actually make your can go through your cookbooks to choose recipes. Or you can make a list of all the dishes your family likes and use that.  If you have a recipe binder you can use that or go online to find recipes. Whatever works for you. But I think starting with a list of recipes you already make and like is a good way to begin meal planning.
You can write your meal plan on a piece a paper, on a chalkboard in your kitchen, a wipe off board, in your home management binder, online or however you want to record what you are going to have.

As with most things, you have to find a system that works for you! But planing your meals really does help you to control your food bill and these days every little bit helps!
Do you meal plan? 
You might also like: Free Blank Weekly Meal Planning Printable