How We Plan To Live On Less Money
So as I mentioned before, when my husband was shifted into another position in his company we lost quite a bit of income – over $600 each check (that's $1200 a month!!!). Not only that, but, we didn't find out this was going to happen until 3 days before payday! Oh yes, somehow they didn't think it important enough to let him know. I found out because I always check his paycheck at their online payroll center (toward the end there I was checking to make sure he was even getting a check). When he called HR about it they said they were planning on telling him on payday and forgot that you could look at paychecks on line 3 days before. I'm sure they wouldn't like to open their checks ON PAYDAY and find it less than what they were used to getting! Anyway……I'm not a financial expert but I can share what we've been doing to cope. This is how we are going to manage our budget with less money than before.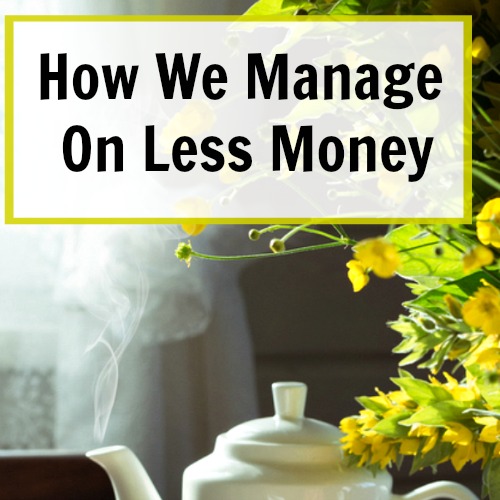 Disclosure: This post may contain affiliate links to Amazon and/or Etsy, which means that I may earn a small commission from some of the links in this post. Please see our Disclosure Page for more information.
But first I want to point out a few things.…we've been doing the Dave Ramsey program for years and we're down to one credit card that we're still paying off. We do have $1000 in an emergency fund and we are NOT living paycheck to paycheck. Get a copy of Dave Ramsey's Total Money Makeover. Check out the "We Did It" section on his site for inspiration. He often puts his books on sale and many churches offer his Financial Peace program. Also, all libraries should have a copy of this book so you can read it for free!
Debt is bad! I can't encourage you or emphasize enough that if you have debt you should focus on getting out of debt. Debt is not normal. Just because lots of people have credit card debt doesn't make it o.k.
Debt limits your choices. Do whatever you have to do to get out of debt.
I Made A New Spending Plan
Have some sort of spending plan in place. I think it's important to have a plan. A plan for how to spend your money, how to build up your savings, a menu plan, a shopping plan, you get the idea. I'm a planner. I do think it helps to have a plan to reach a goal no matter what that goal is. You can definitely save money by planning if that's your goal! You need a basic budget of things that absolutely must be paid and things that are nice to have but you can cancel to save money. Here's how to make a very simple budget.
You must know what your income and out go are. But there's something about sitting down with your stack of bills and receipts – I guess its fear. Fear that you are living above your means, fear that you're not really doing such a good job being a good steward of your family's money, fear that you really can't tell your wants from your needs and are overspending. Fear of reality! But whatever, it's something you have to do. So gather your bills and bank statements and get to planning!
Eliminate & Cut Back
To begin with, I discovered that eliminating a few wants such as….no more random Target or TJ Maxx trips, no more eating out, we cancelled our cable package and just went with basic, and we are cancelling our health club membership (we do have a treadmill at home and we have weights).
I'm thinking of making even more of my own cleaning products, definitely use what I have or DIY if I want new home decor things.  We are going to hang our laundry outside and be very careful about using electricity. More cooking from scratch as well (and I'm not that great a cook so it's going to be a challenge)! More meal planning and sticking to my grocery list.
Money Saving Tips You Can Use Every Month
100 Tips To Help You Live Within Your Means
Quick Meals To Make Instead Of Eating Out
We are going to use it up, make it do, or do without! That will be my motto going forward!
I see myself as the Manager of our home and finances and I take my job seriously. I have pride in what I do and I want to do the best job possible. But I don't have it all figured out. I'm always looking for more information! So I hope you guys will chime in with your ideas!
It'll be fun to learn some new skills along the way! Thanks for dropping by and let me know what you would do in this situation. What would you do to manage on less money?
How We Will Live On Less Money Part 2 – Building Your Pantry For Savings