This is currently my pantry. It's a plastic shelving unit in the shower stall of our downstairs bathroom that we don't use. All of our bedrooms are upstairs and we have two bathrooms up there so basically this part was just unused space. Sometimes you have to think outside the box to find a place for food storage!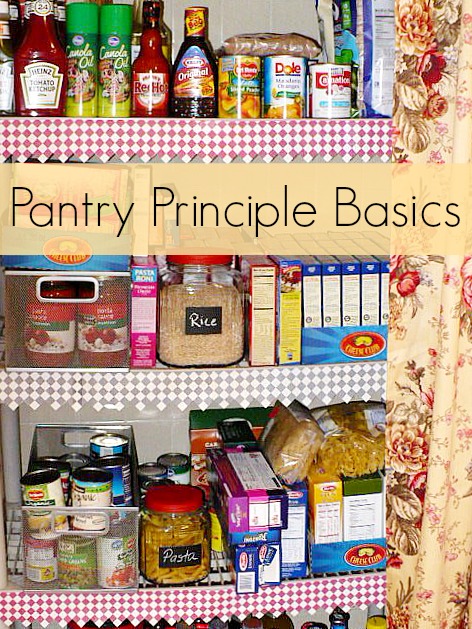 I don't think we ever took a shower in it the whole time we've lived here! It's great to have a designated space for extra food items but if you don't, be creative and think of some other places you could store a few extra cans and boxes.
Pantry Principle Basics
One of THE biggest money wasters is to go grocery shopping without a plan! As I said before, you CAN save money if you have a plan and follow it through. Planning your shopping is essential. And I don't just mean menu planning (which is also important and I'll talk about what I do another time). But actually taking the time to:
 inventory what you have (so you don't buy what you obviously don't need or really eat) and keep a good on going record
take the time to at least look at the sales flyer from the grocery stores you frequent. You can take it a step further and also check online sources for unadvertised specials and coupon match ups!
I use the
"pantry principle"
which I learned about in Amy Dacyczyn book "The Tightwad Gazette". To quote from her book "The basic premise is that you stockpile your pantry (and/or freezer….). The sole purpose of grocery shopping becomes
replenishing
your pantry,
not
buying ingredients to prepare specific meals."
So basically you start buying things in quantity when they are on sale. You can start small and buy just one to use and one for backup or you can decide that you want to set aside a certain amount to build up your pantry (again

planning

your spending)

. The goal is to cook from your pantry.
Disclosure: This post may contain affiliate links to Amazon and/or Etsy, which means that I may earn a small commission from some of the links in this post. Please see our Disclosure Page for more information.
There are lots of lists out there for what a well stocked pantry should have but I think it all depends on what your family eats. No use buying bags and bags of flour when you don't bake. If your family eats lots of canned fruit then you should stock up on canned fruit when it's at its lowest price. Or if you eat lots of chicken  like my family, I buy lots of packages of different cuts when they go on sale so I never am out and I never have to pay full price.
So first thing I did was inventory what I had and then what I do is I keep a running list of what we need on my fridge. When someone uses the last of something or notices that it's low it gets put on the list. Before I go grocery shopping I check this list against my pantry. I don't expect my family to know what's in the pantry. They just know if there's no more in the fridge or kitchen cupboards. Now, not everything goes on sale. But most things eventually go on sale or you'll have at least a coupon. And sales cycle! So keeping track of  when something was a good price is also a good idea if you have time.
You shouldn't go overboard and buy things just cause they're on sale though. 20 cans of cheap Chef Boyardee are a waste of money if you don't eat that type of thing! Buy what you eat and only you can determine how much to buy. Having one or two extra cans may be all you have room for or all you need whereas someone else might  buy a case. Do what works for you and your family and your budget!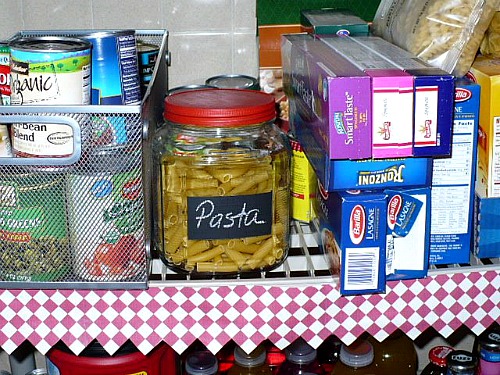 I check the sales flyers for all my local stores. I have a couple that are really close to each other. But I know lots of people that just shop at one store. Some people like Walmart because they price match and some people like Aldi because everything is a great price (although selection is limited). Whatever works for you!
I normally keep a price book but I've found it  hard lately since prices are changing so quickly these days that what I once thought was a high price is now the sale price!! But I'll return to it once prices stabilize.
A stocked pantry can help you survive times of challenge and struggle. It can be a lifesaver in the event of a natural disaster or job loss. Just think how much peace it would bring you to know that you can feed your family in the event of hard times!
See Part 1  of how we managed when my husband was downsized here
See my new pantry (2013) and how I organized it here