12 Homemade Christmas Food Gifts.
Christmas is nearly here! If you need more ideas for a last minute type Christmas present, then why not try making a food gift? Food presents are always an appreciated gift, especially when it's something out of the ordinary! Continuing with my Frugal Christmas Gift Guide here are 12 Delicious Homemade Edible Christmas Gifts!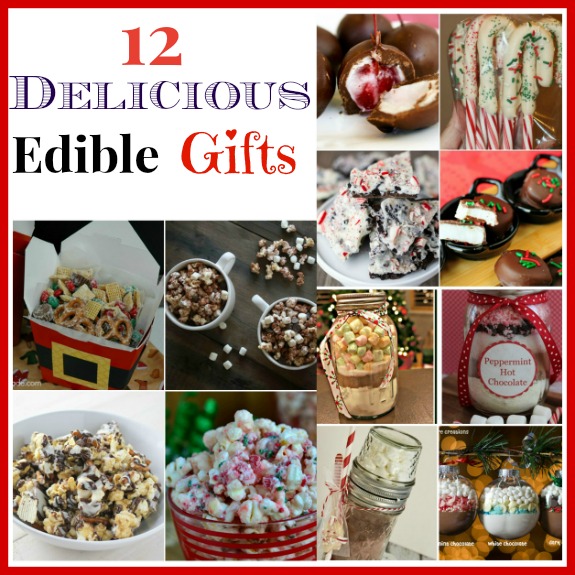 12  Homemade Edible Christmas Gifts!
While any type of food gift is sure to be appreciated (everyone loves food!), food gifts that are uncommon are more special! They can be uncommon in shape, flavor, or packaging. So this year, instead of the typical cookies or brownies, give some of these unique edible Christmas gifts instead!
Disclosure: This post may contain affiliate links to Amazon and/or Etsy, which means that I may earn a small commission from some of the links in this post. Please see our Disclosure Page for more information.
I like to give my homemade food gifts in Mason jars, cardboard bakery boxes, or cellophane treat bags. Just add a ribbon, bow, and/or pretty label to either of those, and you have a fun, festive, and tasty gift ready to give!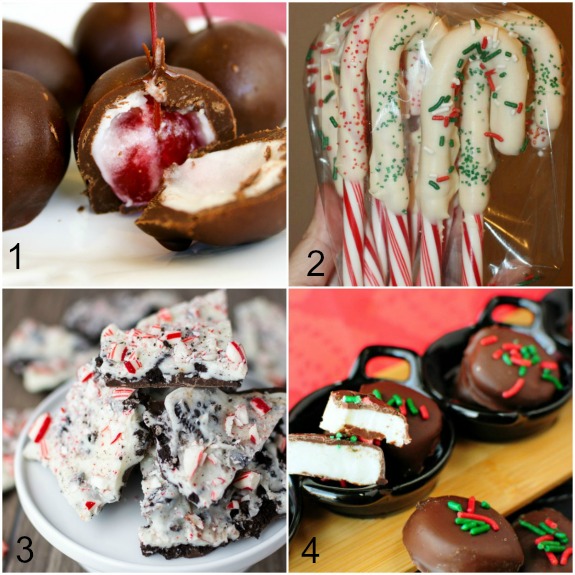 1. Chocolate Covered Buttermilk Cherries from BakerGirl. A bag of these would sure to be a favorite gift!
2. White chocolate dipped candy canes from Christy Robbins. This combines two of my favorites- peppermint and chocolate!
3. Oreo Peppermint Bark from A Southern Fairytale. Chocolate bark is always a great homemade food gift, and this one has Oreos in it!
4. Gluten free peppermint patties from Back for Seconds. It's easy to make gluten free DIY Christmas food gifts, and I'm sure these peppermint patties are delicious!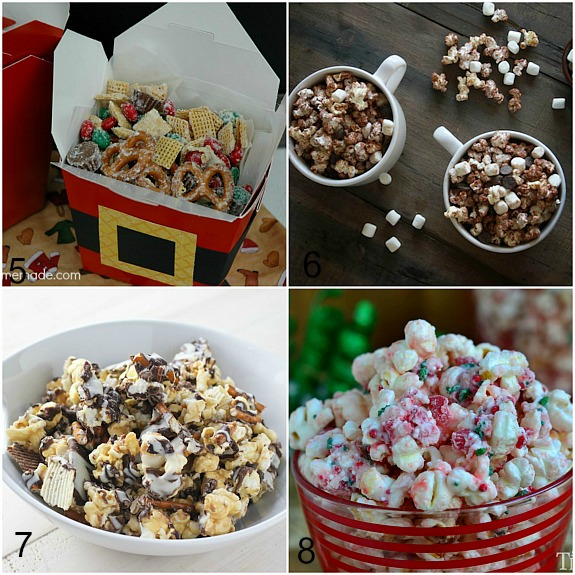 5. Christmas Candy Crunch from Simple Easy Creative by Hoosier Homemade. This sounds delicious, and easy for a big family to share.
6. Hot cocoa popcorn from ShutterBean. Flavored popcorn is always a great gift for me!
7. Potato chip pretzel carmel corn from Foodbabbles. I love caramel corn! Plus, homemade popcorn is easy to package up in cute ways.
8. Peppermint Crunch Popcorn from Mom On Timeout. If I made this to give as a gift, I'd have to make double so I could keep half!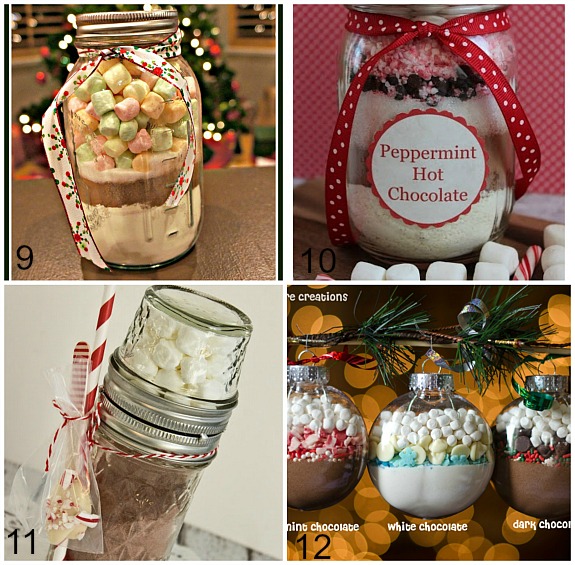 9. Slow cooker hot chocolate mix in a jar from 365 Days of Slow Cooking. I love food gifts in jars! The food is one gift, and the jar is a second gift once the food is gone!
10. Peppermint hot chocolate mix in a jar from Mommy Octopus. There are so many wonderful homemade edible Christmas gifts you can make! As a hot chocolate fan, I'd love to get this.
11. Hot chocolate mason jar gift from Colors and Craft. Isn't this a cute and clever way to gift hot chocolate?
12. Hot cocoa mix ornaments from Sprinkle Some Fun. This is so fun! It would be easy to make several of these to give each family member their own hot cocoa ornament gift.
Aren't these wonderful DIY edible gift ideas? They're easy and inexpensive to make, and look so delicious!
Have you ever given edible gifts for the holidays before? What did you make?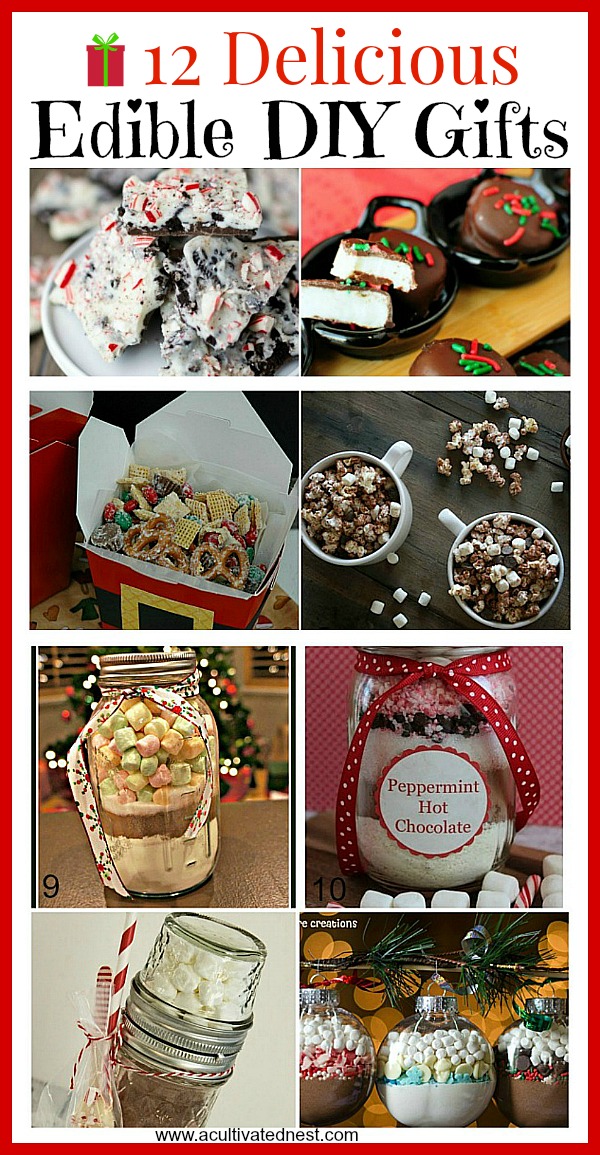 For More DIY Gift Ideas Check out My Frugal Christmas Gift Guide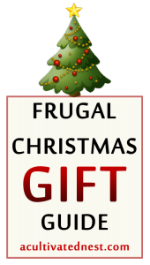 You might also be interested in: 10 Yummy Christmas Cookie Recipes