20 Clever Home Organizing Tips.
The New Year is fast approaching. That means it's almost time for New Year organizing! I actually love re-organizing my home for the new year. It feels good to start the year with everything in place, with space for new things, or just more space in general. To help you get your home organized easily for the coming year, here are 20 Genius Home Organization Hacks!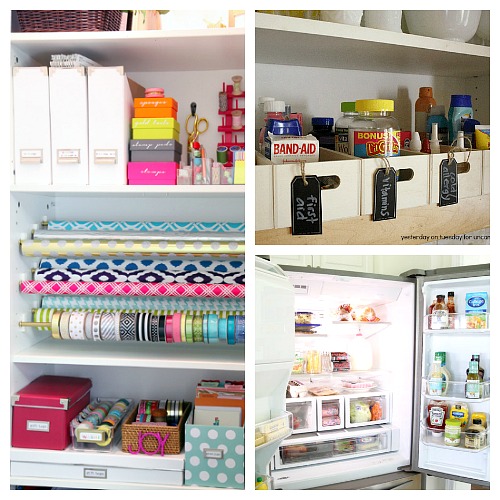 Disclosure: This post may contain affiliate links to Amazon and/or Etsy, which means that I may earn a small commission from some of the links in this post. Please see our Disclosure Page for more information.
Home organization doesn't have to be expensive or take tons of time. The easy home organization hacks below will help you get your home nicely organized on a weekend!
20 Genius Home Organization Hacks
Sort your things. While you are organizing these areas, go through your things and get rid of items that you don't need anymore. This will make it easier to organize the things you need and clear space in your house.
Pick one or two areas a day. Don't think that you can get your house organized in one day! Pick one or two areas to focus on each day, and you will slowly get your house organized.
Keep with it. Once your house is organized, I think it is important to try very hard to keep the organization while you live and work. Make sure to put things back where you had them and clean up messes right when they happen instead of letting them pile up.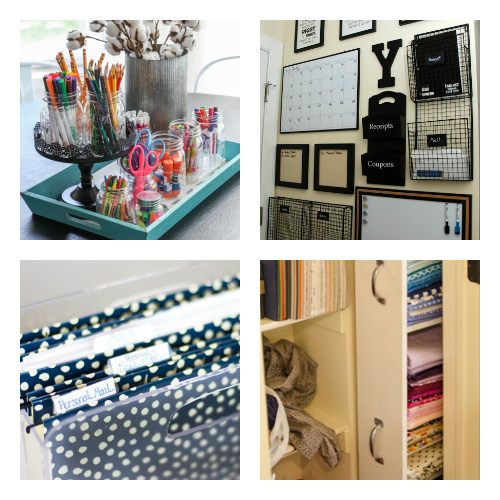 1. DIY Homework Station by Lil Luna – Make homework fun with this cute and organized station for pencils, pens, crayons, glue sticks, scissors, and more.
2. Family Command Center by One Creative Housewife – Place your beautiful and functional family command center where you'll actually use it!
3. How to Organize Your Mail & Eliminate Paper Clutter by Small Stuff Counts – You can be organized and fashionable at the same time!
4. Craft And Sewing Fabric Organization by Smile Like You Mean It – This is a brilliant IKEA hack to make a vertical sliding fabric shelf.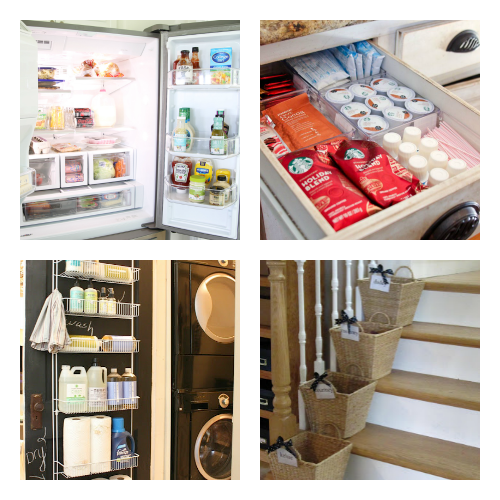 5. How To Organize The Refrigerator by Just A Girl And Her Blog – find tips and tricks to make the most out of your fridge space.
6. Kitchen Coffee Station by Unlikely Martha – Great use of a drawer to house all your coffee and or/tea essentials. Nice and tidy for your morning cuppa.
7. Laundry Room Organization by My Sweet Savannah Blog – If you're short on space and you have a door to your laundry room, this is a great organizational hack.
8. Stair Of Baskets For Family Organization by Sew Many Ways – Let each family member help control their own clutter by assigning them each a pretty basket to keep their stuff in.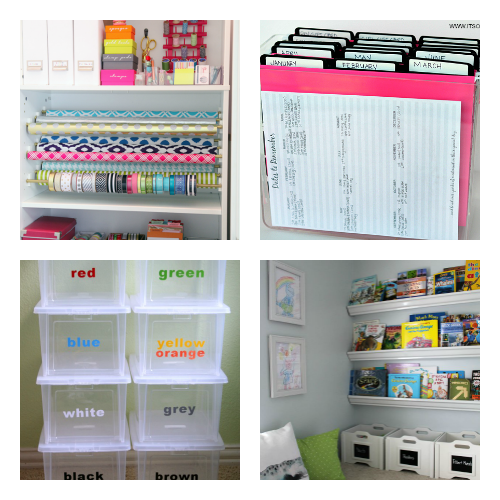 9. DIY Gift Wrap Organization Station by I Heart Organizing – Repurpose a cabinet or bookshelf into this beautiful wrapping paper station.
10. Dates To Remember Filing System by It's Overflowing – I love this simple way to create a monthly organization system for dates to remember and act on.
11. Color-Coded Lego Organization by Dukes And Duchesses – This is a simple and effective way to control Legos while teaching organization skills to the littles.
12. Kids Reading Nook Book Display Hack by Clean And Scentsible – You have to check out this brilliant hack for displaying books on the wall. Genius!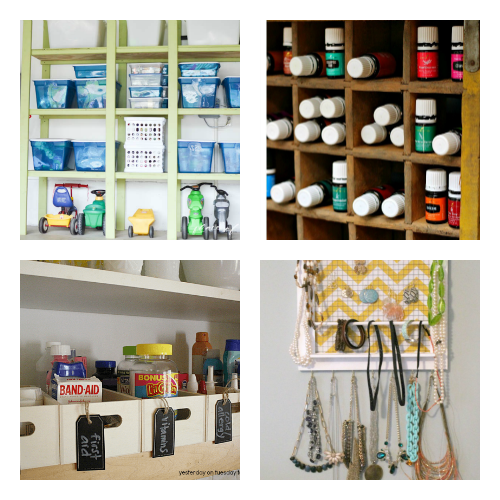 13. Organized Garage by Place Of My Taste – Get creative with buckets, labels, baskets, and bins to achieve an organized garage.
14. Organize Your Essential Oils by Pink Fortitude – This is a great way to upcycle an old crate.
15. How To Organize Your Medicine Cabinet by Uncommon Designs Online – This is a much more orderly way to find what you need in a hurry.
16. DIY Picture Frame Jewelry Organizer by The Make Your Own Zone – What a cute way to create a personalized organizer for your bling!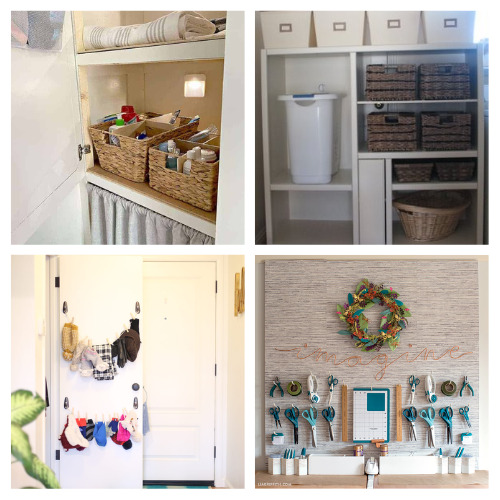 17. How to Organize Your Bathroom Closet by Chatfield Court- Get that bathroom closet organized so you can find everything you need easily and quickly!
18. How to Turn an Entertainment Center into a Laundry Room Organizer by Creations By Kara- I think this is a wonderful idea to keep your laundry room organized and everything in its place.
19. Organize your Coat Closet in 5 Minutes by Lovely Indeed- I know my coat closet gets so messy during the winter months that it needs a refresh! I can't wait to try this method!
20. Organize your Craft Tools with a DIY Peg Board by Lia Griffith- This peg board DIY would be so handy to keep your craft tools in the right place and easy to grab when you are creating.
These home organization hacks are such easy (and inexpensive) ways to get your home organized fast!
Which of these home-organizing ideas is your favorite?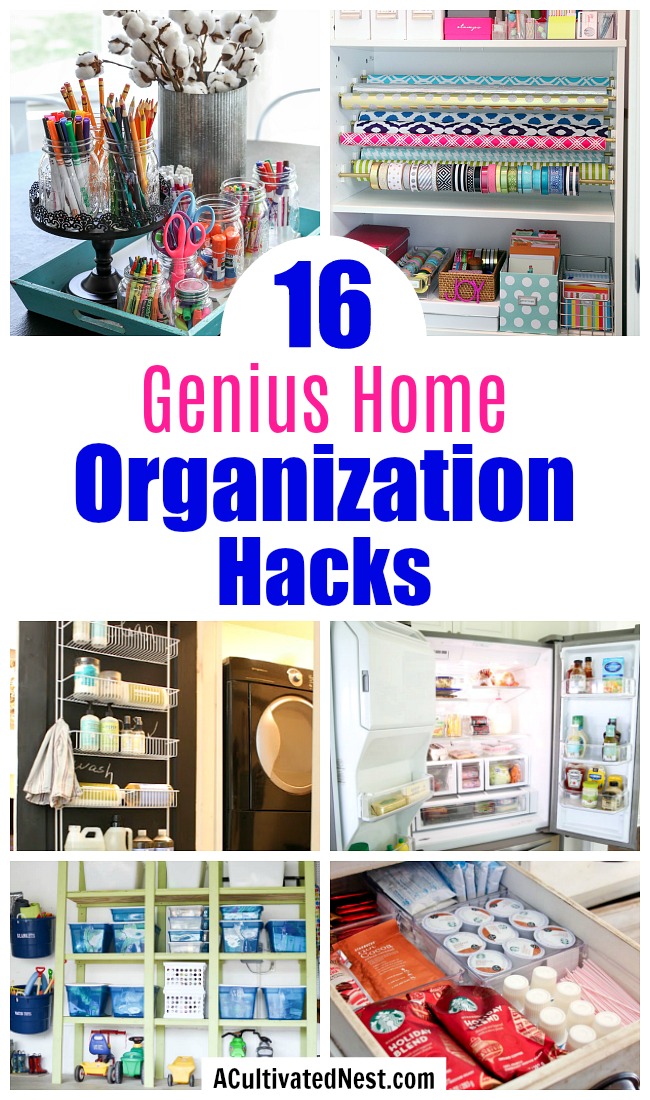 You might also be interested in: Cute and Clever IKEA Hacks