10 Easy Food Gifts in a Jar.
Homemade gifts in a jar are fun to make and a frugal holiday gift to give to just about everyone. They're great when you need a little something to show appreciation to a teacher, neighbor, or friend. They're also a great starting off point for gift baskets! Here are 10 Homemade Gifts in a Jar from Your Kitchen that you need to make!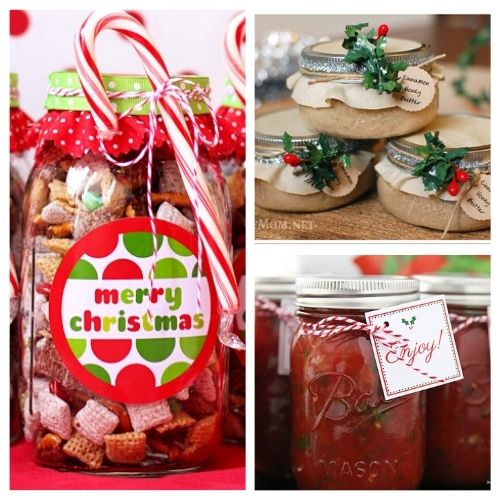 Disclosure: This post may contain affiliate links to Amazon and/or Etsy, which means that I may earn a small commission from some of the links in this post. Please see our Disclosure Page for more information.
Homemade gifts are so thoughtful, and are a great gift for the person who seems to have everything already!
10 Homemade Gifts in a Jar
Christmas is right around the corner and homemade gifts are something I want to make this year. I think they are so cute and are actually useful! We have so much stuff in our lives already, that I want to give useful and yummy gifts this year!
Start saving your glass jars. I plan on using some empty glass jars from my groceries to make my homemade gifts in. This will keep the cost down for me, keep jars out of the landfills, and give the jars a new purpose!
Find free labels! There are tons of free downloads for labels to make your gifts cute! Even if you don't have a Cricut, there are a lot of printable labels to make cute gift tags for your jars. If you're giving your homemade gifts in a jar for Christmas, then you might like some of these free printable Christmas tags and labels.
Not just for Christmas! A lot of these ideas are focused on Christmas gifts, but homemade jar gifts can be perfect for all sorts of things not just Christmas. Teacher appreciation gifts, Grandparent's Day, Mother's Day, Father's Day, and so many more!
1. No-Bake Chex Mix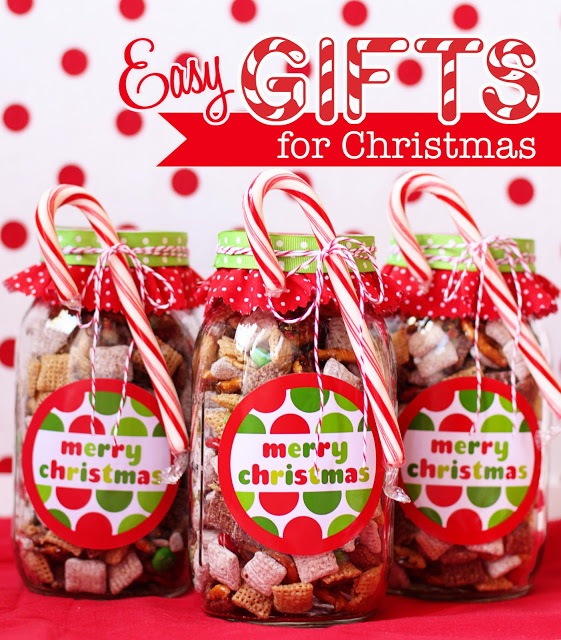 This first one is a homemade No-Bake Chex Mix from  Amanda's Parties To Go The presentation is so cute, isn't it! She even gives you the Christmas tag as a free download here!
2. 5 Grain Pancake Mix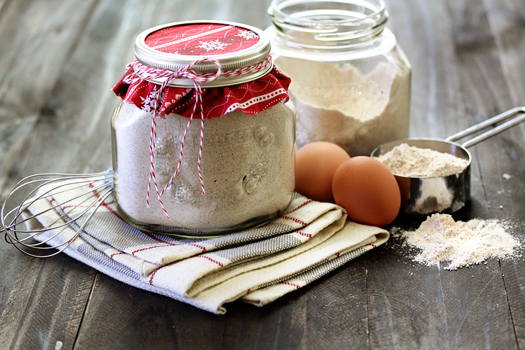 5 Grain Pancake Mix in a jar from Good Life Eats. She also is kind enough to include a free printable recipe card for you to attach to your jar. You could also make this to keep in your pantry for quicker breakfast prep!
3. Cowgirl Cookies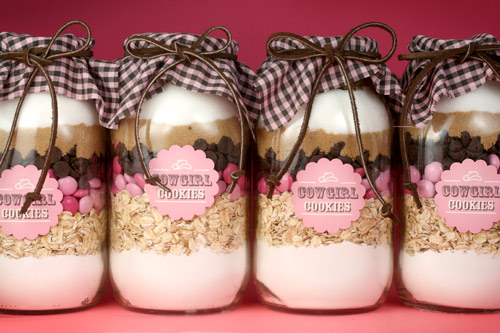 Cowgirl Cookies from Bakerella are yummy and make a great gift idea! I love the layers and how pristine they look. You could change the pink out for something more seasonal.
4. Cinnamon Honey Butter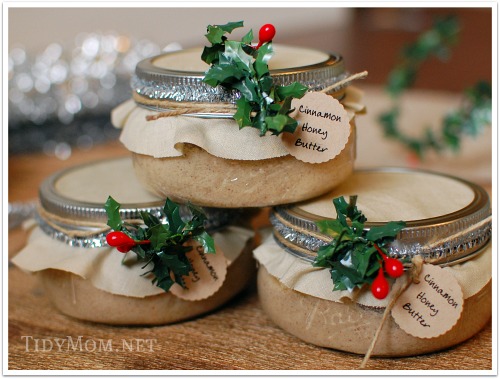 How about cinnamon honey butter from Tidy Mom. Doesn't that sound delish? She even gives a great tutorial on she made the jars look so cute and festive!
5. Chocolate-dipped Pretzels 
Chocolate-dipped pretzels in a jar from Alice Golden. I made similar ones last year with stick pretzels and they were a huge hit! You could change the sprinkles to match other holidays, as well.
6. Salted Caramel Sauce
People will want more of this yummy salted caramel sauce from Lydi Out Loud. It is easy to make and will be a crowd-pleaser! Plus, she has a printable recipe card to go with it.
7. Fresh Peach Compote
Intelligent Domestication has a great recipe for fresh peach compote that would be wonderful on toast, ice cream, or crackers. I think your gift receiver will be glad to get this present!
8. Hot Cocoa Mix
Who doesn't love a mug of hot cocoa on a cold, wintery day?! Elle Marie Home has a great post on how to make the hot cocoa mix and how to make them so cute!
9. Teacher Gift
Use this cute printable to make a gift for teachers and fill it with chocolate-covered cinnamon bears. I have not heard of this goodie but Love the Day raves about them!
10. Homemade Salsa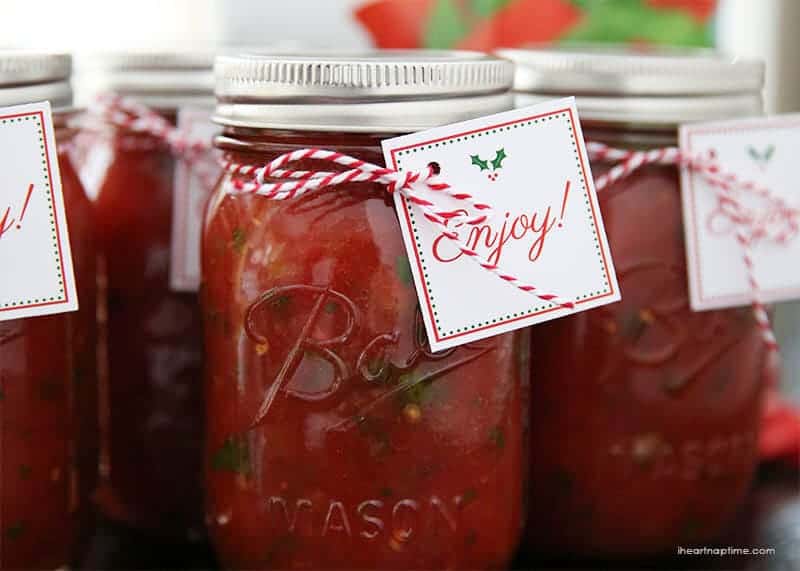 I thought we needed something on the savory side and I found this homemade salsa from I Heart Naptime. She has a cute printable to dress up your jars for gifts!
I hope this gives you some easy ideas for gifts!
Which of these homemade gifts in a jar do you think you'd like to make?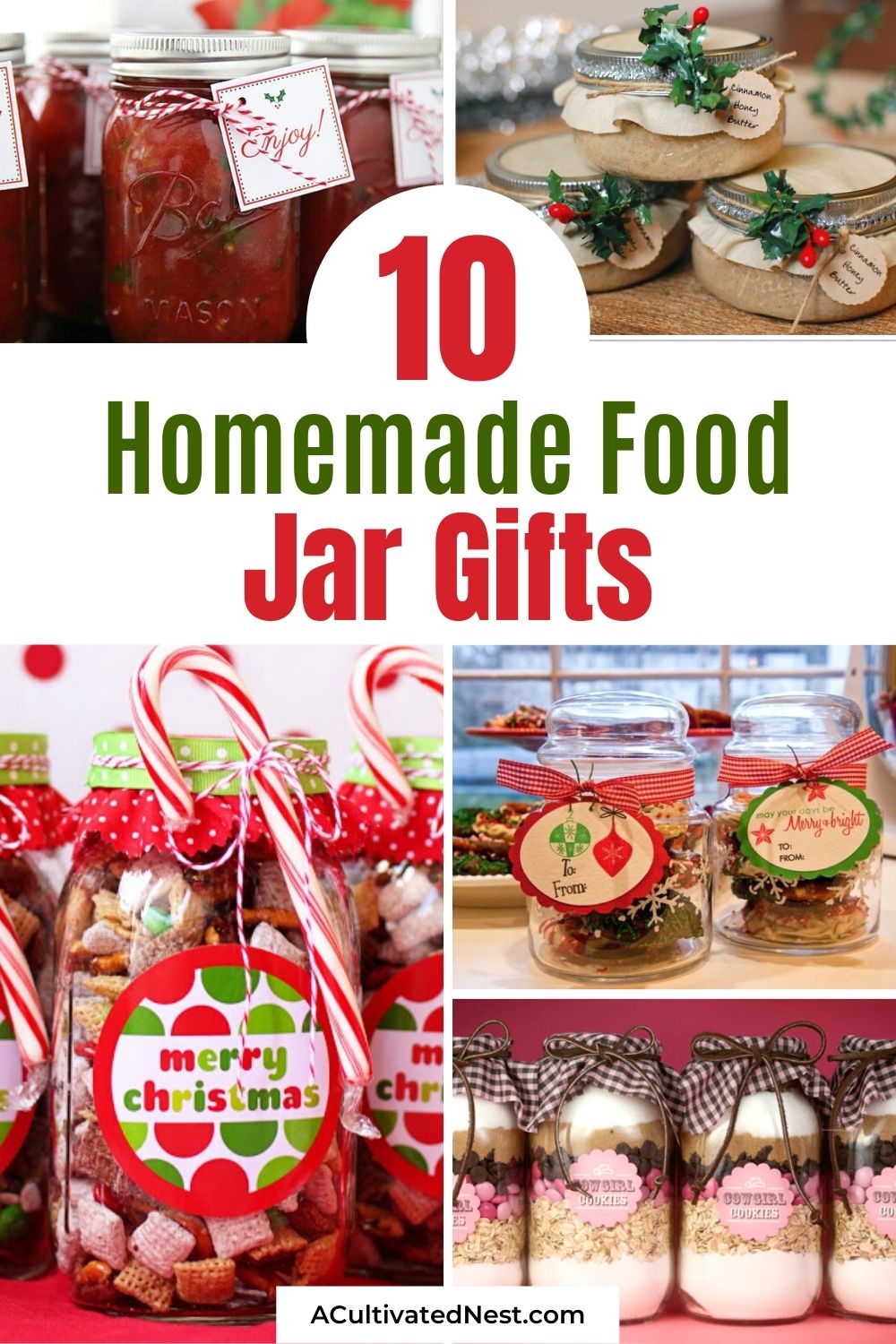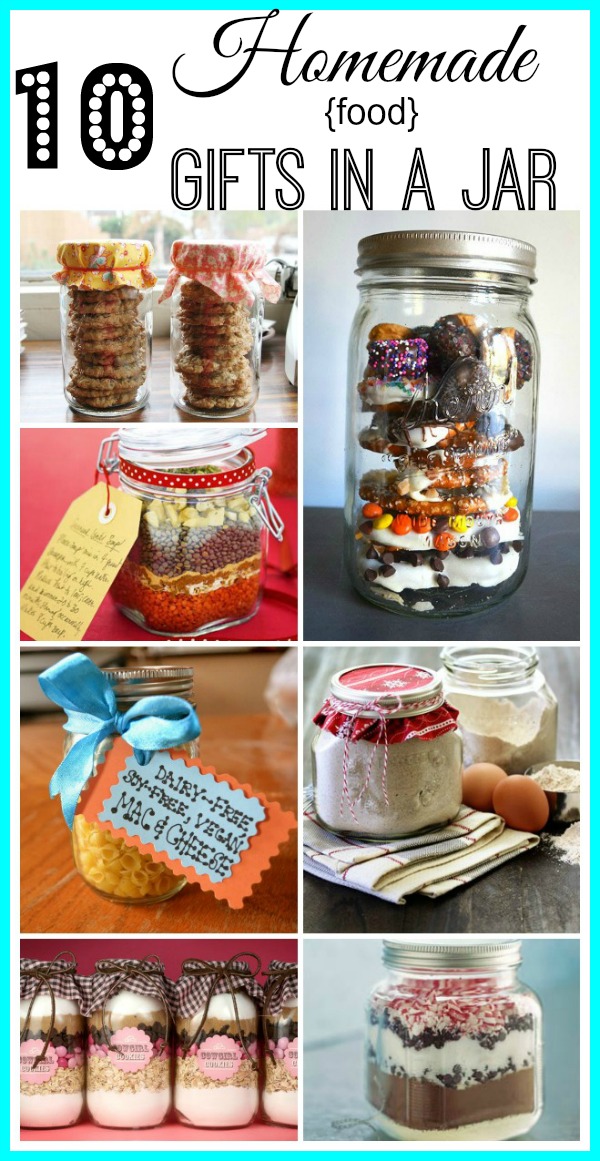 You might also be interested in: A Homemade Christmas – Gifts You Can Make