DIY Small Bathroom Organization Ideas.
We are overhauling a lot of rooms in our home in an effort to have things be more organized and tidy looking. One room in particular that I've been searching for ideas for is our tiny master bathroom (actually, all our bathrooms are small)!  There's not a lot of room and not a lot of storage. So I've been looking on Pinterest for some DIY Small Bathroom Organizing Ideas and thought I'd share a few with you today!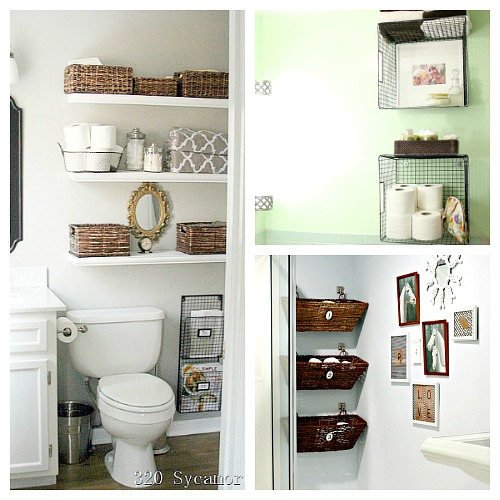 Disclosure: This post may contain affiliate links to Amazon and/or Etsy, which means that I may earn a small commission from some of the links in this post. Please see our Disclosure Page for more information.
Here are some great small bathroom organizing ideas to help you maximize storage in your bathroom!
14 Small Bathroom Organizing Ideas
Before you get started, here are some bathroom organization tips to help:
Be creative. For storage, consider, baskets, bins, even a nice decorative bucket. Put your storage on the wall, in the cabinets, on shelves, on the back of the bathroom door, or on the back of the bathroom vanity's door.
Keep storage accessible. If you want to get your small bathroom organized and keep it that way, make sure your storage solutions are in places you can easily access so you can use them daily.
Out of sight is out of mind. Because your bathroom is small, it'll look best with the least amount of visual clutter possible. So try to keep obviously visible storage solutions at a minimum. Or if you can't put your storage behind a door/in a cabinet, consider finding storage that is the same color as your bathroom walls, or the same color as the surface its sitting on.
1. Floating Bathroom Shelves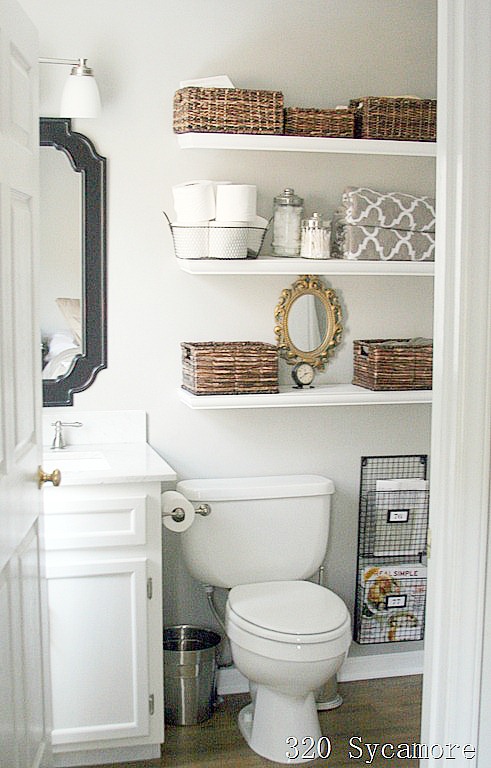 I'm pretty sure we're going to install some sort of shelves to utilize the vertical space. I like these floating shelves from 320 Sycamore. You can find these shelves on Amazon.
2. Under Sink Bin Organization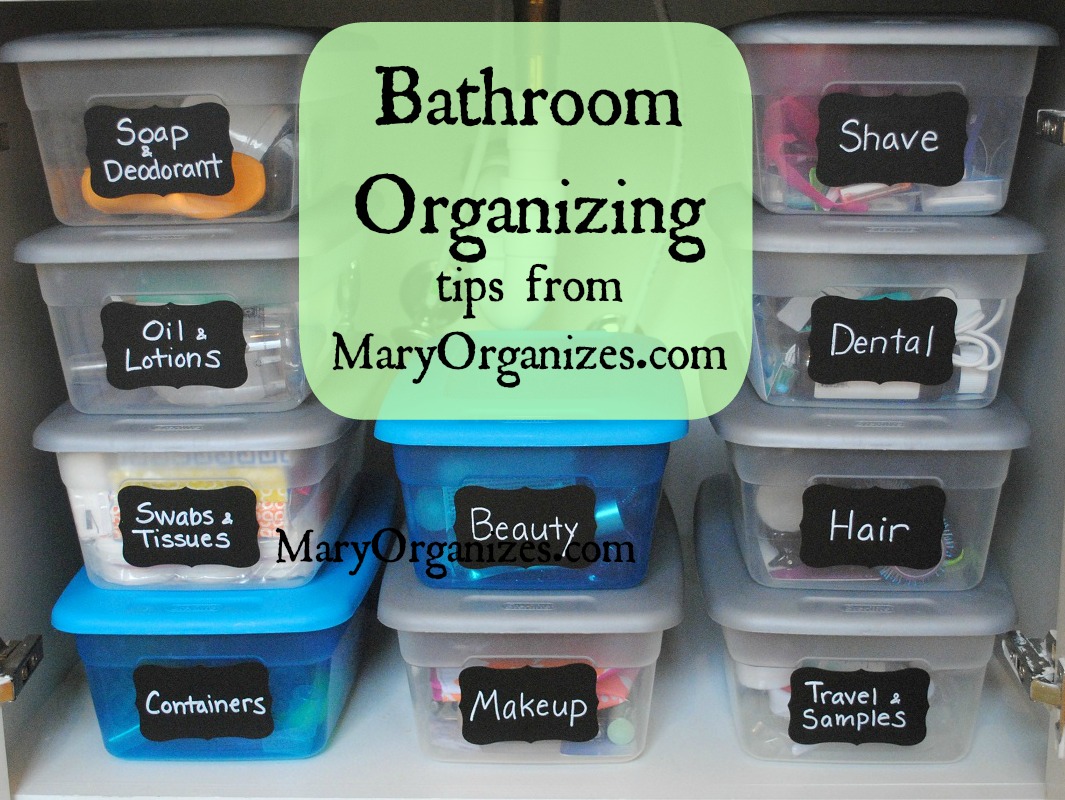 Organizing with plastic storage boxes like this from Creating Mary's Home keeps the under sink area nice a tidy! You can find these plastic storage boxes on Amazon or even at the dollar store.
3. Under Sink Lazy Susan
Using a Lazy Susan for small bathroom organization in a cabinet is so clever! Check out how Mini Manor Blog organized under her sink. I also found a Lazy Susan with mesh baskets that might work even better on Amazon.
4. Hair Dryer Holder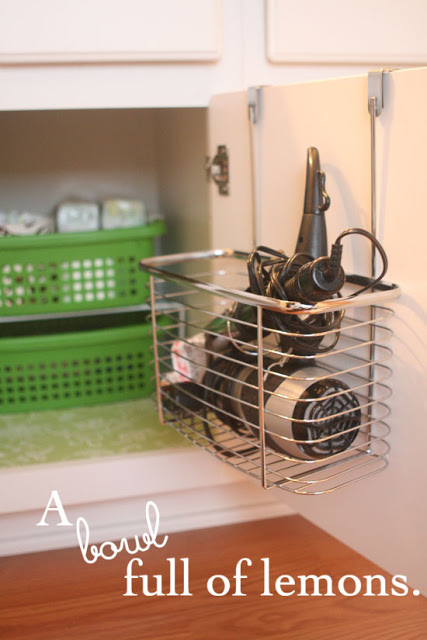 I actually just bought one of these hair dryer holders to help organize a small bathroom in our home and it works great! This hair dryer organization idea is from A Bowl Full of Lemons.
5. Over Toilet Shelf and Bar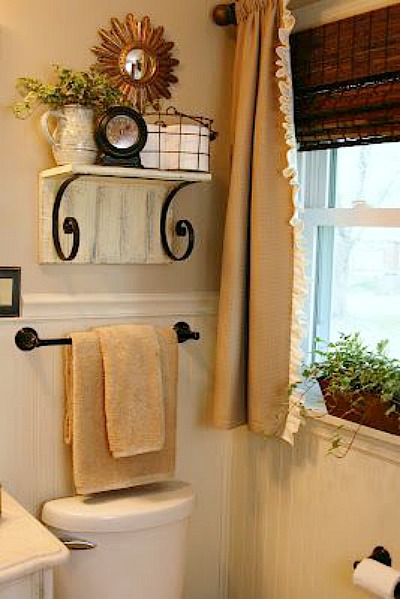 I like this shelf, towel-bar combo from The Butlers. It looks elegant, but also is very functional!
6. Bathroom Mason Jar Organizer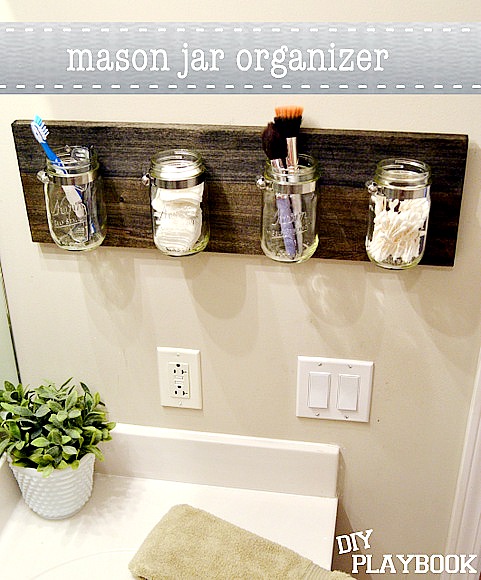 Use your small bathroom's wall space well with this DIY Mason jar organizer from DIY Playbook.
7. Interior Door Storage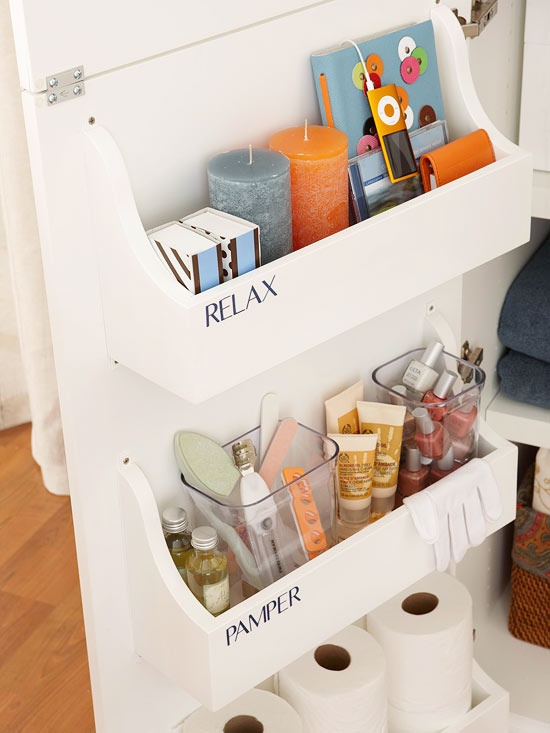 I love this idea to use the back/inside of cabinet doors for storage from BHG. I found a similar cabinet organizer on Amazon.
8. DIY Under Cabinet Storage System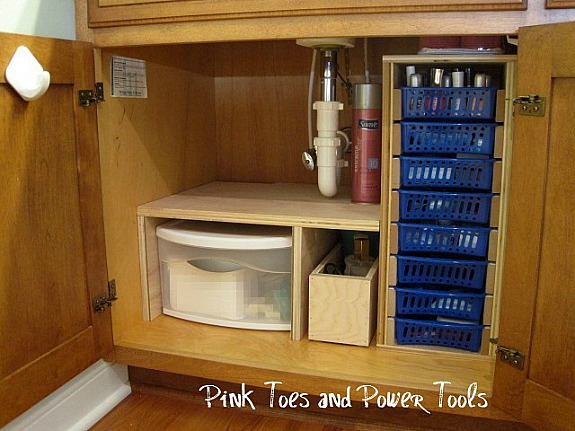 I also really like this custom DIY under cabinet storage system because the pipes in one of our bathrooms is set up strangely. This clever DIY is from Pretty Handy Girl featuring Pink Toes and Power Tools. I found a two tier sliding shelf on Amazon that would work great with this bathroom organizer system.
9. Wall Mounted Baskets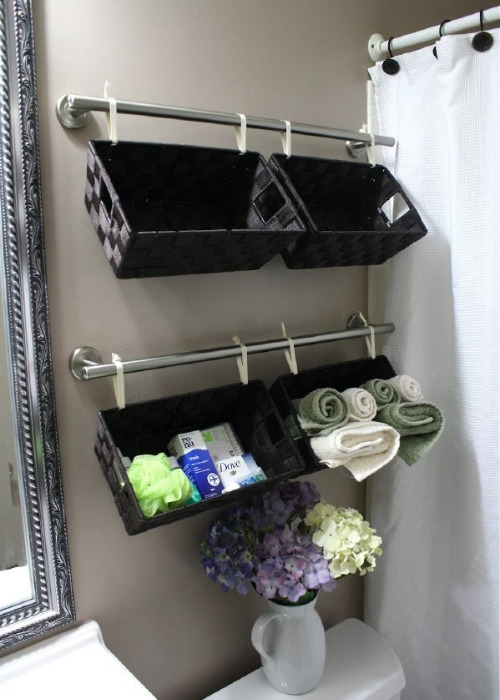 Wall mounted wicker baskets would also be a great storage idea (plus they look awesome)! This smart organization solution is from Simply DIY 2.
10. Hanging Wire Baskets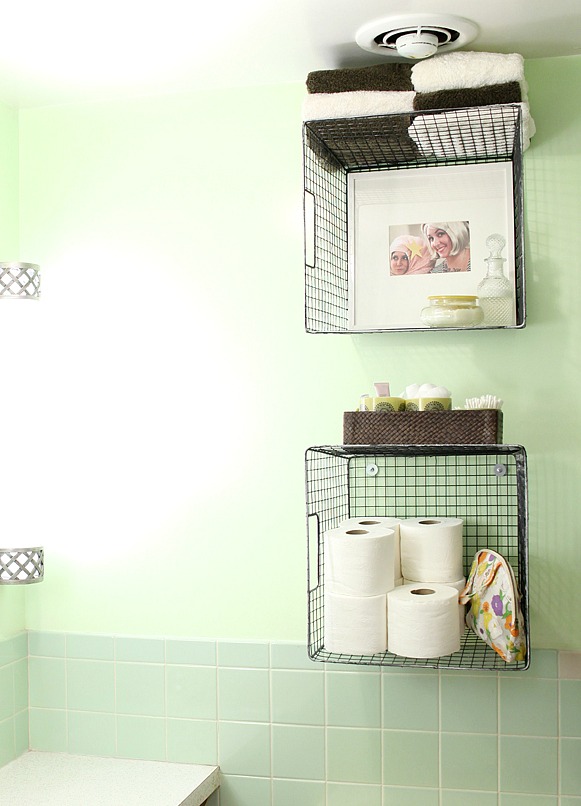 I also love the idea of hanging wire baskets on the wall like these from A Beautiful Mess. I found some similar wire baskets on Amazon.
11. DIY Bathroom Mason Jar Holders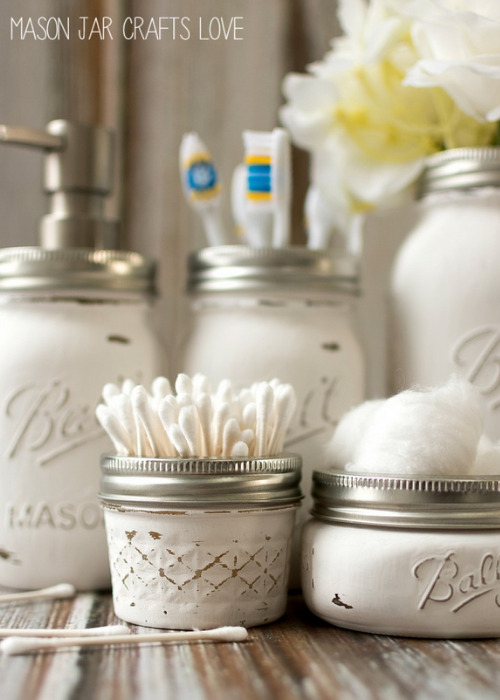 Using small painted Mason jars to hold little bathroom items like cotton is such a cute idea! This great DIY is by Mason Jar Crafts. You could also apply the steps in my marble storage jars DIY to make your own small painted Mason jars.
12. Hair Tool Storage Cabinet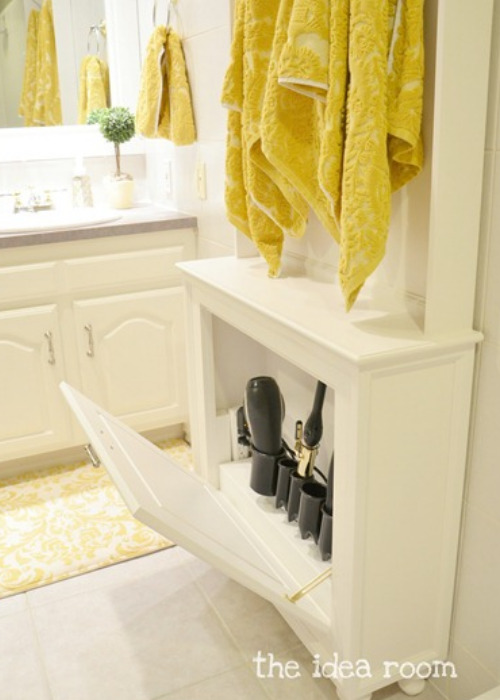 Hair tools and accessories can take over a small space! This hair tool organizer cabinet from The Idea Room is pretty much genius!
13. Clear Containers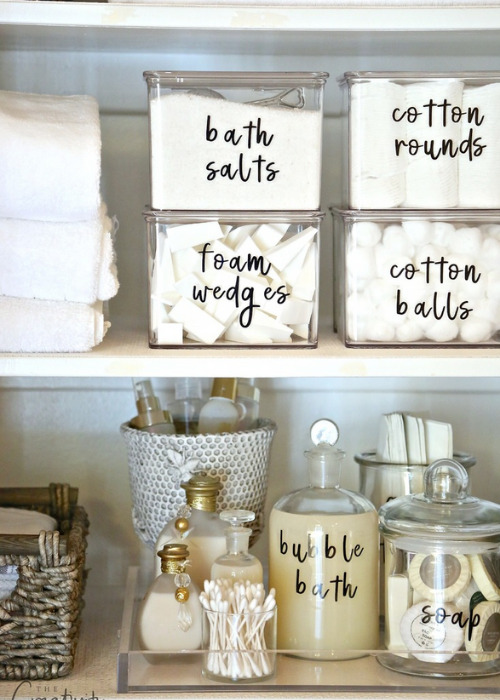 The Creativity Exchange has a stunning idea where you take clear plastic containers and label them. It looks stylish and elegant!
14. Make-Up Magnet Board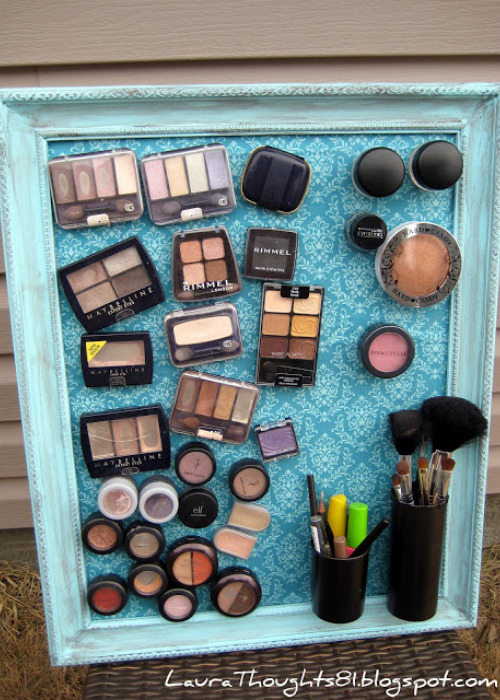 Get all your make-up easy to see and organized once and for all. Laura Thoughts created this brilliant Make-Up Magnet Board Idea!
Even though small bathrooms are easier to keep clean than larger ones, there may be things you're forgetting to clean. Click the link to see if you're cleaning everything that you should!
I hope you're as inspired by these small bathroom organizing ideas as I am! I'll be sharing more organizing ideas for your home as we go through each of our rooms!
Which of these small bathroom organization solutions is your favorite?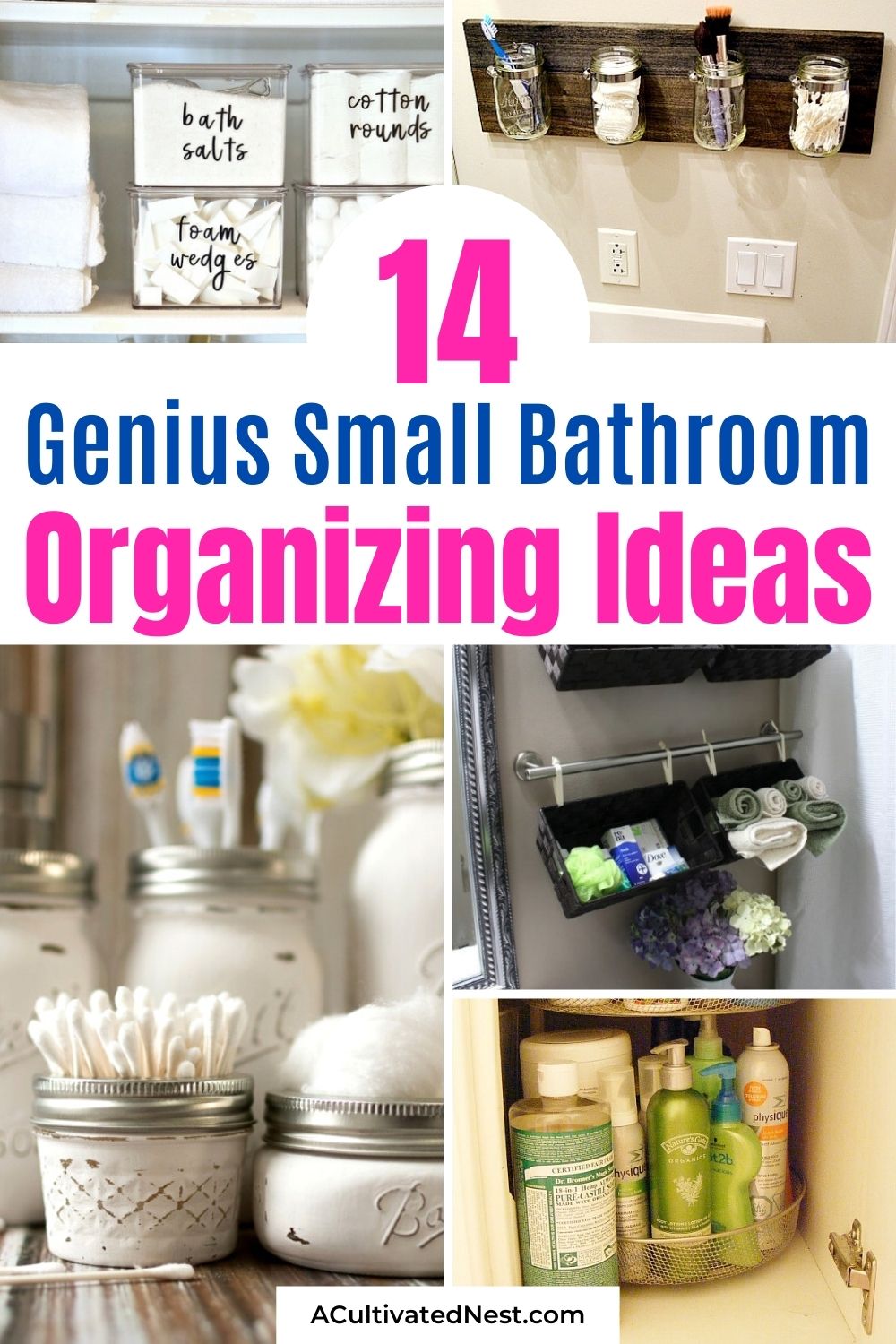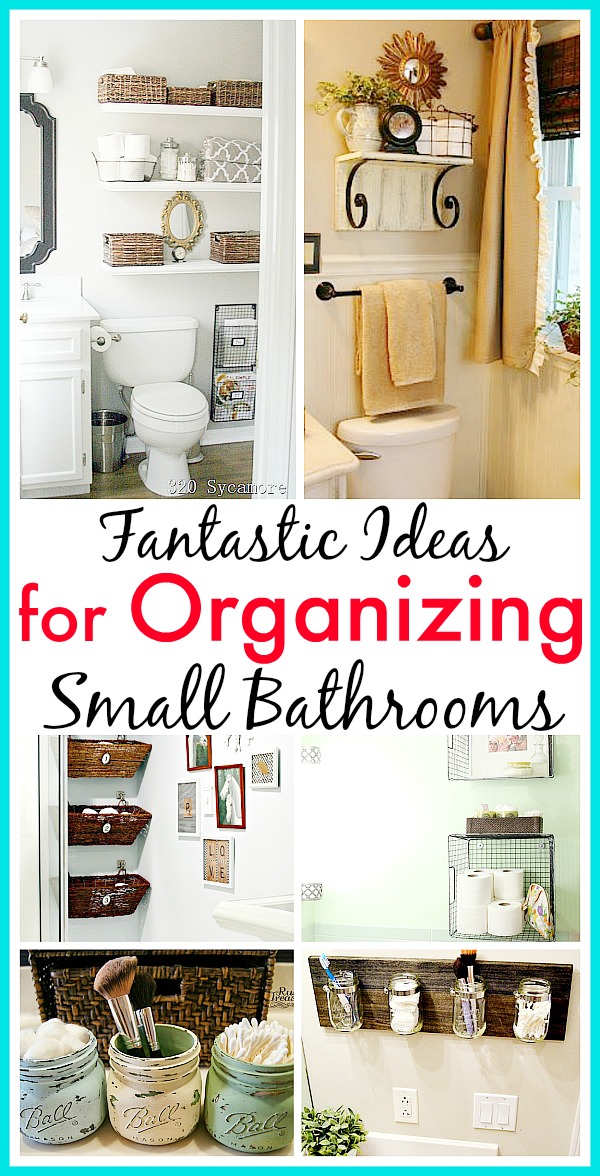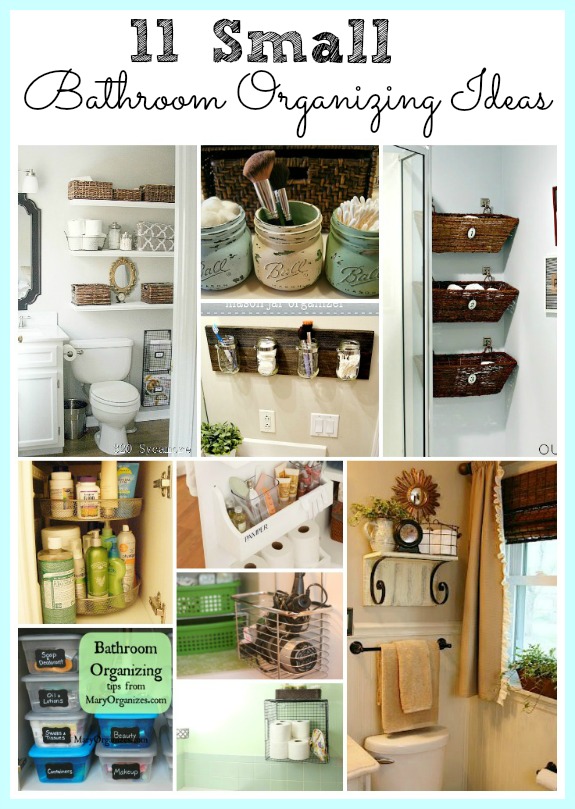 You might also be interested in: 10 DIY Bathroom Cleaning Products