We all want our homes to be clean. We wipe things down daily, scrub other things weekly, and deep clean other areas every few months. But despite all of that work, there are still little, yet critical, areas of our homes that we often forget to clean! To help you get your bathroom as clean as possible, here are 10 Things You're Forgetting to Clean in Your Bathroom!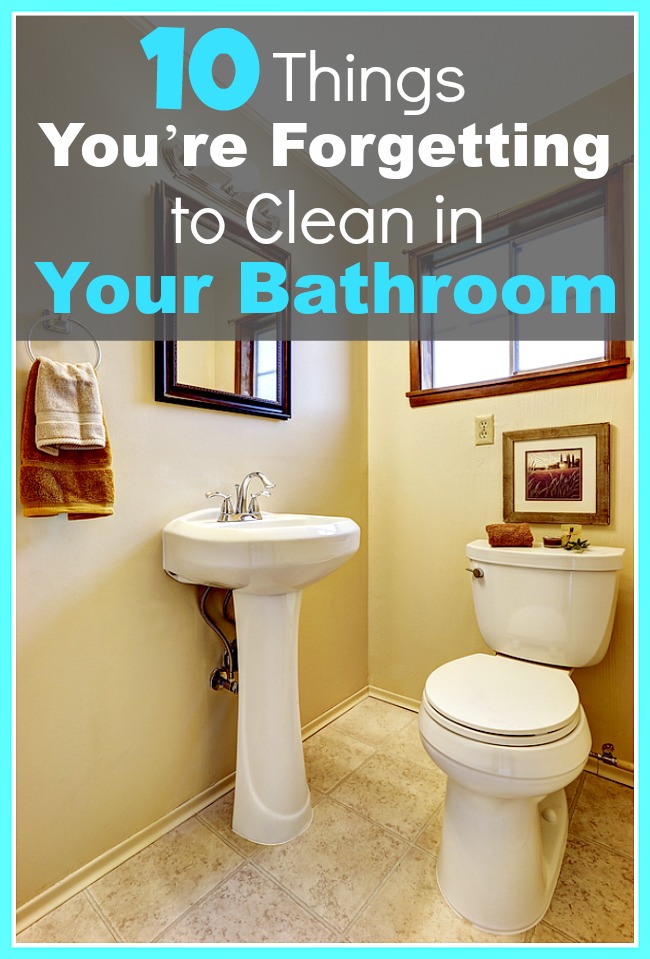 Disclosure: This post may contain affiliate links to Amazon and/or Etsy, which means that I may earn a small commission from some of the links in this post. Please see our Disclosure Page for more information.
If bathroom cleaning isn't your favorite thing, check out my bathroom cleaning tips! And if you're having a hard time getting your bathroom organized before you even start cleaning, then my bathroom organization tips should help you out!
10 Things You're Forgetting to Clean in Your Bathroom
1. Sink Overflow Holes
Have you ever noticed the little overflow holes in your bathroom sinks? And if you have noticed them, have you ever cleaned them? If neglected, like most overflow holes are, they can become quite dirty and nasty looking. So the next time you're cleaning your bathroom sinks, give the overflow holes a minute of attention, too!
2. Toilet Side and Back
Most people remember to clean the outside of the toilet bowl. But something that you're probably forgetting to clean in your bathroom is the back and side of the toilet where the coils are. All those twists and turns can hold a lot of dust!
3. Bathtub Knobs + Shower Wand Handle
If you want to really disinfect your bathroom, then you should be wiping down everything that people touch, including the little things like the bathtub faucet knobs and the shower wand handle (if you have a shower wand).
4. Vent
An area that you're most likely forgetting to clean in your bathroom is the bathroom vent! Most bathrooms have a vent to suck out steamy shower air. Over time, these vents collect a lot of dust and dirt! So every once in a while, remember to get up on a ladder and give your bathroom vent a quick wipe down!
5. Knobs on Cabinetry + Doorknobs
Yet another area that isn't part of most daily/weekly cleaning schedules is bathroom cabinet knobs and doorknobs! Between dust and dirty hands, these areas can easily become dirty!
6. Light Switches
Have you disinfected your bathroom light switches lately? If not, they could be hosts to a variety of nasty germs, never mind looking dingy from dust, dirt, and oil from people's hands!
7. Backsplash
If you have a sink backsplash, it can collect a lot of toothpaste splatters, droplets of soap, and just general dust and dirt, especially if it's tile! So next time you're wiping down your bathroom countertop, don't forget to give the backsplash a good wipe down, too!
8. Light Fixtures
You may be surprised to realize that one of the things you're forgetting to clean in your bathroom is your light fixtures! Unless they have an actual cobweb on them, most people never think about how clean their bathroom lights are. But even if they don't have cobwebs, your light fixtures could be covered in a thick layer of dust and dirt. After wiping them down, you may discover that they were supposed to be a few shades brighter all along!
9. Ceiling Corners
Very few people remember to ever dust the corner of their rooms' ceilings, even if that's where most spiders tend to make webs. To prevent spider webs, it's a good idea to dust the ceiling corners of your bathroom every once in a while.
10. Shelves
If your bathroom has a closet or cabinet to hold linens or toiletries, you'll want to make sure you're not neglecting to clean it, either! Every month or so, take everything off the shelves and dust the cabinet/closet interior walls, shelf tops, and shelf undersides. Doing this will help keep your linens free of dust, and will prevent bugs!
Do you usually remember to clean these areas?
This post contains affiliate links to Amazon. Please see our Disclosure Page for more information.
You might also be interested in: