I've been a stay at home mom for a loooong time and I think I've read every frugal living book out there! But I'm always looking for ideas that will help me save money. I thought I'd share some of my favorite frugal living tips with you. Maybe you do these already or maybe there's one or two money saving tips that are new to you. Below are my top 10 money saving tips for moms.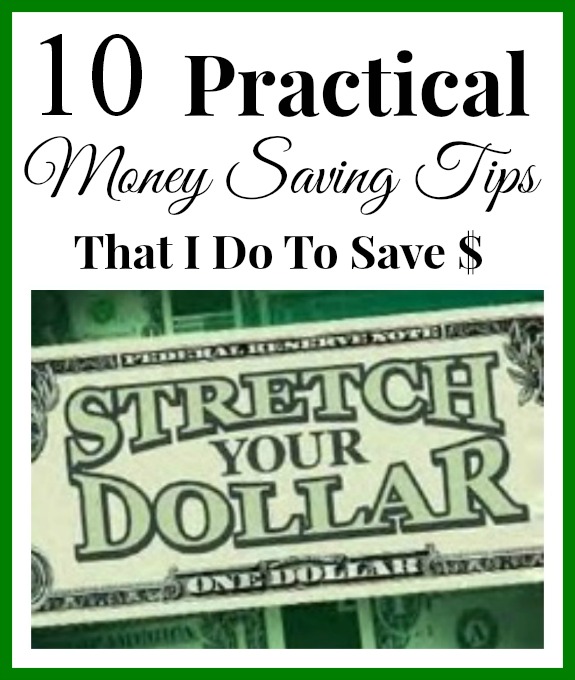 10 Money Saving Tips For Moms to Help You Stretch a Dollar
1. Enjoy being at home & Stay home! You don't have to go somewhere all the time to have fun.  Make staying home something you and your family enjoy doing. For example, have a movie night with the kids and/or a date night with your husband at home. We have movie night every Friday night. We rent a DVD from the library or Redbox, or stream a movie from Netflix or Amazon, eat on TV trays (we always eat dinner together in the dining room every night so this makes it "different") and I always  make something that goes with fries or I make pizza – you know fun finger food! When my daughter was little we'd have game night and we still do that occasionally.
Disclosure: This post may contain affiliate links to Amazon and/or Etsy, which means that I may earn a small commission from some of the links in this post. Please see our Disclosure Page for more information.
Look on Pinterest for some fun frugal kids activities or adult crafts. Read a book, work in the garden, clean and declutter your home (yes I find that fun, plus I feel so much better about by house afterwards). Enjoy your home!  Staying home = no spending. Try to have your "errand days" and your "at home days".
2. Use technology to help you save money! Stay on top of new technology to help you save money. There's something  new coming out all the time techno wise. For example, we use the Ibotta app for all our grocery store purchases and the Cartwheel app for Target. You can check various money saving/coupon blogs before you go shopping. They still do coupon match ups and will tell you what good deals are available at your grocery store etc. I also always check Retail Me Not.com for discount codes before shopping online. Go have a look! I always look for on-line coupons before purchasing anything (Hobby Lobby & Michaels are a must since they always have weekly coupons).
3. Use it up or make do. That includes food! I've really been trying to make sure that I either freeze my leftovers or use them up so I don't have any waste. Here's a post I wrote on 20 Foods You Didn't Know You Could Freeze. Be resourceful! We try to repair or think outside the box if something is broken so that we don't necessarily have run out and buy a replacement. YouTube is your friend! Sometimes you find you can just do with out!
4. Make a menu. Planning your meals really is a money saver and in the long run a time saver. You don't have wonder what to eat, you're not as tempted to go out to eat, and you can buy what's on sale and plan your meals around that or your pantry. Even just knowing what protein you're going to cook is helpful. You can do as little as  week at a time and remember to look at your scheduled activities as a family when planning your menus. Here's a free printable weekly meal planner.
5. Save money on eating out. If you want to eat out, go out for lunch or go when kids eat free. The portions at lunch are smaller which is good for your health and the prices are smaller too. Definitely order water instead of a soda, it's better for you and will save you money. Alcohol and drinks in general are a profit maker for restaurants.  Share a meal. So many restaurants have serving sizes that are way more than one person should really eat. Check on line (facebook and twitter) for coupons to your favorite restaurants. Check Groupon, LivingSocial etc. Also, I often receive coupons for restaurants in my mail or even on the back of my grocery store receipt! Go to Restaurant.com They often have coupon codes where you can get a $25 gift certificate for $5-10 (but always read all the fine print some restrictions apply).
6. Maintain your home, car, appliances, clothes, etc. Doing preventive maintenance will save you huge repair bills in the future. Little things like removing the lint from your dyer vent, clearing out your gutters, taking care of a small faucet leak before it turns into a larger one, change your oil and air filters on your car when needed, and getting your tuneups will help you avoid larger bills.
7. Use half the amount of lotions, dish soap, laundry detergent, shampoo, conditioner, toothpaste. I always try half the amount and then I up it incrementally until I'm happy. You'll be surprised at how effective the lesser amounts will be. Look inside the cup that comes with your laundry detergent – you'll be surprised by where the line is. It's never to the top of the cap!
8. Don't buy it if you can't afford it! Sounds like a no brainer but how many times have you bought something on credit and not paid off the amount. Zero percent interest isn't a good deal if  you are not going to pay it off before interest accrues and the stores know that most of the time you won't (which is why they offer it). The fun of getting that big screen TV on a credit card fades once you get the bill! Wait until you have the cash. People used to always wait and save up…it can be done!
9. Make a holiday/gift budget and stick to it.  Save a little bit every month for your Christmas Fund. Christmas comes at the same time every year so it's not a surprise. You can plan for it even if you plan is to take some of your tax refund and set that aside. Same with birthdays. The only gift giving event that I can think of that may be a "surprise" is a wedding. Even then you could set aside money every month in a "misc" or "other" fund to cover those types of expenses. You can start my 52 Week Money Saving Challenge anytime!
For Christmas you can give something you made (people usually love home baked goods, diy beauty products), give your time, give something small but indulgent (a really good bottle of olive oil if they cook, a small jar of really good honey, a bag of really good coffee…you get the idea). There are tons of DIY sugar scrubs and other homemade beauty recipes on this blog.
10. Focus on all that you have!  My best money saving tip for moms is to find contentment in your life as it is now. There will always be people that are richer than you…there are also people that have less than you have. Focus on appreciating what you have and don't let advertisers, blogs, instagram, magazines or TV shows influence you into buying things you can't afford and most likely don't really need anyway! You are not what you own or don't own!
Those are some of my favorite ways to save money. I hope you've found some useful ideas to help you in your frugal lifestyle journey!