Beautiful DIY Bathtub Garden Inspiration.
I really want to get out in the garden! I have so many plans and I want to start on them now! One thing I've always loved is whimsy in the garden and I am looking for an old cast iron bathtub that I could plant with flowers or maybe bamboo for my backyard along the fence line. If you'd like inspiration for the same thing, then you'll love these great examples of Using an Old Bathtub as a Container In Your Garden!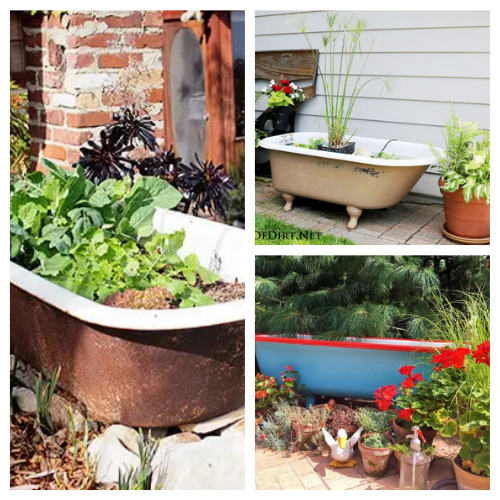 Here are some cute old tubs planted as gardens!
Using An Old Bathtub As A Container In Your Garden
Disclosure: This post may contain affiliate links to Amazon and/or Etsy, which means that I may earn a small commission from some of the links in this post. Please see our Disclosure Page for more information.
We have several tips for you for transforming an old bathtub into a new work of art in your garden or outdoor living space.
Fill the bathtub with flowers. Yep! A great way to give your garden lots of bright and vibrant colors is by adding flowers. You can do a variety of sizes to make it even more visually appealing.
Fresh herbs are a fantastic option. Looking for a spot to add fresh herbs to your garden? Why not fill a bathtub with gardening soil and add a variety of herbs. They will be right there for you anytime you need them. Plus, depending on what you plant, some herbs are known for keeping bugs away.
A great place to grow food. Growing your own food is a frugal way to have groceries on hand and it's really healthy too.
Make it pretty. If you don't want to add flowers, you can add pretty plants to add some visual appeal.
Turn it into a pond. Whether you want to add live fish to it or you just want pond plants, it's a unique idea!
1. Clawfoot Tub Planter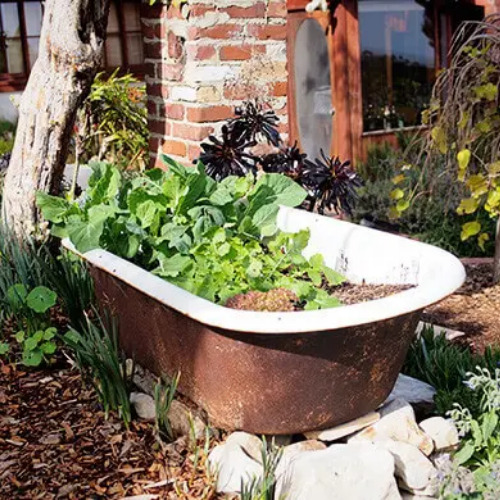 Garden Betty took an old clawfoot tub and repurposed it into a beautiful bathtub planter! It's so easy!
2. Beautiful Bathtub Planter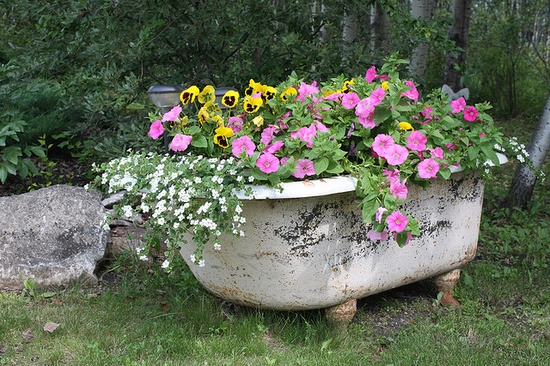 Flowers planted in a bathtub via Flickr by Kle58 are a gorgeous way to add lots of color to your outdoor living space.
3. Water Garden Planter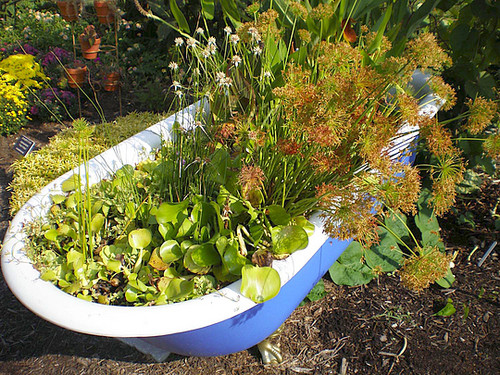 They would make great water garden planters too, like in this idea from the Daily Press.
4. Tall Flower Planter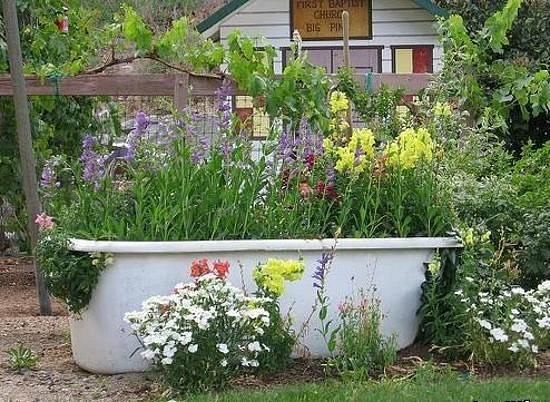 I just love this bathtub planted with tall flowers from Lushhome. It looks like a little cottage garden!
5. Raised Bed Garden Idea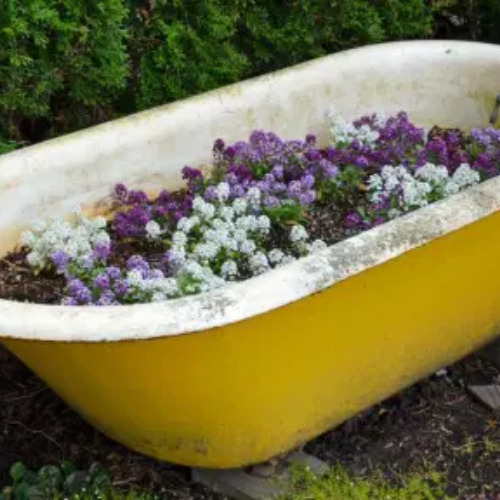 Use a vintage bathtub like the Gardening Channel did! They give you steps so you can easily replicate this idea.
6. Bathtub Garden Pond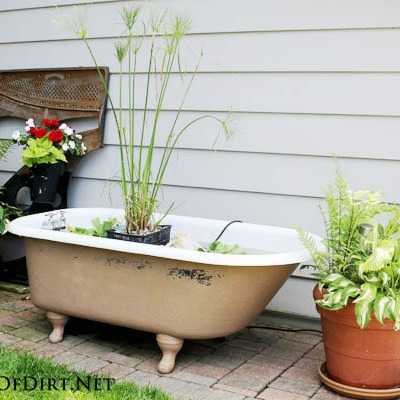 Empress of Dirt used their creativity to make a fantastic garden pond with a bathtub. It's unique, fun, and super relaxing to hear the water.
7. DIY Bathtub Aquaponics System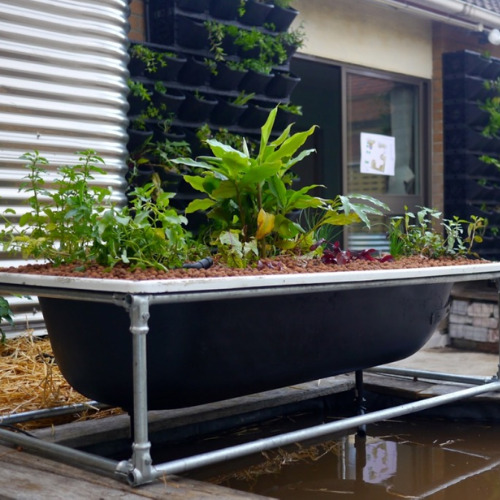 Milk Wood shows you how to make a DIY Bathtub Aquaponics System right in your yard. Grow your own food and have a lovely piece in your yard.
8. DIY Bathtub Pond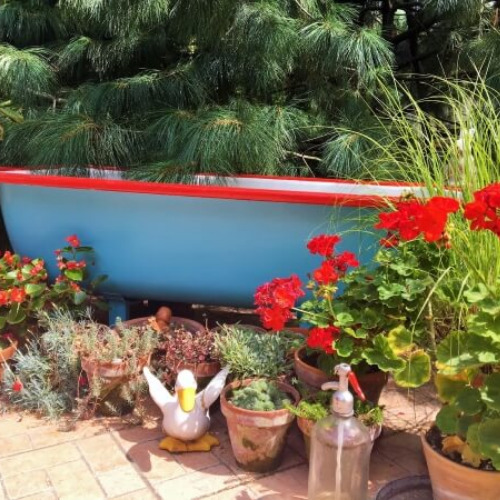 Add some vibrant color to your living space with this DIY bathtub pond from Creative Kitchen.
These won't work for every garden but they would be lovely in a cottage-style garden!
Do you have an old bathtub already or will you be purchasing one?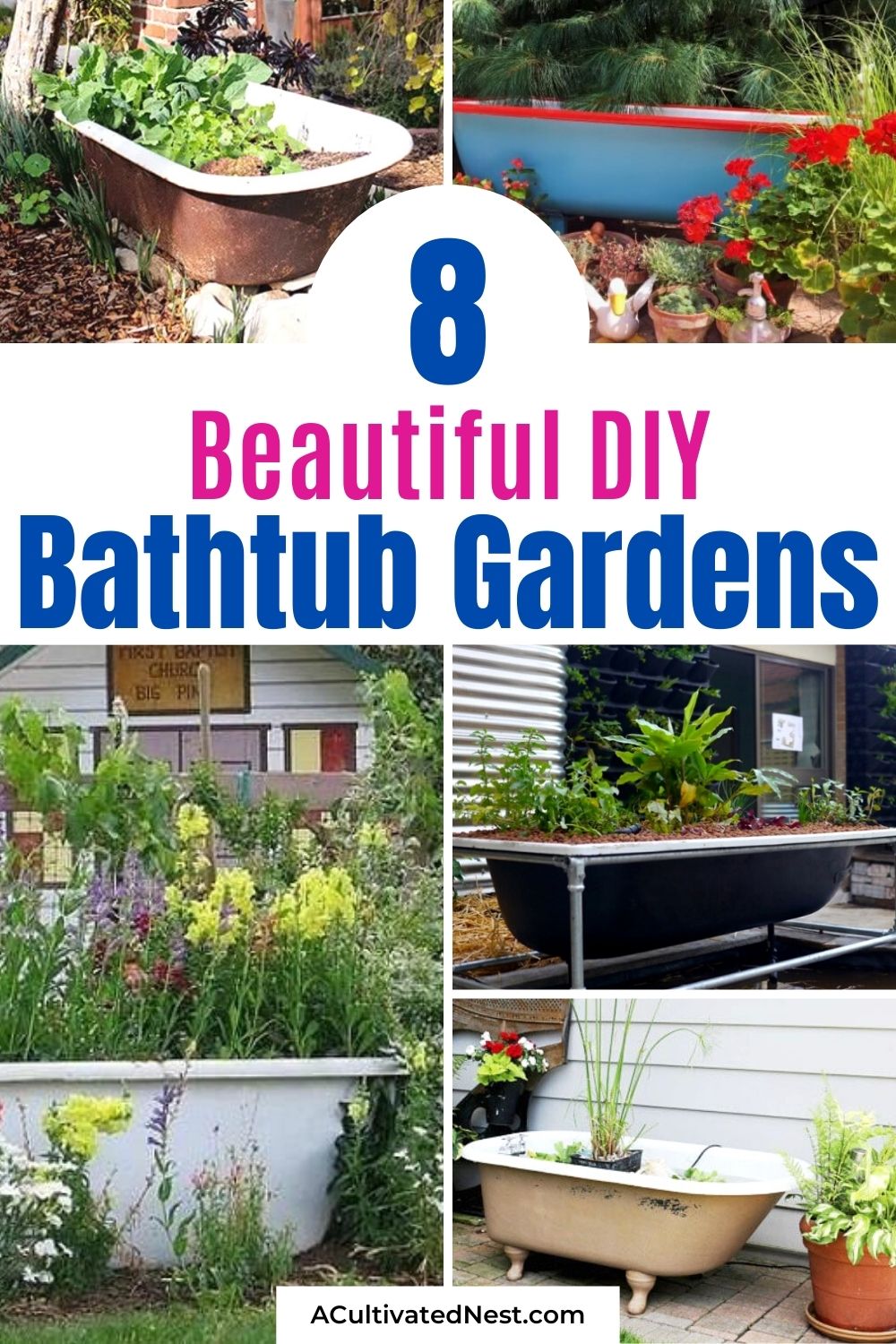 You might also be interested in: 10 Amazing Flower Towers or Tipsy Pot Planters Ideas