While my grandmother mainly focused on flowers in her garden, she also had a small vegetable garden off to the side that produced a good amount of veggies. In it she grew vegetables that were family staples. During the harvest times she'd have tons of fresh, delicious vegetables easily available to serve at dinnertime, and any excesses she'd preserve. I've been working on my own garden a lot lately, and decided I need to add some more frugal veggies to my garden, too. If you're also trying to save money by growing your own food, take a look at the Frugal Vegetables Your Grandma Used to Grow in Her Garden!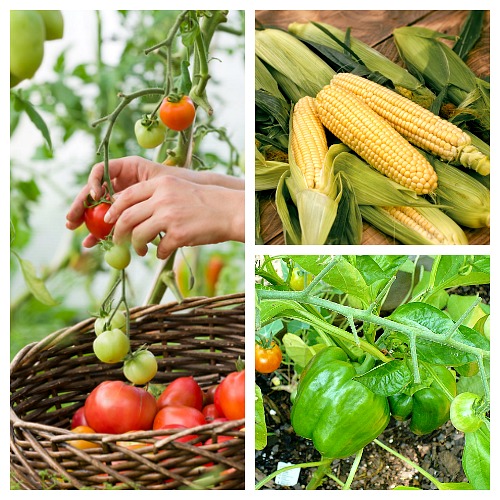 Disclosure: This post may contain affiliate links to Amazon and/or Etsy, which means that I may earn a small commission from some of the links in this post. Please see our Disclosure Page for more information.
To make it on this list of money saving frugal vegetables, I picked veggies that were inexpensive to buy as seeds/starts and easy to preserve (these were the kinds my grandmother favored). And by preserve I mean either keeping by canning or freezing. Freezing is easiest for most people, but I've dabbled a bit with pressure canning my own food, and it's not as tricky as you would think!
Of course, what your grandma would have grown in her garden would have depended on where she lived. Some plants thrive in the heat of the south while others would burn up, and while some deal just fine with all the cold up north, others would freeze. So make sure to check that the frugal vegetables you're going to plant will actually be able to grow and thrive in your area.
Frugal Vegetables Your Grandma Used to Grow in Her Garden
1. Tomatoes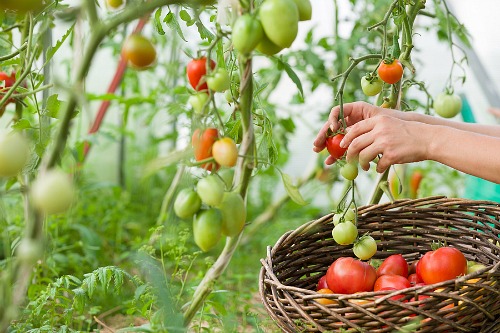 Tomatoes will probably always be my #1 choice for any list of frugal vegetables that are easy to grow. It's not unheard of to get 10-20 pounds of tomatoes from a single plant. Tomatoes are best preserved by canning.
RELATED:  Tips For Growing Bigger Better Tomatoes
2. Peppers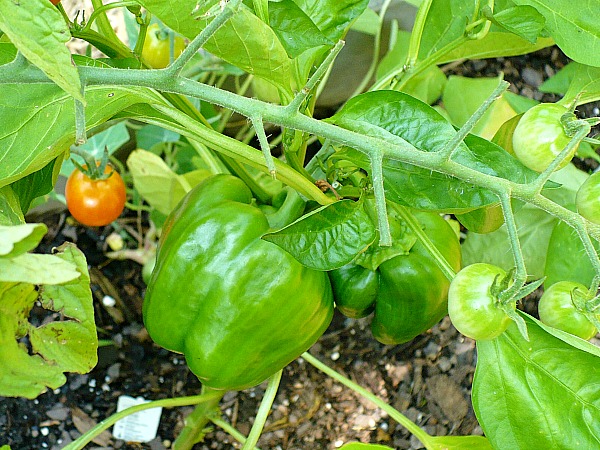 We use bell peppers virtually every night with dinner (I like to dice them up and sauté them to add to my dishes), so we'd save a lot of money if we grew our own! And I'd also like to have fresh spicy peppers on hand, too. You can get 6-8 bell peppers from a single bell pepper plant, and a habanero plant can grow 200 peppers, so peppers are very frugal vegetables to grow. I've heard they're best preserved by canning.
3. Peas
If you want to save money on food by growing your own vegetables, you need to grow peas! You could have your own fresh peas to serve with meals, or to mash up to make baby food! While shelling them does take time, it's the type of easy task you can do while chatting with a friend or watching a movie. Then either can or freeze the peas (but if you're going to freeze them, to ensure they maintain their flavor, blanch them first).
4. Cabbage
A single cabbage plant can grow really big, which is why they need to be planted 1-2 feet apart. That means that when you go to harvest your cabbage, you're likely to have a lot of yummy cabbage that you couldn't possibly eat right away! You can either freeze or can that cabbage as-is, or start making your own homemade sauerkraut!
5. Mushrooms
I love to use mushrooms to accent the flavor of foods, or to serve as a meat alternative in vegetarian dishes. And they're pretty easy to grow on your own! I actually got my husband a little box that you can grow mushrooms on, and he was able to successfully grow mushrooms that I could cook with! While mushrooms will always be best fresh, frozen ones can be defrosted and added into a variety of dishes. You can also can them.
6. Corn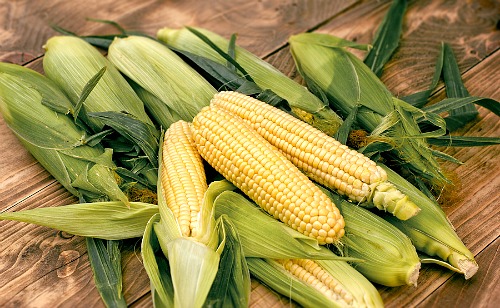 Imagine never having to buy canned corn again! Or having your own delicious frozen ears of corn, ready to heat up and eat! That's what life was like for my grandma after harvest season. While a single corn plant usually only produces 2 ears, studies have shown they only need a little more than a foot of space between them. So you can grow 22 corn plants in a 5 x 5 foot square garden, making it easy to have a nice sized harvest. You can preserve them with canning or freezing.
7. Beans
Beans are another frugal vegetable I love to cook with. I already save tons on beans by buying them in bulk, but imagine if I grew them myself! Beans are usually canned when sold commercially, but you can also freeze them.
8. Broccoli
Luckily for me, my kids love broccoli, so broccoli gets eaten up pretty quickly in my house. I've read that broccoli is one of those plants that you can pick from more than once during a harvest, and considering how big broccoli heads get, that makes them a very frugal vegetable to grow in your home garden! Broccoli is best preserved by freezing.
9. Onions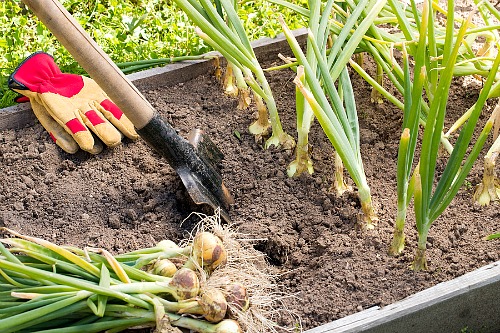 Onions are another frugal vegetable because if you grow them right, they can get pretty big. My grandma liked to turn some of hers into homemade pickled onions. While onions can be frozen, the texture will be off. So instead consider just keeping them in a cool, dry location after curing them, or can them.
10. Spinach
Since spinach is on the Environmental Working Group's "Dirty Dozen" list, I like to buy it organic. But the bags of organic spinach are pretty small for the price. If I could grow my own spinach, I could save a lot of money! Plus, I heard that if you're careful not to cut the leaves too low when you harvest, they regrow. So you can get two harvests from a single plant! While you can preserve spinach by canning, they're best preserved by freezing.
My grandma was a smart lady to grow her own vegetables at home. It does take some time to manage a garden, but you can save a lot of money and know exactly how your food is grown (no added pesticides unless you choose to use them).
The veggies above are all pretty easy to grow, produce a lot, and can be preserved without much trouble, so they make great choices for frugal gardens. I can't wait to add some to mine!
Which of these veggies do you want to grow?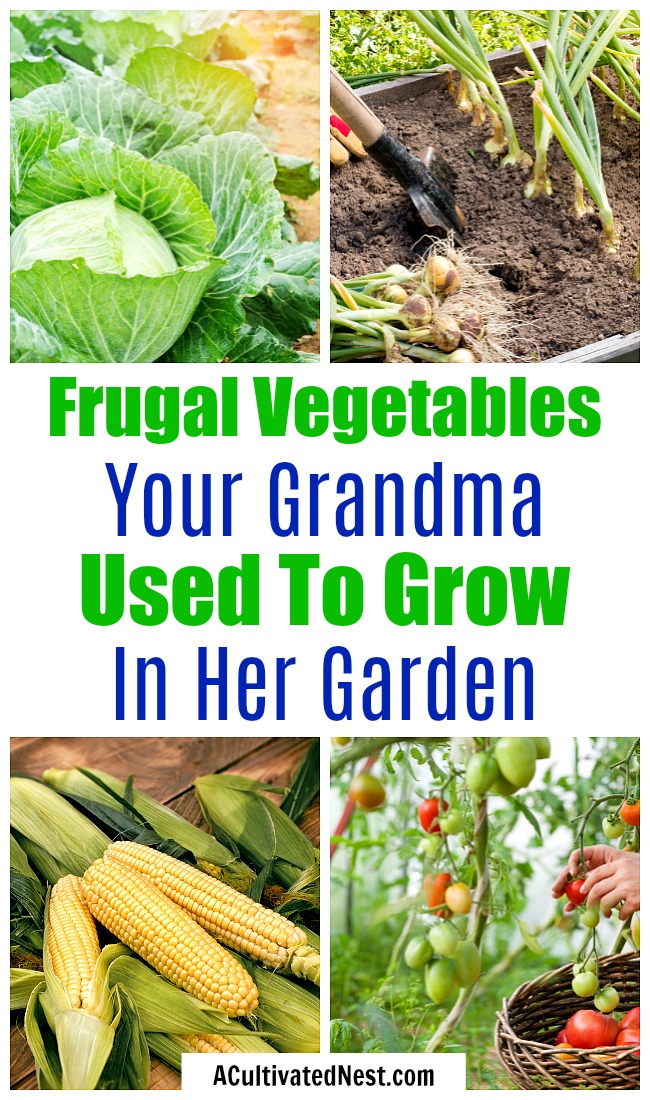 You might also be interested in: Is Growing Your Own Backyard Garden Worth It?