I'm a big fan of anything old-fashioned. I love old homemaking tips, old recipes, and more. But I especially love old gardens! My grandma had a wonderful cottage garden, full of gorgeous flowers. My garden isn't at her garden's level of beauty just yet, but I'm trying to get it there. And I hope to do it by including some of the beautiful flowers she used to grow! If you also like cottage gardens, or are just curious to see what flowers were popular back in the day, then check out these Old-Fashioned Flowers Your Grandma Used to Grow in Her Garden!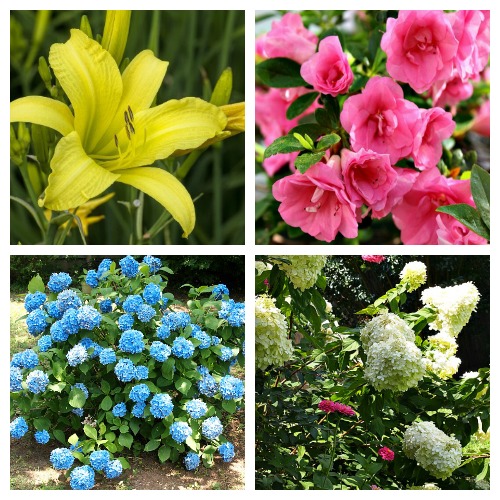 Disclosure: This post may contain affiliate links to Amazon and/or Etsy, which means that I may earn a small commission from some of the links in this post. Please see our Disclosure Page for more information.
Because my grandma's garden was a cottage garden, it wasn't some trim and proper little thing. It was overflowing with flowers of all colors and shapes! You would step outside and be struck with the glorious smell of so many flowers mingling in the air. If you were afraid of bees, it certainly wasn't the place for you! But I didn't mind the bees, and besides, there were so many pretty butterflies to look at instead. I really hope to be able to get my garden to look like Grandma's one day!
Old-Fashioned Flowers Your Grandma Used to Grow in Her Garden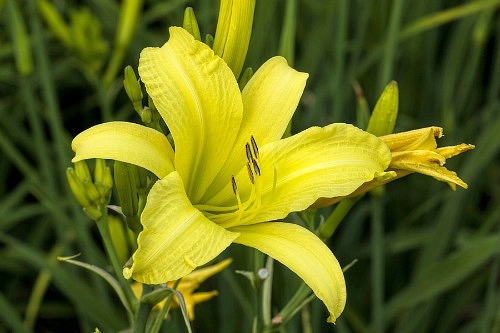 Daylily- Anyone creating a 1950s garden has to include daylilys! In fact, daylilys started becoming widely popular back in the 50s because they tend to be adaptable and heat resistant. I just think they're wonderfully pretty!
Hollyhock- Because they grow so tall, Hollyhocks make great background flowers for cottage gardens. I love their big blooms!
Pansy- With a simple, but pretty appearance, it wouldn't be surprising to find pansies in your grandma's garden.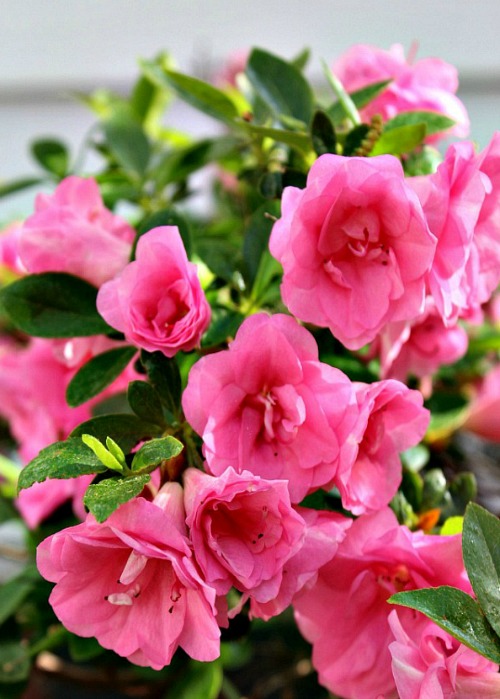 Rose of Sharon- Rose of Sharons look great, smell great, and are so easy to grow! In fact, we have a whole post on 7 Reasons to Grow Rose of Sharon!
Sweet Pea- The easiest way to give your garden an old-timey cottage garden feel is to plant some Sweet Peas! They're delicate climbers, but they smell so sweet!
Poppies- One of the easiest to grow flowers your grandma used to grow in her garden is the poppy. And they come in a large variety of gorgeous colors!
Peony- While they look a lot like aroses, peonies are a different type of beautiful flower! I love their frothy, delicate petals!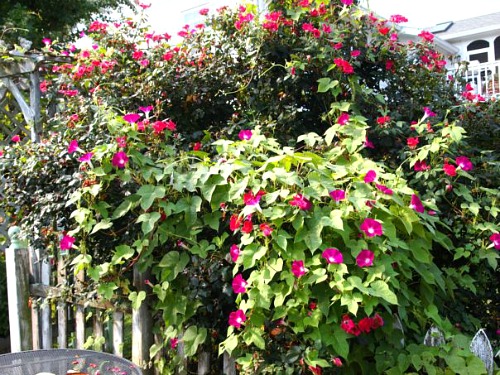 Morning Glory- If you want a vining cottage garden flower, then you need to get some morning glories. Just don't get one of the invasive varieties, or soon you may see Morning Glories taking over your garden! The Ipomea tricolor variety is a safe one to grow.
Delphinium- I love tall flowers, and delphiniums can get pretty tall (supposedly, up to 8 feet high)! They also make great cut flowers for your vases indoors.
Lavender- If you grew lavender in your cottage garden, not only would you have a gorgeous purple flower to enjoy, but you wouldn't have to buy dried lavender buds to use in DIY projects or cooking!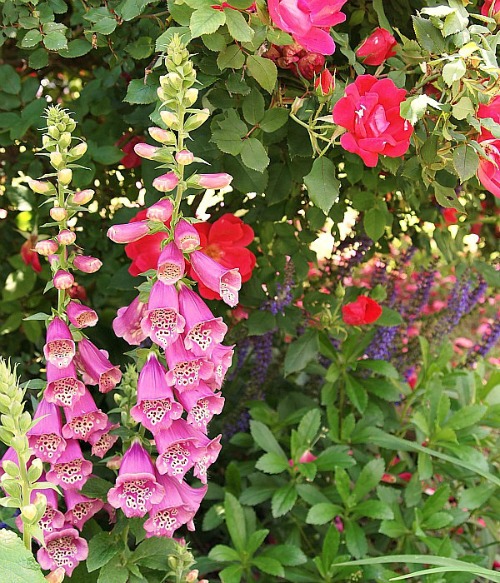 Foxglove- If foxes wore gloves, would they look like pretty Foxglove flowers? That's a cute idea! Tall, with tons of flowers, Foxgloves are a must-have for any garden!
Rambling roses- While rambling roses do climb over trellises and arbors, they're different from climbing roses in how they flower. Instead of flower repeatedly through summer and fall, rambling roses tend to only flower once a year, but when they do, they do it in full force! That means around June your garden is chock full of roses! Rambling roses come in different colors and sizes. Some varieties include Phyllis Bide, Sander's White, and Goldfinch.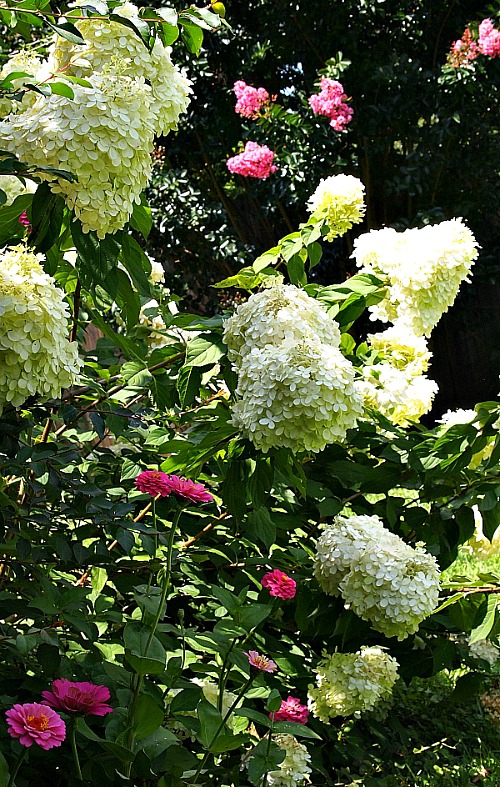 Hydrangea- Your modern cottage garden won't be complete if you don't have any hydrangeas! Hydrangeas have been a favorite of mine for a long time because of their full flowerheads (I especially like the Limelight variety).

I also always thought it was cool how you can change their color by changing the soil's pH.
Cosmos- One of the flowers your grandma used to grow was probably cosmos! They make a full, colorful garden border flower!
Wisteria- Wisteria looks gorgeous, but you have to make sure to keep it under control. Many varieties are highly invasive. But if you can find American Wisteria (versus Asian Wisteria), it's not as invasive (but just as beautiful)!
Include a couple of these flowers in your garden, and you'll have a lovely old-fashioned cottage garden! And if you like cottage gardens, you should read The Cottage Garden by Christopher Lloyd!
Which of these flowers is your favorite?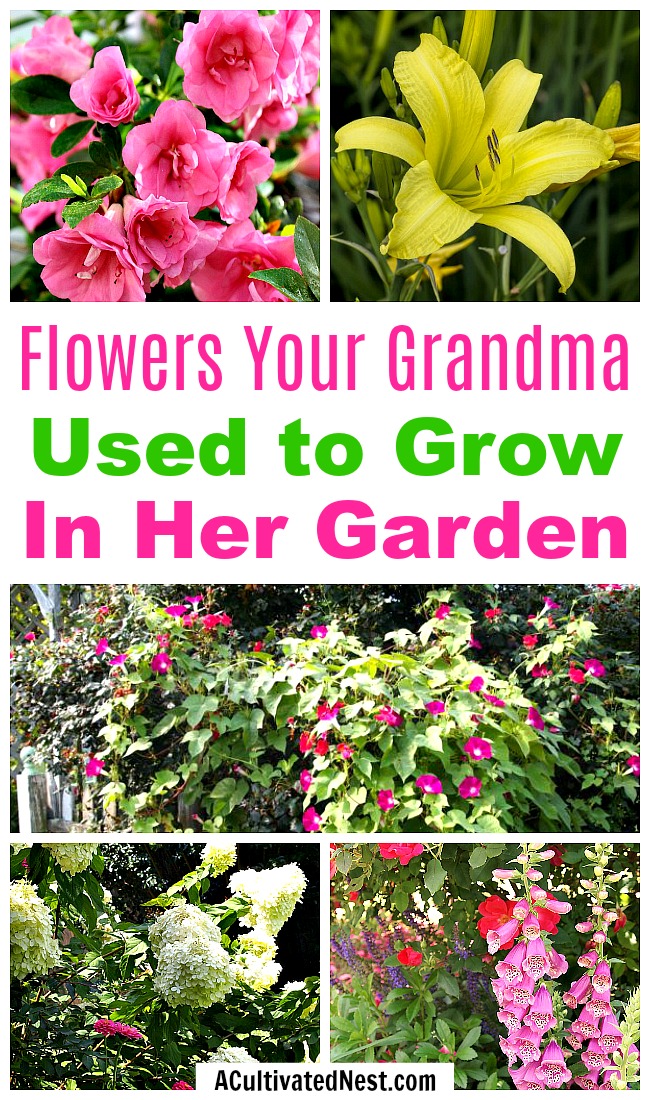 You might also be interested in: 7 Perfect Perennials for the Lazy Gardener