Why You Should Do the No Spend Month Challenge
If you're trying to save money you may have come across the idea of a "no spend month challenge." The main idea of the challenge is in the title- it's a month where you don't spend money. But is that really doable, or even worth the effort? I think so! Here is How to Do the No Spend Month Challenge, plus why I think it's such a great idea!
Of course, the No Spend Month Challenge isn't the only money saving challenge the frugal community has come up with! I particularly like another frugal challenge called the 52 Week Money Saving Challenge. In fact, I like it so much that I made a whole post about it, with a free printable. There's also a template for it in my printable budget binder. Some other money saving challenges include variations of the 52 week challenge, a bi-weekly challenge, the 365 Day Money Challenge, and a spare change challenge. But if you want to save a lot of money fast, then the No Spend Month Challenge is the one for you!
How to Do the No Spend Month Challenge
The Benefits of a No Spend Month
Disclosure: This post may contain affiliate links to Amazon and/or Etsy, which means that I may earn a small commission from some of the links in this post. Please see our Disclosure Page for more information.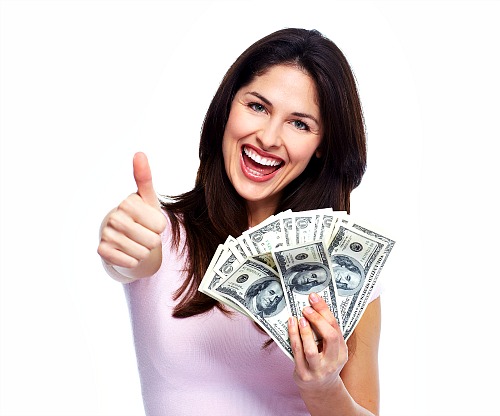 The main reason why you should have a no spend month is pretty obvious- it'll help you save money! And it'll help you save a lot of money within 31 days, which can be great if you're preparing for a big expense or the holidays.
RELATED: Sinking Funds: How Planning Ahead Saves You Money
But the no spend month challenge is also beneficial in another way- it opens your eyes to your spending habits. This means it may make very obvious areas where you're wasting money. Once the challenge is over, you may find yourself changing your spending and adjusting your budget based on what you realized.
RELATED: How to Make the Simplest Budget Ever
Maybe during the challenge you noticed how you wanted to go out for coffee nearly every day. This could lead to you cutting down on your coffee drinking, or learning to make your own at home. Or maybe you noticed how often you wanted to stress shop for clothes or decor, and instead had to learn how to go without, how to upcycle, or how to DIY things instead.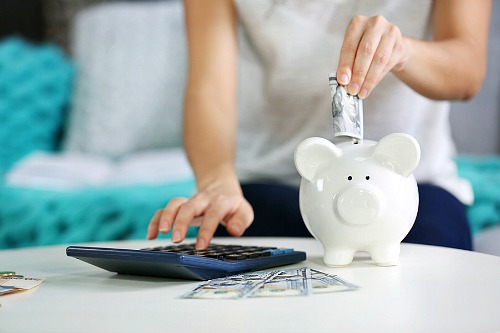 This is a benefit of the No Spend Month Challenge that I haven't found with any other challenge- the increased self awareness. It's amazing- before I started the challenge I was thinking to myself that I hardly buy anything extraneous, so I didn't think I'd save much. But at the end of the month my mind was blown. I was wasting money in so many little areas!
Of course, this isn't to say that the way you lived during your No Spend Month is going to become the way you live all the time. While I did make changes and adjusted our budget based on what I learned, I did keep some of my bad habits. But I did so knowing that they are bad habits, and with a fresh budget giving me a bit of "fun money" to cover those habits. It's one thing to spend excess money without knowing it, and another to do it knowingly with a budget ensuring all the important things in life are covered.

How to Have a No Spend Month
So how do you have a No Spend Month? Clearly you still have to spend some money! On our printable template there's a section for "exceptions." Those should be the critical things that you'd get in trouble for skipping- like your rent/mortgage, utilities, credit card bill, insurance, gas, and groceries. The things you shouldn't spend any money on are non-essentials like entertainment, clothes, eating out, toys, decor, non-emergency home improvement projects, etc.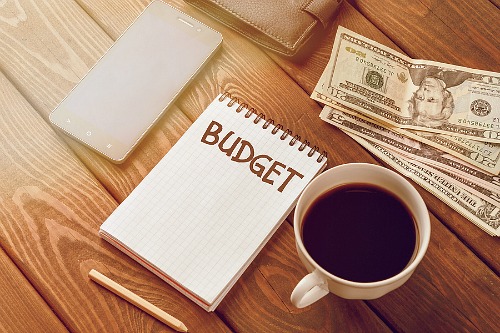 The no spend month works best if you go into it with a budget already in place. Otherwise you may not spend any money on entertainment, for example, but buy a bunch of snack foods you don't really need (since groceries are allowed by the challenge). A budget will help keep you in check. In particular, the cash envelope budgeting system works especially well with this challenge. It's hard to overspend on groceries if you only have a certain amount of cash to use!
RELATED: Beginners Guide to the Cash Envelope System of Budgeting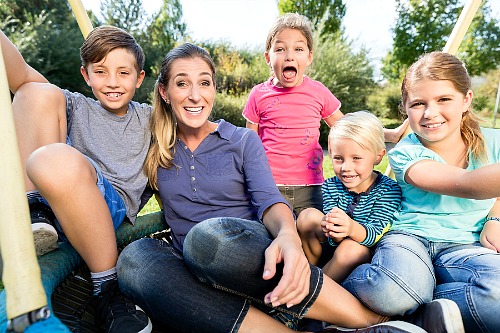 And just because you're not allowed to spend any extra money doesn't mean you can't do anything fun! You likely already have plenty of supplies in your home to make fun DIYs and crafts or to bake delicious homemade treats! Plus, you can use services like Netflix and Amazon Prime Video to keep movie night going, even if you can't buy the most recent films. Though if you are paying month by month for an entertainment subscription service (or any other sort of subscription for that matter), you may want to consider pausing/cancelling your subscription for the month. If it's something paid yearly or where you're getting a special monthly rate for a limited time, just let it be.
RELATED: 7 Ways to Treat Yourself When You Don't Have Money to Blow
The idea of a No Spend Month sounds scary at first, but trust me, it's easy to keep busy without buying things. And if you've already been practicing frugal living or minimalism, the change won't be so extreme.
Free Printable No Spend Month Challenge Template
So as you can see, the No Spend Month Challenge is very beneficial, and actually pretty easy to do. To keep track of your progress, get my free printable no spend month template! Just cross off or color in each day of the month where you successfully didn't spend. As mentioned earlier, record your exception expenses at the bottom of the page (if you're doing this challenge with your significant other, this section is helpful at keeping you both on track).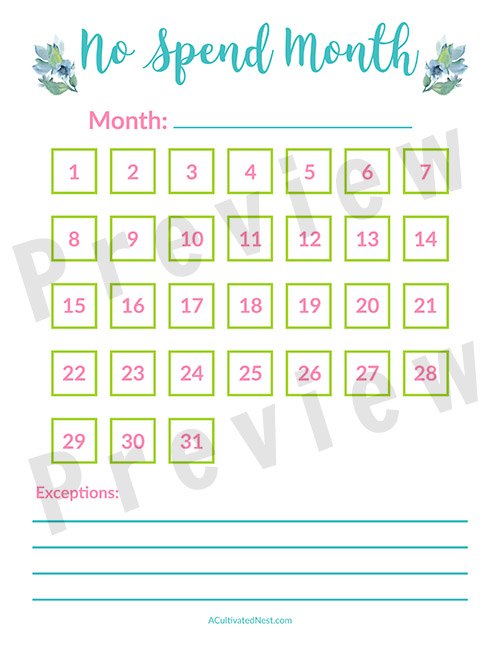 Find in the Subscriber Resource Library
This printable No Spend Month Challenge worksheet is in the Subscriber Resource Library which we provide as an added benefit to all our newsletter subscribers. If you'd like to get our newsletter, you can subscribe here.
Enjoy the free printable, and good luck with your No Spend Month!
Have you ever tried a money saving challenge before? Did you successfully complete one?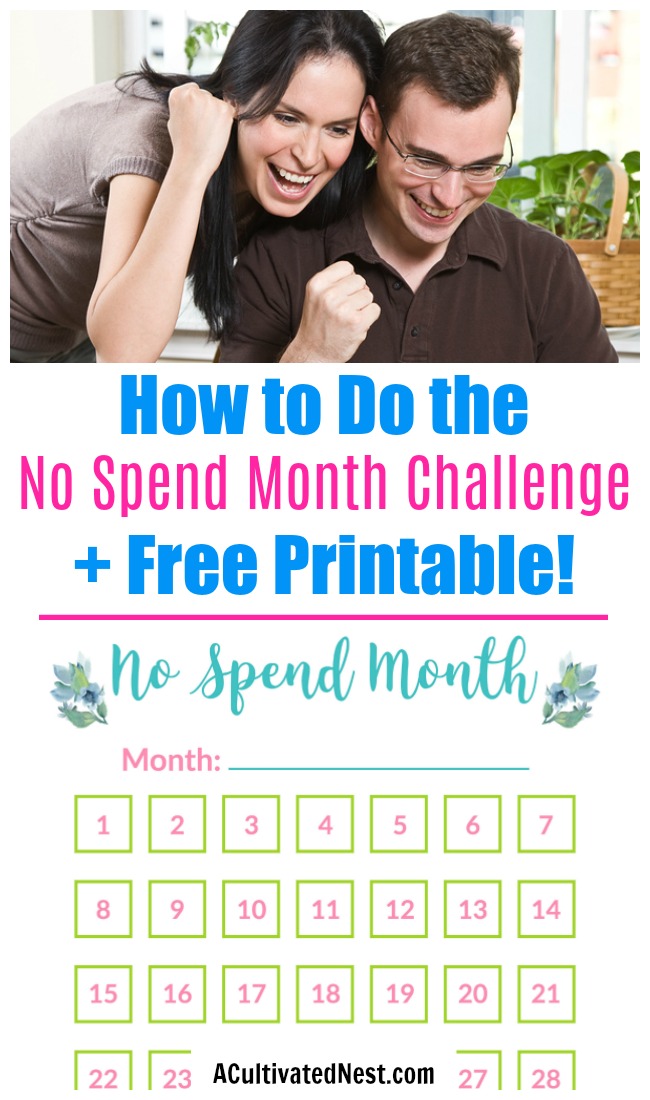 You might also be interested in: 15 Free Printables to Help You Save Money