With all the things you have to do every day, kitchen organization may be one of the last things on your mind. But trust me, spending a few minutes organizing your kitchen will save you tons of time later when it comes to making meals. I know that having an organized spice cabinet saves me time every day because now I'm not rifling through all the containers over and over, looking for what I need. If you want to better organize your kitchen, you'll like these 12 Time-Saving Kitchen Organization Ideas!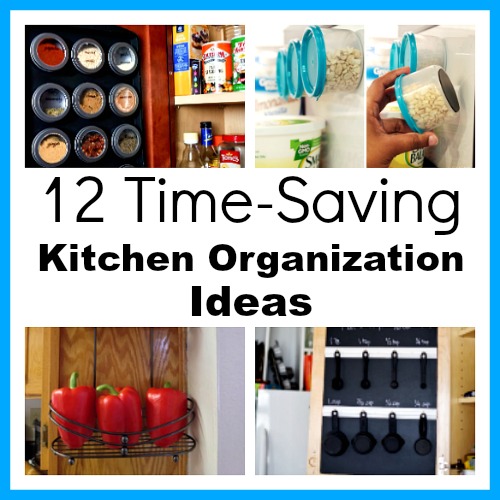 Disclosure: This post may contain affiliate links to Amazon and/or Etsy, which means that I may earn a small commission from some of the links in this post. Please see our Disclosure Page for more information.
Some of these ideas take just minutes to implement, and others take longer. But they're all worth the time! There's nothing better than being able to quickly find everything that you need to make dinner on a busy day! It's just one less thing to worry about and makes food prep go by quicker. Of course, if you feel you'll be too busy to set up these kitchen organization methods right now, you can always organize your kitchen quickly with the clever kitchen organization products on Amazon!
12 Time-Saving Kitchen Organization Ideas
1. DIY Organized Pots and Pans Drawer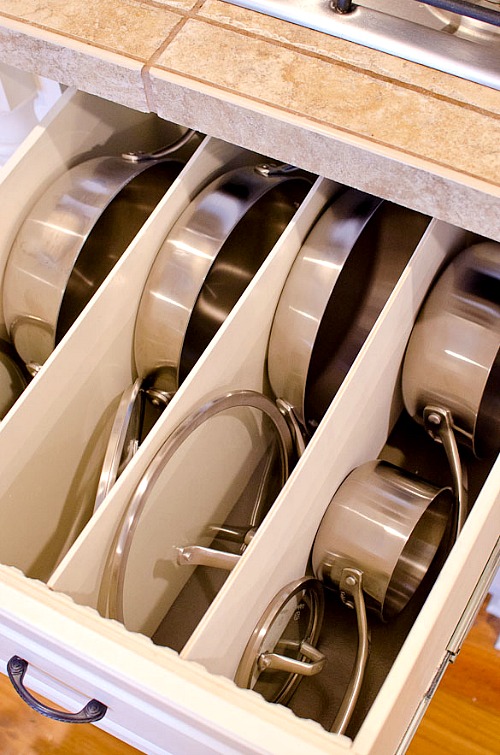 If your cookware is unorganized, not only is it hard to pull out what you want, but you could find yourself accidentally scraping one pot against the other and scratching off the coating! Check out Seeded at the Table's great pots and pans organization idea!
2. Kitchen Cabinet Measuring Cup Door Organizer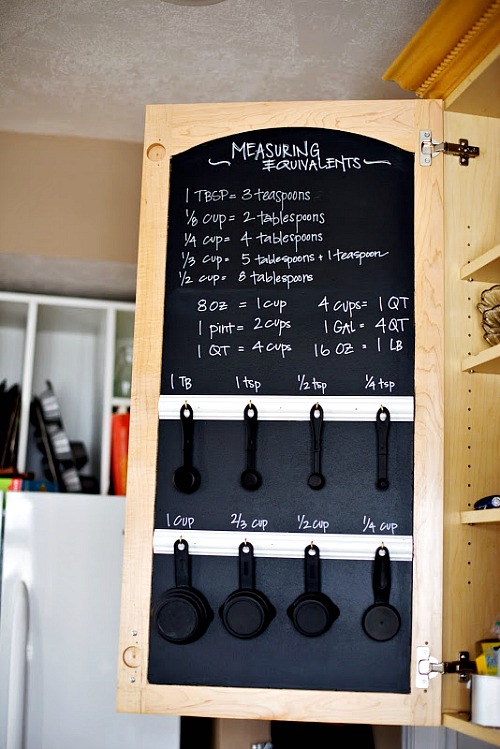 With Tidbits from the Tremaynes' DIY measuring cup door organizer, you'll be able to quickly find the measuring cup that you need! The conversion chart is a nice extra touch!
3. DIY Dollar Store Magnetic Spice Rack
The best kitchen organization ideas are those that don't cost a lot. Look at how we made a pretty (and handy) DIY magnetic spice rack from dollar store items!
4. Easy Canned Food Organization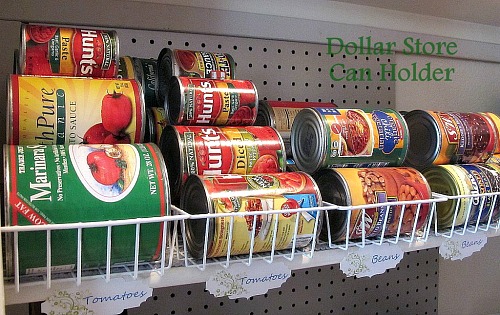 Ever feel like you're constantly searching through a mess of cans for what you want? Check out My Uncommon Slice of Suburbia's canned food organization idea!
5. Pantry Organization Makeover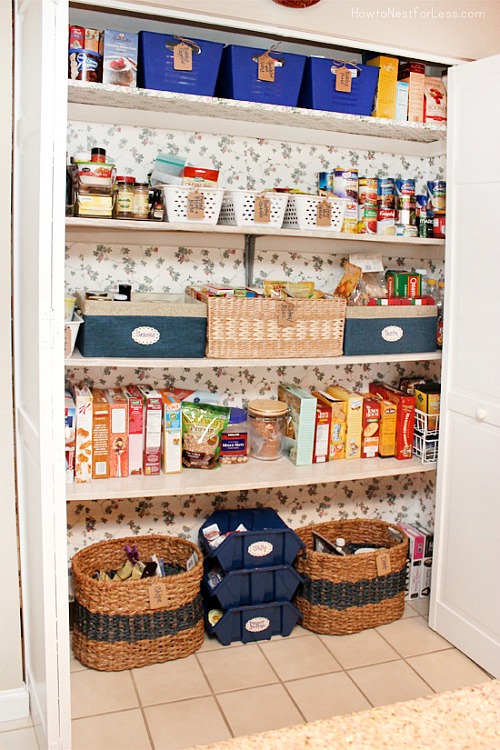 If any part of a kitchen gets unorganized easily, its the pantry. Here's how How to Nest for Less organized her pantry with bins and baskets!
Related Post: 10 Pretty Pantry Organization Ideas
6. Kitchen Inner Door Cork Board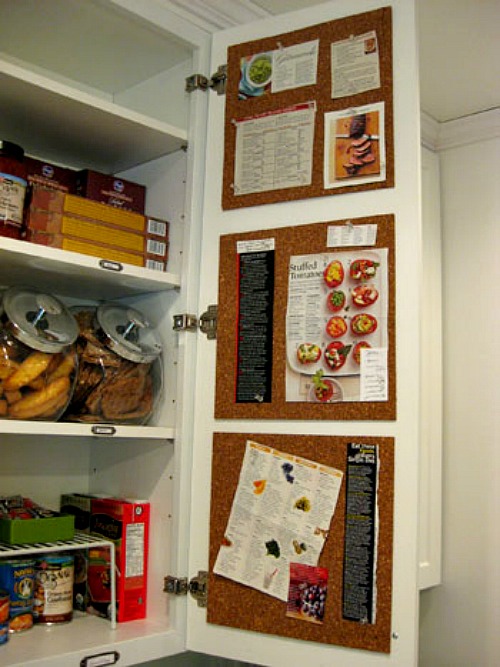 7. Shower Caddy Produce Rack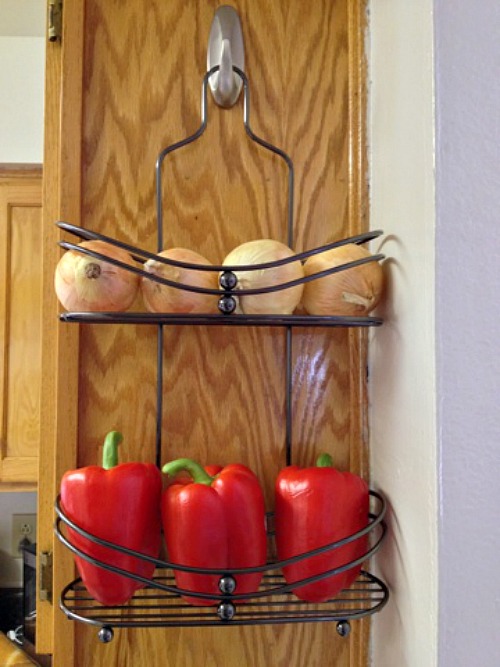 This quick solution from Domestic Diva Domain can help you keep your produce in order and in a convenient location!
8. Inner Door Food Wrap Organizer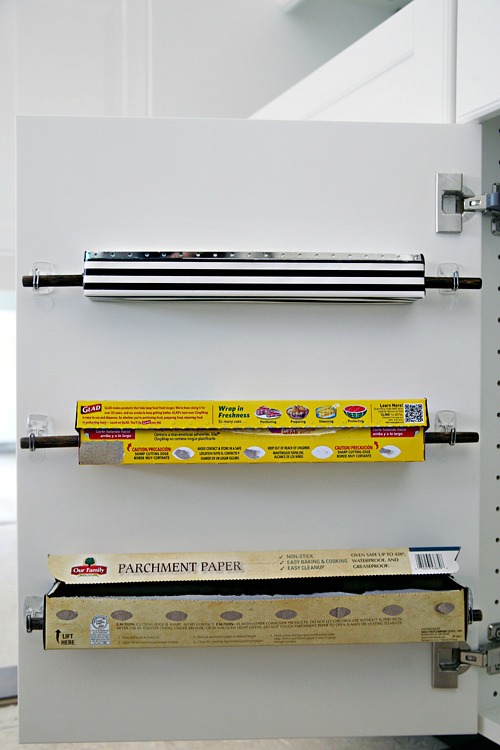 Instead of digging around in a drawer or cabinet, I Heart Organizing's food wrap organizer makes it easy to get to your foil, cling wrap, and parchment paper! And it doesn't take up much space!
9. DIY Narrow Rolling Pantry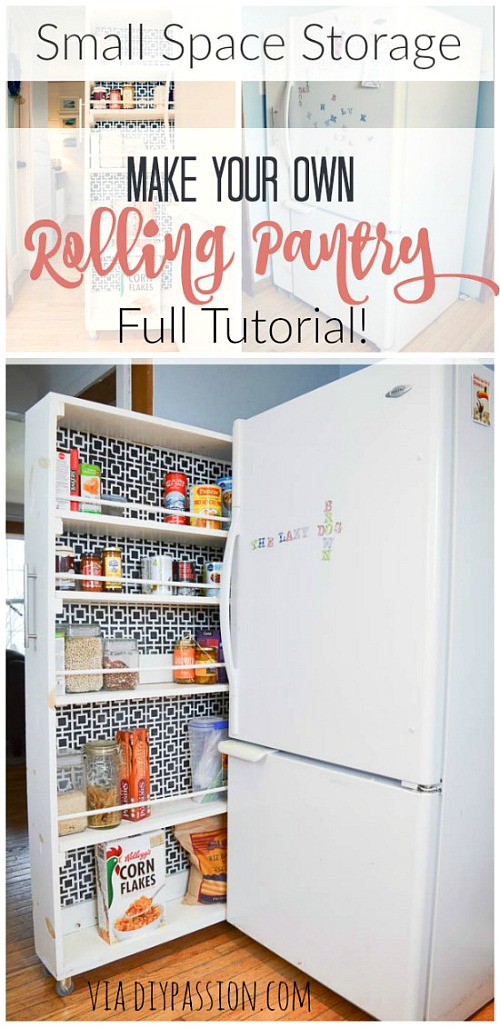 Small kithen? That's not a problem if you make DIY Passion's narrow rolling pantry!
Related Post: Ideas For Organizing A Small Kitchen
10. DIY Magnetic Fridge Tins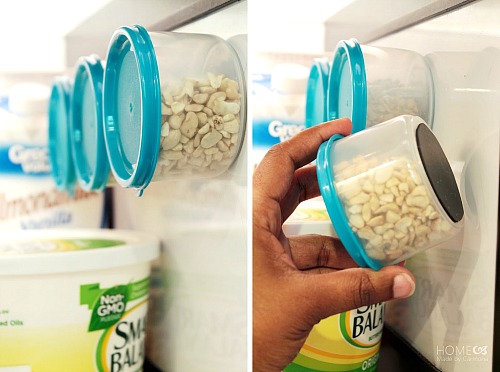 You won't waste time hunting for the smaller foods in your fridge if you make Tater Tots and Jello's DIY magnetic fridge tins!
11. Glass Bulk Food Organization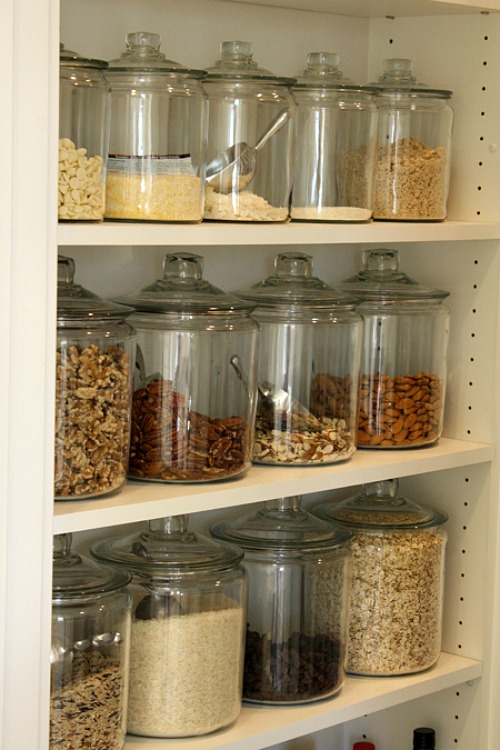 The Farm Chicks' handy glass bulk food organization idea not only keeps your bulk goods organized, it makes them look nice and neat, too!
12. Ball Jar Spice Drawer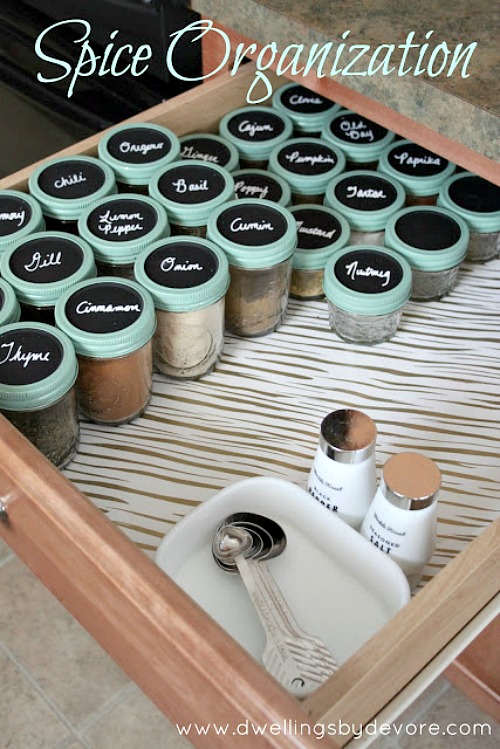 This Ball jar spice drawer kitchen organizing idea from Dwellings by Devore is perfect if you have a deep drawer available! You can get tiny Ball jars (the 4oz jelly size) and larger Ball jars (the 8 oz jelly size) on Amazon, or reuse jars that you already have.
Which of these kitchen organization ideas do you want to try first?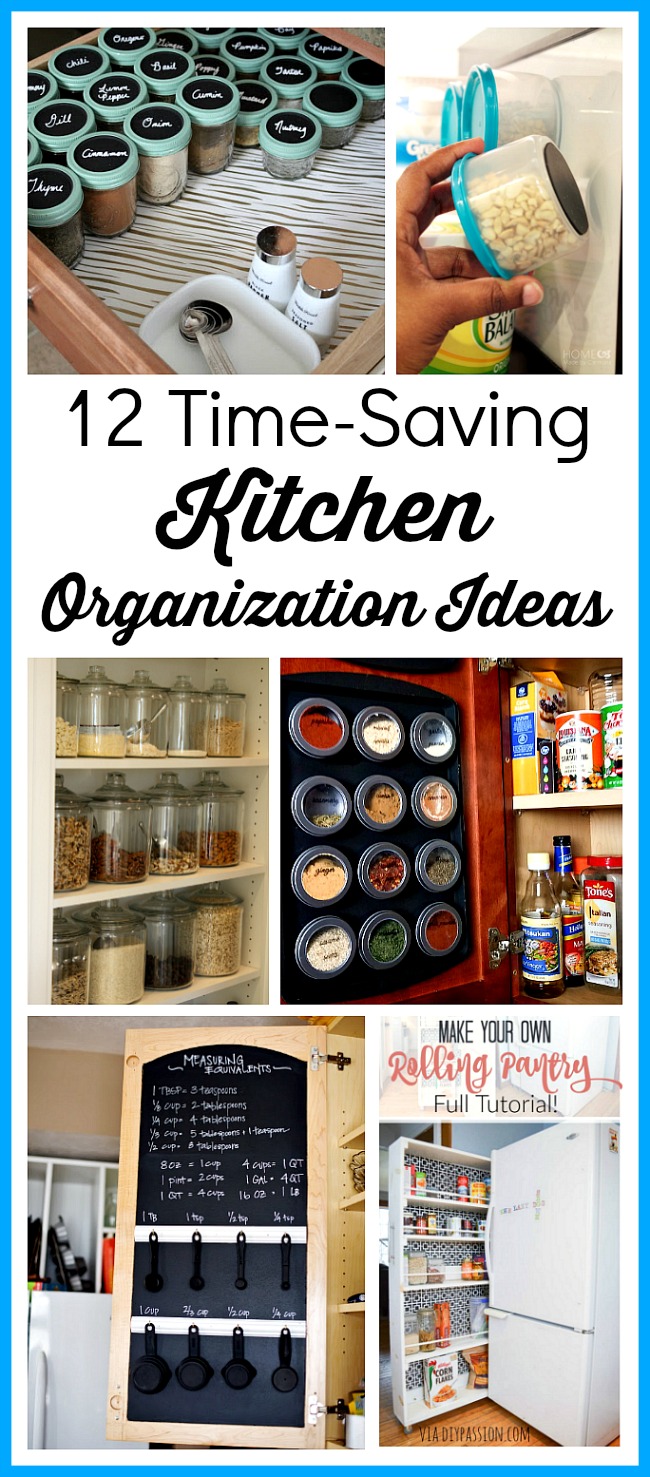 This post contains affiliate links to Amazon, which means that I may earn a small commission from some of the links in this post. Please see our Disclosure Page for more information.
You might also like: 10 Pretty Pantry Organization Ideas