I've been so busy, I haven't had a chance to tell you all this yet- but we got a new puppy! His name is Bentley, and he's a Havanese. We had been dogless since Corey passed away last spring, and haven't had a dog under 1 year of age in a long time, but after the first few days we were able to settle back into the normality of dog ownership. It helps that we've had several dogs before, so we know how to navigate things like training, vet visits, and saving money on pet expenses! If you have a new dog too, or just want to save money on your furbaby, here are my 10 Easy Ways to Save Money on Your Dog!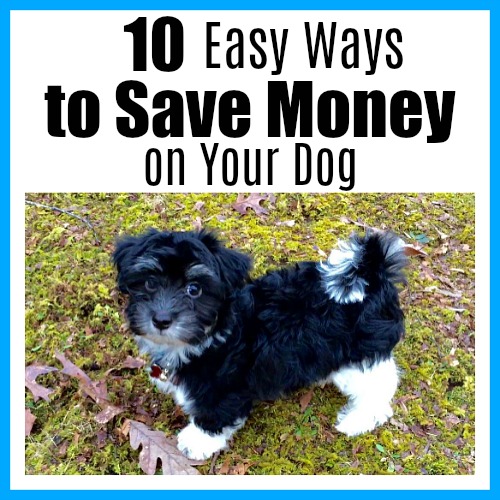 Disclosure: This post may contain affiliate links to Amazon and/or Etsy, which means that I may earn a small commission from some of the links in this post. Please see our Disclosure Page for more information.
While I'd never call getting a dog a necessarily cheap life change, they actually aren't that expensive if you know the right tips and tricks!
10 Easy Ways to Save Money on Your Dog
1. Keep Them Healthy
The number one thing you need to do if you want to save money on your dog is keep them healthy for as long as possible. Obviously you can't 100% control your dog's health. Genetics, environmental factors, and life will get in the way of that. But you can prevent a lot of issues by keeping your dog up to date on vaccinations, taking them to the vet for their checkups, taking them to the vet if they're acting "off," giving them flea, tick, and heartworm prevention, getting them spayed/neutered (it can prevent health issues along with behavioral ones), and exercising basic pet safety (remember, dogs have no common sense!). You should also make sure they're well exercised so they don't get overweight, and giving them vitamins never hurts! As they say, prevention is the best medicine. Keep your dog healthy and you'll pay less over the course of their life for medications, surgeries, and prescription foods (never mind all the stress and worry you'll save yourself!).
2. Get Them Insurance
Something that also saved us tons in Corey's last few months was having pet health insurance. Some people believe that only certain breeds should have health insurance because they're "sickly" breeds. But you should have heard some of the stories other pet owners were telling us while we were waiting in the vet specialists' offices! Any dog can get sick, have an accident, or even get attacked by another dog or wild animal. It doesn't matter if they have the finest pedigree and you live in the nicest neighborhood, things happen. Visits to vet specialists are expensive, long-term medications are pricey, and if your pet has to be hospitalized you'll quickly be spending thousands. Don't get into the situation where you have to make a decision between your finances and your beloved pet's life. I had signed Corey up for Healthy Paws insurance just a year before he got sick, and it was because of Healthy Paws that we were able to let the vets try everything possible to help him. I signed Bentley up for it within a day of bringing him home, so he'll also be covered for life. If you have a pet (cats are covered too, not just dogs) I suggest checking out Healthy Paws (that's my referral link, if you use it Healthy Paws will donate $25 to homeless pets once you submit your application). It's actually very affordable, and in the unfortunate case that you have to use it, it can easily pay for itself.
3. Shop Around for Vets
While there's nothing wrong with using pop-up vet clinics that come by every so often at your local pet store, I believe your pet will get the best veterinary care by having a regular vet. Someplace that keeps their records and gets to know you and your pet so they can provide the best preventative care. Standalone vets cost a bit more than pop-up clinics, but remember tip #1 (keep your dog healthy). And besides, you don't have to go with the most expensive option out there. As with many things, a higher cost does not mean higher quality! I used to take Corey to a pricier vet because I thought he'd be getting the best care, but I quickly became dissatisfied with their service. So I took him to different, more affordable vet and loved them! They cost less but the vets were more knowledgeable and the office was more technologically up to date. We stuck with them until we moved. So I suggest shopping around for vets, and basing your decision on a combination of affordability, reviews, and distance (it's always nice to have a vet that's close by).
4. Buy Quality Food
Nowadays, we all know that the food we eat greatly affects our health. So if you want to save money on your dog, give them a quality food! This isn't just so they'll stay healthy (tip #1), though it is a major factor. But also, quality food keeps dogs full longer. Which means you won't be tempted to feed your dog more often, and they're less likely to go scavenging in the garbage, outside, etc. for something to eat (where they could possibly come across something dangerous). I currently feed Bentley Honest Kitchen because it's natural, yet easy to serve (I'm not yet ready to go raw or to cook his food 100% from scratch). It's not cheap, but if it'll keep him healthy in the long run, it'll be worth it. I always consult Dog Food Advisor before choosing my dog's food. I also subscribe to their recall alerts, which are super handy!
5. Shop Around Online
A simple way to save money on your dog is to shop around online! I buy Bentley's things from Chewy.com, Amazon.com, and Petco.com. I get prescription pet medications from Allivet.com. I actually rarely go into a physical pet store these days. I find that my local pet store is grossly overpriced compared to my online favorites, so I only use it when I need something right away. But I do check all three sites before I make my purchase, because prices vary between them. For example, I usually find that Frontline Plus is most affordable at Chewy. I also try to plan my purchases so I'll buy enough in one order to get free shipping. Sometimes Petco has free shipping days with no minimum order, which I also take advantage of.
6. Subscribe
I wouldn't know about Petco's free shipping days if I wasn't subscribed to their newsletter. So another way to save money on your pet is to subscribe to pet stores' email newsletters! Sometimes I get exclusive coupons, or get alerted about sales for things I regularly buy. Pet store emails are actually some of the few store newsletter emails I never automatically delete and always glance through. They've saved me a lot over the years!
7. Use Coupons
Since I shop a lot online when it comes to pet supplies, I get a lot of my dog coupons from Retail Me Not. But if you shop in physical stores, you'll also want to check those stores' circulars. It's not rare for something I regularly purchase to have a good coupon available when I go into a pet store, making it worthwhile to spend a few minutes searching for coupons.
8. Groom Them Yourself
Bentley is my first dog with what will be a somewhat high maintenance coat once it grows out. So he will have to be professionally trimmed. But I know that a great way to save money on your dog is to groom them yourself. So I'm already getting him used to me giving him baths, brushing his teeth, brushing his fur, cleaning his ears, etc. Those kinds of basics I can do myself, which is good because they need to be done often. It'd get pricey quick if I had to take him to the groomer every few weeks for a bath!
9. DIY
I love to make homemade dog treats and homemade dog toys! Which is great, because DIYing treats and toys is a wonderful way to save money on your dog. DIY toys are perfect if your dog gets bored easily, destroys toys fast, or if they're picky about what they play with. DIY treats are an easy way to save on training treats, and an easy way to avoid treat recalls (which are all too common).
10. Be Frugal
I (obviously) believe in being frugal and only spending money when necessary. And that applies to how I take care of my pets, too! While Bentley is the kind of small, fluffy dog that stores make tons of cute clothes for, I didn't spend hundreds on outfits for him when I went to get him his first things. I just got him one sweater since it's so cold out these days. And I skipped the cutesy $10+ puppy toys and went right to the seasonal sale bin to get his first toys (and got some great toys at a few dollars each!). I'm making his toys last longer by rotating them in and out (so he doesn't get too used to them). And when he finally manages to tear them open, I'll patch them up (I even got some extra squeakers off of Amazon, in case the squeakers in his toys break).
So those are my tips on how to save money on your dog! Dogs aren't necessarily cheap, but if you follow my suggestions, they can be very affordable furry members of the family.
What do you do to save money on your dog?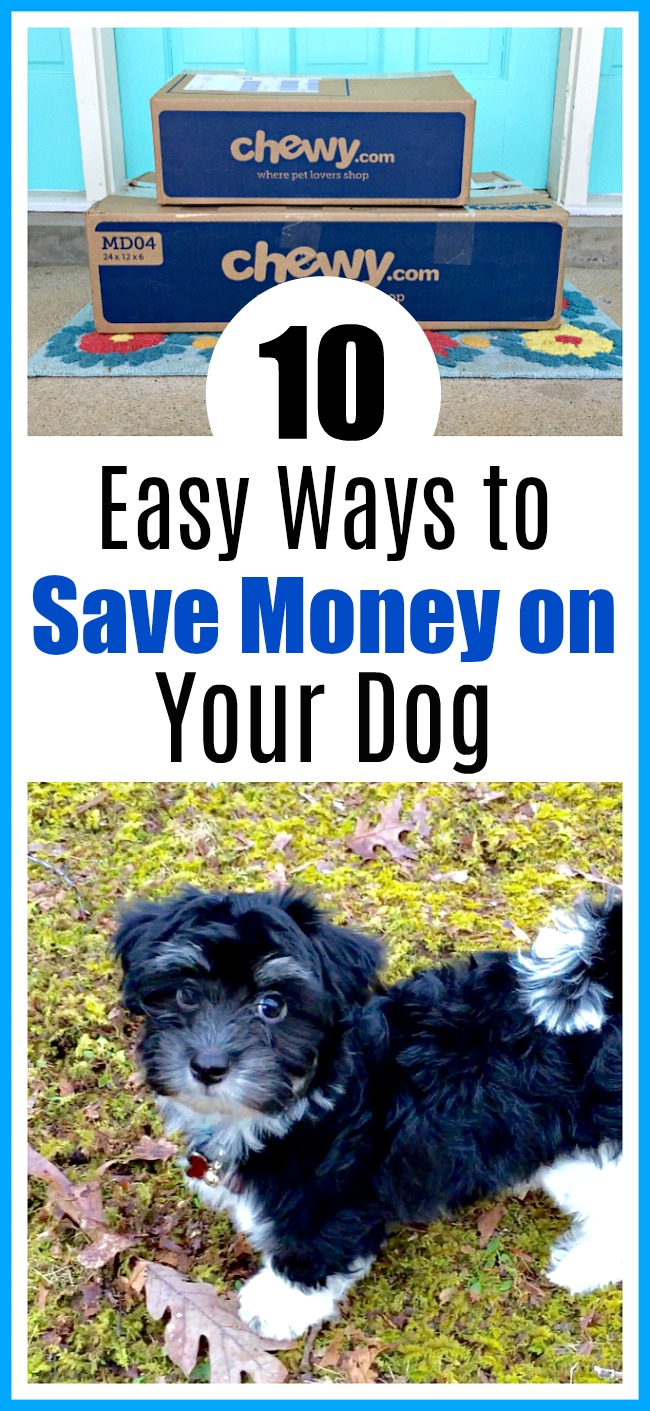 This post contains affiliate links to Amazon and Healthy Paws, which means that I may earn a small commission from some of the links in this post. Please see our Disclosure Page for more information.
You might also be interested in: DIY Dog Bone Frame