18 Fun Dog Treat Recipes.
There are two things all dogs love: food and their people. And as any dog owner knows, they love you even more when you're holding a bag of their favorite treats! Unfortunately, dog treats, like human snacks, tend to be made with many unhealthy ingredients. And they can quickly add up in cost. On top of that, there's always the danger of dog treat recalls for salmonella, mold, metal fragments and more! We subscribe to Dog Food Advisor's recall alerts and are often shocked at how often treat recalls are issued, even from USA-based natural dog treat brands. That's why we like to make treats for our dog, Corey. It doesn't take long, saves us money, and gives us peace of mind! Check out these 18 easy homemade dog treats you can make for your furry friend!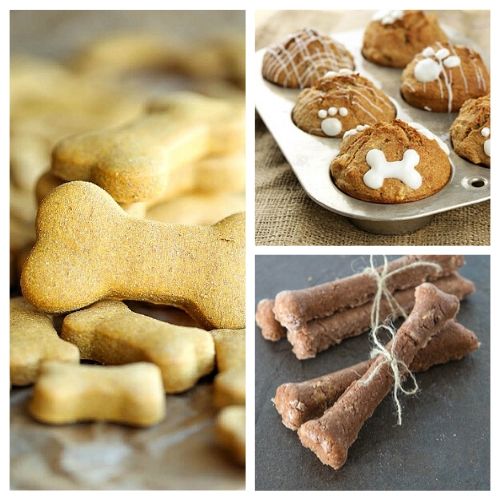 18 Easy Homemade Dog Treats
Disclosure: This post may contain affiliate links to Amazon and/or Etsy, which means that I may earn a small commission from some of the links in this post. Please see our Disclosure Page for more information.
Homemade dog treats are so easy to make and it is a great way to help reduce your pet category expenses!
Make them cute! While you can make your DIY dog treats freehand or using ice cube molds, they're so much cuter if you use dog-themed cookie cutters or dog-themed molds! In particular, I love the variety of shapes you get this inexpensive Wilton dog cookie cutter set!
Store them in air-tight containers. To keep our treats fresh, I store them in air-tight containers. If, I make a bunch of treats, I freeze them to help them last longer too!
Buy peanut butter on sale. A lot of dog treats have peanut butter in them because who doesn't like peanut butter? I like to buy several jars of peanut butter when it is on sale just so I have some around when I need to whip up some dog snacks! Just make sure you're buying plain peanut butter without any additives, as some additional ingredients or artificial sweeteners may be dangerous for dogs to consume.
1. Homemade Peanut Butter Pumpkin Dog Treats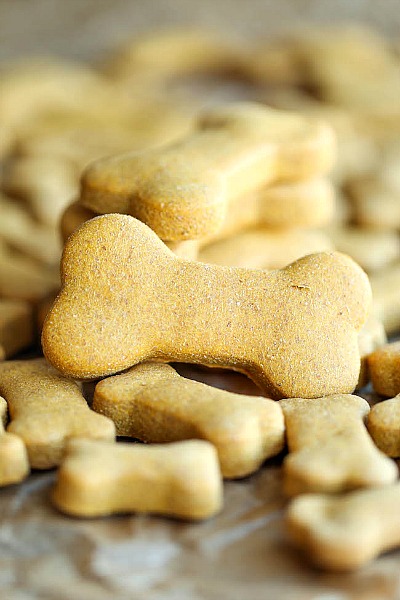 These bone-shaped treats look so cute! And they're good for your dog because they contain pumpkin, which can help with digestive issues. Follow Damn Delicious' tutorial to make your own tasty peanut butter and pumpkin dog treats!
2. Homemade Sweet Potato Dog Chews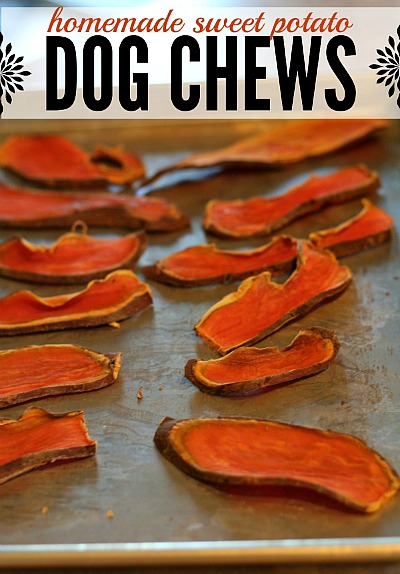 These are great chew treats for your dog! Sweet potato is good for them in that like pumpkin, sweet potato helps with with digestion. Use Happy Money Saver's recipe to make your dog some delicious sweet potato chew treats!
3. Frozen Pupsicles Dog Treats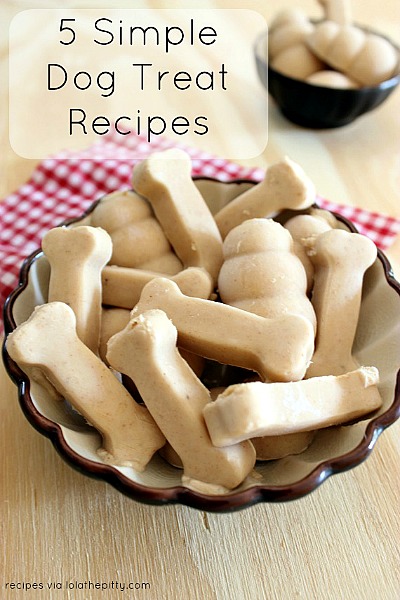 These treats will be very handy with helping your dog deal with the summer heat! They're very easy to make, and will make your dog leave the family alone while they enjoy their human popsicles! Find out how to make these yummy dog popsicle treats by following Positively's tutorial!
4. Homemade Sweet Potato Pretzel Dog Treats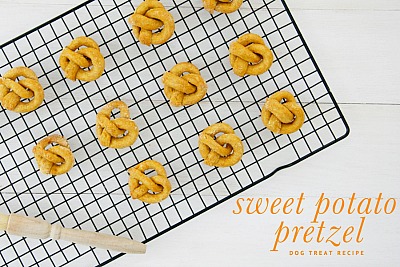 These treats look so cute, and only have a few ingredients! Pretty Fluffy explains how to make your own pretzel dog treats!
5. Wet Food Dog Treats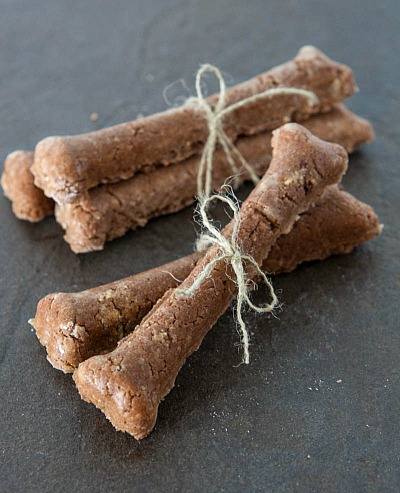 Your dog is sure to love these! You use their favorite brand of canned wet dog food as the main ingredient. Eclectic Recipes explains how to make these easy and delicious wet food dog treats!
6. Homemade Peanut Butter and Yogurt Frozen Dog Treats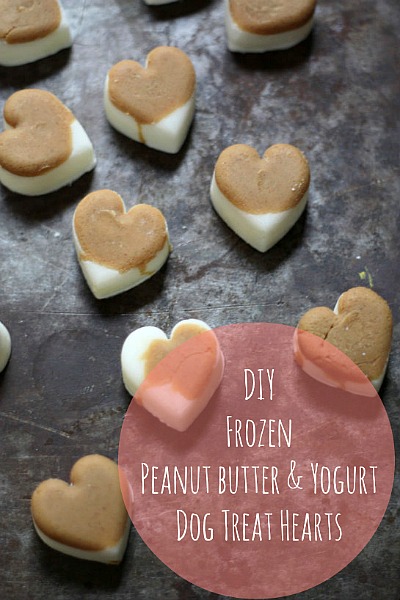 These treats look pretty and taste delicious (if you're a dog)! And since they're frozen, they'd make a great summer treat! Follow 17 Apart's recipe to make these delicious frozen dog treats!
7. Homemade Dog Ice Cream Treats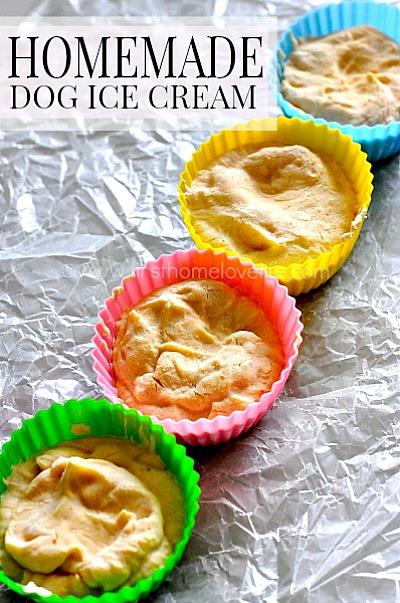 After walking or playing in the summer heat, there are few better treats for your dog than doggie ice cream! And unlike commercial brands (including some "natural" ones), there are no odd chemical ingredients! Follow First Home Love Life's recipe to make your dog some delicious dog ice cream!
8. Pumpkin, Bacon, and Flax Dog Biscuits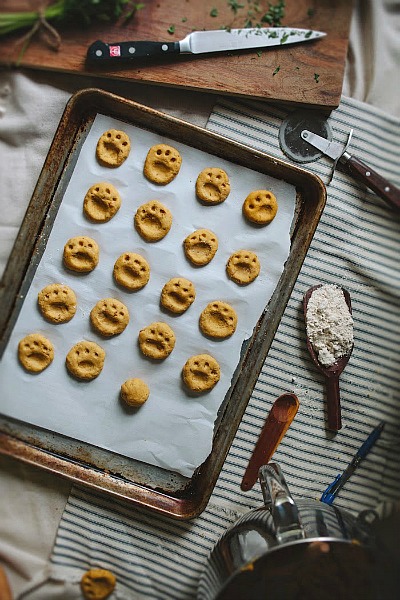 Since these treats include bacon, they're sure to quickly become your dog's favorite! Follow Adventures in Cooking's recipe to make these yummy pumpkin, bacon, and flax dog treats! She even has a cat treat option on this post, as well!
9. Sweet Potato Peanut Butter Sandwich Dog Treats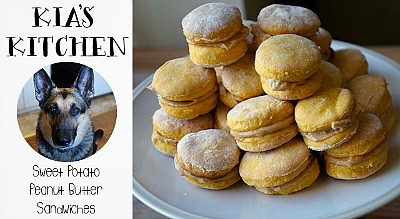 These don't even look like dog treats! The peanut butter icing filling makes these really unique. Find out how to make these little dog sandwich treats by following Live Laugh Cook's recipe!
10. Homemade Dog Pill Treats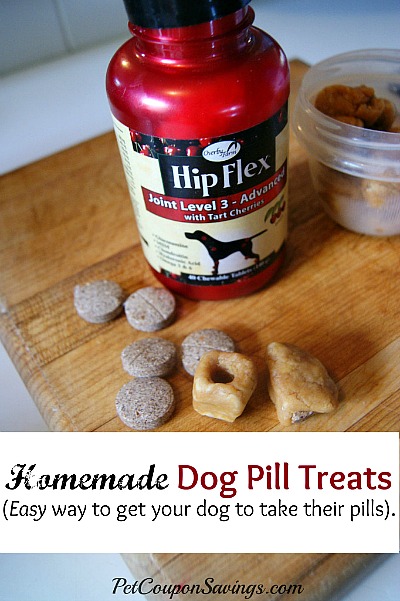 If your dog takes medicine or vitamins in pill form, there's a high chance you're working hard every day to hide/disguise the pills in their food. We've found it much easier to give pills if they're inside of dog pill hiding treats! And homemade pill treats are much healthier and cheaper than their commercial counterpart. Follow Pet Coupon Saving's simple recipe to make your own homemade dog pill treats!
11. Homemade Grain Free Dog Treats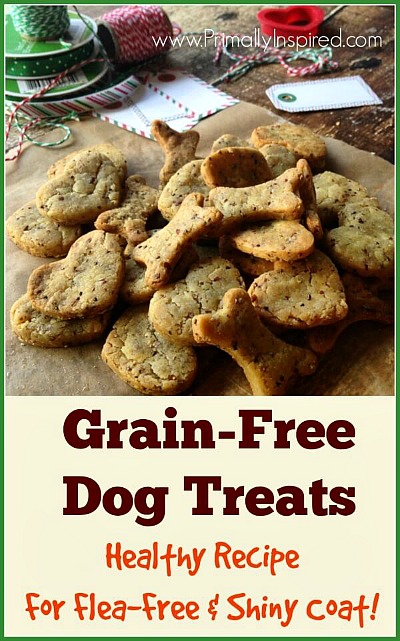 If your dog is grain-free due to allergies or your preference, then you should definitely try this treat! It includes a lot of helpful ingredients, including nutritional yeast, which is believed to help keep away fleas and mosquitoes. Follow Primally Inspired's recipe to make these healthy and tasty grain-free dog treats!
12. Homemade Frozen Star Dog Treats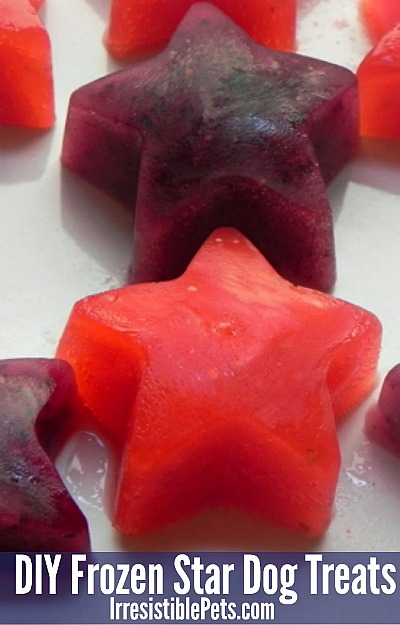 These look like human popsicle snacks, but they're actually fruit dog treats! With just 3 ingredients, these are easy to make, and very healthy! Find out how to make these frozen fruit dog treats by following Irresistible Pets' recipe.
13. Homemade Peanut Butter and Jelly Dog Popsicle Treats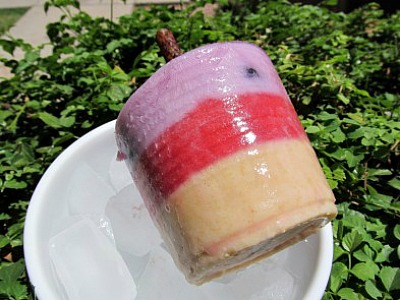 Doesn't this look tasty? Your dog will really appreciate getting one of these this summer! Follow Doggy Dessert Chef's tutorial and make your dog his/her own healthy PB and J popsicle treats!
14. Homemade Strawberry Dog Treats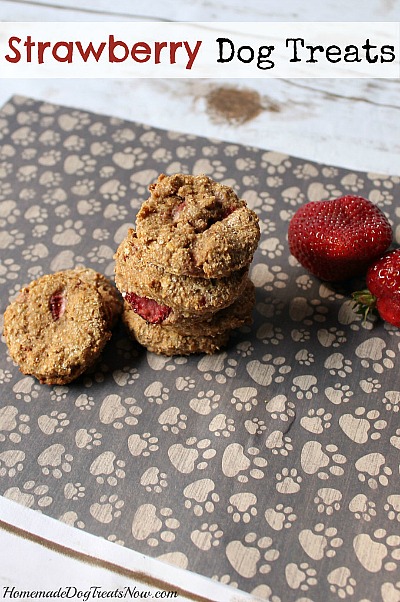 These treats look so good! And your dog will love the extra flavor from the strawberries! Follow Homemade Dog Treats Now's recipe to find out how to make your own strawberry dog treats!
15. Chicken and Wild Rice Treats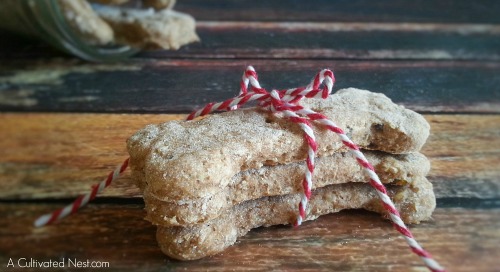 Give your pooch something healthy to crunch on with these homemade chicken and wild rice treats from A Cultivated Nest. Your dog will love these tasty treats and you will love the healthy ingredients!
16. Minty Bones
Does your furry friend have bad breath? The commercial minty bones have tons of yucky ingredients so try these homemade miny bones instead! Pretty Fluffy has the recipe and it is full of great ingredients for your pup! Plus, it will help freshen his breath!
17. Oven-baked Liver Treats
Now, these do NOT sound appetizing to me but my dog loved them! Liver is packed with tons of vitamins and is cheap to purchase from your local butcher. Pretty Fluffy has the recipe for these simple liver treats that will wow your pup!
18. Peanut Butter Berry Pops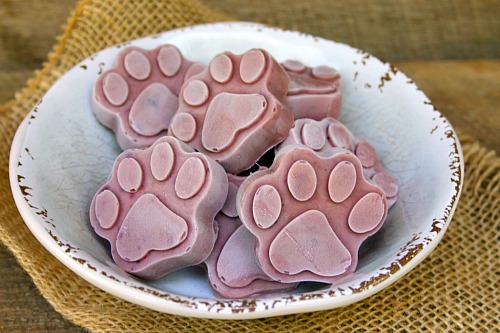 Check out these peanut butter berry pops from A Cultivated Nest. A spin on a peanut butter and jelly sandwich in frozen treat form for your pup! They will love licking on these in the hot weather!
Remember, these are treats, so give them in moderation. Especially if they include an ingredient your dog hasn't had before- dogs can have food allergies too! If your dog is on a limited ingredient diet, consider removing or swapping some ingredients for some other dog-friendly alternatives. Or just swap out ingredients to fit your dog's individual tastes. Be creative and have fun making some tasty homemade treats for your dog!
What treats do you like to make for your dog?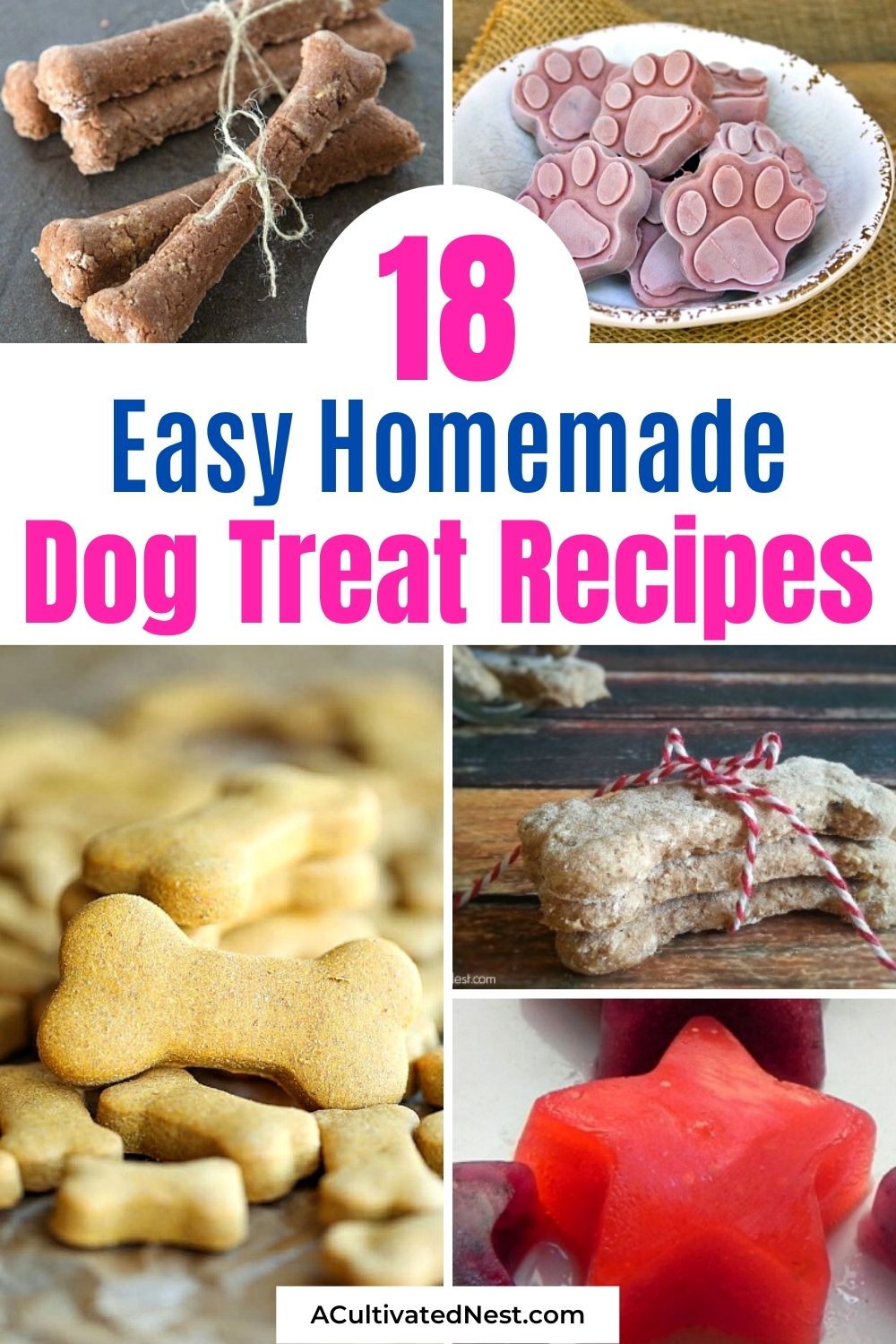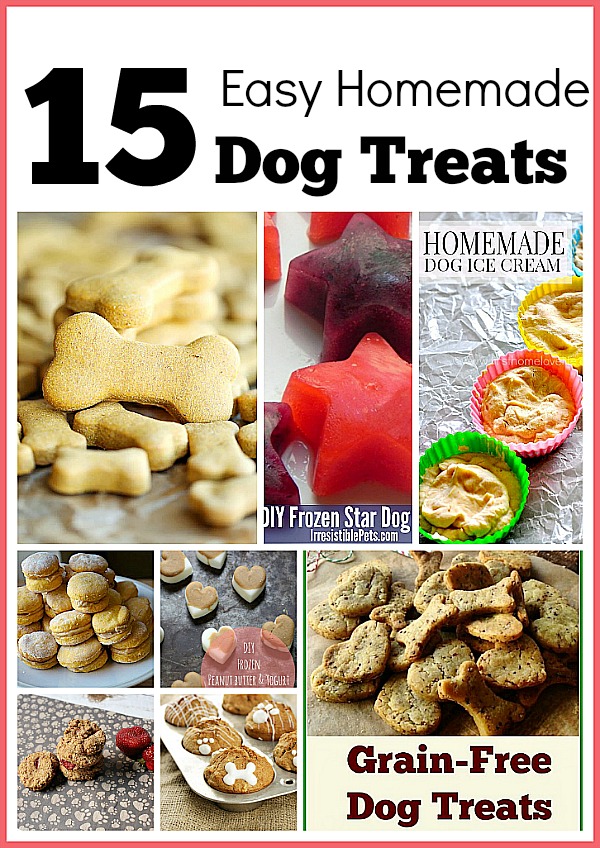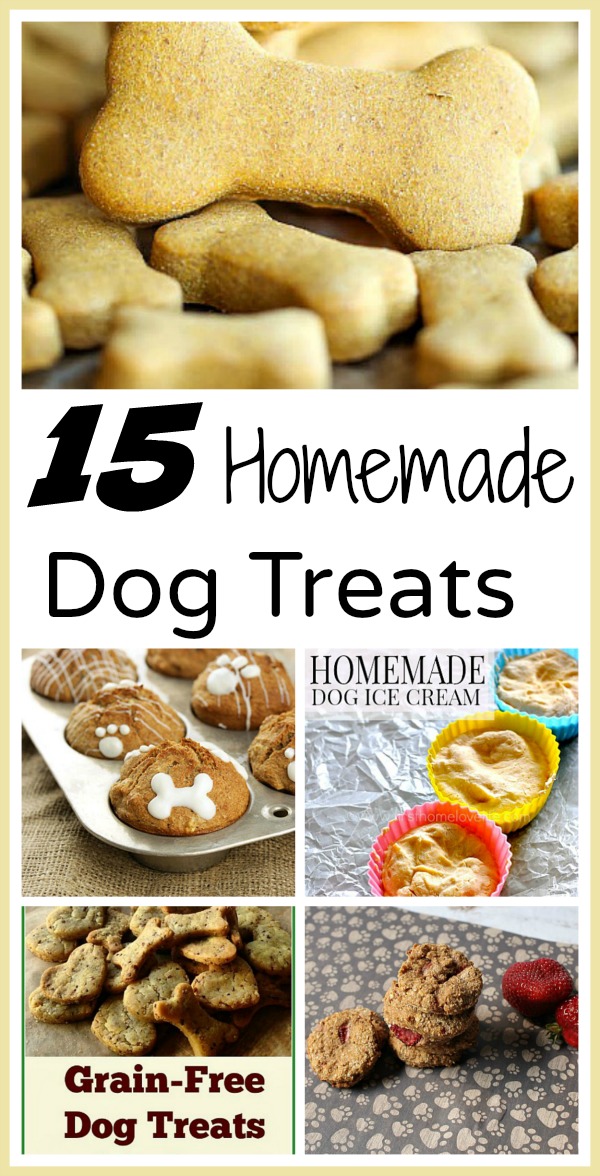 You might also be interested in: 10 Homemade Dog Toys