15 Winter DIY Projects Using Old Sweaters.
Once Christmas is over and your decorations are boxed back up, your house may feel a little empty. But don't worry, your home doesn't have to look plain and bare until the next big holiday! Instead, why not just decorate for winter? The holidays may be over, but winter sure isn't! Decorate for the season and save money by using something you already have- like old sweaters! Try doing one of these 15 Upcycled Sweater Winter Décor DIY Projects!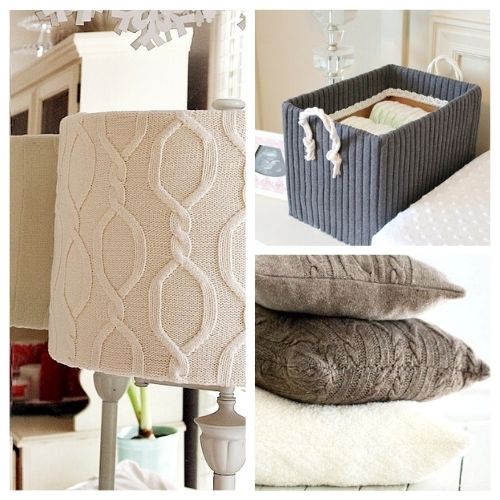 Disclosure: This post may contain affiliate links to Amazon and/or Etsy, which means that I may earn a small commission from some of the links in this post. Please see our Disclosure Page for more information.
There are so many clever ways to use up old sweaters you don't want to wear anymore!
15 Upcycled Sweater Winter Decor DIY Projects
Buying sweaters on a budget. If you don't have old sweaters lying around, you can buy some really cheap from places like Goodwill, Walmart, or other second-hand stores.
Use one sweater for more than one project. Make a large project out of the body of the sweater and then smaller projects out of the sleeves. This will save you even more money and repurpose as much of the sweater as possible!
Add a pop of color. I like to have a splash of color in my decorations, so you could add buttons and other embellishments to make your project more fun and colorful!
 1. Repurposed Sweater Pillows

These are so pretty! And they add such warmth to your home decor! If you want to make repurposed sweater pillows, follow Tidbits' tutorial!
2. Upcycled Sweater Wreath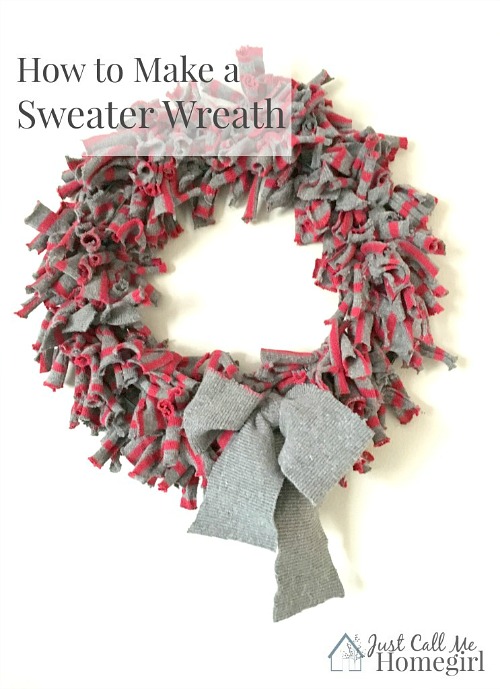 Isn't this wreath cute? Depending on what sweater you used, you could create a color combination that's perfect for Valentine's Day, Easter, or any other holiday! Follow Just Call Me Homegirl's tutorial to make your own upcycled sweater wreath!
3. Recycled Sweater Lampshade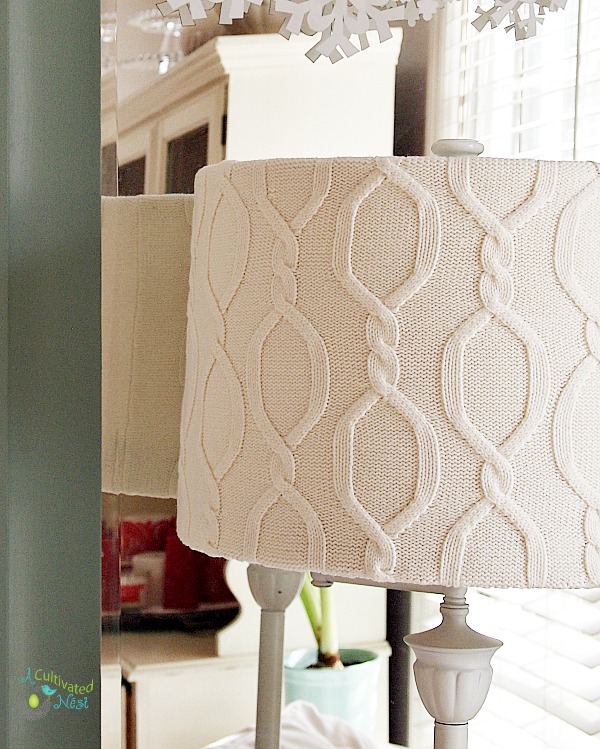 This project is both a great way to use an old sweater, and to change an old lampshade! Follow my tutorial to make this recycled sweater lampshade!
4. Upcycled Sweater Rug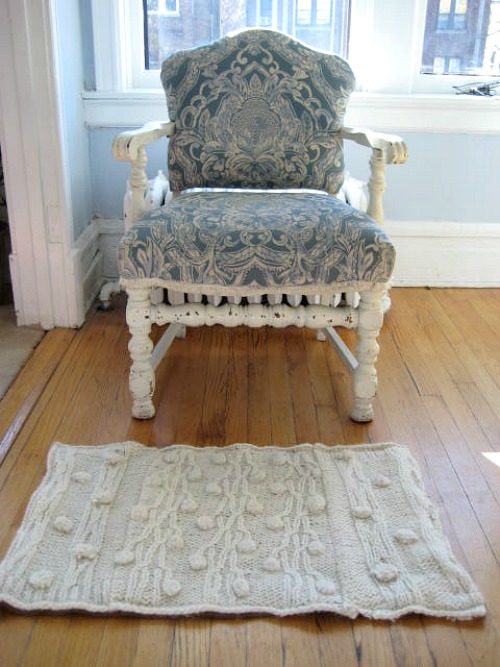 This is such a clever idea! By combining an old rug or sink mat with a sweater, you get a pretty new rug! Home Workshop explains how to make your own upcycled sweater rug!
5. Repurposed Sweater Storage Box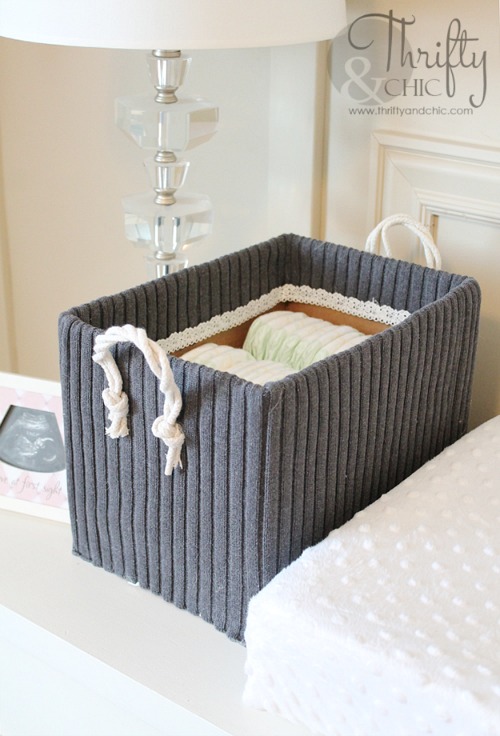 You can never have too much storage! Thrifty & Chic explains how to easily repurpose both an old cardboard box and an old sweater to make an repurposed sweater storage box!
6. Upcycled Sweater Vase Cover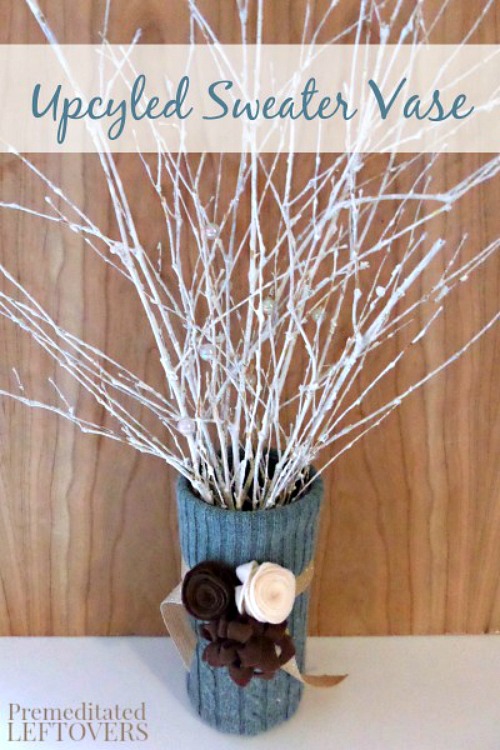 This is so adorable! Make your winter displays pretty with a nice vase cover like this one! Premeditated Leftovers shows how to quickly make an upcycled sweater vase cover!
7. Recycled Sweater Candle Cozy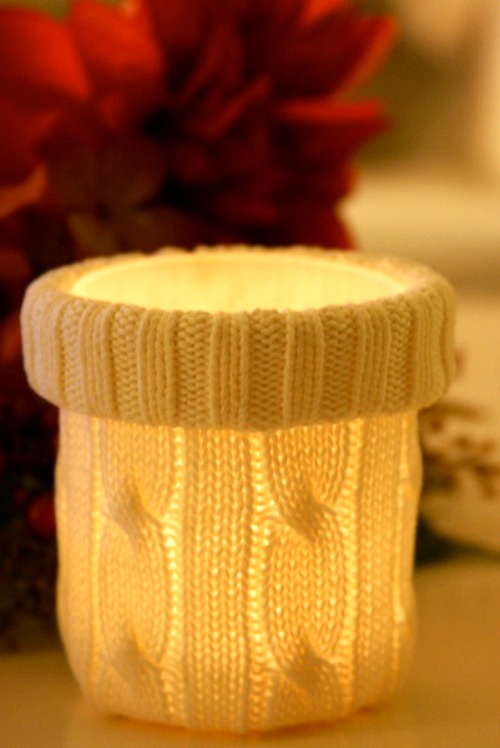 This candle has such a pretty diffused glow thanks to this cozy! Or So She Says shows how to easily make this recycled sweater candle cozy!
8. Upcycled Sweater Flower Pot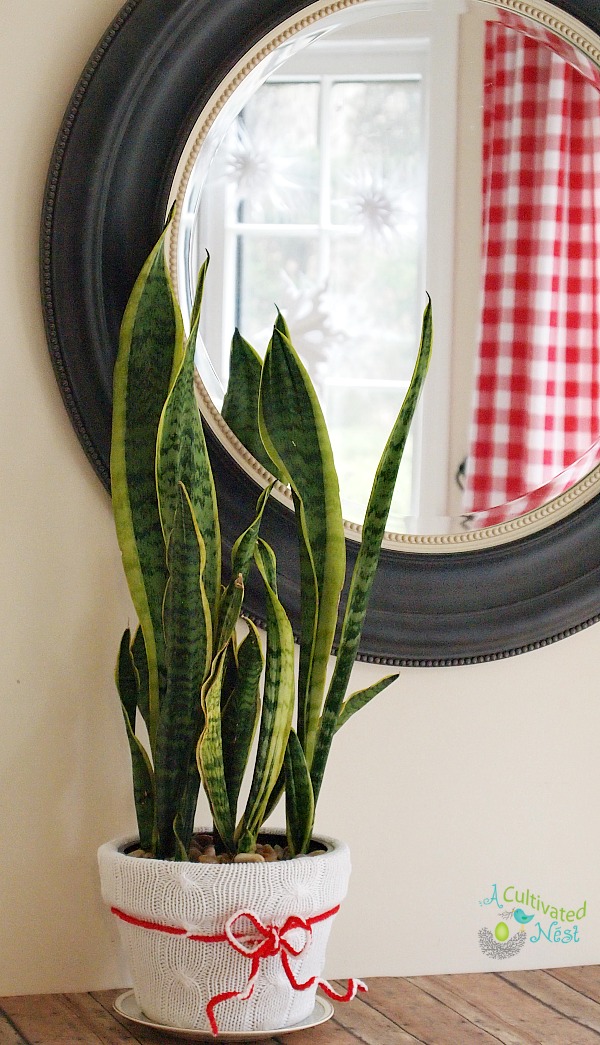 This is a quick and simple project with a pretty result! If you've got an extra sweater lying around, you've got to recycle it with my upcycled sweater flower pot craft!
9. Recycled Sweater Pet Bed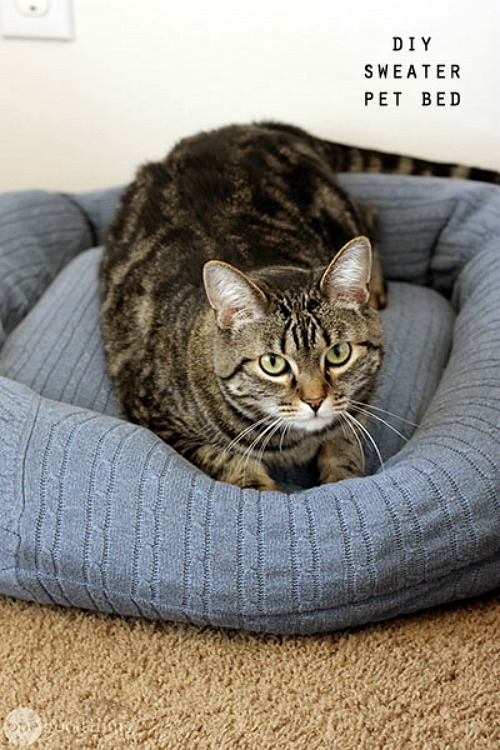 If you have a pet, then you've got to make this DIY pet bed! It's so soft, and inexpensive! Follow One Good Thing by Jillee's tutorial to make your own recycled sweater pet bed!
10. Repurposed Sweater Napkin Rings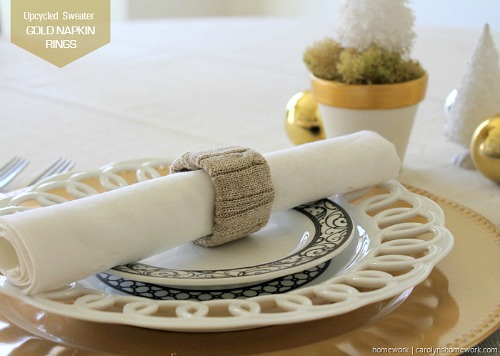 This would be a lovely addition to your dinner table this winter! Homework shows how to turn an old sweater into pretty repurposed sweater napkin rings!
11. Sweater Ear Warmer
Make a new ear warmer out of an old sweater. This would be great for a gift idea too! Premeditated Leftovers has all the directions for you.
12. DIY Infinity Scarf
One Good Thing By Jillee shows you how to make a DIY infinity scarf. This would be perfect for cold weather and so soft on your face!
13. Tea Cozy
Need something cute and cheap to keep your teapot hot in between cups of tea? Make your own tea cozy from an old sweater! Aunt B Budget has a great post on making one for your teapot.
14. Heat Pad
Turn an old sweater into your own heat pad! I love this idea especially since this is usable, cute, and upcycled! Carolyn's Homework has all the directions for you to make your own sweater heat pad.
15. Sweater Can for Storage
Carolyn's Homework has another great idea for reusing an old sweater and metal can! She makes a cute storage option for your office or home art place.
What do you do with old sweaters?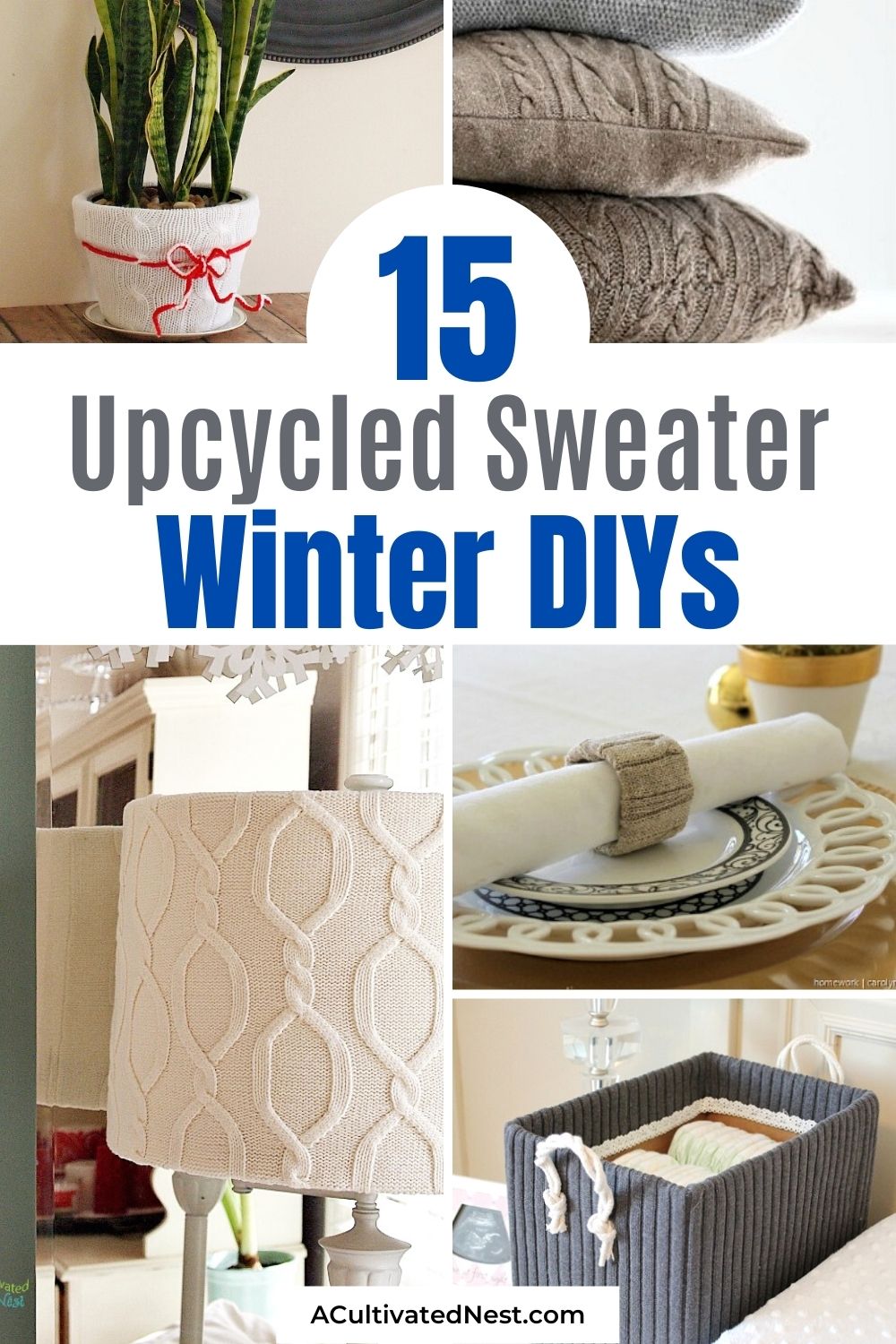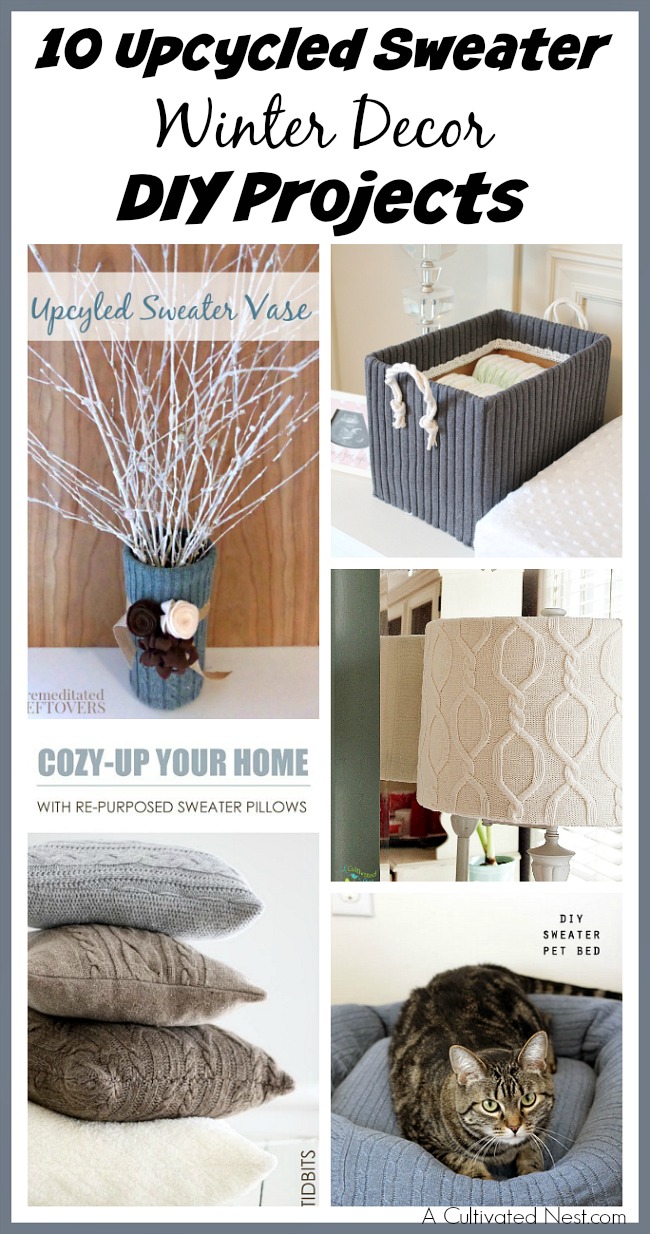 You may also be interested in: 15 Ways to Repurpose or Restyle T-Shirts