Thanksgiving is right around the corner! Along with all the other great aspects of Thanksgiving comes Thanksgiving leftovers! We all love Thanksgiving leftovers, but sometimes you can have too many and begin to get bored of turkey, stuffing, and cranberry sauce. Using the leftovers in creative recipes can help with that, but in the end it's usually best to send some leftovers home with your guests, so you're not left with so many yourself. And this way even more people get to enjoy your yummy Thanksgiving leftovers! To put the icing on the cake that is the gift of Thanksgiving leftovers, try including these pretty Thanksgiving Leftovers Free Printable Tags!
Thanksgiving Leftovers Free Printable Tags
Disclosure: This post may contain affiliate links to Amazon and/or Etsy, which means that I may earn a small commission from some of the links in this post. Please see our Disclosure Page for more information.
To help you out, I've got this cute "Thanksgiving Leftovers For:" label all ready for you to print and use!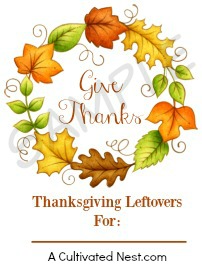 Depending on how you're packaging up the leftovers, you can just tape the Thanksgiving Leftover Label to the container, or you can use a single hole punch and some string to tie the tag on.
The download links are below. You can either download a single image of the tag, or a whole sheet of 9 tags. Just download, print, cut, use, and enjoy!
1 Thanksgiving Leftovers Free Printable Tag
9 Thanksgiving Leftovers Free Printable Tags
You may also be interested in: Tips For Saving Money On Thanksgiving Dinner