Thanksgiving is a holiday where you are usually hosting a crowd and making many different types of dishes, so it's really easy to go over your budget! You can still have a lovely Thanksgiving without breaking the bank. Here are some ways that you might be able to save on your Thanksgiving Dinner.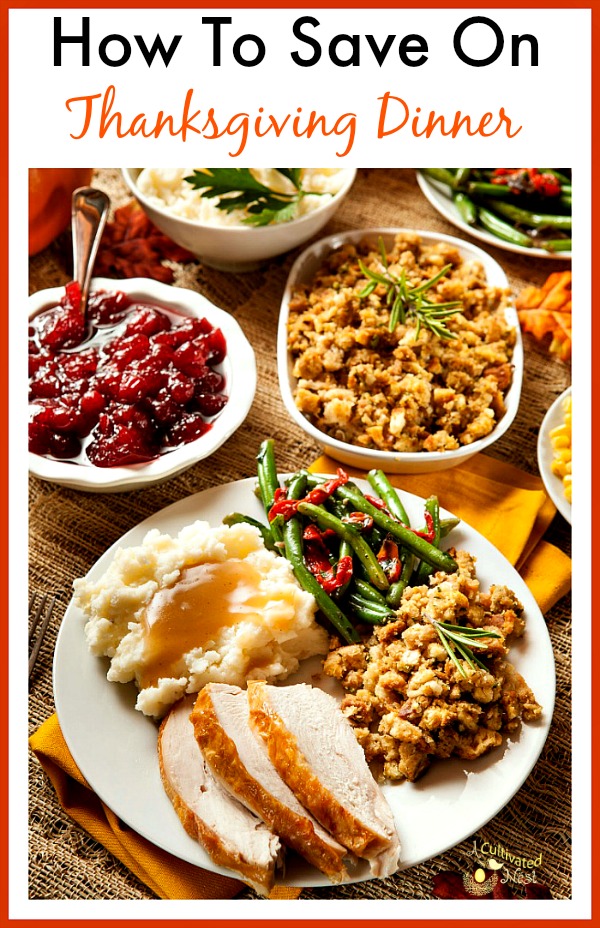 9 Tips For Saving Money On Thanksgiving Dinner
Disclosure: This post may contain affiliate links to Amazon and/or Etsy, which means that I may earn a small commission from some of the links in this post. Please see our Disclosure Page for more information.
1.  Trim the Menu –  If you're having a small gathering don't feel like you have to buy a whole turkey and make all the trimmings. You could just get a turkey breast. Last year there was just the 3 of us and I just bought turkey legs and only made our very favorite sides (since I didn't have to make other people's favorite sides). We had enough for sandwiches and leftovers for one more meal and that was fine for us.
2. Share the Menu – if you're having guests let them bring something. Don't cook everything yourself. Most people want to contribute. Even people that don't cook can bring soda, napkins, bagged salad greens etc. This helps save not only money but time too.
3. Don't serve alcohol. Booze is expensive for a large crowd. You can ask others to bring the wine/beer. If you can't do that then go for the cheaper boxed wine.
4. Use natural decorations or make your own Thanksgiving decor. There are so many cute Thanksgiving/Fall printables, candle centerpiece ideas, banners, place cards etc that you can make yourself.  You don't have to spend money on buying decorations.
5. Be a smart shopper. Shop your pantry first and then be sure to check your store ads for special offers. Check websites for coupons. For example if you always buy a Butterball turkey I would check out their website. I know they offer coupons. Some stores offer a discount on the price of a turkey if you buy $x.xx amount of groceries. You might even snag a free turkey! Of course if you kept a price book, you would know what you paid last year, when it went on sale, and whether the price is the best now!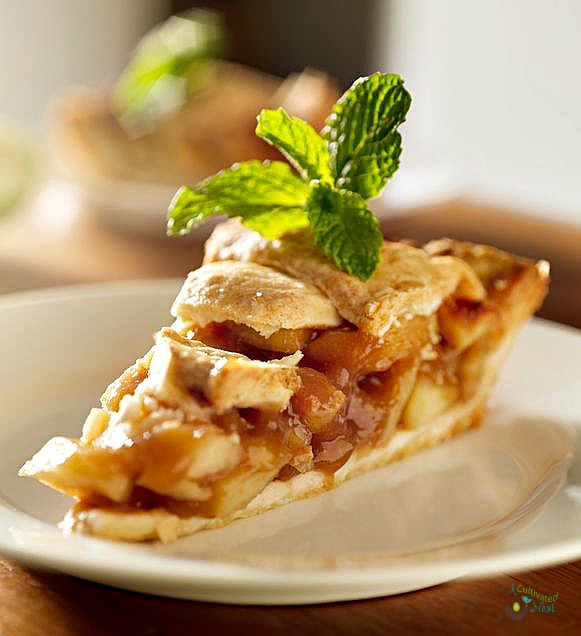 6. Unless you stocked up on pecans when they were a good price I would skip the pecan pie and go with apple. Apples are in season and less expensive than pecans. That goes for other dishes as well. Choose the simpler sides. Make cornbread stuffing instead of chestnut/oyster stuffing.
7. Borrow stuff from friends and family. Need a large platter for that turkey, gravy boat, more glasses. Borrow them instead of buying them. If you have to buy these things wait until after Thanksgiving when stores will clearance their inventory and you'll have your own for next year (or Christmas).
8. If you are having lots of people over you might want to try turning down the heat. All those bodies throw off heat and I know I'm always hot in a large crowd.
9. Make Stock – Save the trimmings from any fresh veggie side dish you make and be sure to use that whole turkey up! Make stock with the carcass and/or vegetable trimmings when it's all over . Then your groceries are doing double duty!
Just remember the big picture –  Thanksgiving is about being grateful for all the great things in your life and celebrating with loved ones. Don't stress yourself out trying to have the perfect house or the perfect meal. Just enjoy the day!
You may also like:
Last Minute Thanksgiving Crafts for Kids & Printable Decor