Want to save money? Then you'll probably want to reduce how much you eat out, and make more meals at home. Of course, this is easier said than done, as making homecooked meals can take a lot of time. That's where kitchen devices and electronics come in! There are so many wonderful gadgets out there that can make every aspect of cooking faster and easier! If you're the cook for your family, consider putting some of these on your Christmas or Mother's Day wishlist. And if you're looking for a gift for someone else, these are sure to be appreciated! Here's a list of 20 Kitchen Gift Ideas!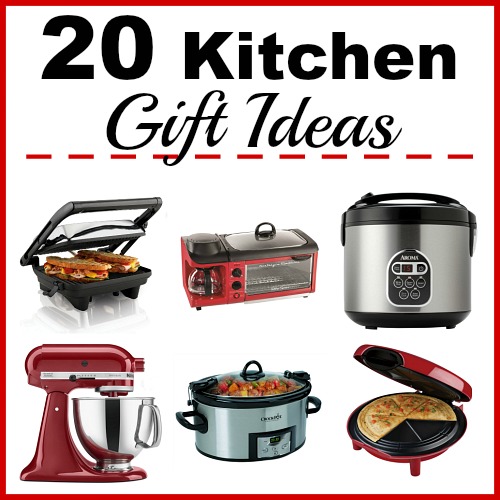 Disclosure: This post may contain affiliate links to Amazon and/or Etsy, which means that I may earn a small commission from some of the links in this post. Please see our Disclosure Page for more information.
This list of kitchen gift ideas is full of great products for all kinds of cooks and bakers. There are gift ideas for casual home cooks, and for people who are so skilled that they could work in a professional kitchen! There are also items here for people who like to bake, and gift ideas for busy moms who want to spend less time in the kitchen. I've included gifts in different price ranges, so you'll find kitchen gift ideas that are less than $50, less than $100, and only in a few cases $100+. But trust me, if I included a $100+ item on this list, that's because it's the kind of item that can save you hundreds of dollars and tons of hours of time by helping you make more quick  and easy homemade food!
20 Kitchen Gift Ideas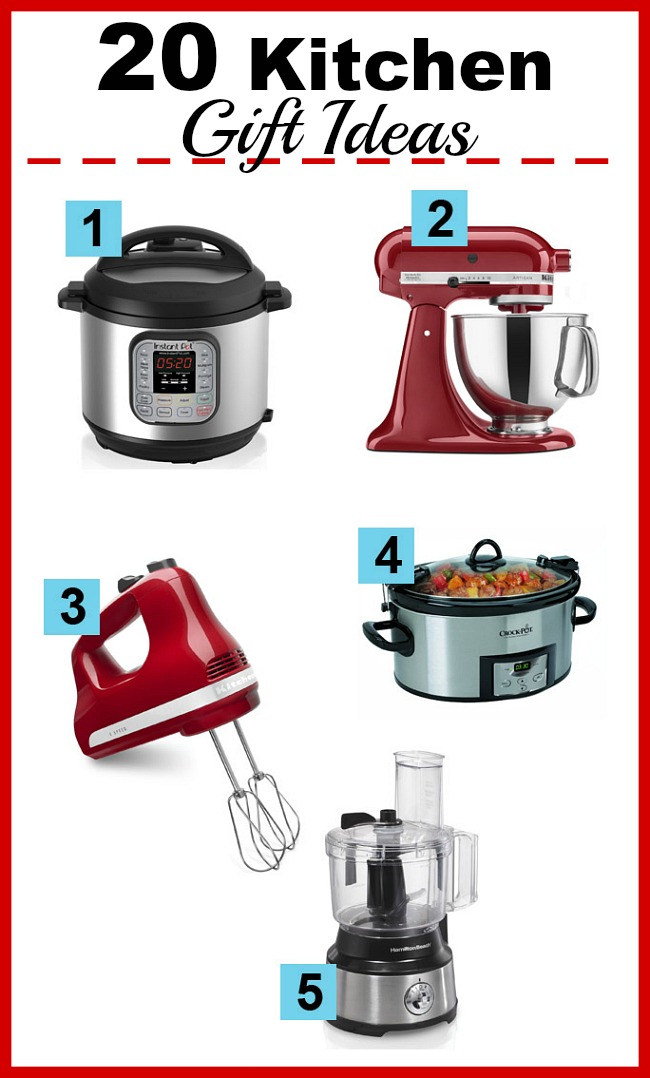 1. Instapot– If you really want to save time in the kitchen, then you have to get one of these! The Instant Pot (AKA Instapot) is a 7-in-1 pressure cooker. It can cook pretty much anything! It's a pressure cooker, rice cooker, slow cooker, yogurt maker, and more!
2. KitchenAid Stand Mixer– KitchenAid doesn't have that name for no reason. Their products really are a big aid in the kitchen! I have this stand mixer, and it's one of my favorite and most used kitchen devices. It speeds up so many mixing tasks! I especially find it helpful during the holidays with making desserts. I can set my KitchenAid stand mixer to stir cookie dough while I move off to work on other parts of the recipe. It's like having an extra set of hands in the kitchen! And trust me, these last a long, long time. This is the type of purchase you'll find yourself passing down to your children because it'll still be working as well as the day you got it!
3. KitchenAid Hand Mixer– If you don't want to get a full KitchenAid stand mixer, then how about a hand mixer? I love using a hand mixer on tougher bread or dessert dough. It's also a faster way to mix eggs or bowls of liquids! These hand mixers come in a bunch of different colors, so you can get one in your gift recipient's favorite color!
4. Crock-Pot Slow Cooker– The Crock-Pot has been a big help to busy moms for decades! There's nothing better than just dumping some food in a Crock-Pot, setting it, going on with your day, then coming back hours later to find dinner finished and ready to eat! Crock-Pots aren't just for meat dishes, either. You can also make soup, desserts, and even apple butter in your Crock-Pot! And despite being rather inexpensive, these last a long time!
5. Food Processor– If you're looking for something to really cut down on time in the kitchen, then you may have found it in a food processor! We use our food processor all the time to quickly cut up onions, veggies, oats, and more! You could also use a food processor to make homemade baby food (which can save you a lot of money!).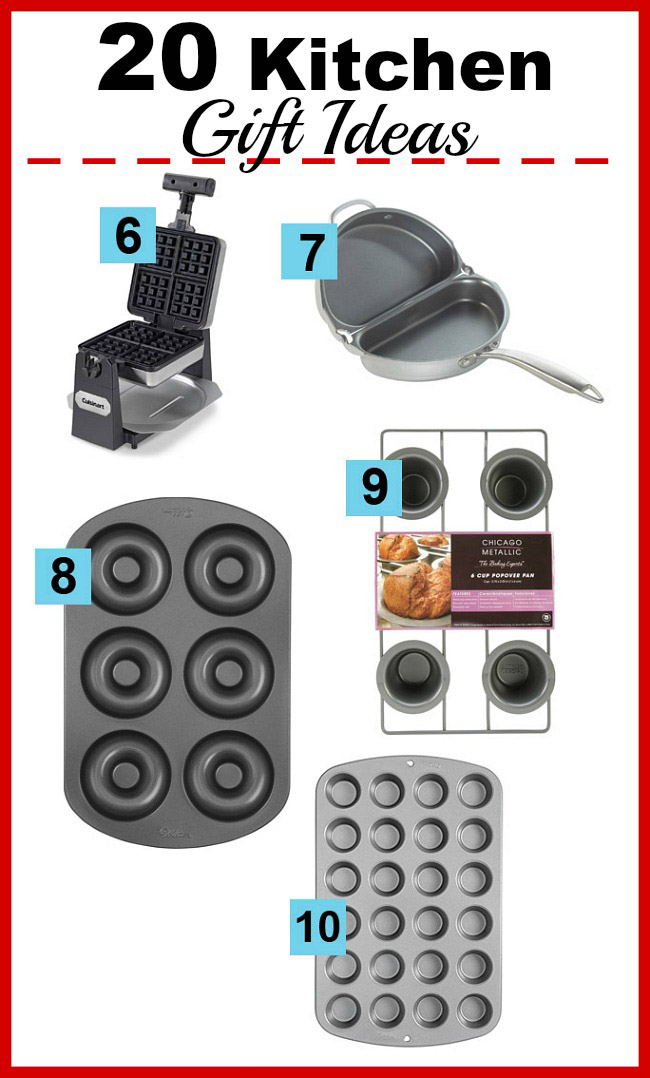 6. 4-Slice Belgian Waffle Maker– You'll stop getting fast food breakfasts or heating up frozen unhealthy breakfasts if you have one of these! This waffle maker makes 4 slices in one go for a fast, homemade breakfast! We love making waffles this way, and add different mix-ins according to each person's preference (like chocolate chips, fresh blueberries, etc.).
7. Frittata and Omelette Pan– Don't love waffles? Then how about fresh homemade frittatas or omelettes each morning? That'd be easy to do with this frittata and omelette pan! Even cleanup will be fast with this pan, since it's nonstick.
8. Donut Pan– Homemade donuts are the best! You can make any flavor you want, and you can control how healthy they are! Can't have gluten? No problem, make gluten free donuts! Want reduced sugar? Then just find your own recipe that uses less! Or give up a bit of control (and save a whole lot of time!) and use a box mix as a base!
9. Popover Pan– If you're a fan of popovers, then you need this popover pan! It makes it easy to make yummy fresh baked popovers, perfect for breakfast or to have with tea in the afternoon!
10. Mini Muffin/Mini Cupcake Pan– What's better than a dozen cupcakes? Two dozen mini cupcakes! Mini muffins/cupcakes look so cute, and are perfect for parties, bake sales, or just practicing portion control! If you're looking for baking kitchen gift ideas, then this is one you definitely should consider!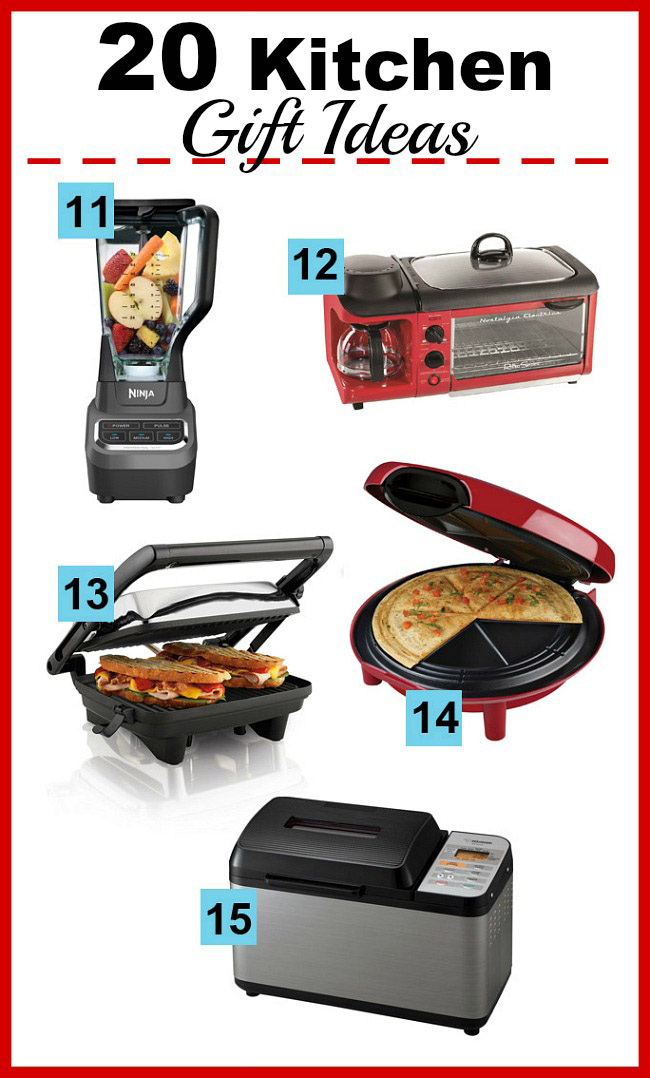 11. Ninja Professional Blender– Our blender is a big part of our lives, as we use it several times a week to make smoothies for breakfast. This Ninja blender is strong enough to make delicious smoothies, but doesn't cost a ton. You can also use your blender to make hummus, speed up food prep, or mix together batter for desserts!
12. 3-in-1 Family Size Breakfast Station– This would make a great kitchen gift for a busy family! It has a coffee maker, griddle, and toaster oven all in one compact breakfast station! This gift would also be highly appreciated by college students, single people, and anyone with limited kitchen countertop space!
13. Panini Press– We love to use this panini press at lunchtime to make hot, pressed sandwiches! It saves us money often because we usually say, why go out to get a panini when we can easily make one at home? We used to go out to get hot Cubano or pesto chicken paninis, but now we just whip them up in this panini press!
14. Quesadilla Maker– Need a fast lunch? You can't get much faster than a homemade quesadilla! All you need is tortillas and the fillings of your choice, arrange them inside the press, press the top down for a few minutes, and voila! A hot, yummy quesadilla is ready to be eaten!
15. Zojirushi Breadmaker– We have a Zojirushi breadmaker, and we use it a lot! We've had it for many years, so while it isn't one of the most inexpensive kitchen gift ideas, it's one of the kinds that will last a very long time! We use ours to make homemade sandwich bread, homemade dessert bread, and pizza dough. You can even cook jam, cake, or meatloaf in it! It's a big money saver if you usually buy gluten free or organic bread. Those types of bread get pricey quick, but the flour to make those breads isn't too expensive. The bread made in this bread maker creates taller loaves than store-bought bread, and each loaf costs less than commercial bread, making homemade bread a very frugal thing to bake!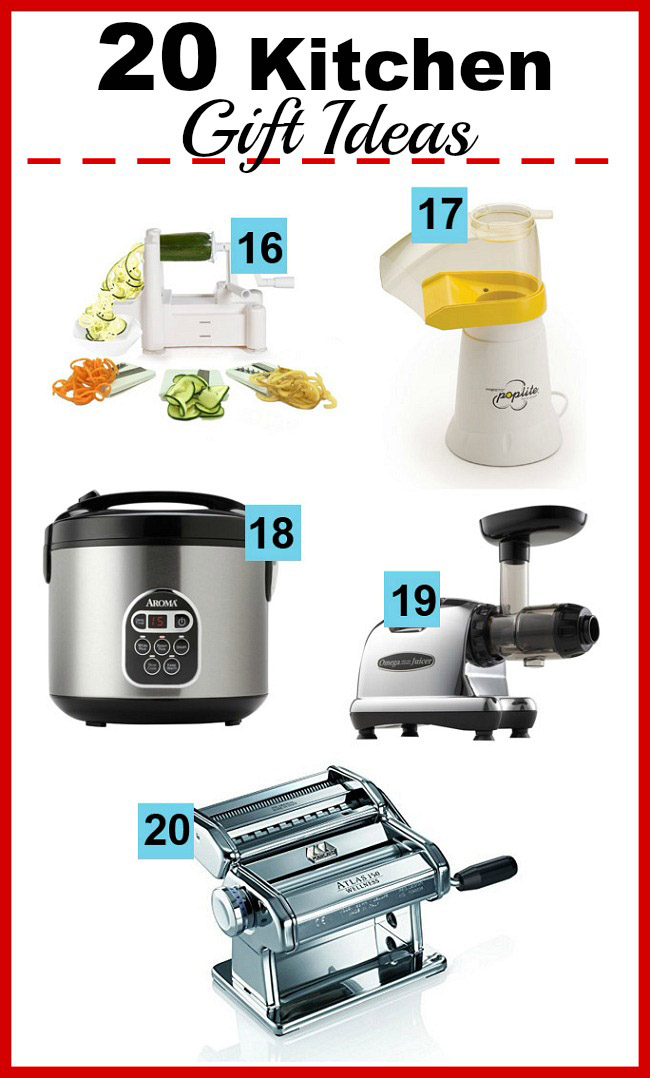 16. Spiralizer– In our house, we're big zoodle (zucchini noodle) fans! But we woudn't be if I always had to make those zoodles by hand! Instead, I just use a spiralizer, and within 10 minutes I have a big pile of zoodles ready to go! Which is great because I've seen zoodles in the grocery store, and they're not cheap, especially considering how much they cook down!
17. Hot Air Popcorn Maker– Save money on bagged popcorn and just pop your own at home with a healthy, oil-free hot air popper! We love to use ours for a quick afternoon snack, then each person seasons their popcorn as they like. This is also a frugal choice if you usually buy organic bagged popcorn. Organic popcorn kernels are much more inexpensive when you consider how much popcorn a single bag of kernels makes!
18. Digital Rice Cooker– This would be a lovely kitchen gift for any family that eats a lot of rice! It has a couple of different settings, including steam, slow cook, and delay. This model also makes a lot of rice. You don't have to make the 20 cup max every time you use it, but if you did you could freeze the excess. Then you could just defrost and heat up the extra rice whenever you wanted some for a quick side dish!
19. Omega Juicer– We have this juicer and have used it weekly for over a year, and it's still running as if it was brand new! You can juice pretty much anything with this juicer (fruits, veggies, and leafy greens), and since it's a masticating juicer instead of a centrifugal juicer, you're getting the highest quality juice you could make! You could also use it to make nut butters, create pasta, make baby food, or more!
20. Pasta Maker– Any pasta-loving family would be thrilled to get one of these for Christmas! There's nothing like homemade pasta, and this pasta maker allows you to quickly and easily make your own! If you're always buying pricey organic or gluten free pasta, this will save you a lot of money!
Time is money! What would you do if you didn't have to be in the kitchen as long? Maybe you'd start a side hustle! And if you could make your own bread, smoothies, waffles, or paninis, what would you do with the money you saved? Maybe you could pay down some debt! All of these gift ideas save their user a lot of money and time, and I'm sure anyone who'd receive one of these would recognize your gift as a very thoughtful one! I know I'd love to get many of these kitchen gifts!
What would you want off of this list?
This post contains affiliate links to Amazon. Please see our Disclosure Page for more information.
You might also be interested in: