I've said many times before, one of the easiest ways to save money on food is to cook at home, and cook from scratch! But you can't turn into a frugal chef overnight, especially if you've been using packaged meals or eating out frequently for a long time. That type of eating and cooking just becomes a habit, and habits can be hard to change. But you know an easy way to make at-home scratch cooking more fun? Having a pretty kitchen! And you don't even need to do an expensive kitchen renovation. All you need to do is create a color scheme- like a calm, pretty, aqua blue! Here's Everything You Need for a Pretty Aqua Blue Kitchen!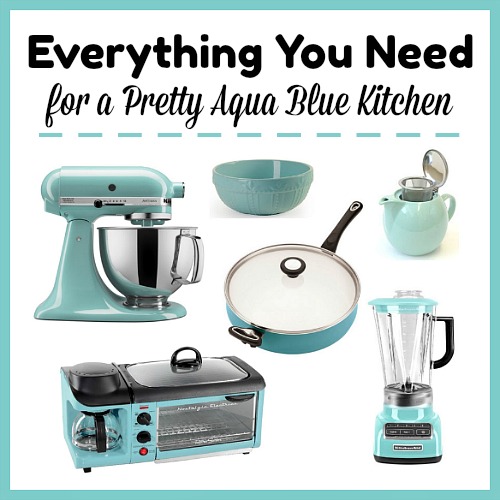 Disclosure: This post may contain affiliate links to Amazon and/or Etsy, which means that I may earn a small commission from some of the links in this post. Please see our Disclosure Page for more information.
Of course, you don't need to get everything on this list right away. Instead, why not add a piece or two as your budget permits. Think of it like building a collection- part of the fun is waiting to acquire all the pieces!
When you're done, your kitchen will have a lovely, cohesive aqua blue color scheme. It'll seem brighter, calmer, and just overall prettier! And the nicer your kitchen looks, the more likely you'll want to spend some time in it making a delicious homecooked meal!
Everything You Need for a Pretty Aqua Blue Kitchen
1. Aqua Blue Artisan KitchenAid Stand Mixer– A KitchenAid mixer is really an aid in the kitchen! Anyone who bakes often definitely could benefit from having this mixer. They last forever, and nowadays come in pretty colors, like this lovely aqua blue one!
2. Nostalgia Retro 3-in-1 Family Breakfast Station– This is the cutest little breakfast station! It makes busy mornings easier, and comes in a lovely aqua blue color.
3. Aqua Blue KitchenAid 5-Speed Blender– We love smoothies in my house, so we're a big fan of blenders. And this pretty aqua blue one has a BPA free pitcher!
4. Aqua Blue KitchenAid Soap Dispensing Sink Brush– Don't forget your sink area when creating your pretty aqua blue kitchen! This soap dispensing brush will help carry the aqua theme over to your sink as well.
5. Lenox Brian Gluckstein Clara 5-Piece Place Setting– Isn't this bone china dinnerware gorgeous? It'd make any dinner party seem so fancy, without being overly ornate.
6. KitchenAid 3-Piece Dish Rack in Aqua– A big black or silver dish rack would feel out of place in a pretty aqua blue kitchen. Luckily this lovely aqua dish rack exists!
7. Cuisinart Non-Slip Silicone-Resistant Oven Mitts– You can protect your hands in style with these cute oven mitts!
8. Adjustable Aqua Blue Daisy Skirt Kitchen Apron– This aqua apron is just so adorable and bright!
9. Signature Housewares Sorrento Collection Aqua Blue Mixing Bowls (Set of 2)– Can you imagine wearing your aqua apron and mixing up some delicious aqua frosting in your cute aqua stoneware bowl? For some reason, having a color coordinated kitchen just makes baking seem even more fun!
10. Aqua Blue Flour Sack Kitchen Towel Set– Aren't these aqua towels lovely? They're an inexpensive and functional way to add more aqua to your kitchen.
11. Aqua Blue Round Ceramic Teapot– Wouldn't it be fun to serve tea to your friends with this cute aqua teapot? And its ceramic, which means you'll likely have better flavor infusion and heat control than you would with a traditional stainless steel teapot.
12. Aqua Farberware Ceramic Nonstick 5-Quart Jumbo Cooker– I love using a jumbo cooker like this when doing one pot meals (like my yummy one pot sausage pasta)! The fact that its a cute aqua color is just a plus! It's also PFOA and PFTE free.
Have you already incorporated some aqua into your kitchen's decor?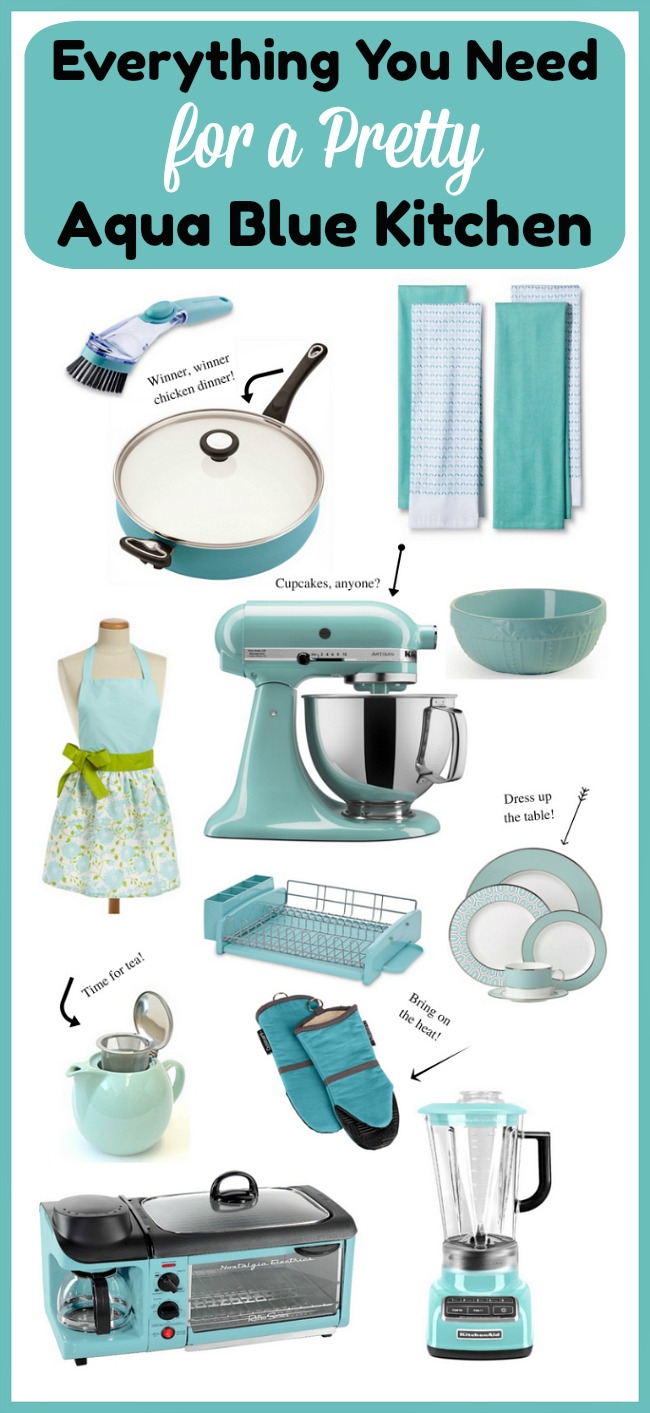 This post contains affiliate links to Amazon. Please see our Disclosure Page for more information, and thanks for supporting this site!
You might also be interested in: