You know those red and white toile curtains with yellow pom pom fringe that used to hang in my living room?  Well I moved them into my office/craftroom because I'm either making or buying new curtains for my living room (I'm testing some ideas) and I love those curtains. I've had them forever and I wasn't quite ready to say good-bye just yet! I have the chair that I painted and recovered in there too and they look so cute together.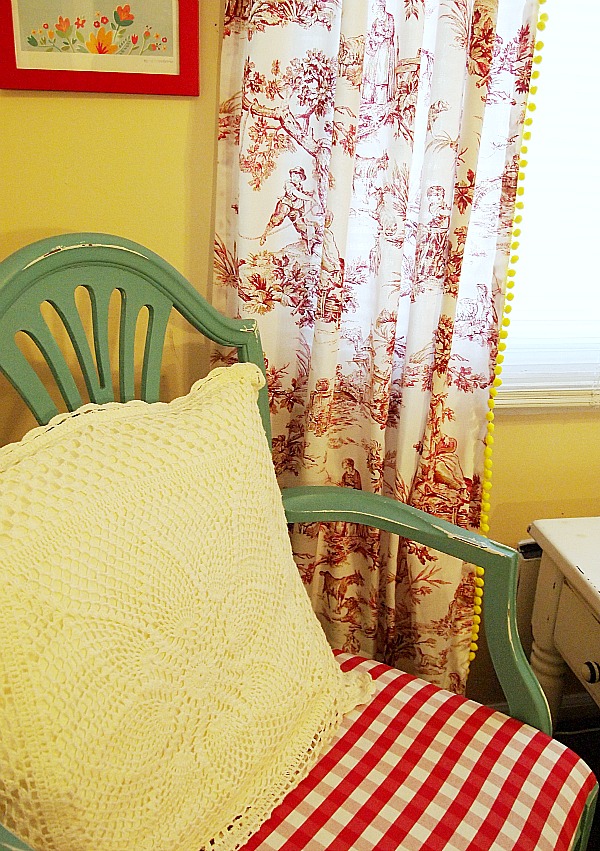 Disclosure: This post may contain affiliate links to Amazon and/or Etsy, which means that I may earn a small commission from some of the links in this post. Please see our Disclosure Page for more information.
Red buffalo check and red toile is such a good combination! Plus I love how the red looks with the Annie Sloan Provence color I used on the chair and the blue in the print.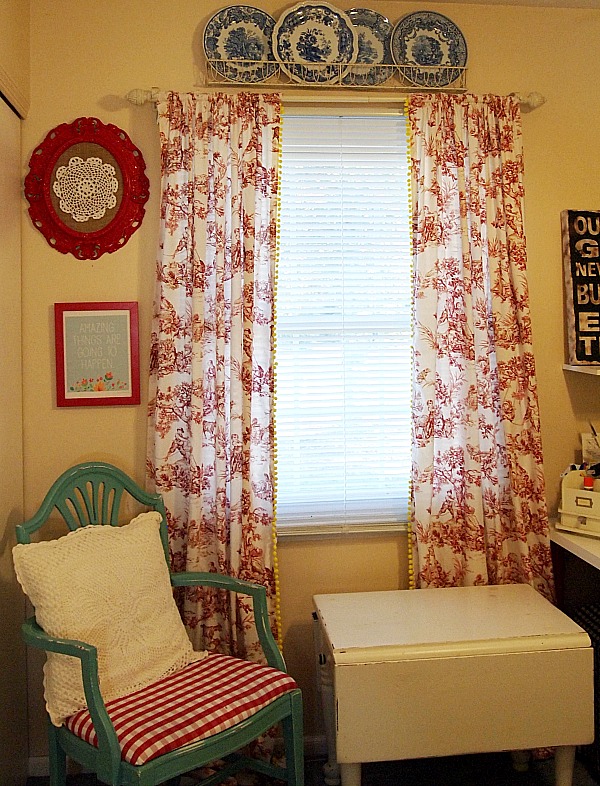 It's hard taking a photo of a window! The plate holder over the window has been there for years (I think I got it at Bed Bath & Beyond). The chair makeover can be found here. The drop leaf table I've had for years and used to be in my living room. It's now used for my husband's suitcase (he travels a lot for business).  His closet is in this room too. So the chair gives him someplace to sit to put on his shoes and some place for people in general to sit to visit with me in the office. Like with most not so big old homes – this room is multi-purpose!
One day I'll show you the whole room at one time but I'm still working on organizing all my craft stuff!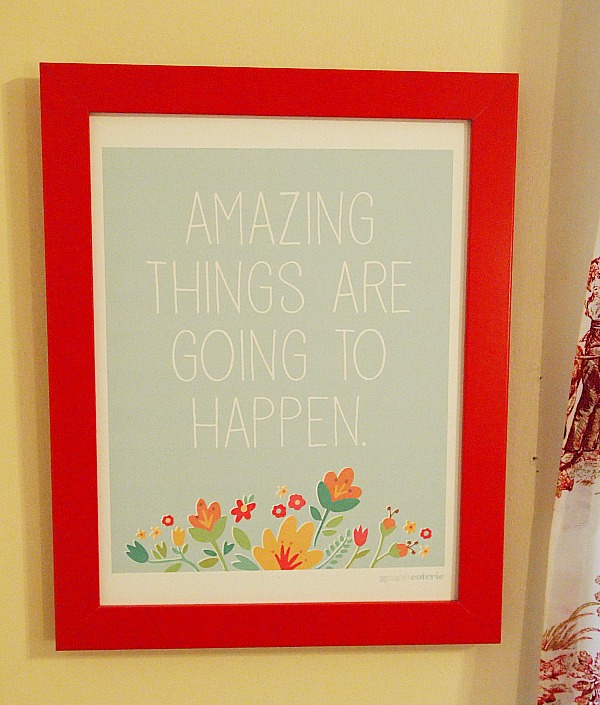 I wanted some new art for the sliver of wall in-between the closet and window so I looked in my printables board on Pinterest and found this fun print! This is a free printable which you can find here (it comes in several colors).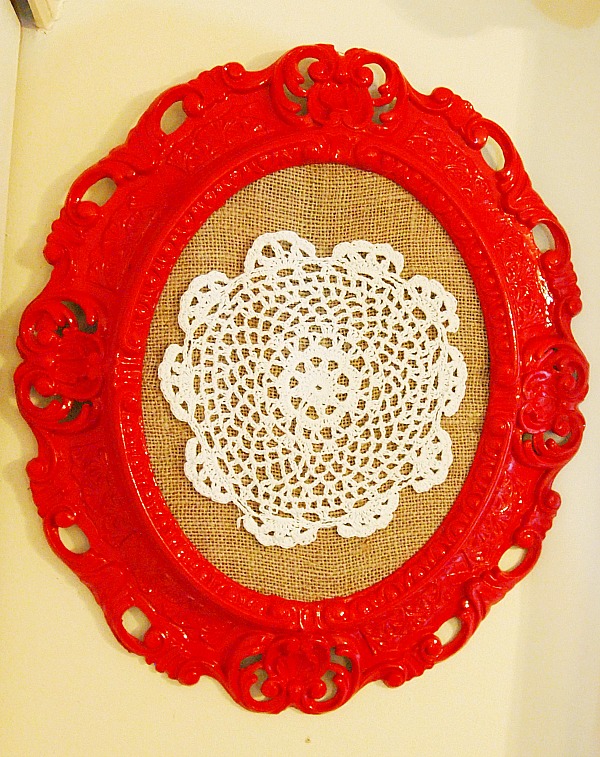 I needed another piece of art to put above the printable and made this. The frame used to be green and had a piece of black and white toile wallpaper in it. I spray painted it red and covered the insert with burlap and glued a Michael's doily on it. Instant Granny Chic wall art!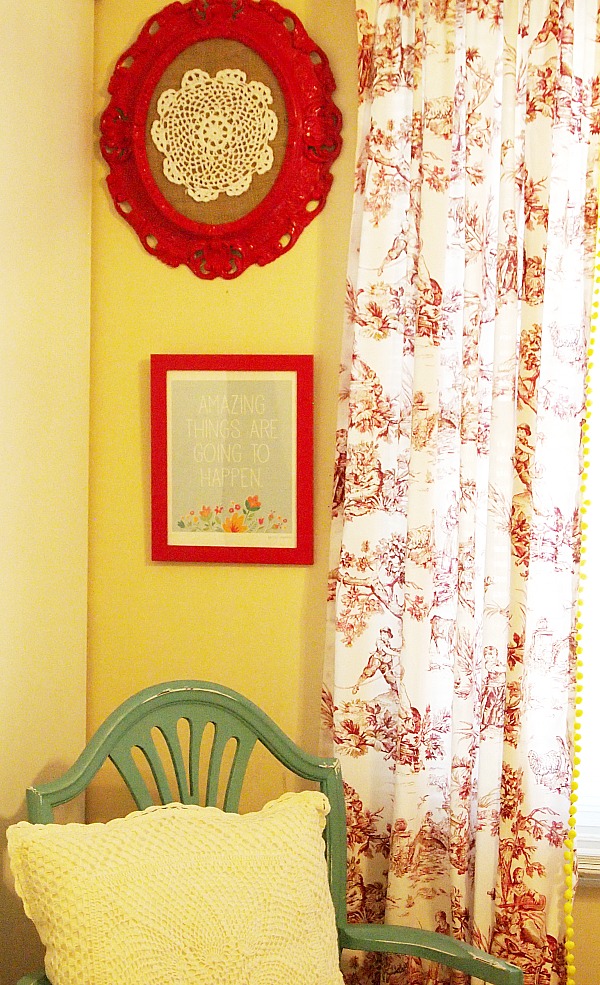 The white crochet pillow is from Ikea a few years ago and looks like a big white doily!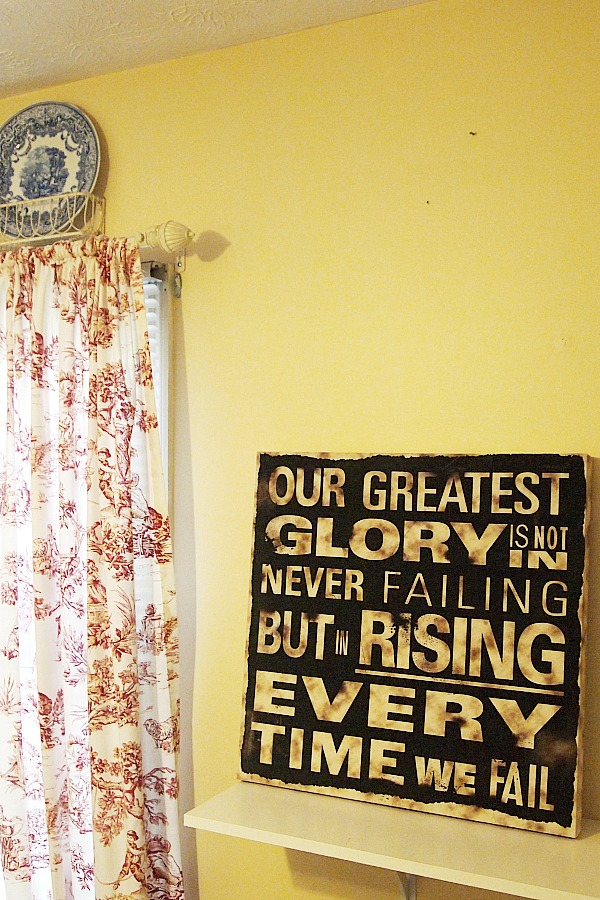 My husband just put up the shelf that the sign is sitting on. I still have to decide how I want to organize my craft stuff and I have several pictures I want to hang on the wall.
There's so much still left to do in this room!