Like so many people, we have fallen off the frugality wagon for a number of reasons and need to get back on!  I made this list of frugal living tips to try this year for myself but thought I'd share it with you in case you need help getting back on track too! Here are my top 21 frugal living tips to try this year.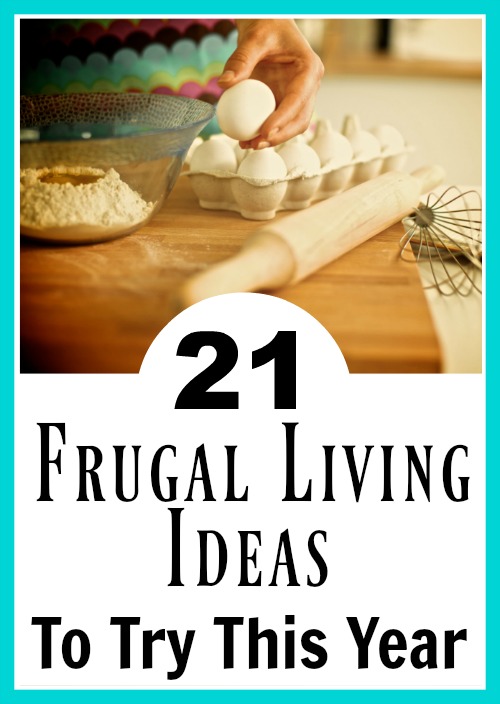 21 frugal living tips to try this year!
Disclosure: This post may contain affiliate links to Amazon and/or Etsy, which means that I may earn a small commission from some of the links in this post. Please see our Disclosure Page for more information.
1. Understand that it's going to take effort – there's no easy way around it. Sometimes I get tired of figuring out how to make my food budget stretch, or I don't want to take the time to hang the kitchen towels up to dry instead of putting them in the dryer,  I wish I could hire someone to paint those walls so I wouldn't have to do it, I don't want to make chicken stock from the roast chicken and so on – you get the idea! You have to be willing to do the work!
2. Realize that you (and I)  can always do much better. There are so many things that most of us could be doing that we don't for one reason or another. This is one of my favorite frugal living tips.
3. Consider repair/reuse/repurpose first.  For example- clothing can be repaired or re-styled into something else. There are tons of blogs who's topic is restyling clothing or upcycling items. Think jeans into skirt, long sleeved shirt into short sleeves , a  sweater becomes yarn for a project or felt it or you can save the buttons and zippers, use the material to make pillows, doll clothes etc. There are lots of repurposing posts on this blog such as 15 Ways to Repurpose or Re-style t-shirts
4. Learn a new money saving  skill – how to change the oil in a car, preserving food, crochet, knitting, how to make bread, sewing, gardening, how to recover a lamp with a new shade, learn how to clip the dogs nails instead of going to the groomer ($14 at our Vet) for example or make your own dog treats, make your own beauty products, make your own cleaning products.  I have tons of different types of diys to help you with this on the blog.
5. Use social media to get discounts and apps to save money. "Like" brands on Facebook to get FB only coupons and follow coupon/deal blogs to get up to date information on sales and coupons. Also, check out Groupon for deals and Ibotta for grocery store savings just to name a few. I'm saving my ibotta money for Christmas this year. I just have them deposit into my paypal account.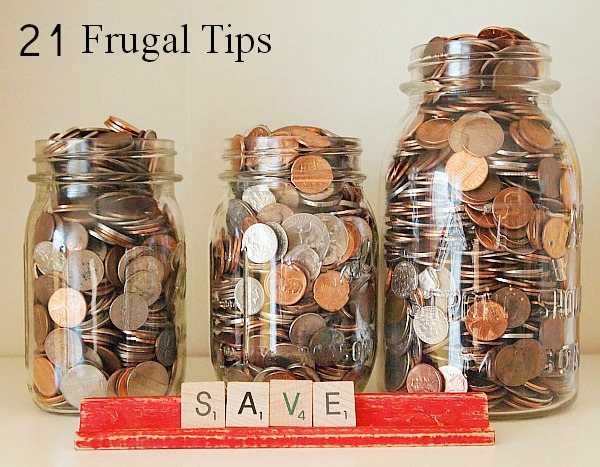 6. This idea comes from my friend Tracey McBride ( Frugal Luxuries Gift Pantry) create a gift closet. When you find good deals throughout the year  stock your gift closet. This was such a money saver when Savanna was little and it seemed like we had a birthday party to attend every week!
7.  Always weigh bagged produce. There is a difference. So don't just grab that bag of onions, potatoes, apples  etc. – weigh a few of them first
8. Another frugal living tip to try this year is to DIY stuff. Make your own laundry detergent/liquid hand soap , seasoning mixes , or beauty products (lots of great DIY scrubs and body butters when you click on that link), diy gifts, home decor. There are so many free printables that you can use for home decor and even budgeting.
9. Use the world's greatest invention, the crockpot (or instant pot)  more in order to keep from eating out.  Having something already cooking is one of the best ways to be sure you'll eat at home on busy days. Pinterest is full of great crockpot and instant pot recipes!
10. Have a  home movie night  instead of going to the movies and make a big deal out of it.  Make some fancy(er) snacks or finger foods to munch on while you watch your movie. If you don't like movies try game night instead.
11. Use it up – try to consume perishables or freeze them if you can't. Throw no food away!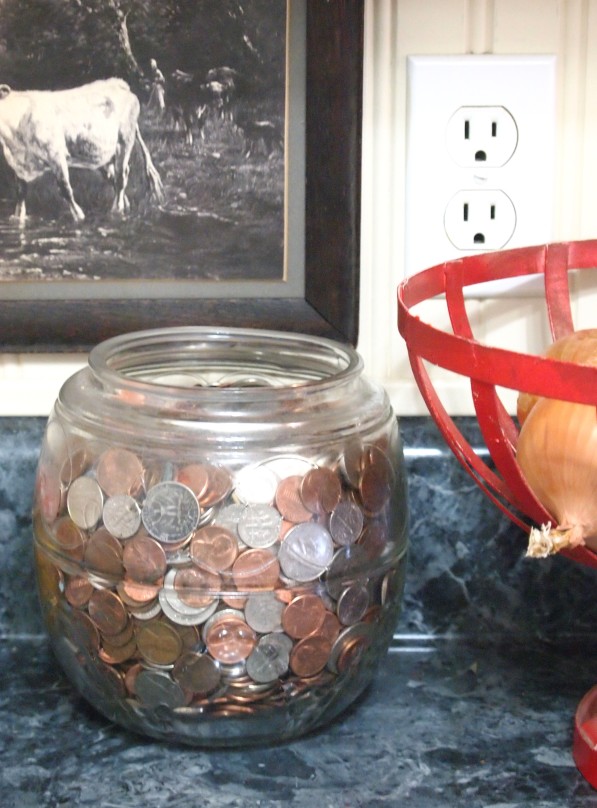 12.  Save your spare change – it'll add up! Or participate in the 52 Week Money Saving Challenge which you can start at any time.
13. This tip is from Amy Dacyczyn (Tightwad Gazette a must read for frugal living ideas) learn to use the minimum  – toothpaste, shampoo, dish soap, whatever, – that gets the job done. When you get to the point where it doesn't work for you anymore you then add a bit more until you're satisfied.
14.  Cut down on cleaning supply costs by making more of your own.  Cleaning Recipies Here
15. If you fall off the frugal wagon bounce back the next day. It's OK. All is not lost! Just don't make it into a habit.
16. Meal plan on some level.  Some people do weekly, some do monthly. Some just have a general idea what they want to eat that week. At least have some plan as to what your meals are going to be even if it's not a particular recipe. Just knowing you're having some kind of chicken dish is better than not knowing at all what you're going to cook/eat! Here's my free printable meal planning sheet to get you started!
17. We will look at our credit reports at least  twice  a year  – you're entitled to one free credit report per credit reporting agency a year so take advantage of it. Spread it out throughout the year. Not only to make sure there are no identity theft issues (expensive and a headache), but to stay up to date with your financial status. It could be a wake call!
18. Another frugal living tip to try is to get better at eliminating disposable products like napkins and paper towels. (I will probably never totally eliminate paper towels because after I wash my hands I feel like I either need a whole fresh kitchen towel or a paper towel). We did switch to those paper towels that you can choose the size you need (Target brand). We also use lots of cheap kitchen towels. Here are some ideas for disposable products you can replace with reusable ones.
19. We're going to go over our budget every 3 months or so to see where we are. Before we'd just make a general budget for the year and look at how we did at the end of the year. This year we're going to re-evaluate where we are in regards to our goals on a more frequent basis so we are able to make adjustments as we need to.
20. Try to create rather than to consume. I've found that creativity really does bloom where there is necessity,  if you let it.
21. Make frugal living something  you invest time in learning about. Read websites, magazine articles or check out books from the library about saving money. Join frugal living Facebook pages. There's a Dave Ramsey page that's great and people are very supportive. Even if I don't learn anything new to try, it helps me to stay motivated. Here are my Top 10 Frugal Living Books and my 10 Favorite Frugal Living Websites
We are all in different places financially and you may not even need these frugal living tips, or maybe you  already do all of these tips. At any rate, hopefully there's something here that you will find useful that may help motivate or inspire you in your frugal endeavors.
Don't miss a post! Subscribe to the weekly newsletter.  Subscribe via email here
Feel free to add what frugal thing you're going to work on this year in the comments.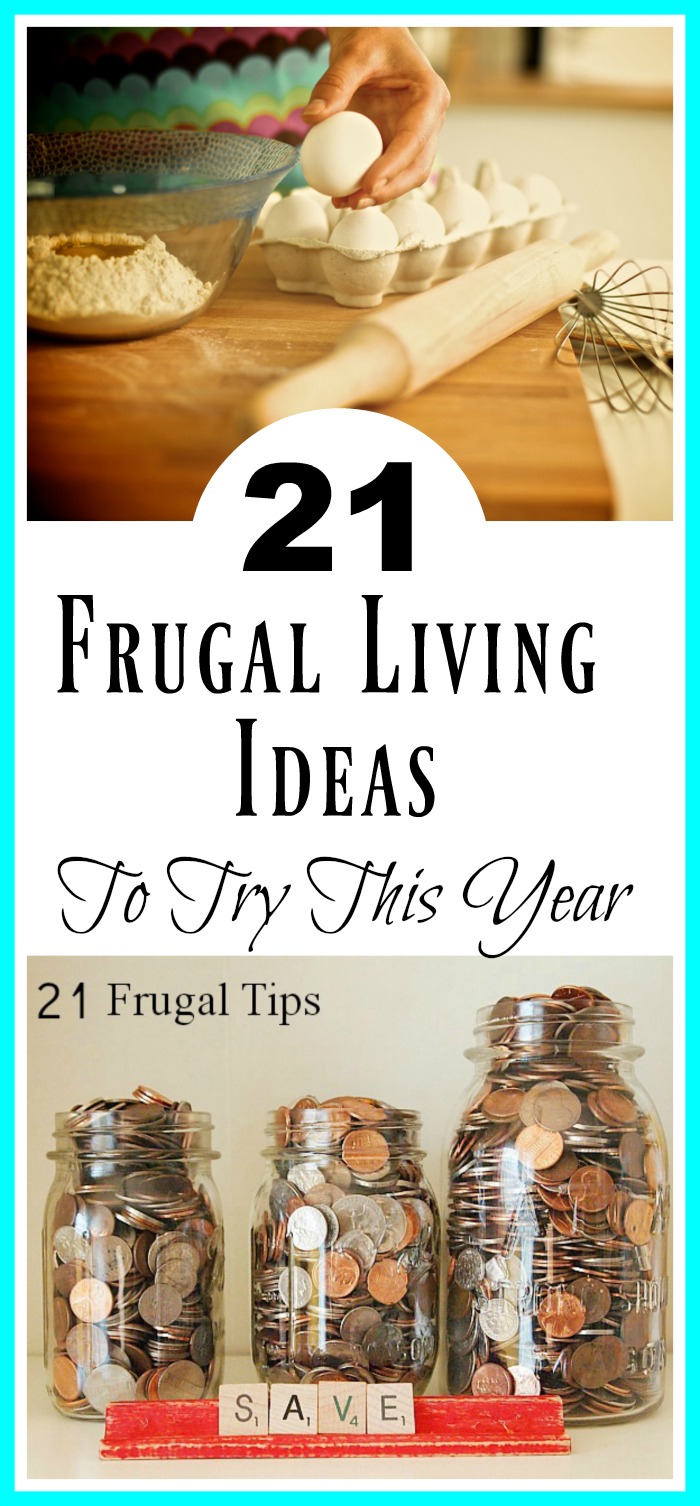 You may also be interested in: Money Saving Tips You Can You Every Month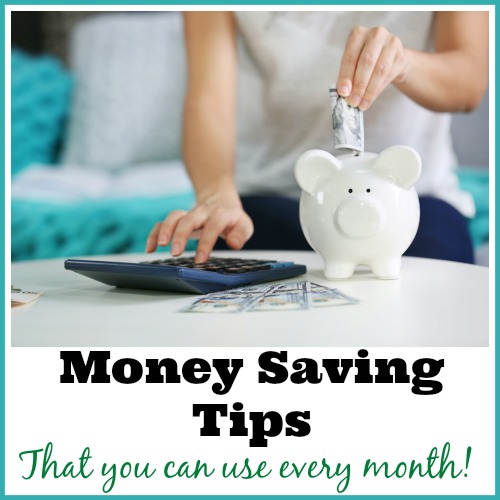 Feel free to add what frugal thing you're going to work on this year in the comments.