How To Organize Your Linen Closet.
Re-organizing this house before we put it on the market made me realize that I really, really like having a place for everything and everything in its place! I was surprised at how much my husband loves it too! One of the great things about moving is that you get to start over with your home. I plan on spending some time making sure that all the spaces in our new home are maximized for storage (since it's a smaller home). Here are lots of great ideas on how to begin Organizing Your Linen Closet.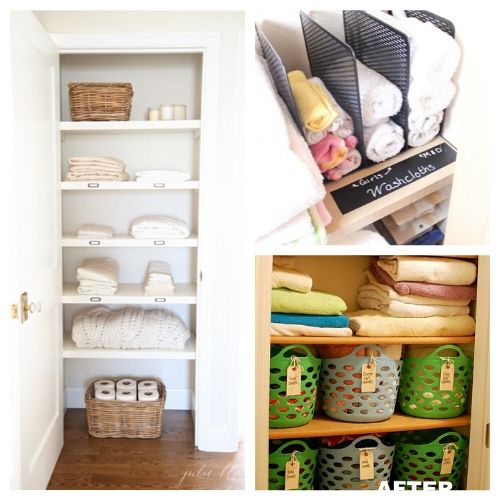 Disclosure: This post may contain affiliate links to Amazon and/or Etsy, which means that I may earn a small commission from some of the links in this post. Please see our Disclosure Page for more information.
Most people don't have a large linen closet so it's really easy to just stuff things in there. But there's something really lovely about an organized linen closet, isn't there! To help inspire you I've gathered some great linen closet organization ideas.
Organizing Your Linen Closet
When you organize your linen closet, you'll feel so much better! You will be able to see where everything is and what's in there. Most of us have had those days when you open the door to your linen closet and an avalanche falls on you when you open the door. These tips will help you get motivated to organize and clean your linen closet once and for all.
Get rid of old items you no longer use. If you have towels or sheets that are stained or shaggy, turn them into dust rags or toss them out. There is no need to keep things you know you'll never use.
Organize everything so similar items are together. Keep towels together, sheet sets together, and toiletries together. It will save you time when you need to grab something in a hurry.
Label where items belong so everyone knows where to put them. Any item that can be labeled should be. It will motivate you to keep it organized once you have it done.
1. Plastic Baskets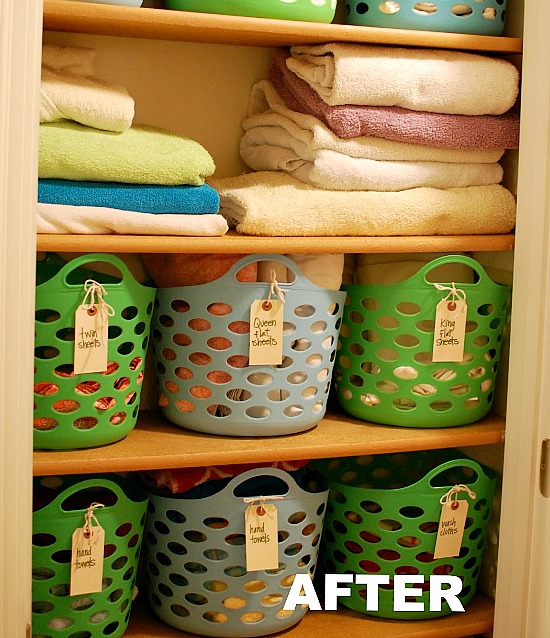 Use plastic baskets to contain like items and don't forget to label! The Dollar Tree has these baskets so you can make your linen closet look cute for not much money! See the before and after at A Bird and A Bean
2. File Sorter Organizer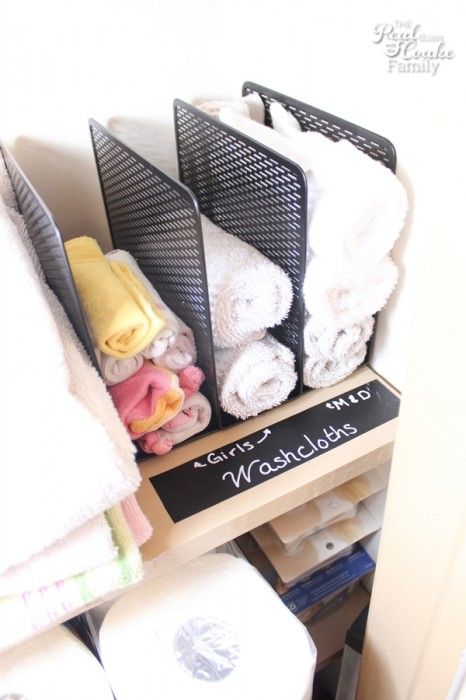 What a great idea! Use an office file sorter to hold washcloths! See this linen closet makeover at The Real Thing With The Coake Family
3. Towel Rack Organizer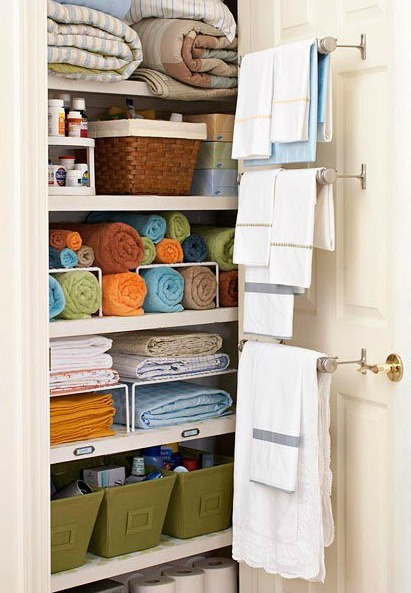 Love the idea of using towel racks on the inside of the linen closet door via BHG.  You could hang your tablecloths or tea towels on them. I roll my big bath towels like those pictured above instead of folding them.
4. Shelf Dividers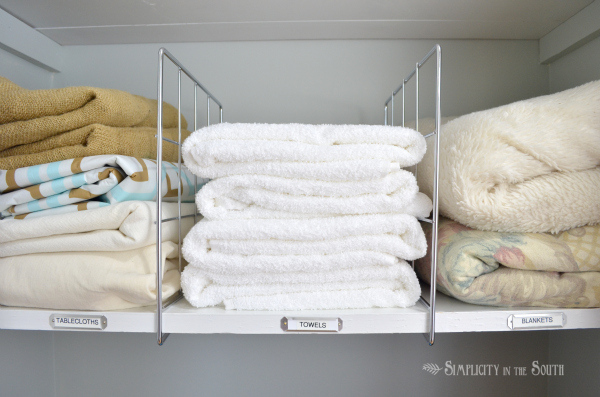 Place shelf dividers between stacks to keep them separate and again, labels help.  See the full makeover at Simplicity In The South
5. Utilize Floor Space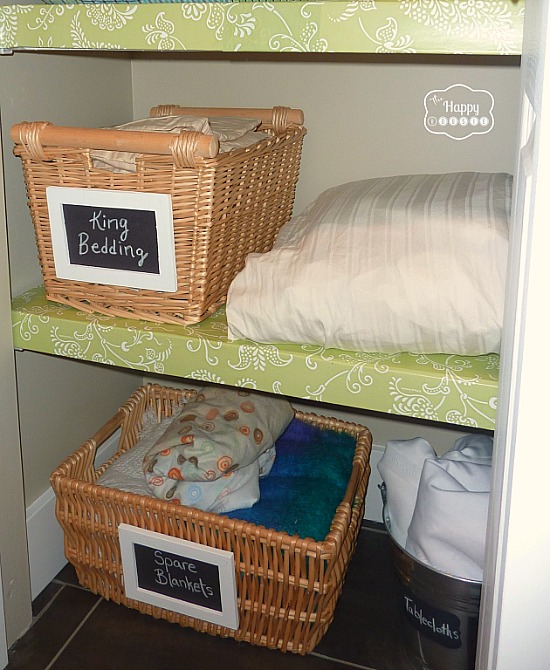 Use large baskets or bins on the floor of the closet. See the Before & After Linen Closet Makeover at The Happy Housie.
6. Properly Fold Towels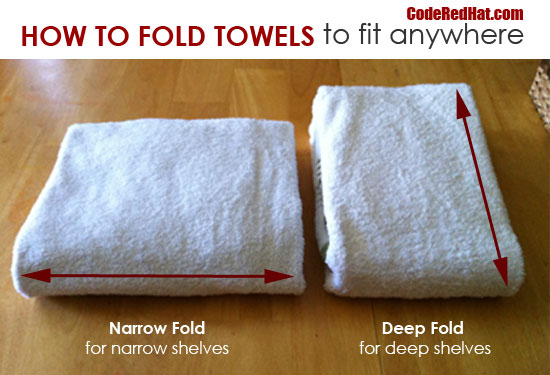 Here are 2 different ways to fold towels via Code Red Hat so that they'll fit neatly on your shelf.
7. Labeling Your Linen Closet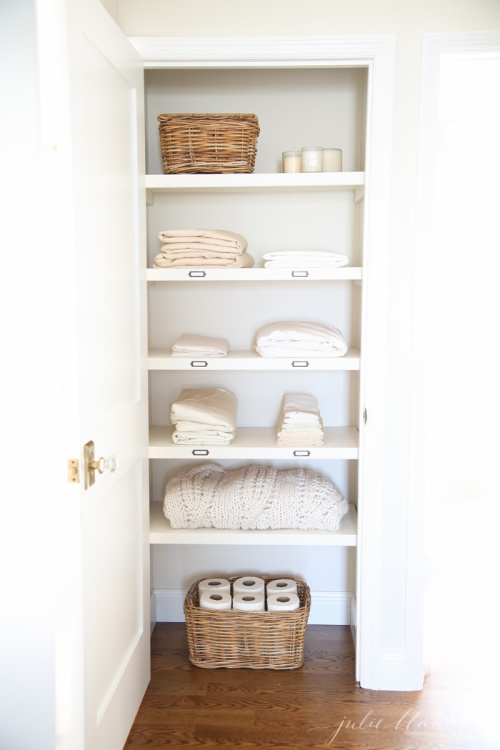 Julie Blanner shows you how to organize your linen closet with labels. It makes it simple, clean, and obvious where each item belongs.
8. Add Some Style To Your Linen Closet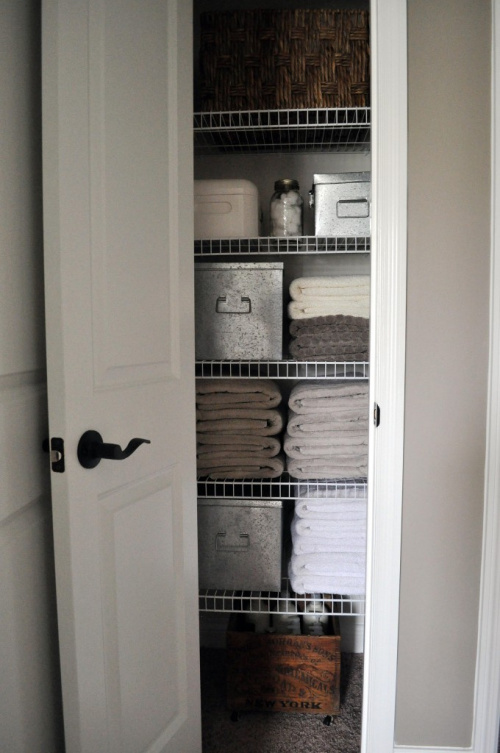 Ashley at A Little Glass jar added some style and charm to her linen closet. Adding galvanized baskets and a crate on rollers doesn't just look good, it's functional too.
You can find all of my organizing posts here and my Pinterest organizing board has lots of great ideas – find it here.
What do you love the most about organizing?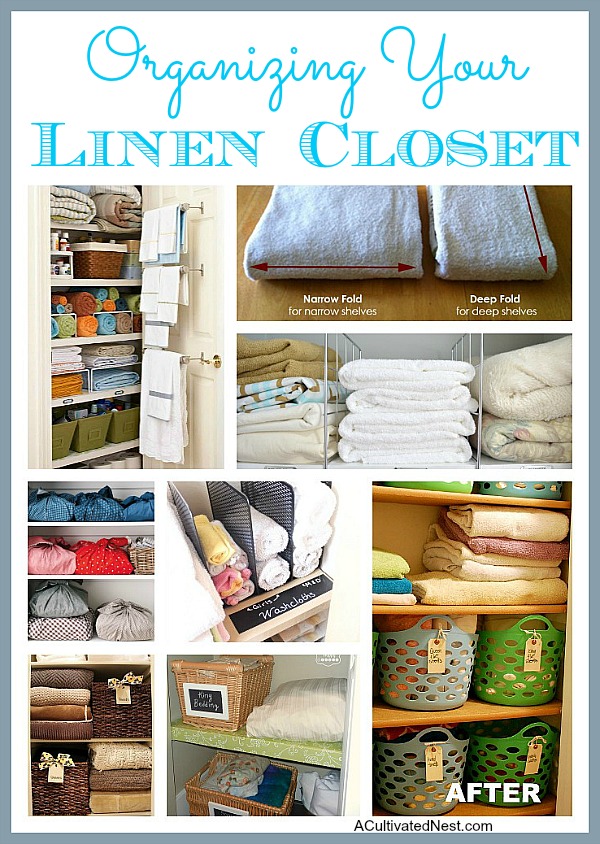 You might also be interested in: 10 Pretty Pantry Organization Ideas