Delicious Chicken Lo Mein Instant Pot Recipe.
If there was ever a kitchen gadget that swooped in and stole my heart, it's my Instant Pot! This amazing device is a game-changer, and I can make so many meals in a snap. Foods that normally take hours and hours to create can come together in no time. How can one device allow me to make foods like yogurt, ribs, and dessert all in the same machine? It's truly amazing, and that is what brings me here today. I am thrilled to share my Instant Pot Spicy Thai Chicken Lo Mein Recipe with you!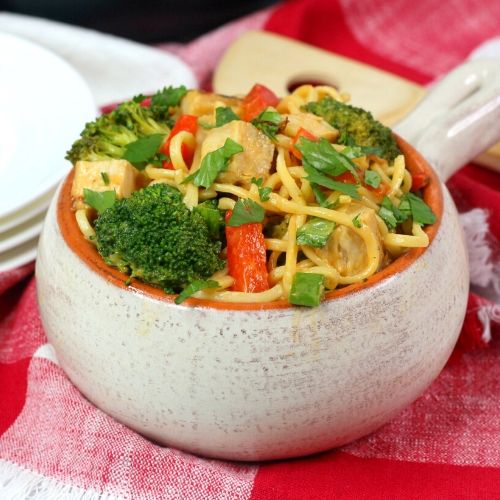 Disclosure: This post may contain affiliate links to Amazon and/or Etsy, which means that I may earn a small commission from some of the links in this post. Please see our Disclosure Page for more information.
This Instant Pot spicy Thai chicken lo mein is filled with so much yummy goodness. Each bite is packed with sweet red peppers, broccoli, carrots, lo mein noodles, juicy chicken, and it's seasoned perfectly. Not only does this chicken lo mein recipe hit the spot for dinner, but it also makes a fantastic lunch idea the next day. Don't you just love meals that are just as good as leftovers? It's a frugal way to make sure to get the most out of every meal.
If you haven't used an Instant Pot before, I realize it can be a little intimidating at first. Once you get the hang of it, you are sure to love all the things it can do. Starting off with an easy recipe like this Instant Pot chicken lo mein will set you up for success. Give it a try, and you won't be disappointed.
Instant Pot Spicy Thai Chicken Lo Mein
Materials
1 Tbsp. Cooking oil
2 Red peppers, thinly sliced
1 cup fresh broccoli, diced
1 large Carrot, sliced
1 Tbsp. Minced garlic
1 pound Boneless skinless chicken tenders or breast, diced
2 tsp. Garlic powder
1 tsp. Cayenne pepper powder
1 tsp. Salt
1 tsp. Black pepper
¼ cup Green onions
12 oz Lo mein noodles
Fresh chopped cilantro
Sauce:
2 Tbsp. Rice wine vinegar
1 Tbsp. Sriracha sauce
1 Lime, juiced
1 Tbsp. Peanut butter, creamy
¼  cup Chicken broth
⅓ cup Soy Sauce
Directions
1. In a medium bowl, combine rice wine vinegar, Sriracha sauce, lime juice, peanut butter, chicken broth, and soy sauce.
2. Stir with a whisk until well blended and set aside.
3. Select the 'Saute' function and pre-heat the Instant Pot.
4. Add oil to the inner pot and saute the bell peppers, broccoli, carrots, and minced garlic until tender-crisp.
5. Remove the mixture and set it to the side.
6. Add more oil as needed.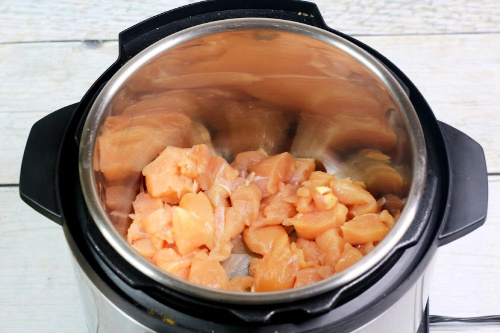 7. Add the diced chicken, garlic powder, cayenne powder, salt, pepper, and green onions and saute until almost done.
8. Press 'Cancel' to turn Instant Pot off.
9. Add in the pepper mixture, and sauce, stir to combine.
10. Close the lid and pressure cook for 2 minutes.
11. Do a 2-minute natural pressure release (NPR 2).
12. Prepare your noodles as directed on the box.
13. Press 'Cancel,' open the lid and add the noodles, stir the noodles to combine.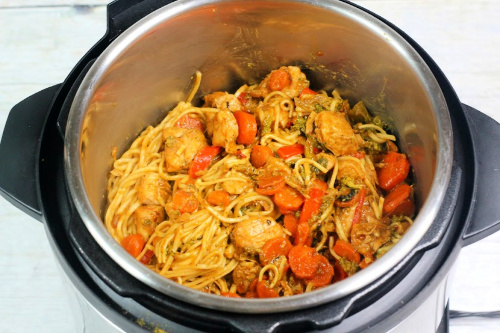 14. Garnish with fresh cilantro.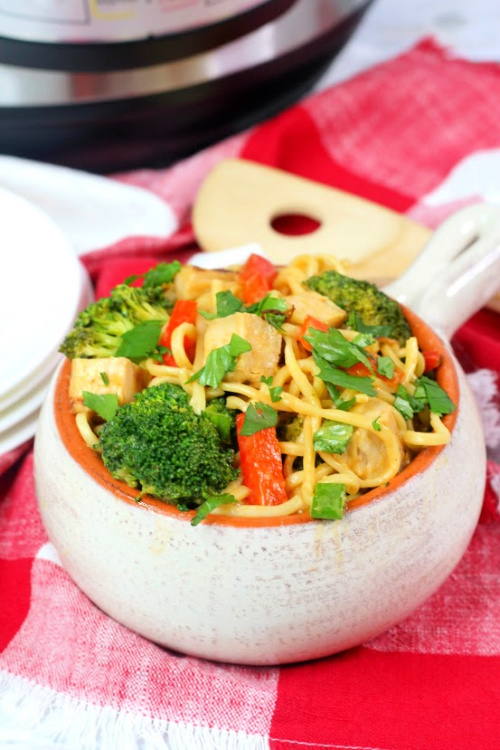 How long have you been using an Instant Pot?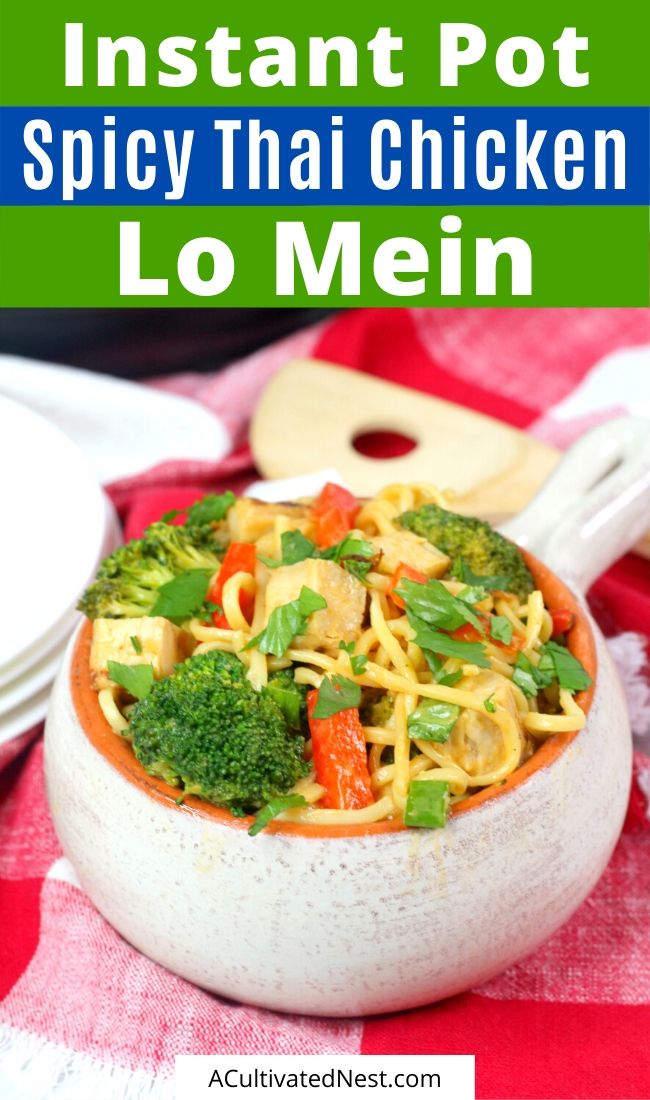 Print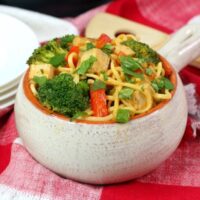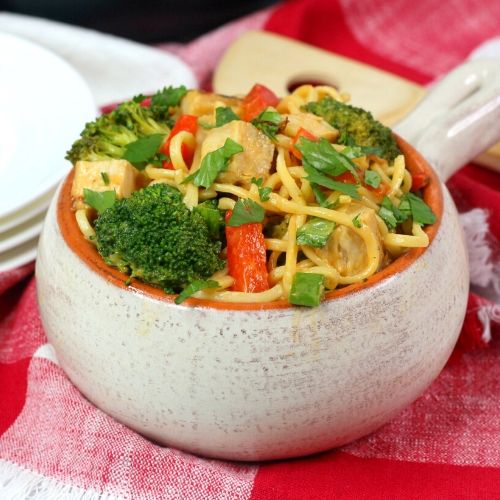 Instant Pot Spicy Thai Chicken Lo Mein
---
Description
This Instant Pot spicy Thai chicken lo mein recipe is incredibly delicious and easy to make! It's so much better than take out!
---
1 Tbsp

. Cooking oil

2

Red peppers, thinly sliced

1 cup

Fresh broccoli, diced

1

large Carrot, sliced

1 Tbsp

. Minced garlic

1

pound Boneless skinless chicken tenders or breast, diced

2 tsp

. Garlic powder

1 tsp

. Cayenne pepper powder

1 tsp

. Salt

1 tsp

. Black pepper

¼ cup

Green onions

12oz

Lo mein noodles
Fresh chopped cilantro
Sauce:
---
Instructions
In a medium bowl, combine rice wine vinegar, Sriracha sauce, lime juice, peanut butter, chicken broth, and soy sauce.
Stir with a whisk until well blended and set aside.
Select the 'Saute' function and pre-heat the Instant Pot.
Add oil to the inner pot and saute the bell peppers, broccoli, carrots, and minced garlic until tender-crisp.
Remove the mixture and set to the side.
Add more oil as needed.
Add the diced chicken, garlic powder, cayenne powder, salt, pepper, and green onions and saute until almost done.
Press 'Cancel' to turn Instant Pot off.
Add in the pepper mixture, and sauce, stir to combine.
Close the lid and pressure cook for 2 minutes.
Do a 2 minute natural pressure release (NPR 2).
Prepare your noodles as directed on the box.
Press 'Cancel', open the lid and add the noodles, stir the noodles to combine.
Garnish with fresh cilantro
---
You might also be interested in: 10 Yummy Instant Pot Recipes You Have to Try