Helpful Decluttering Schedules.
Clutter in our homes has a way of sneaking up on us. Once it's made its way in, it can be a difficult mess to tackle. Organizing and decluttering takes work, but it is fulfilling work. These 10 Inspiring Decluttering Challenges will have your home sparkling in no time!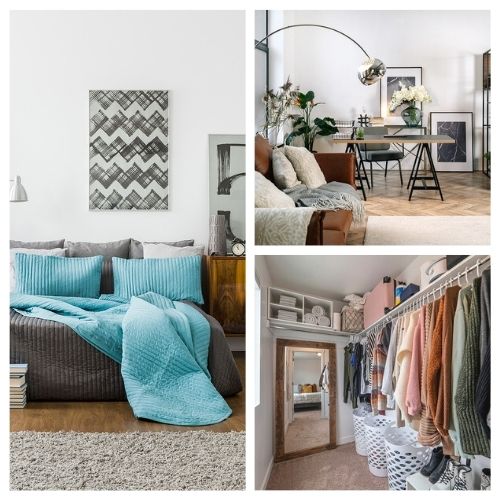 Disclosure: This post may contain affiliate links to Amazon and/or Etsy, which means that I may earn a small commission from some of the links in this post. Please see our Disclosure Page for more information.
Nobody really has extra time in their day to devote to decluttering. It's a project you need to schedule and plan for. So we've gathered up some decluttering challenges so you can decide whether you want to tackle the problem in a day, a week, or even over the course of a month or two. Choose the decluttering schedule that works best for you!
10 Inspiring Decluttering Challenges
Set a time limit. Don't try to tackle everything at once. You will quickly become overwhelmed. Instead, set a timer and spend 15-20 minutes per day getting things in order.
Trash it!  A lot of our clutter is things we've failed to let go of for one reason or another. So don't be afraid to trash things. If you're still not convinced, check out these 100 Things to Throw Away Today.
Make trades. Did you buy a new shirt today? Pick two old ones that you can donate. Always remove something when you bring in something new, which will help you manage the clutter.
Store it. Storage bins and containers are a great way to get a handle on clutter. Everything should have a place. If you don't have a place for it, take time to evaluate if you really need it.
Label it. Make it easy for everyone in your house to know where things belong by adding labels to containers and drawers with a label maker, or with these pretty printable labels.
1. 30 Day Declutter
Organized 31 has put together a 30 day declutter challenge that will help through every step of organizing your home. Learn how to clear the clutter so you are left with only truly important things.
2. Mission Declutter
Ease into your decluttering with Daisy and Pie's simple decluttering challenge, just one item a day for 30 days – the easiest way to kickstart your tidying up!
3. Busy Moms Cleaning Guide
Will all the busy moms please raise their hand? You've got your hand raised, don't you? From Mamma With Love created an easy cleaning guide because she understands that cleaning is just another task on a long list and she wants to help you to maximize your time and effort.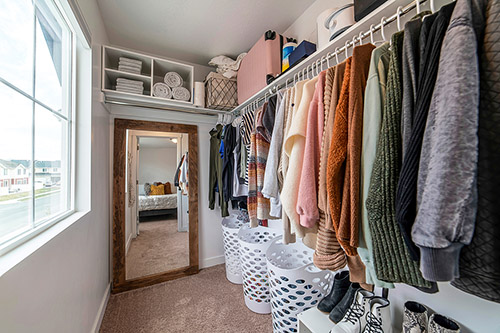 4. 15 Minutes a Day
Clutter has a way of bogging us down. Clutter, even unrelated clutter can make it difficult to manage out daily tasks. Add A Little Adventure challenges you to a 15-minutes per day/30 day declutter so you can get back to the important things in life. And she has a free printable!
5. Five Week Whole Home Challenge
Join Love Our Real Life in a month-long (5-week) decluttering and organization challenge that will tackle the problem areas throughout your entire home.
6. The Ultimate FAST Declutter
Time is something many of us need more of and spending what precious little we have decluttering is probably how things ended up messy in the first place. Take the advice of Mod Minimalism and do a FAST declutter of your entire home!
6. Declutter in One Week
Seven days from now you can be facing a clutter-free home instead of more piles of stuff. Check out the declutter challenge from Organized Moms and clear your space and begin enjoying a clutter-free home in only a week!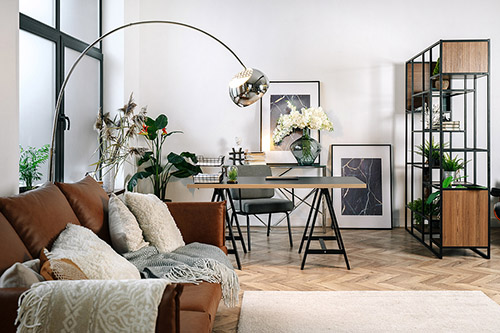 7. Daily Decluttering
Do you know people who always have a spotless, clutter-free home? They have a secret. They are decluttering on a daily basis! The secret to a tidy home is constant decluttering. Learn some daily decluttering tips from Messy Yet Lovely.
8. 12 Months – 12 Challenges
Your home didn't get cluttered in a day so it's unreasonable to think it will become uncluttered in a day. My One Sweet Life has broken this seemingly insurmountable task into 12 spaces so you can tackle it one month at a time. Learn her "5 Things" trick as you take 12 months, 12 challenges, to an uncluttered home.
9. 7-Day Declutter Challenge
No one enjoys stressing about the mess but it's something all of us have done at one time or another. The more we stuff we have, the greater with clutter. Join The Savvy Sparrow as she shows you how to let go of all the excess stuff and declutter your house in one week.
10. One Day to Clean
If your family is coming to visit tomorrow, a seven-day cleaning challenge isn't going to cut it. You need the clutter gone now, and My Sweet Home Life will show you how with her one-day declutter plan!
How do you declutter your home? If you have any handy decluttering tips, share them in the comments!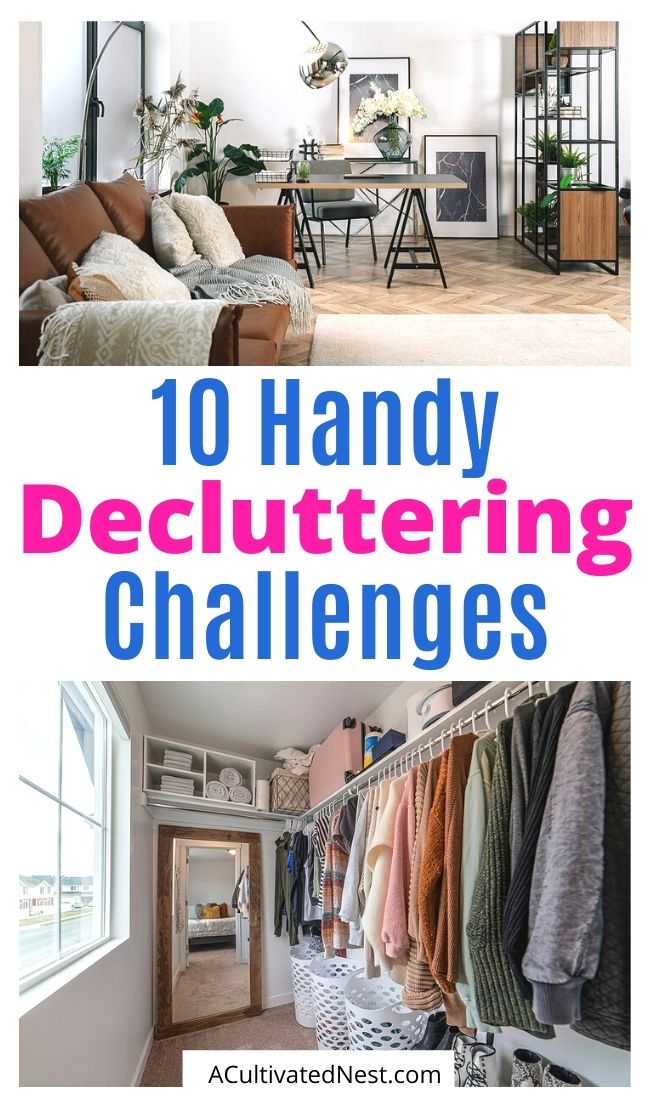 You might also be interested in: 100 Things to Throw Away Today