It seems like just yesterday was Christmas, and yet Valentine's Day is only a few weeks away! But don't worry, you don't have to spend a lot of time or money making your house pretty for Valentine's Day. Instead, try one of these 14 easy and inexpensive DIY Valentine's Day Decoration Ideas!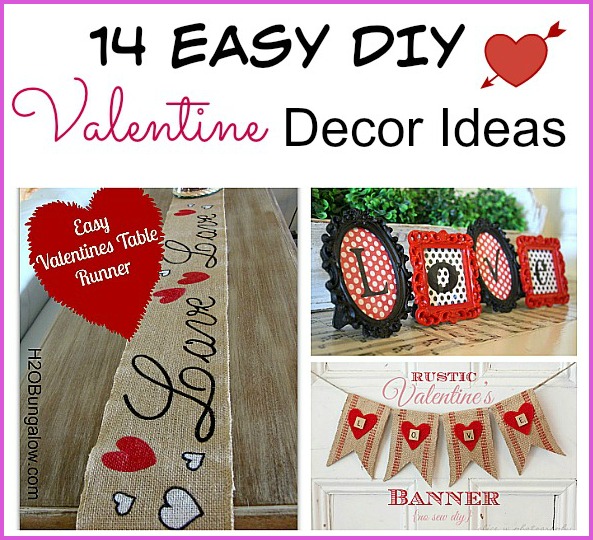 Disclosure: This post may contain affiliate links to Amazon and/or Etsy, which means that I may earn a small commission from some of the links in this post. Please see our Disclosure Page for more information.
Don't miss a post! Get this blog delivered by email.  Subscribe via email here
These are such cute and creative ideas for homemade Valentine's Day decorations!
14 Easy DIY Valentine's Day Decoration Ideas
1. No-Sew Valentine's Table Runner– The only thing better than an adorable runner, is an adorable no-sew runner! The main materials are just stencils, three colors of paint, and a sharpie, and you could probably go without the stencils if you wanted to.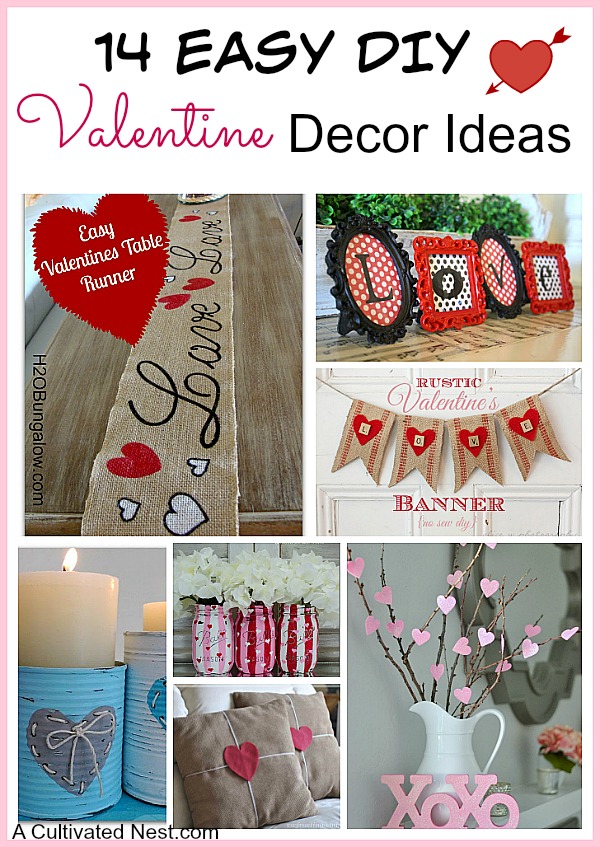 2. Heart Tree– For just $1 you can make a pretty Valentine's tree.  All you need are some thin branches and little foam or paper hearts! It looks beautiful, and is very easy to make!
3. No-Sew Heart Pillows – With just some felt and yarn, you can quickly change one of your plain pillows into an adorable Valentine's heart pillow.
4. Rustic Valentine's Banner– This super cute project uses just a few materials (including Scrabble tiles) to make an adorable "Love" banner to decorate your Valentine's mantel!
5. Framed Love Letters– This easy project makes great use of scrapbook paper and dollar store frames to spell out "Love." There are lots of chances to make this project your own by changing up the paper patterns and font styles!
6. Valentine Heart Jars– Make an adorable container just using a mason jar and some chalk paint! Fill the jar with flowers or other Valentine's decorations for a lovely table centerpiece or mantel decoration!
7. Threaded Valentine Tins– This project begins with a simple tin can and ends with a pretty container for flowers or a small version of the heart tree from #2. Use tins of different sizes and group them together for even more decorating possibilities!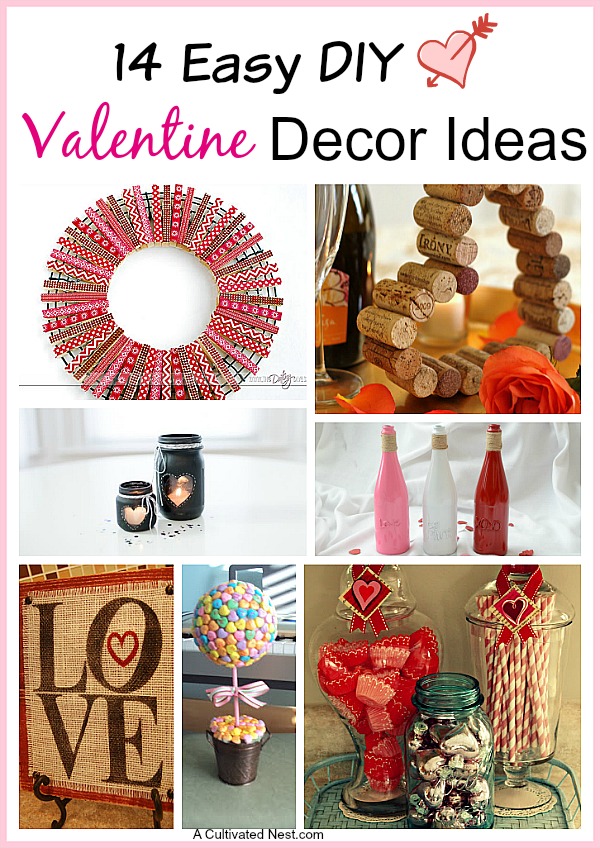 8. Valentine's Cork Heart– If you collect corks, or just like the way they look, this is the project for you!
9. Sweetheart Candy Valentine Topiary– This project makes great use of those cheap Sweetheart candies that you can easily find at the dollar stores this time of year. Instead of covering the foam ball with felt, you could also try painting it.
10. Mason Jar Candle Centerpiece – Mason jars are so versatile! With this project, you use painter's tape and spray paint. When you put a candle inside, the result is so pretty and romantic! You can paint yours whatever color you want, and even use glitter if you like!
11. Burlap and Wood Love Sign– This cute project is a Valentine's version of a Noel sign sold by Pottery Barn. With just a few materials, you can make an adorable sign that would look perfect on any countertop or mantel!
12. Upcycled Valentine's Bottles– This easy project makes good use of any extra glass bottles you may have and a glue gun! You end up with a beautiful decorative piece!
13. Valentine Filled Glassware – This super simple Valentine's project only requires some glassware and some small things to fill it with. Anything with hearts or Valentine's colors will do. You could easily find some items that are the perfect size (and price) at a dollar store!
14. Love Note Clothespin Wreath– Clothespins are useful in so many projects! In this project you use clothespins, a wire wreath frame and some washi tape to make an absolutely lovely Valentine's Day wreath. This tutorial includes some free love note printables to clip on the wreath!
So there you go, 14 easy and inexpensive DIY projects for Valentine's Day! With these, even if you wait until the last minute, you'll be able to quickly make your home beautiful for Valentine's Day. If you'd like even more inspiration, check out my Cheery Valentine's Day Mantel from last year!
Do you decorate for Valentine's Day?
Don't miss a post! Get this blog delivered by email every time I post.  Subscribe via email here
You may also be interested in: Free Valentine's Day Printables