Decluttering can be a bit unpleasant, but it's a very worthwhile task! Whether you just want more space for what you have, want space for new things, or want to practice simple living, decluttering can help. It allows you to get rid of things you really don't need in your life that are taking up space, and possibly even getting in your way. Wouldn't it be nice to go through your closet and only see things you actually wear? To walk into your garage and know that each box is full of stuff you actually want and plant to use? You can't get your home organized if it's full of excess stuff! To help you figure out what exactly to get rid of, here are 100 Things to Throw Away Today!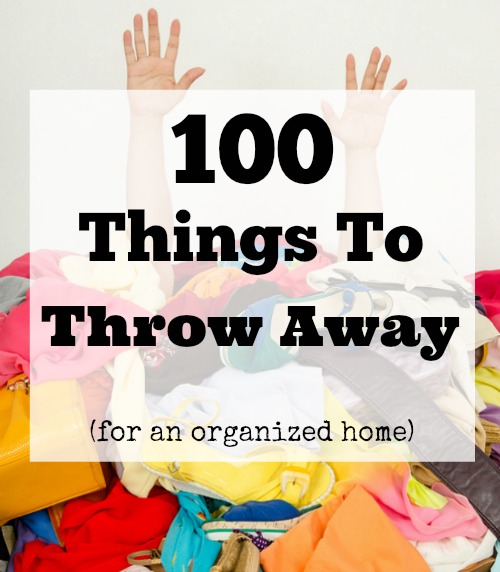 Disclosure: This post may contain affiliate links to Amazon and/or Etsy, which means that I may earn a small commission from some of the links in this post. Please see our Disclosure Page for more information.
If this list of things to throw away today seems overwhelming, break it up. Just throw away a dozen things this week, then a dozen next week, and so on.
Of course, you shouldn't necessarily throw out all of the things below into the trash. Glass, aluminum cans, paper, etc. can be recycled (if you don't have recycling service, many stores like Target and Ikea have recycling areas). You can recycle some electronics at places like Best Buy. You could also donate things that are in decent condition, or sell them at a garage sale or on Amazon or Ebay, etc. The main idea is to get things out of your house, but not necessarily to fill up your trash bin!
100 Things to Throw Away Today
1. Expired food (you'll have to dig deep in your freezer if it's not well organized!)
2. Expired beauty products (especially homemade beauty products!)
3. Personal papers that are over 7 years old (shred them, then recycle or compost the shreddings)
4. Books you don't plan to re-read
5. VHS tapes and your VHS player (if you still like the movies, buy them on DVD/Blu-ray/on-demand)
6. Old shoes
7. Old holiday or birthday cards (unless they hold true sentimental value)
8. Stretched out headbands and hair ties
9. Nearly used up candles
10. Expired medicine (here's how to properly dispose of old medicine)
11. Old electronics you no longer use (like an old iPod)
12. Scrap fabric (unless you plan to make something with it)
13. Scrap wood (again, unless you plan to put it to use)
14. The kids' old school projects
15. The kids' old art (just keep the pieces that have sentimental value, but you don't need to keep every drawing)
16. Games you/the kids no longer like
17. Old game systems that you no longer use
18. Old computers that are just sitting in the garage (destroy the hard drive first to protect your data)
19. Excess power strips (How many do you really need? Unless you need them all, they're something you should throw away today!)
20. Cords/cables to things you don't have any more
21. Duplicate cords/cables
22. Manuals for things you don't have any more
23. Holiday decor you don't use
24. Kitchen tools you never use
25. Pots, pans, and dishes you never use
26. Clothes that don't fit anymore
27. Plastic grocery/shopping bags (you can easily recycle these at many different stores including Target, Walmart, Kroger, Lowe's, etc.)
28. Used up pens or highlighters
29. Coupons that have expired
30. Home improvement tools you never use
31. Old boxes from things you've bought
32. Holey clothes
33. Take-out menus you don't use
34. Expired spices
35. Old magazines and newspapers
36. Old notebooks you don't need
37. Excess flower pots (turn them into a tipsy flower pot, or throw them out)
38. CDs (find your favorite tracks on Spotify, iTunes, Amazon's Digital Music Store, or through Amazon Music Unlimited)
39. Extra buttons
40. Extra craft supply scraps (3 googly eyes, 2 pom-poms, etc.)
41. One of a lost pair (socks, earrings, etc.)
42. Extra change (obviously don't throw this away, but you can take it to the bank or a Coinstar kiosk to get it turned into cash)
43. Old pet toys (especially holey/broken ones you plan to fix "one day")
44. Old pet treats
45. Pet clothes/collars your pet has outgrown
46. Nonstick cookware that's scratched (you don't want flakes of the coating coming off in your food)
47. Perpetually stained cutting boards
48. Rusty/badly scratched metal bakeware
49. Warped baking sheets
50. Broken jewelry
51. Extra purses you don't like anymore
52. Sippy cups your kids have outgrown
53. Themed kids' dishes your kids don't like anymore
54. Old backpacks
55. Broken binders
56. Random office supplies you won't use (one binder clip, 2 push pins, etc.)
57. Party/wedding invitations
58. Excess glass jars you don't plan to use (check out these jar DIY project and dessert ideas before recycling yours!)
59. Old batteries (check the expiration date first, and if the batteries are within date test their charge)
60. Old shutters, doors, etc. left over from home improvement projects (you might want to consider upcycling them first)
61. Matches (if you have a utility lighter, how often are you really reaching for matches?)
62. Old calendars and calendars you got for free but don't want to use
63. Excess fridge magnets
64. Overly worn linens (frayed, holey, stained, etc.)
65. Baseball caps you don't want anymore
66. Copies of old lists (old to-do lists still on your desk, shopping lists still in your purse, etc.)
67. Old/broken cell phone covers
68. Old glasses/glasses cases (you can donate old glasses at LensCrafters, Pearle Vision, and Sears Optical locations)
69. Old watches
70. Old/overly worm gloves and scarves
71. Burned out light bulbs
72. Lampshades you haven't used in ages
73. Decor that no longer fits your current color scheme or style
74. Organizers you never used (check out these bin organizing and basket organizing ideas before throwing yours out!)
75. Old cleaning supplies (especially homemade ones containing oil. Olive oil based cleaning supplies, for example, go rancid over time, so they're definitely something to throw away today!)
76. Air fresheners you never used because you didn't like the smell (Why not try these DIY air fresheners instead?)
77. Extra keychains
78. Old USB flash drives (check they don't contain anything you want/need or any sensitive information first)
79. Old/excess headphones
80. Extra keyboards, mice, and speakers left over from old computers
81. Old computer monitors (unless you plan to set up a dual-monitor system)
82. Wrapping paper too short to wrap anything with
83. Old gift bows that have unraveled
84. Old gift tag stickers that lost their sticky properties ages ago
85. Excess Christmas ornaments
86. Old Halloween costumes you or the kids don't want anymore
87. Old sprinkles (sprinkles last a while, but eventually even they expire)
88. Old picture frames (you may want to consider repurposing your frames first)
89. Miscellaneous nails, screws, nuts, and bolts
90. Old heaters/fans you no longer use
91. Old worn out wallets
92. Unfinished DIY projects that have been unfinished for a long time
93. Perfume/cologne you don't like
94. Things in the freezer that are unlabeled (if you can't remember what it is or when you made it, get rid of it)
95. Excess rulers and tape measures (if you have a small one, you could keep that one in your purse for when you're shopping and need to measure something)
96. String or yarn you don't need
97. Old toothpaste (eventually it expires, too)
98. Old planners/school agendas
99. Desk toys that are more clutter than fun additions
100. Any random odds and ends that you don't need or enjoy
What are you going to throw away today?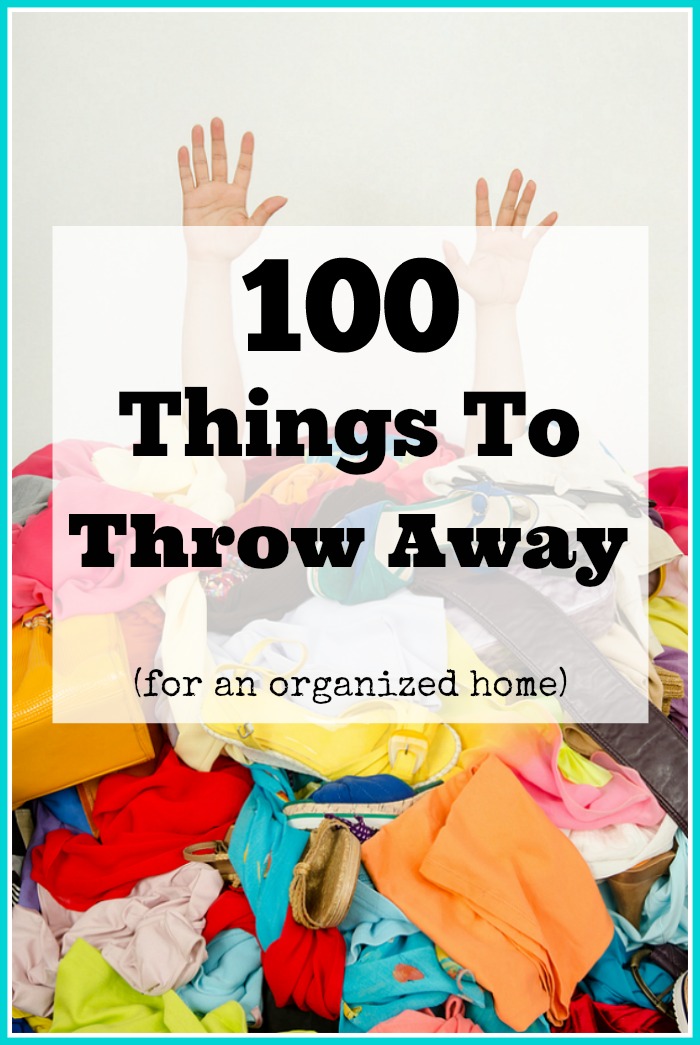 This post contains affiliate links to Amazon. Please see our Disclosure Page for more information.
You might also be interested in: