Habits of Penny Pinchers.
We all know that a penny saved is really more than a penny earned these days! So people who consider themselves Penny Pinchers aren't just self proclaimed. They achieve their frugal lifestyle by developing habits that save them money and help them live beneath their means. What are these habits exactly? They are day to day decisions that penny pinchers tend to make without even thinking about it anymore!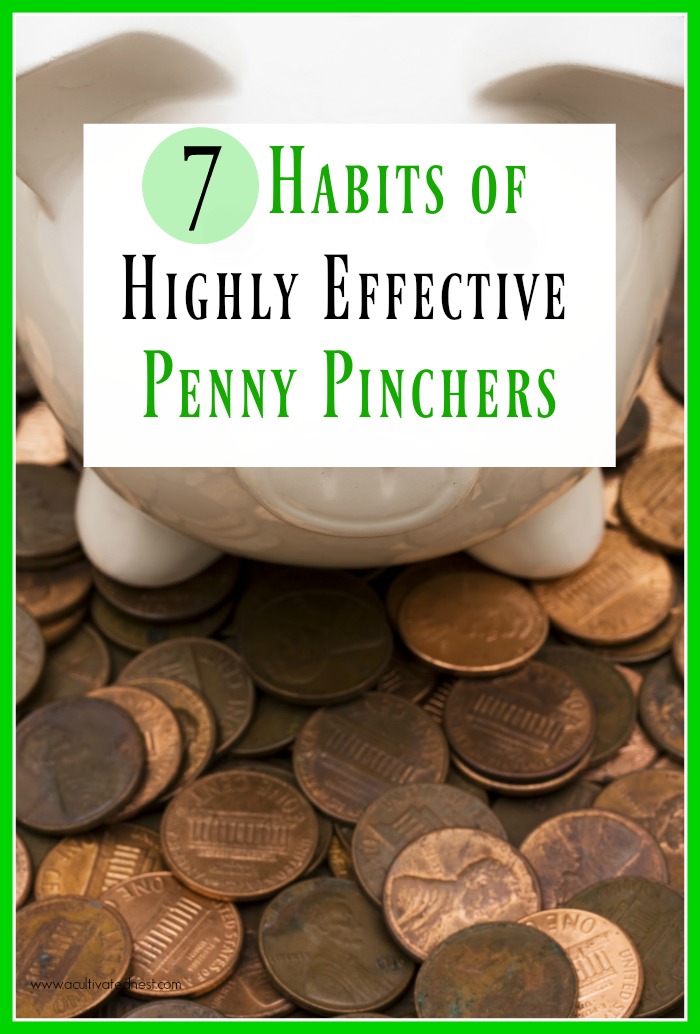 Disclosure: This post may contain affiliate links to Amazon and/or Etsy, which means that I may earn a small commission from some of the links in this post. Please see our Disclosure Page for more information.
Take a look below at 7 habits of highly effective penny pinchers, so you too can adopt a frugal lifestyle and become a penny pincher yourself!
7 Habits of Highly Effective Penny Pinchers
1. They pay for things with cash.
If you're pinching pennies you know that credit cards come with hefty interest, late payment fees, and can encourage spending above their means. Therefore they use cash when making purchases as it is easier to track and manage. If they don't have the cash for something, they don't buy it. If you haven't tried the cash envelope system of budgeting you should give it a try. We even have a free envelope template you can use to make your own cash envelopes!
2. They cook from scratch.
Penny pinchers enjoy eating out, but do so minimally. Instead, they meal plan and cook their meals at home. They make meals from scratch instead of buying expensive pre-packaged meals and mixes. By knowing simple recipes they can make healthy meals for pennies per serving!
3. They stockpile food and toiletries.
When a penny pincher finds a great deal on an item, they tend to stock up. A penny pincher buys in bulk when a price is great, which allows them to keep what they need on hand. Whether it be canned goods or toilet paper, a penny pincher buys at a great price and then makes the stockpile last until the next sale cycle. A well stocked pantry will help you keep your grocery budget in check!
4. They wait for items to go on sale.
A penny pincher would never pay full price. They wait for items to go on sale, if not clearance. They make a list of things they would like purchase – wants vs. needs. A thrifty person avoids avoid impulse purchases and consider all purchases carefully. They know the price will eventually come down, and they are waiting patiently for that to happen.
5. They use an item until it wears out.
A penny pincher isn't quick to toss an item out. Instead, they take care of what they own and make it last. They know basic repair skills and sewing skills and are more apt to fix an item than to throw it out and buy a new one. They re-use or upcycle items to give them new life. Check out our upcycling posts for inspiration!
6. They can decipher wants from needs.
Penny pinchers can decipher a want from a need and spend accordingly. They are not quick to part with their cash on a want, and instead funnel their funds into needs such as housing, food, and utilities. This helps them make smart purchases.
7. They frequent thrift stores.
Penny pinchers love thrift stores where they can find great deals on clothing, electronics, books, toys, and so much more. They make the habit of swinging into a thrift shop first when they are in need of something, to see if they can find it there before buying new. Garage sales, estate sales, and Craigslist are also some favorite places for penny pinchers to shop.
If you are ready to live a more frugal lifestyle, try implementing these 7 habits of penny pinchers. See what a difference they can make to your wallet and your life!
What thrifty money saving habits do you use?
Here are some books you may find helpful on you frugal journey:
Living More With Less by Doris Longacre
31 Days of Living Well & Spending Zero by Ruth Soukup
The Frugal Housewife: Dedicated to Those Who Are Not Ashamed of Economy (American Antiquarian Cookbook Collection)
The DIY Pantry: 30 Minutes to Healthy, Homemade Food by Kresha Faber
Upcycling: 35 Ways To Reuse Broken House Hold Items by Kitty Moore
You may also be interested in this post: 8 Things Frugal People Reuse To Save Money