There are literally hundreds of ways to save money and reusing household items is not only thrifty but it's also good for the earth. Many people are surprised that you can literally save hundreds per year just by incorporating simple changes into your daily routine. I have a great list of things that frugal people reuse to save money and I hope some of these will help save you  more money and give you a little more cushion in your budget!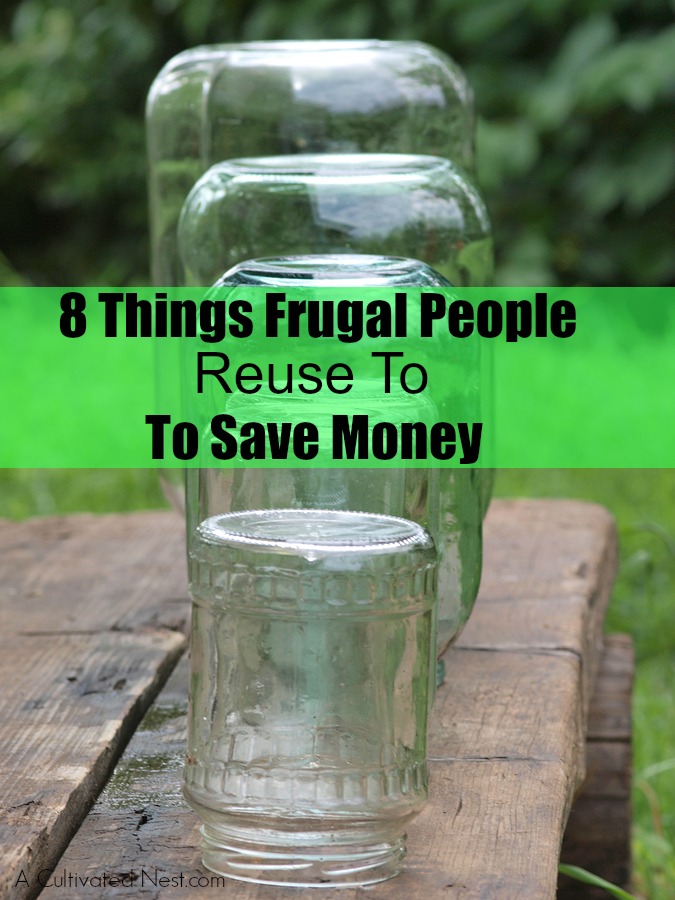 Don't miss a post! Get this blog delivered by email.  Subscribe via email here
8 Things Frugal People Reuse to Save Money
Disclosure: This post may contain affiliate links to Amazon and/or Etsy, which means that I may earn a small commission from some of the links in this post. Please see our Disclosure Page for more information.
1. Glass Jars: Glass jars that come with a lid are great! I love saving all sizes of glass jars. Why? Because they are great to store all sorts of things, from food to items such as nails, bolts and buttons, and craft materials.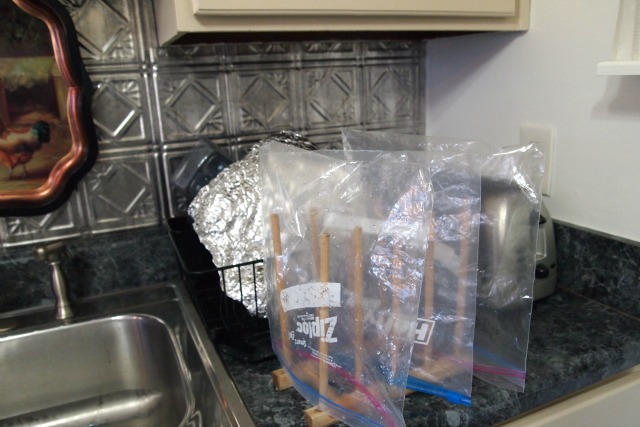 2. Foil and Plastic Bags: We wash and reuse foil and plastic freezer/storage bags as long as they haven't held raw meat. In my old house I had a drawer devoted to foil I had cleaned that was ready to be reused! I use my daughter's old bottle rack to dry plastic baggies.
3. Old Envelopes: I know this sounds crazy but old envelopes from the mail are great for jotting down your to do list, grocery lists and any other notes. They are the perfect size to slide on the side of my purse and when I am done I just throw them into the recycle bin. No more wasting money on new paper.
4. Grocery Bags: How many of you save the plastic bags from the store? If not you should! I use these instead of small trash bags in our bathrooms; they are great for bagging items you sell at a garage sale and for so many other uses.
5. Gift Bags/Wrapping Paper/Bows: Yes, I'm one of those people! The kind that carefully unwraps presents so I don't  tear the wrapping paper 🙂 I reuse all gift bags from birthdays, Christmas and other holidays. These typically cost $2-3 per bag so if you have quite a few celebrations throughout the year the savings definitely adds up. They also work as adorable lunch bags for field trips. Bows are easy to re-use. I just use double sided tape so that I can stick them on a package.
6. Old T-Shirts: If you have old t-shirts that are not sellable in a garage sale, cut them up and use them as cleaning rags. Old shirts work great because they are super soft and don't have any lint. I have a great post about upcycling old t-shirts here – 15 Ways to Repurpose Old T-Shirts
7. Old Greeting Cards: If you have old greeting cards with no sentimental value, save them in a file folder. Kids love to cut these up and use for pictures and crafts. Christmas cards also work great to cut up and use as gift tags for the next year.
8. Plastic Bowls: I save so much money by reusing plastic bowls from butter, sour cream, cottage cheese and any other groceries that come in those nice  bowls. I clean them out once they are empty and save them for leftovers. They really come in handy when sending leftovers home after a get together because you don't have to worry about getting your dish back.
I am sure I save more than this and don't even realize it.
What items do you reuse to save money? I would love to hear so I can start saving them too!
You may also like: