Craft Organization Ideas You Need To See.
I don't have a craft room but I am lucky enough to have a dedicated craft area in a room. Which is such a disaster area that I can't actually use it to craft!  I will show you the horrible mess at the end of the post. Right now I'm going to share with you some cute craft organization ideas since I need to bring some order to that space!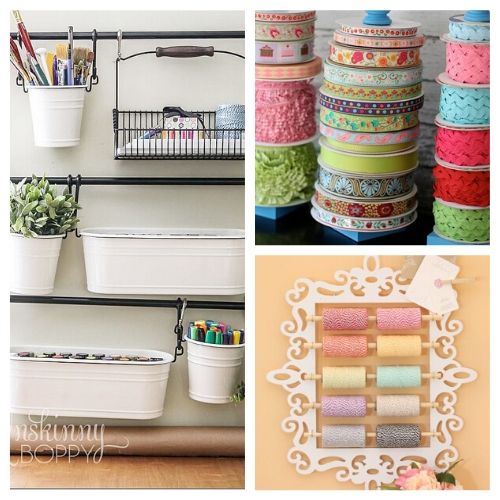 Disclosure: This post may contain affiliate links to Amazon and/or Etsy, which means that I may earn a small commission from some of the links in this post. Please see our Disclosure Page for more information.
It's not hard to get your craft room or crafting area organized if you know these clever craft supply organizing hacks! They'll get your supplies organized very easily!
Cute Craft Organization Ideas
Most of us dread the idea of organizing rooms that are chaotic like our craft rooms! Don't worry though, you can easily get it organized and it will be one of your favorite spaces when you are done. It's so much more enjoyable when your craft room is clean, organized, and you have a workspace that's ready to go. These tips will help you get started:
Remove items you don't need or want. Your life will be much easier if you get rid of those items that you truly know you aren't going to use. Plus, it's a great way to get you in the mood for organizing your craft room.
Place items that are similar together. Ribbons, silk flowers, wreaths, glue, buttons and so on should all be placed together. That way you can easily see what you have. It may take some work in the beginning but you will be thanking yourself later!
Get or make containers. You will see some ideas shortly to help you decide what you need. Then you'll need to gather various containers to place all of your items in.
Put everything in its new place. After you have the room organized the way you want, you won't dread going in there any longer! It will be a relaxing space that you can get creative and use your imagination.
1. Ribbon Organizer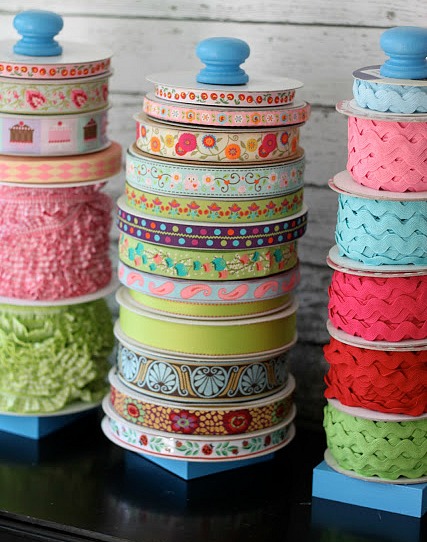 Here's a cute way to store and organize all your ribbons! The Cottage Mama shows you how to make these standing spools to hold crafting/scrapbooking ribbon!
2. Baker's Twine Organizer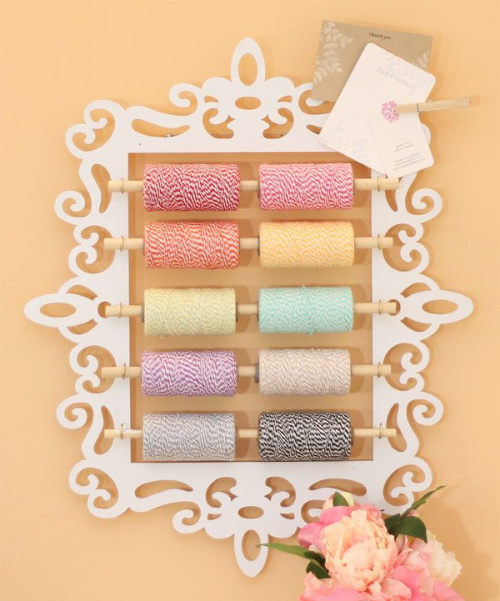 This is such a cute idea! Damask Love created this adorable holder for baker's twine. You can easily make your own with a frame, some dowels, and a few other simple supplies. It will be a gorgeous element to add to your space too.
3. IKEA Hack Idea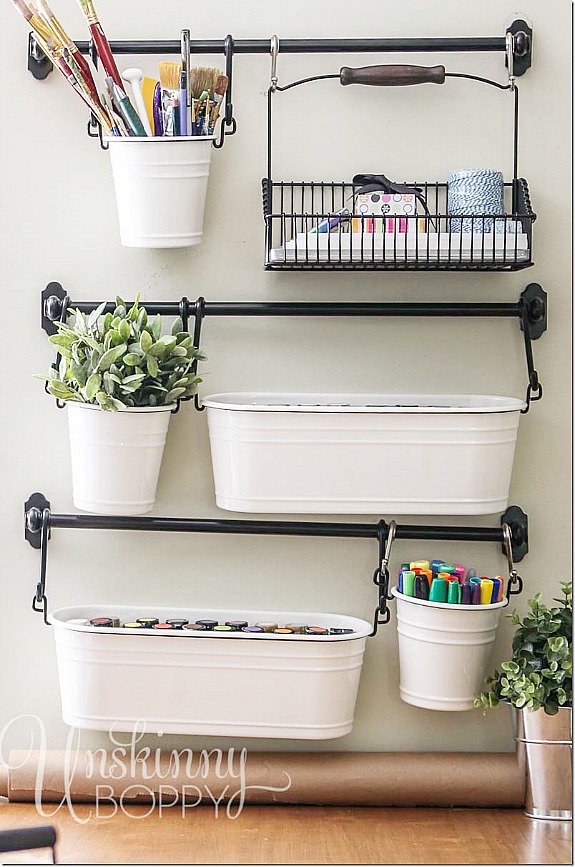 Love this idea from Beth @ Unskinny Boppy. I saw these at Ikea when we went in October. I usually go to Ikea every January but we were so busy this time we didn't make it. I need to better utilize the wall space I have and this is a great idea. I see a trip in February in my future.
4. Cupcake Stand Organizer Idea
This is a great idea for storing all those little pieces of things. It's a cupcake stand! These are so easy to find – I see them at TJ Maxx all the time. via Allsorts.
5. Lampshade Organizer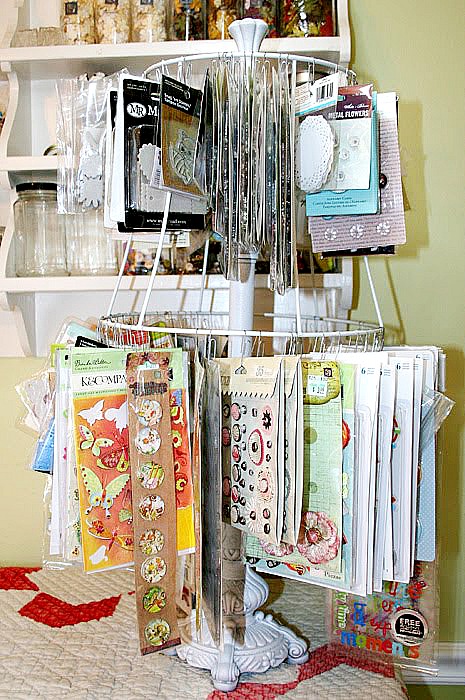 How about this embellishment stand. It's a lampshade! What a great idea for hanging all those stickers and packages. via Creatively Savvy
6. Padded Box Organizer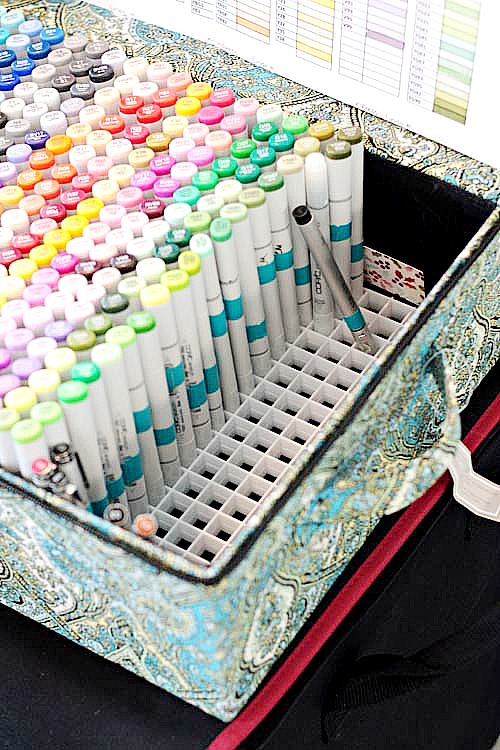 I do have a lot of colored pens (but not this many). This is a great storage idea using a cut-down ceiling light tile inside a box via  Scrap Shotz.
7. Rotating Organizer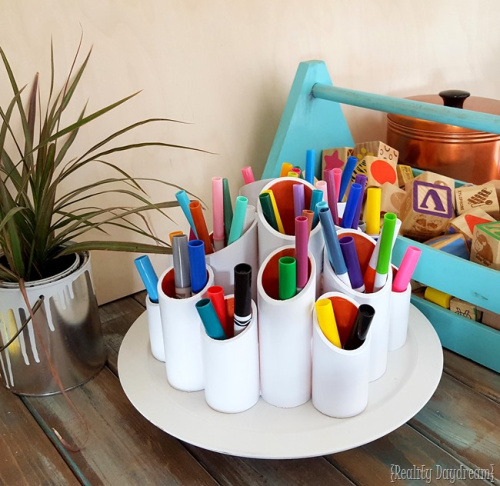 I need a place for all my washi tape and this rotating organizer from Harbor Freight is a cute idea. via Reality Daydream.
8. Mason Jar Organizer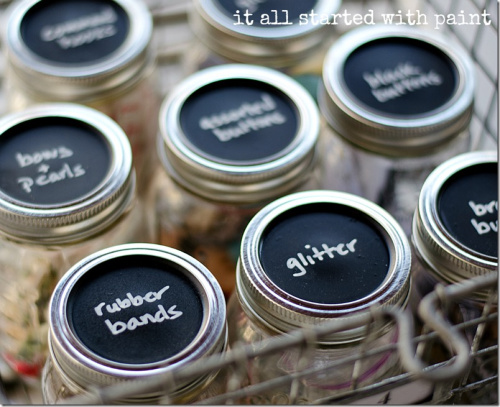 Such a creative idea to use mason jars to organize all the small things. Using chalk paint allows you to write what's in each one too. Check it out at It All Started With Paint.
Here's my messy craft area – I think there are a few Christmas trinkets on the table still! Hope to show you an "after" photo soon!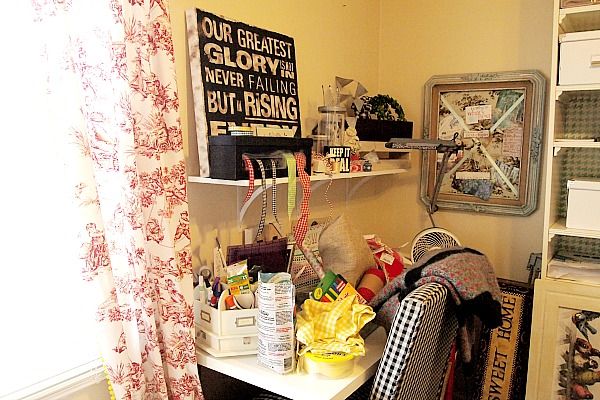 Which part of organizing do you dislike the most?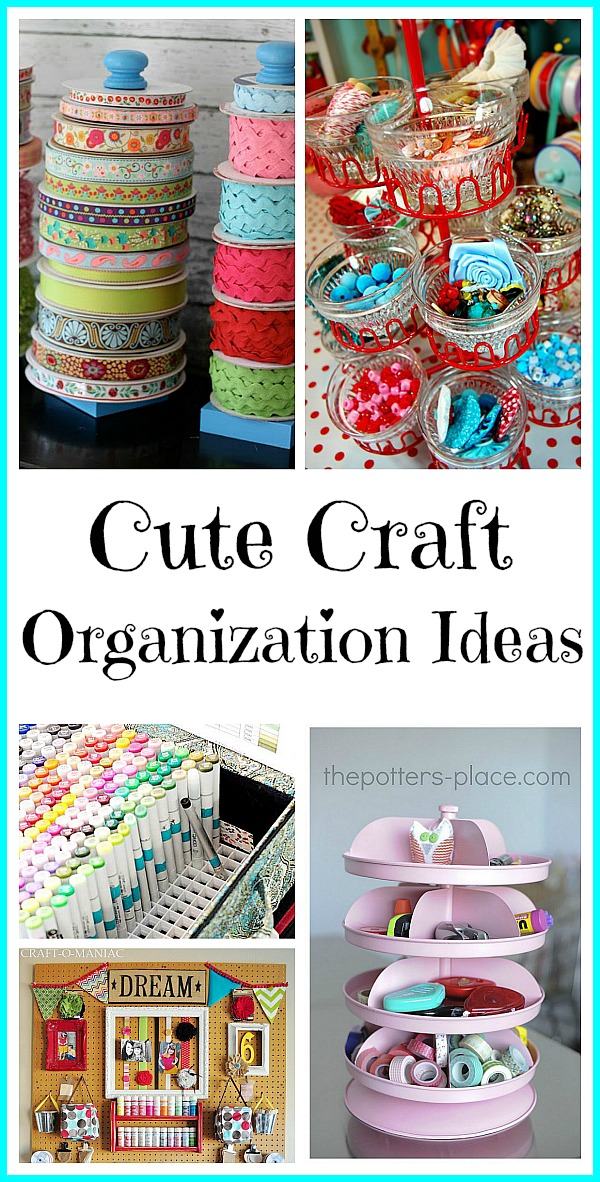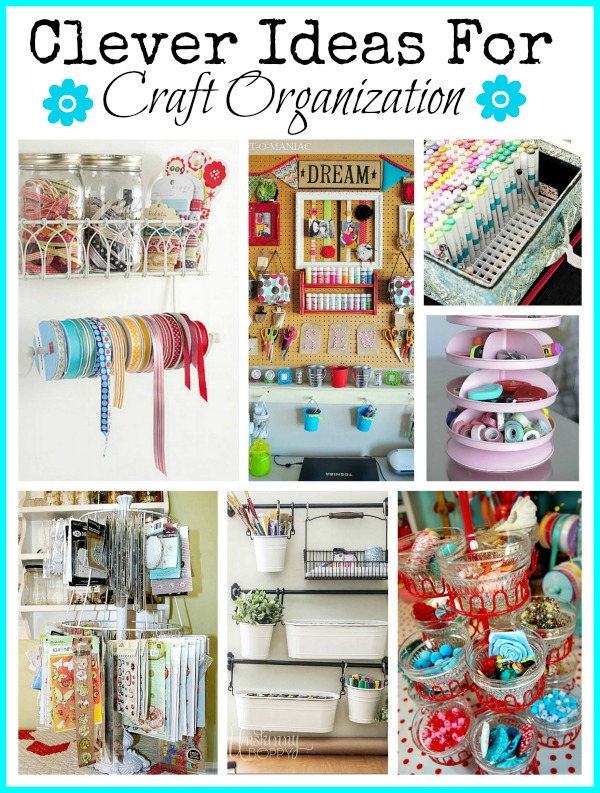 You might also be interested in: Get Organized With Jars!