Awesome Ideas to Visualize Your Debt Payoff.
We all need a little motivation to keep going when we're paying down debt – especially if it's a large amount. I know from personal experience that sometimes it's hard to see the light at the end of the tunnel and it's easy to get discouraged. Some of us need to come up with some strategies that make debt repayment something tangible where we can actually see it working. That's where these Creative Ways to Visualize Your Debt Repayment come in!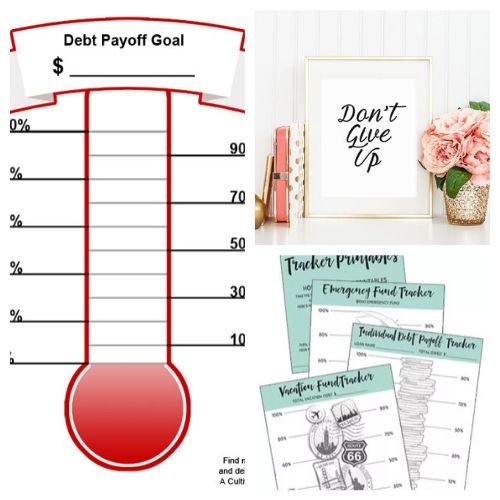 Disclosure: This post may contain affiliate links to Amazon and/or Etsy, which means that I may earn a small commission from some of the links in this post. Please see our Disclosure Page for more information.
We used to be debt-free… not anymore.  Long story short, our daughter made the decision to transfer to another college sort of at the last minute and pretty much lost a lot of her scholarships and grants last year. So we took out a Plus Loan for $15,750 to help pay for that year (which was not the whole amount of tuition btw ). In hindsight, I'm not sure it was the right move to make but what's done is done. We worked our way out of debt before and we can do it again and at least it's not credit card debt for stuff that I didn't really need but wanted 🙂
Anyway, I'm a visual person so I thought it would help me if I could find some visual ways to track that debt reduction besides using the debt tracker worksheet in my budget binder. You know- to keep me motivated so I can see the amount coming down since it's so huge. Here are a few ideas that I found!
Creative Ways to Visualize Your Debt Repayment
When it comes to debt repayment, it's something that most of us go through at some point (or multiple points) in our lives. I know it can be stressful at times, but eventually, you can tackle it. Here are some tips to keep in mind as you are paying down debt.
It didn't happen overnight and it won't go away overnight. Okay, sometimes debt does happen overnight, but you know what I mean. If you end up with a large unexpected bill or something, you can't always pay it off right away. That is OKAY! Just keep chipping away at it and eventually it will be long gone.
Visuals help tremendously. Use visuals like the ones in this post to show how much you owe versus what you have paid off. It's a great way to feel accomplished.
Be more budget conscientious. I know it's easier said than done, but once you get the hang of budgeting you'll see that your effort is completely worth it. You will be able to stop mindless spending and focus on the necessities.
1. Chalkboard Debt Thermometer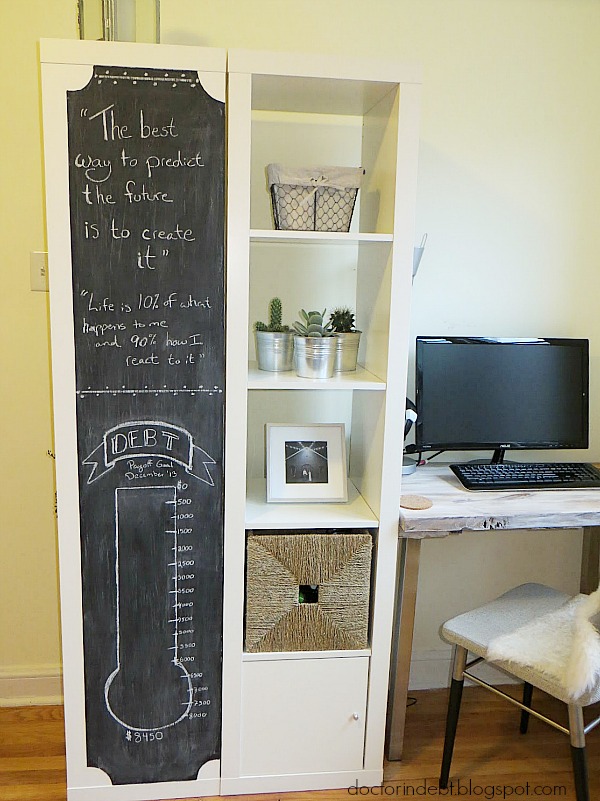 This debt thermometer can be made on a chalkboard like this one at Doctor In Debt, or you could use a wipe-off board, paper, or poster board.  It's a great way to visualize the debt disappearing.
2. Debt Thermometer Printable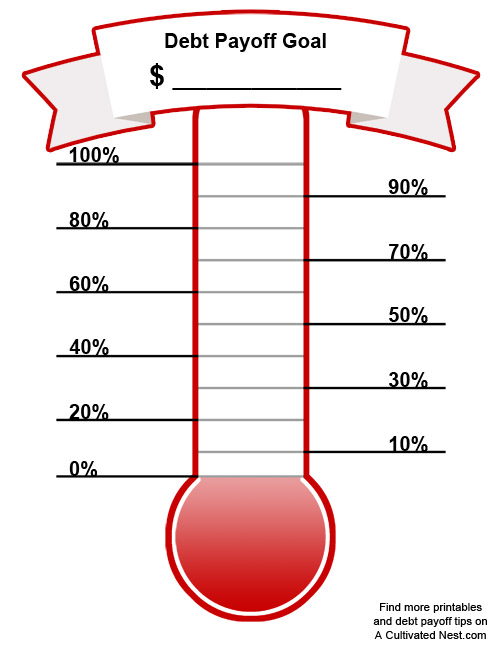 You can easily print out this debt thermometer!  Here's one I made that you can print out and color in! It fits on regular letter size paper, so you can hang it up anywhere.
3. Debt Repayment Printables
These printable debt trackers are perfect to see your debt disappear before your eyes! Debt Free Forties created them and I think you will enjoy visualizing your debt going away. Hang them on a corkboard or put them in a binder.
4. Debt Free Visual Aids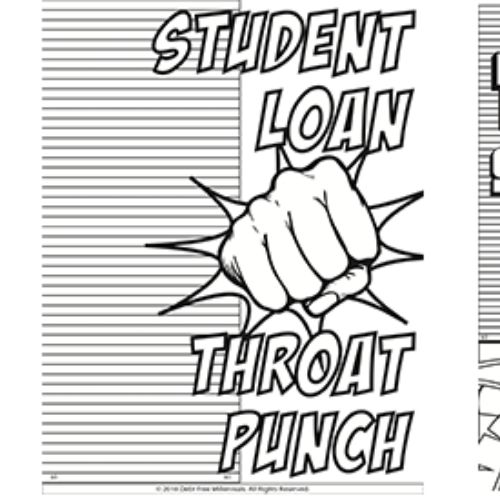 Over at Debt Free Millenials, they took paying off student loans and turned it into something funny! They have three downloadable FREE printables that you can hang, color, or put in a picture frame to stay motivated.
5. Don't Give Up Printable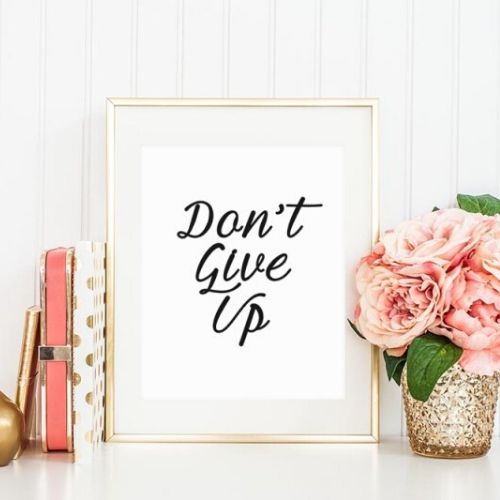 Gold Standard Workshop created an uplifting reminder that you Don't Give Up when you want something. This is perfect to look at and keep you excited about being debt-free.
While I like all of these ideas, I'm kind of leaning toward printing out a debt thermometer and tacking that on my bulletin board where I'll see it every day.
Have you used any visual tools to help keep you motivated in your debt free journey?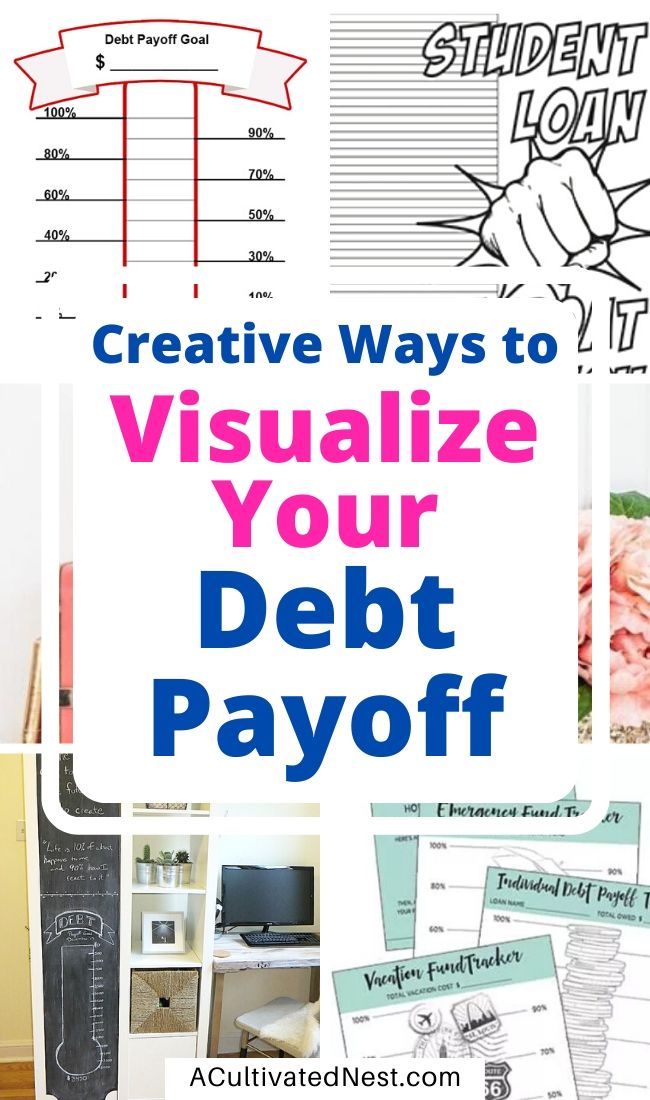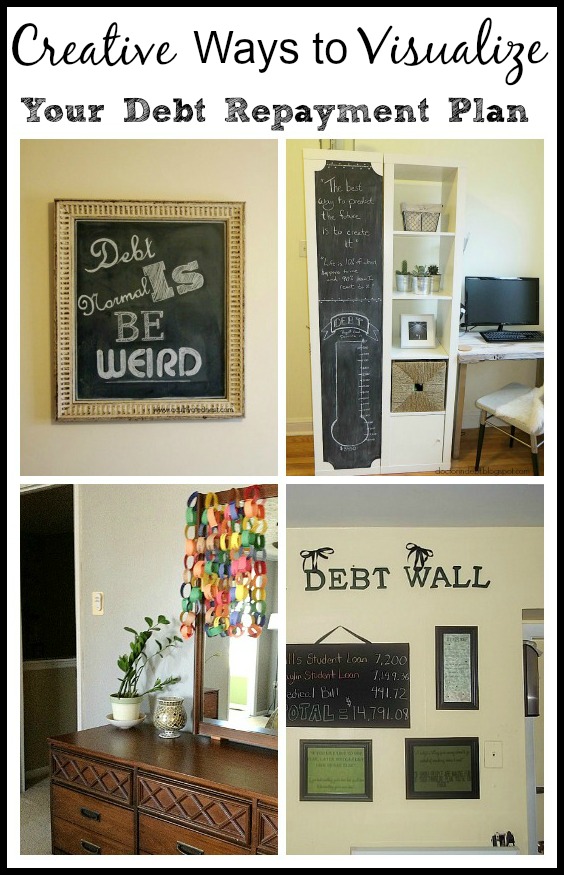 You might also be interested in: Get Out Of Debt – Use The Debt Snowball System