Adorable Pink Donut Bath Bomb DIY Recipe.
Sometimes there are just not enough hours in the day for self-care. I am a firm believer that taking care of yourself should come first, even when it's hard to manage. You can get so much more done when you feel revived and less stressed. One way I have found to do that is to take a warm bath on those rough days. It's nice to have a few minutes just to myself to decompress and relax a little bit. Plus, it gives me the perfect excuse to use my Strawberry Donut DIY Bath Bomb Recipe!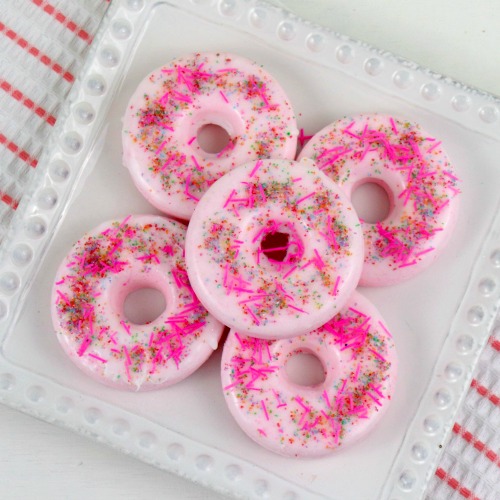 Disclosure: This post may contain affiliate links to Amazon and/or Etsy, which means that I may earn a small commission from some of the links in this post. Please see our Disclosure Page for more information.
This pink donut DIY bath bomb recipe looks so good; you almost want to eat it. It's amazing how real they look. I love to make up a couple of batches to keep for myself. However, I also like to give them out as gifts to friends, family, teachers, neighbors, and any other time I need an easy gift. They are great for birthdays, Christmas, and other holidays and events.
Strawberry Donut DIY Bath Bomb Recipe
Materials
1 cup baking soda
1/2 cup citric acid (It's better to buy in bulk on Amazon)
1/4 cup cornstarch
1/4 cup white kaolin clay (I get mine on Amazon)
1/4 cup coconut oil
1 tablespoon polysorbate 80 (I get mine on Amazon)
Strawberries and Cream scented oil (Find it on Amazon)
White mica powder colorant (Find it in this set on Amazon)
Pink mica powder colorant (See above)
Pink cosmetic glitter (Find it on Amazon)
2-3 cubes of goats milk soap (Find it on Amazon)
Pink sprinkles (I got mine on Amazon)
Multicolored colored sugar (I got mine on Amazon)
Spray bottle of rubbing alcohol
1 large mixing bowl
Silicone donut mold (You can use metal, but they come out easier with the silicone. I got my molds on Amazon)
Small spoon to drizzle the soap
Directions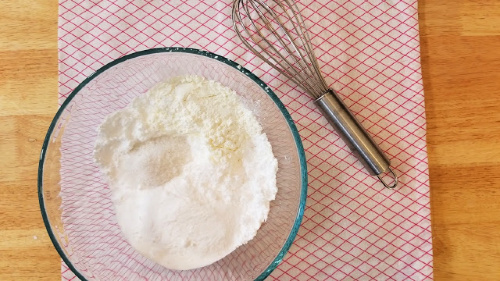 1. Add dry ingredients to a large mixing bowl. Whisk dry ingredients together.
2. Add polysorbate 80, strawberries, and cream scented oil and pink mica colorant to the coconut oil. Whisk together.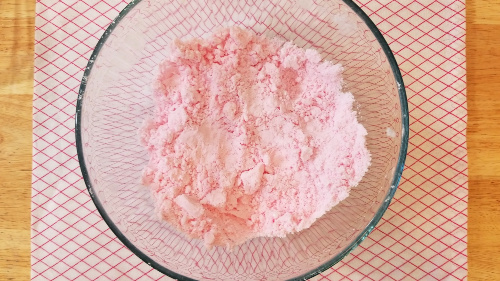 3. Add colored mixture to dry ingredients. Mix until all are thoroughly incorporated and have the texture of wet sand and holds together in your hands. Add in pink glitter.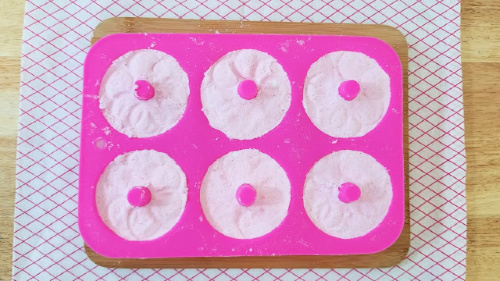 4. Add your mixture to your mold and pack in tightly. Use your hand, or the bottom of a small bottle works well! Allow to dry at least 24 hours or until completely dry to the touch.
Note: You may need to use your spray bottle of rubbing alcohol to spritz your mixture if it gets too dry as you are adding it to your mold. Give a few spritzes and mix together until it has that wet sand feel again.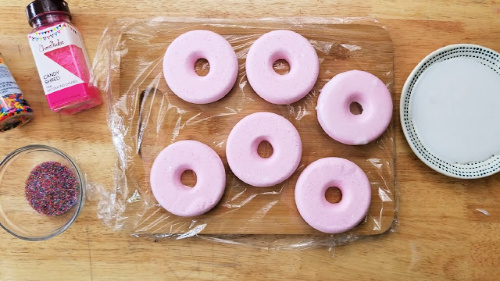 5. Carefully "pop" bombs from mold and spread out onto a baking sheet or plate. In a small microwave-safe bowl, melt your soap cubes in the microwave for 15-20 seconds. If they are still not completely melted, heat for another 10 seconds until completely melted. Mix in white mica powder.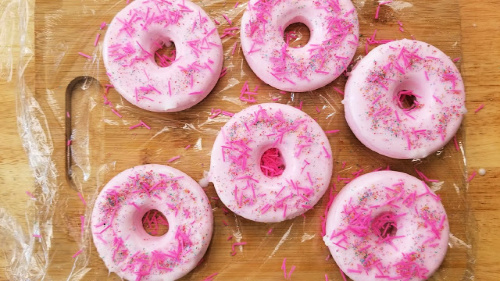 6. Dip your donut bath bomb into the melted soap mixture. Immediately after, add sprinkles and colored sugar. Allow to dry for at least one hour. Then enjoy your DIY strawberry donut Bath bombs!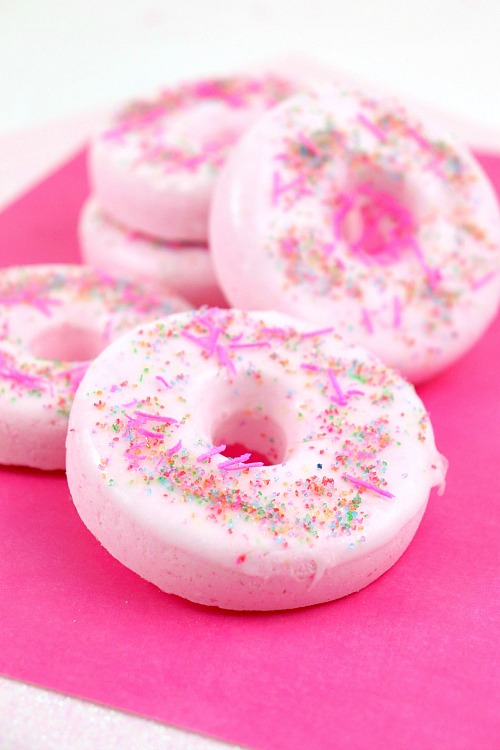 Do you enjoy relaxing with a bath bomb?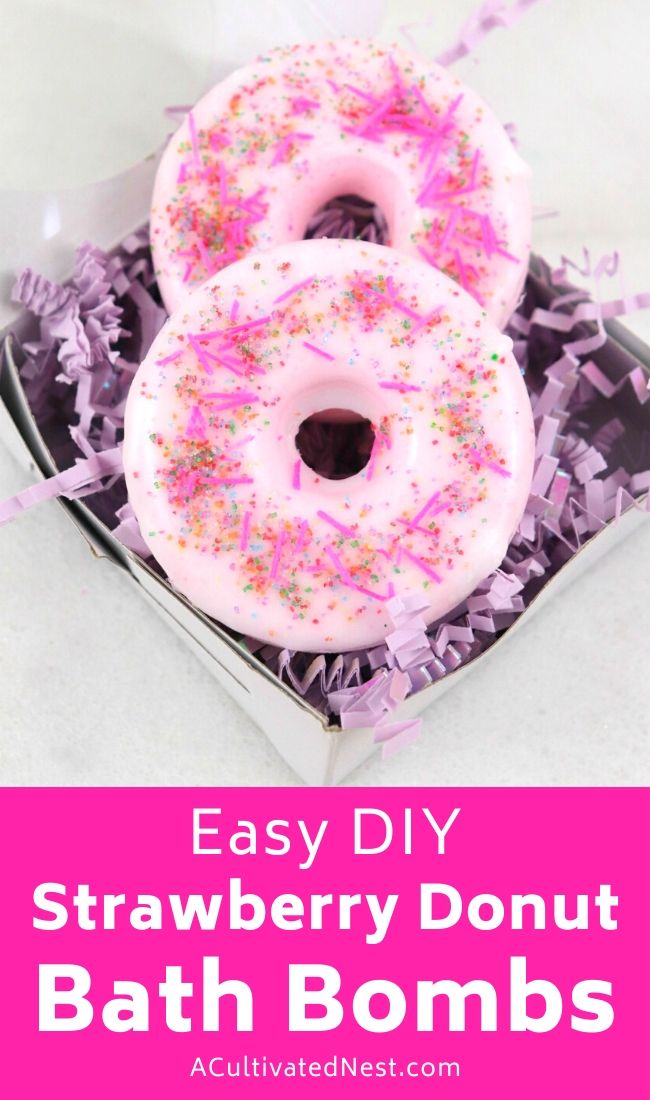 You might also be interested in: Sparkly Homemade Glitter Bath Bombs