Genius Washing Soda Cleaning Hacks.
If you haven't used washing soda before, you are in for a pleasant surprise. Many people don't know this, but there are so many fantastic ways that you can incorporate washing soda into your regular cleaning. Its impressive abilities can leave your home feeling clean and fresh, at very little cost. Check out these 11 Clever Ways To Use Washing Soda, and it will change how you clean forever!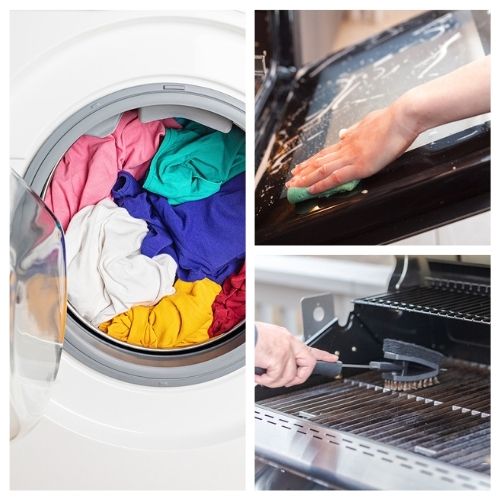 Disclosure: This post may contain affiliate links to Amazon and/or Etsy, which means that I may earn a small commission from some of the links in this post. Please see our Disclosure Page for more information.
You may find yourself wondering what washing soda is, so I wanted to take a second to clear that up. Washing soda is a powder that can be used to clean and looks a lot like baking soda with larger granules. Due to it being highly alkaline, it's great for cleaning those tough jobs. Washing soda is very similar to baking soda but has many differences too. Washing soda is used for cleaning and should never be eaten or added to recipes. In contrast, baking soda is needed in many baked goods!
You will find that it's best to wear gloves when using washing soda because it can irritate your skin. Baking soda, on the other hand, won't hurt you to use it without gloves. It's also important to know that you should never use washing soda on aluminum. It will scratch the surface of aluminum foil and other aluminum items.
11 Clever Ways to Use Washing Soda
1. Water Softener
If you have hard water and don't already have a water softener, you will find that this idea is a game-changer. Simply add 1/2 cup of washing soda per load of laundry, and it will prevent lime build-up! In the end, this will save you loads (pun intended) of money because your washing machine will last longer when there isn't hard water build-up. Don't forget to add in your regular laundry soap when washing a load. The combination of soap and washing soda is fantastic!
2. Cleaning Your Oven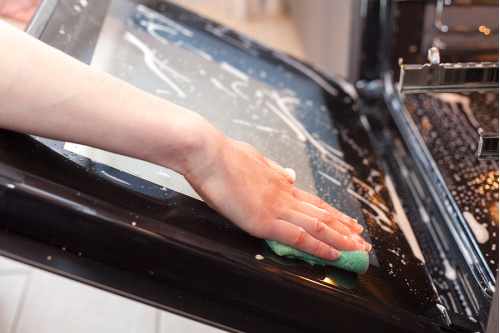 We all know how dirty and gross ovens can get. Because it gets so hot, it makes sense that food, grease, and oils really get stuck onto the surface of the oven. Save yourself some elbow grease by breaking out the washing soda. All you need to do is prepare a paste of washing soda and water. It should be a thick paste. Rub it on the areas that have stains and allow it to sit for 20 or 30 minutes. Then use a cloth or sponge to wipe up the mess. Repeat as needed, and enjoy your clean oven! If your oven is really dirty, check out our oven cleaning 101 guide for even more helpful tips!
3. Keep Your Drains Fresh And Clean
Drains can get downright stinky from time to time. To avoid this, make a habit of keeping them clean. Add 1/2 cup of washing soda into each of your drains and run some water. This will prevent the drain from smelling bad and should remove any minor clogs along the way. It's best to make a habit out of cleaning the drains 1 or 2 times a week for best results.
4. Remove Hard Water from Tile
If your tile is covered with hard water stains, then you are going to have a new best friend. Add one gallon of warm water and 1/2 cup of washing soda to a bucket. Use a soft cloth to clean the surfaces and rinse it off when done. Repeat if you need to, and your tile will be sparkling. Be sure to remember to wear gloves as you work.
5. Pre-Soak Your Dirty Laundry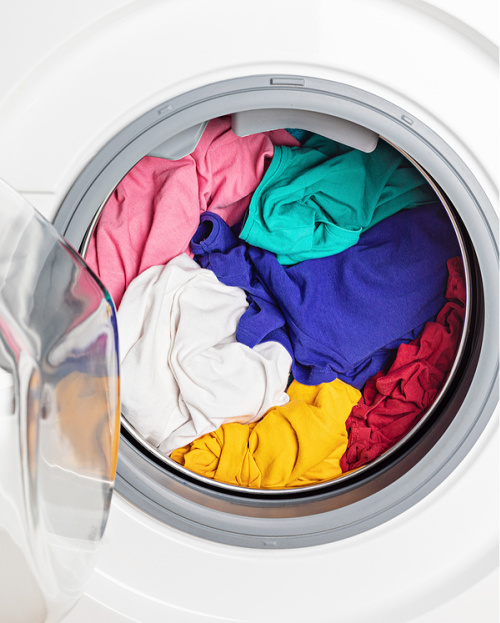 If you have some laundry that's especially soiled or stained, you can using washing soda as a pre-soak. All you need to do is put 1 gallon of water into a bucket or tub and sprinkle in 2-3 tablespoons of washing soda. Put on some cleaning gloves and add the clothes to the container of water. Stir the clothes around the bucket with your hand and let them sit for at least an hour all the way up to 24 hours. Then add 1/2 cup of washing soda to the washer along with some detergent and wash your clothes. They'll get wonderfully clean!
6. Clean Up Plastic Items
You can easily clean up your patio furniture by combining 1/2 cup of washing soda with 1 gallon of warm water. Then use a sponge and scrub away. Rinse with water.
7. Freshen Up Dirty Window Blinds
If you've ever tried to clean up window blinds, you already know how much of a pain it is. Well, when you use this idea, you will find it's so much easier! All you need to do is fill up your bathtub with hot water. Mix in 1 – 2 cups of washing soda, add in your blinds, then stir using a gloved hand. If you don't want to have to take your blinds down to clean them, you'll like the other ideas in our post on blind cleaning hacks!
8. Freshen Your Toilet
A great way to give your toilet a clean and fresh look is by pouring one cup of washing soda in the toilet, give the bowl a gentle scrub, then flush. This will help prevent clogs and freshen up the toilet bowl. Use washing soda in all your toilets once a week.
9. Clean Your Grill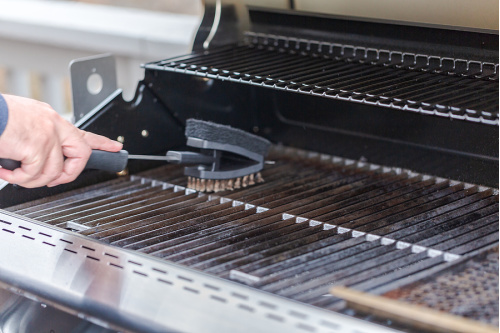 Dampen a stiff brush, then sprinkle some washing soda on your grill and begin scrubbing it. You will have to put in some effort, but it's going to look great when it's clean. You will need to rinse with plain water and allow it to air dry before cooking on it.
10. Clean Your Carpet
If you have a stain on your carpet, you can mix two teaspoons of washing soda and a cup of hot water. Combine the ingredients in a spray bottle and shake it really well. Then spray it on the stain. Let the washing soda solution sit for 15-30 minutes, then scrub it and dry it up. Repeat as needed.
11. Clean Up Your Deck
It's so easy to clean your deck without using harsh chemicals. Simply sprinkle some washing soda on the deck and give it a good scrub with a bristled brush. Then rinse it with water, and it will air dry. If needed, you can repeat the process again until it's as clean as you are aiming for. For more clever ways to get you backyard clean, check out our post on backyard cleaning hacks!
There are so many clever and creative ways to use washing soda. It's a fantastic and inexpensive option for cleaning all sorts of things.
Have you ever cleaned with washing soda?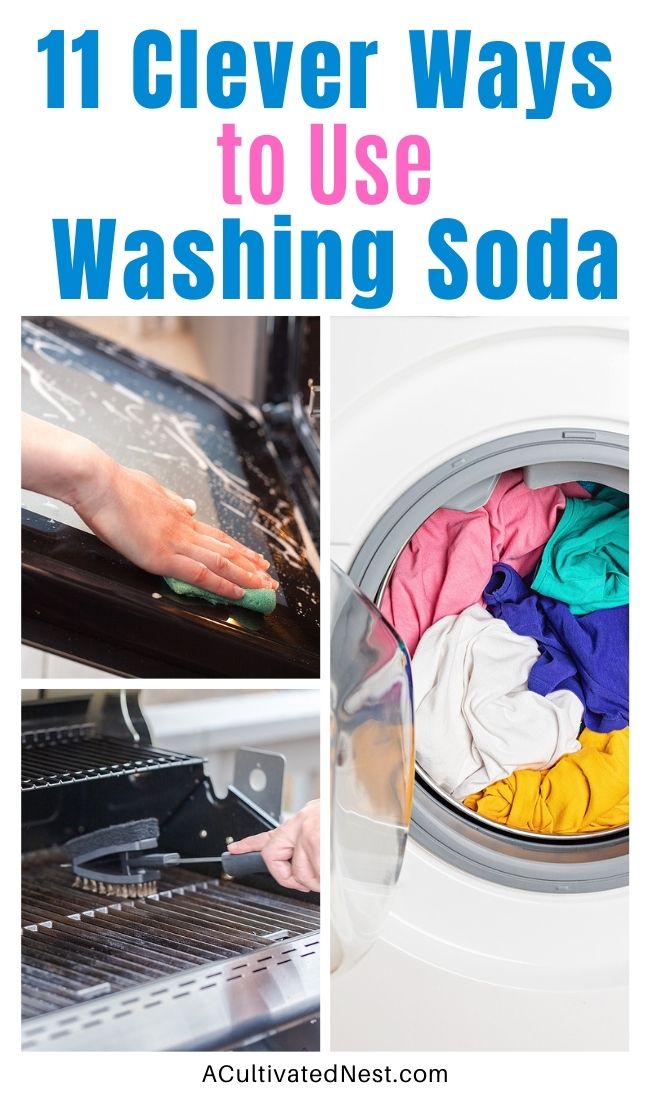 You might also be interested in: 20 Frugal Ways to Use Dawn Dish Soap