How to Clean Your Oven: Cleaning Your Oven 101
From deliciously sweet cakes to savory casseroles, your oven is a staple in your kitchen that you would be lost without. Unfortunately, all that yummy food that you baked can leave behind baked on grime and smelly grease. Cleaning your oven is important for keeping your family healthy and safe, and your kitchen smelling nice! If you want to get your oven clean and shining again, then you need to read my Guide to Cleaning Your Oven Easily!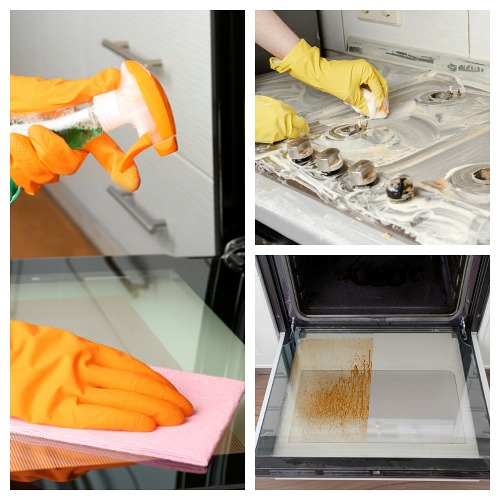 Disclosure: This post may contain affiliate links to Amazon and/or Etsy, which means that I may earn a small commission from some of the links in this post. Please see our Disclosure Page for more information.
It's important to clean your oven because grease and grime build up inside your oven each time you bake. This could lead to an unpleasant, or even harmful smell each time you bake. Over time, the grease build-up could even cause a grease fire. That's a scary situation that no one wants, so lets put on our cleaning gloves and get down to business!
The Biggest Guide to Cleaning Your Oven Easily
Let's be honest, no one really enjoys cleaning their oven, but it is a chore that must be done often. How often you should clean your oven depends on how often you use it. If you are an avid baker, then you may need to deep clean your oven once a month. If you only occasionally use your oven then you can probably get by with cleaning it once or twice a year. If you are cooking and notice that food has spilled over in your oven, then it's a good rule of thumb to wipe it out with a damp cloth as soon as your oven as cooled so that your oven stays as clean and safe as possible between deep cleanings.
And of course, as with all things, the more frequently you clean your oven, the easier and quicker the task will be. It's much faster to clean an oven that gets a quick clean every month than to have to deep clean an oven that only gets scrubbed once or twice a year.
Since this is the biggest guide to cleaning your oven easily, it's pretty long. If you're looking for one section in particular, here's a little table of contents:
Cleaning Your Oven with a Store Bought Cleaner
Cleaning Your Oven with a Homemade Cleaner
How to Clean an Electric Stove Tops
How to Clean a Ceramic or Glass Stove Top
Tips for Spot Cleaning Oven Messes as You Bake

Cleaning Your Oven with a Store Bought Cleaner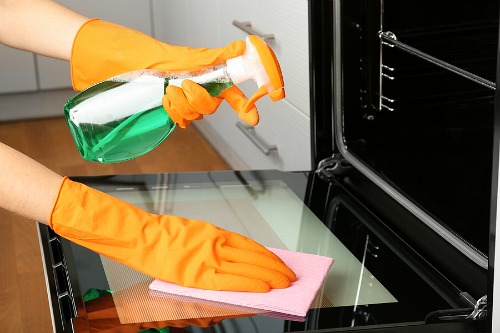 There are literally thousands of oven cleaners out there, so how do you know which one to pick? You'll want to choose a cleaner that has a degreaser, but as few harsh chemicals as possible. Fumes from oven cleaners can turn your nose up and linger around after the oven is clean, resurfacing each time you use your oven. Our favorite pick is Method Heavy Duty Kitchen Degreaser because it uses plant-based materials and can be used on a variety of kitchen appliances.
Before you use a store bought cleaner, or any cleaner really, make sure that your oven is cool and remove the oven racks. Spray your cleaner all over the inside areas of your oven. Let it sit for as long as recommended on your spray bottle. If your oven is very dirty you may want to let the cleaner sit for a little longer than recommended, just don't forget about it! You can also spray the inside of the glass door front with your cleaner. Just leave the door open so that the cleaner won't drip out.
While your oven cleaner is sitting, take the racks outside and spray them down with your cleaner. Place them in a garbage bag and leave them outside to soak in the bag.
When the allotted time is up, use a sponge or damp cloth to wipe out the inside of your stove. Make sure that you get all the gunk out! You may need to use a little elbow grease in extremely greasy situations, but you should be able to get your oven clean by wiping it out. Rinse your oven racks with water and wipe clean with a damp cloth where needed. Dry them and place them back in your oven.
Cleaning with a store bought cleaner is a simple and effective way to get that oven sparkly clean in no time. But there are other options as well. Let's take a look at how to make your own DIY oven cleaner.

Cleaning Your Oven with a Homemade Cleaner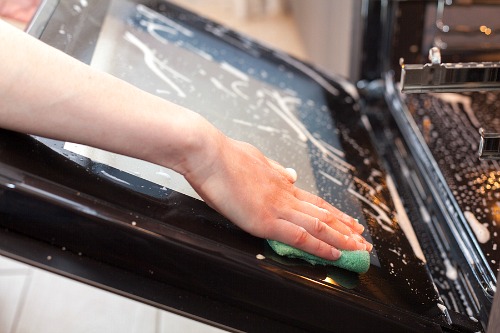 If you prefer, you can clean your oven with products that are already sitting in your kitchen! Just like there are many types of store bought cleaners, there are many ways that you can create an oven cleaner. We are going to take a look at a very basic baking soda and Dawn cleaner below, but you can read about cleaning your oven with essential oils here, and cleaning with lemon here. Note that we are not mixing our baking soda with vinegar. People often think that because a baking soda and vinegar mixture foams that it's doing something, but the reality is the foam is just them cancelling each other out.
Here is how to clean your oven with a DIY cleaner:
1. Empty your oven and make sure that it is cool. Create a loose paste by mixing baking soda with 1 Tablespoon of Dawn dish soap (any variety will do, but I prefer the clear one) and some water. You want the mixture to be spreadable, but not too thin. Don't feel tempted to add more Dawn. It's a very sudsy soap, so if you use too much you'll have to spend a lot of time wiping suds out of your oven later on. Your paste should be mainly baking soda. It took me 1/3 of a box of baking soda to make enough paste to cover the inside of my oven and the racks.
2. Put on your rubber gloves, dip a sponge in the paste, and wipe it all over the inside of the oven. You can use an old paintbrush or toothbrush if you're having a hard time getting the paste in the corners. Do not apply the paste directly to the heating element. Let the mixture sit overnight.
3. Place your oven racks in a large sink or bathtub. Coat them with your baking soda paste as well. Let that sit overnight too.
4. After 12 hours, you can start to scrub your oven clean. If your oven isn't too dirty, a quick scrub with the scrubber part of a sponge or a nylon scrubber should be good enough. For a oven that hasn't been cleaned in a while, you'll need a scraping tool of some type to scrape away the most burned on bits. A ceramic cooktop scraper would work well, as would a razor blade scraper or a paint scraper.
5. Once your oven is scrubbed clean, use a damp cloth to clean the baking soda and Dawn paste out of your oven.
6. Finish off by scrubbing your oven racks with a sponge or nylon scrubber. If your racks haven't been cleaned in a while, you may have to scrub them with a Brillo pad. Then rinse them clean, wipe them dry, and put them back in the oven. You're done!
No matter which cleaning method you use, your oven will be as good as new in no time. But what about the glass door and stove top? We want our whole oven to be clean, not just the inside. Let's take a look at how to clean other areas of the oven.

How to Clean Oven Glass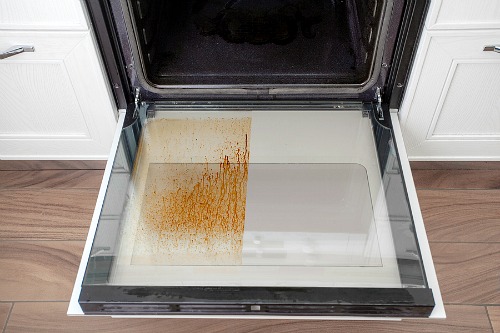 One easy way to clean your oven's glass door is by using a Magic Eraser (AKA a melamine sponge). You can purchase a Magic Eraser in the cleaning aisle at your local grocery store. I recommend getting the brand name one, as the off-brand ones I've tried so far fall apart really quickly in this type of application. Simple wet the Magic Eraser and scrub the glass of your oven door. It can be used on the inside and outside of the glass door. With a little elbow grease, your oven glass will be clean in no time. You can see a tutorial of this oven glass cleaning method here.
You can also use the DIY baking soda cleaner used on the inside of the oven in the steps above. Spread that on the glass, let it sit overnight, then scrub your glass clean with a sponge in the morning. If you have some burned on bits, it's safe to use a metal scraper like the ones I mentioned for cleaning the inside of your oven. Just be gentle and always use the scraper at an angle. This is how I clean the worse parts of my oven's glass, and so far it hasn't scratched it.
Many people don't know this, but you can also clean in between the oven glass. Every oven is different, so take a look at your owner's manual to see if there is a specific way that you should do this. For most ovens, you will be able to open the oven door and use a screwdriver to take the door apart. You may need help to make sure that the door doesn't fall to the floor and break or injure you. See a tutorial of how to do this here.
Once you have the glass apart, use a vacuum hose to clean out the crumbs. If the inside of the glass is greasy and grimy, spray it with vinegar and wipe clean. Make sure you rinse everything down with warm water and dry it off before you put the oven door back together!

How to Clean a Gas Stove Top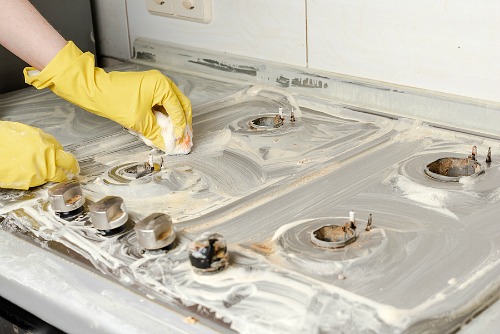 The difficulty with gas ovens is all those little holes that get filled with crumbs. If you have a handheld vacuum, then you can just suck those crumbs up. Most of the cleaners that we have already discussed will work for cleaning the surfaces and burners. For example, if you are using a baking soda and water paste you would use your hands to spread the mixture, let it sit, and then wipe it clean with a sponge or damp cloth. Just make sure that you don't put any cleaner in the areas where the gas comes out!
If your burners come apart, you can let them soak in soapy water and then scrub them clean. If your burners do not come apart, you can use a toothbrush to clean between all those grimy burners.

How to Clean an Electric Stove Top
Electric stove tops can be a little tricky to clean because the coils get covered in baked-on food, but you don't exactly want to soak them in chemicals. In most ovens, you can remove the oven coils by gently pulling on them. Wipe them down with soapy water. You can use household cleaners like lemon juice or baking soda to get them clean if they are very dark and grimy.
Once the coils are out you can also remove the drip pans. These can be scrubbed clean using baking soda or dish soap. If they have some really burned on bits, a Brillo pad will take care of that. Drip pans also very easy and inexpensive to replace, so if they are beginning to rust or are too heavily soiled it may be time to get new ones. But we've found that the more you stay on top of cleaning the drip pans after a minor spill, the longer you can go before they're un-cleanable and have to be replaced. Cleaning the actual stove top is simple with baking soda, a magic eraser, a multi-surface cleaner, or a good degreaser. For details on how to remove stove top coils and how to clean drip pans, check out this article here.

How to Clean a Ceramic or Glass Stove Top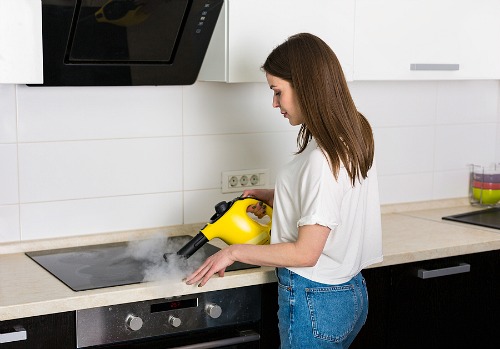 Shiny glass stove tops are lovely until they are covered in crumbs and baked-on food! To avoid a yucky mess clean up spills as they happen. But if you can't get that spill right away, here are a few methods that will leave your stove top clean again.
Wipe up spills with a gentle kitchen cleaner and a damp cloth. Then shine it up with window cleaner. You can also get the Magic Eraser back out and use it to remove greasy spills. A baking soda and water paste will also work great on this area. If a spill has sat for too long, or got burned on, you may need to use a store-bought cleaner and a scrubber and/or razor scraper. You can even steam the mess away with a handheld steam cleaner. Here are several other ways to easily clean your stove top.

How to Clean the Oven Drawer
Down below your oven sits the oven storage drawer or warming drawer (depending on your oven model). Don't forget to clean this area of your oven as well! Oven drawers are notorious for catching crumbs, but a vacuum cleaner is a great way to easily get them out. Then you can wipe out the drawer with your favorite cleaner.

Other Oven Areas to Clean
You can't see it, but the sides of your oven need to be cleaned as well. I don't know about you but food spills over the side of my oven all the time when cooking. Occasionally, pull your oven out from the wall and clean those sides. You must be very careful when doing this because you don't want to scratch the floor in front of your oven or damage the plug-in cord. Use an oven cleaner and a sponge to scrub the sides of your oven clean. Also, sweep/vacuum underneath your oven while it's pulled out from the wall. Something that has also helped us a lot is getting counter gap covers. We use them to cover the slight gap between the edges of our freestanding oven and the counter on either side, and they've helped so much to stop food and splatters dripping down the oven/counter sides!

Tips for Spot Cleaning Oven Messes as You Bake
Let's say that you notice that your casserole has bubbled over while it's cooking. You can't stop cooking and clean up the mess right away. But you can open the oven door and carefully cover the area with salt. The salt will mix with the spilled food and create a crust that will be easy to chip off later. Just make sure that you clean it up as soon as the oven has cooled. But if you use your oven often, I'd definitely recommend getting an oven liner. Oven liners make spill clean up so much easier, and this one on Amazon is BPA and PFOA free!
No one likes cleaning their oven, but it has to be done! With a little cleaner and elbow grease your oven will be sparkling clean in no time!
Do you have any handy oven cleaning hacks?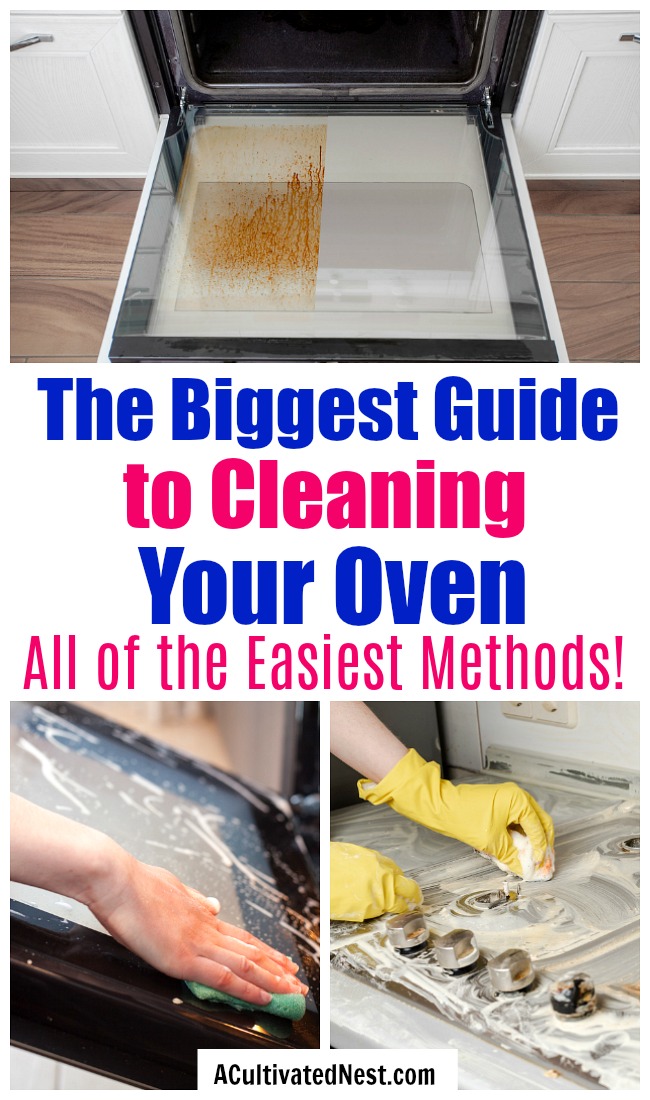 You might also be interested in: 15 Kitchen Cleaning Tips You Need To Know!