Red, White, and Blue Desserts for Your Patriotic Party.
Every party needs some tasty treats, and your Fourth of July party isn't an exception! Luckily it's easy to serve a perfect patriotic treat. All it needs to be is red, white, and blue! I've searched the Internet for the very best red, white, and blue treats out there, and I've found a lot of great ones for you to try this year! Here are 24 Delicious Patriotic Dessert Recipes you have to try!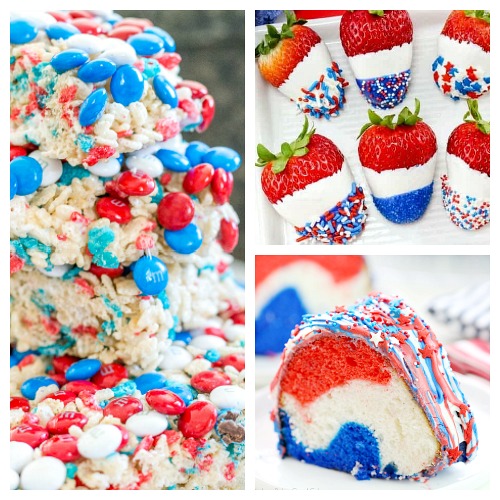 Disclosure: This post may contain affiliate links to Amazon and/or Etsy, which means that I may earn a small commission from some of the links in this post. Please see our Disclosure Page for more information.
It's amazing how many different ways you can add some patriotic flair to your Memorial Day or Fourth of July desserts! You can use food coloring, add berries, add candies, add sprinkles, etc. Which means that all of the desserts you love at other times of year probably have a patriotic dessert recipe version available! Check out all the awesome recipes below and you're sure to find some favorites!
24 Delicious Patriotic Dessert Recipes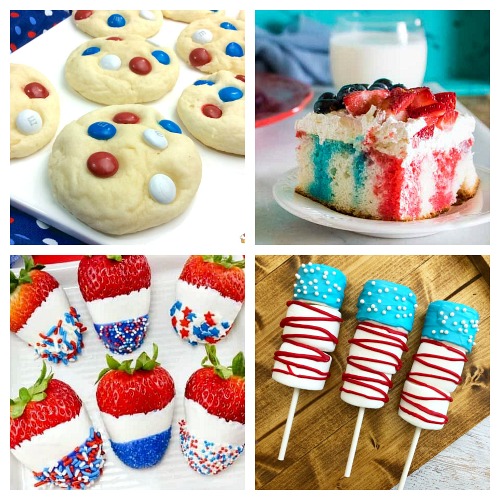 1. 4th of July Cake Mix Cookies by In the Kids Kitchen. Not much is better than cake mix cookies, if you ask me. These patriotic cookies are fun, delicious, and easy to make!
2. 4th of July Jello Poke Cake by The Country Chic Cottage. Perfect for any 4th of July celebration, this jello poke cake is so delicious! It's moist, sweet, and a whole lot of fun to make!
3. Patriotic Chocolate Covered Strawberries by Princess Pinky Girl. Chocolate covered strawberries are an easy and delectable treat!
4. Patriotic Marshmallow Pops by Everyday Savvy. Marshmallows, anyone? You can't pass up a patriotic themed marshmallow, and this patriotic dessert is so sweet and fun to eat!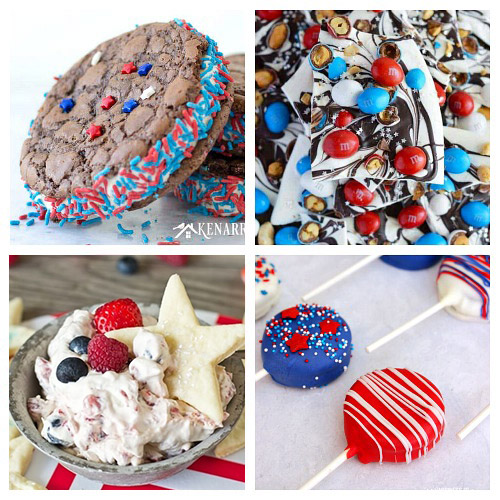 5. Brownie Ice Cream Sandwhich by Ideas for the Home by Kenarry. Brownies, ice cream, and patriotic? It couldn't be more perfect. So sweet, moist, rich, and basically the perfect Memorial Day or Fourth of July dessert!
6. Patriotic Bark Recipe by What the Fork. If you've never had bark as a treat, this is the best place to start! It features patriotic candies and is sure to be a real crowd-pleaser.
7. Triple Berry Fruit Dip by Tastes of Lizzy T. This dip is a must-have! Sugar cookies go great dipped into this rich and delicious dip recipe!
8. Patriotic Oreo Pops by Happiness is Homemade. Oreos are already a well-loved favorite so why not make them festive for the holiday? These are cute and so easy to make! Everyone is sure to love them!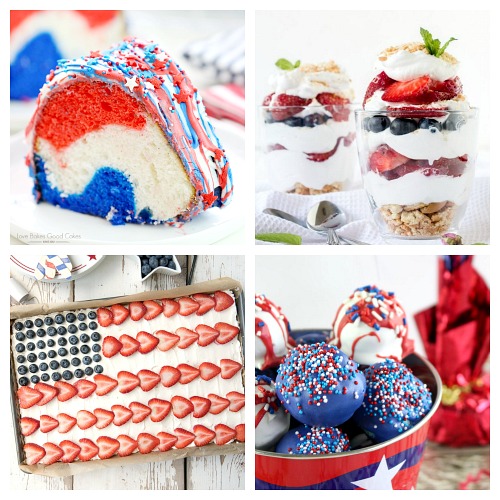 9. Firecracker Cake by Love Bakes Good Cakes. This patriotic dessert recipe just screams Fourth of July, which naturally makes it a must-bake. So moist, sweet, and fun to look at.
10. Summer Berry Parfait Recipe by Today's Creative Life. This summer berry parfait recipe is great to enjoy all summer, but especially during the 4th of July holiday. It features sweet berries topped with crumbled cookies, giving it a nice crunch!
11. American Flag Cookie Pizza by Boulder Locavore. Cookie pizzas are pretty fun to begin with, but when you make it look like a flag? It just adds to it. This is the perfect crowd-pleasing recipe for your upcoming patriotic party.
12. Patriotic Funfetti Cake Batter Truffles by Plum Crazy. Truffles can be pretty hard to avoid eating by the handful. These patriotic funfetti cake batter ones are no exceptions! A delicious sweet crunch into a moist cake center, they are sure to please a crowd of guests.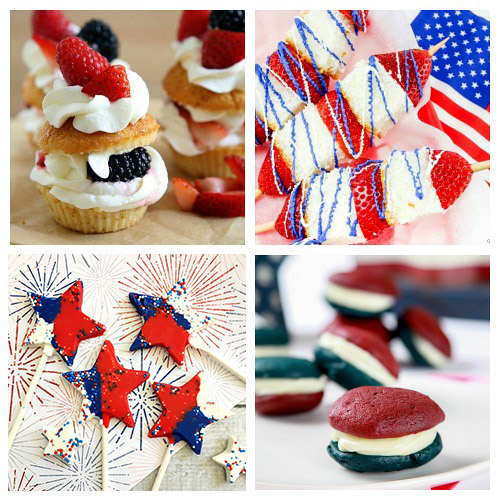 13. Triple Berry Cupcakes by Tastes of Lizzy T. This patriotic dessert gets its red, white, and blue coloring the natural way- with berries! This is a perfect summer treat!
14. Strawberry Shortcake Skewers by Oh My Creative. Skewers are traditionally made with meat and veggies, but who says you can't have a Memorial Day/4th of July dessert on a skewer? This recipe is the perfect balance of moist and sweet in a fun to eat form.
15. Chocolate Star Pops by A Cultivated Nest. This delicious stars on a stick are perfect for parties! Kids are sure to love them, too!
16. Red, White, and Blue Whoopie Pies by Baking Beauty. Whoopie pies are pretty underrated if you ask me. We love this recipe as it is the perfect balance of flavors and textures between the creamy center and moist outer layers.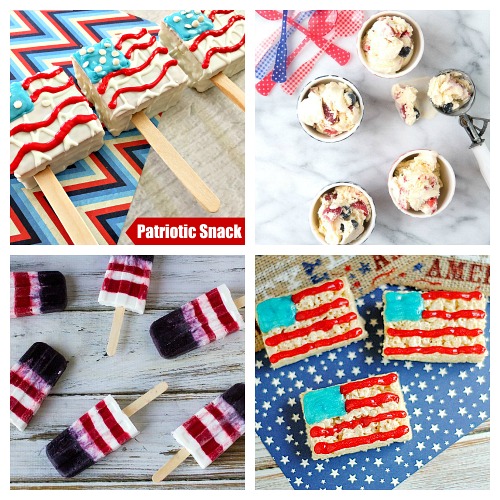 17. Patriotic Snack Cakes by Dancing Through the Rain. Doubling as a delicious snack, this patriotic dessert is a must-try! It's sweet, delicious, and a fun addition to your Fourth of July party menu.
18. Red, White, and Blue Ice Cream by Boulder Locavore. Ice cream is simply a must have treat! This recipe is simple, creamy, sweet, and so delicious!
29. Patriotic Smoothie Popsicles by Daily Dish Recipes.Smoothie popsicles anyone? They are the best creamy popsicle recipe out there and would fit in perfectly with your patriotic theme. I'm certain you'll be heading back for more!
20. Flag Rice Krispie Treats by A Cultivated Nest. If you love Rice Krispie treats, why not put a patriotic spin on them and make these cute, edible flags!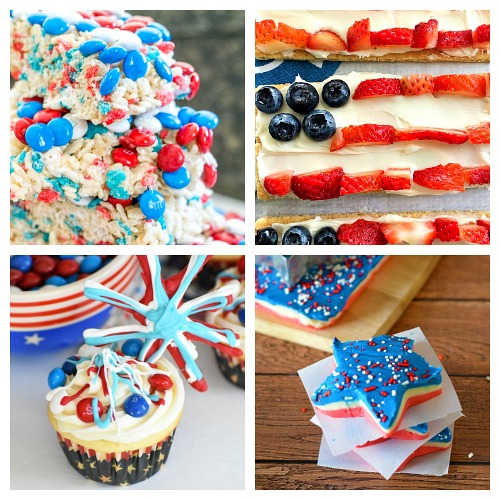 21. Fourth of July Rice Krispie Treats by See Lindsay. It took some hunting to find that perfect rice krispie recipe for the holiday. I finally landed on this one and am not disappointed! So gooey, sticky, sweet, and fun. The exact recipe you need at your party!
22. Fruit Flag Grahams by A Cultivated Nest. It's so fun to use the natural color of berries to create your patriotic dessert recipes! And this recipe is so delicious!
23. Patriotic Firework Cupcakes by Sizzling Eats. If you're looking for a sweet patriotic cupcake recipe, this is a must-bake recipe. It's a hidden surprise recipe too, because when you take a bite, candies fall out!
24. Red, White, and Blue Star Fudge by A Cultivated Nest. Everyone is sure to love these colorful (and tasty) patriotic fudge stars!
Do you make any special red, white, and blue treats for patriotic holidays?
Want to remember this later? Save these delicious patriotic desserts to your favorite Pinterest board!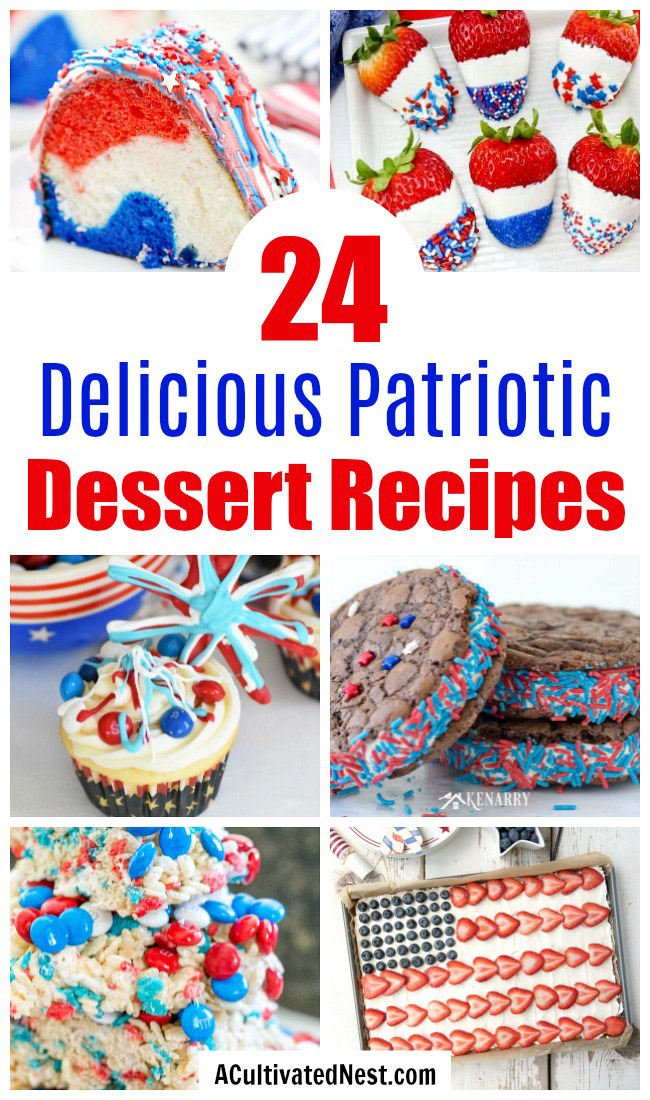 You might also be interested in: Easy DIY Patriotic Decorating Ideas