Gorgeous Front Porch Decor Ideas for Fall.
Decorating the outside of your home can be even more fun than working on the inside because you know that neighbors and people passing by will be able to enjoy your pretty decorations! When we go out for walks, we often comment on the pretty and unique ways that people decorate their front yards and porches. They just make the walks more pleasant! Get inspired with these 15 Fabulous Fall Front Porch Ideas and give your neighbors something nice to look at!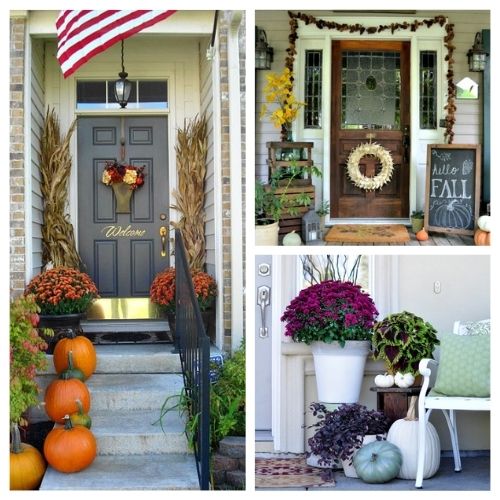 Disclosure: This post may contain affiliate links to Amazon and/or Etsy, which means that I may earn a small commission from some of the links in this post. Please see our Disclosure Page for more information.
How much you decorate your front porch is totally up to you (and your home's layout). You can decorate just around the door, or you can extend the decorations across the entire porch, and even down your front steps or walkway!
15 Fabulous Fall Front Porch Ideas
Your front porch is the first thing people see as they are heading into your home. Make it festive and inviting by adding some fall charm this year. You can go as big or as subtle as you want to! Let's take look at a few ideas that would be great to consider:
Pumpkins – You can add all sorts of pumpkins to your porch and it will be absolutely amazing. You can find them in all different colors and hues.
Corn – Whether you use actual pieces of corn or corn stalks, they are just what your fall decor needs.
Leaves – The one thing that we all know is going to happen every fall is that there is a layer of leaves almost everywhere you go. They are gorgeous colors like reds, browns, and oranges.
Flowers – Sunflowers and other fall-colored flowers are always a good idea when decorating!
1. Farmhouse Door Fall Front Porch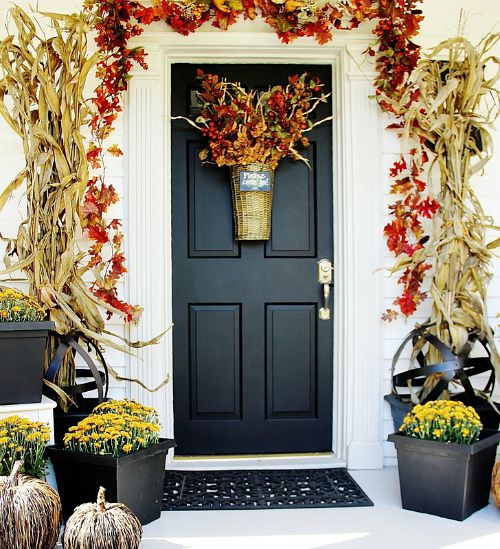 Isn't this pretty? I love the contrast between the shorter decor elements and the tall corn stalks! Check out this pretty farmhouse door fall front porch that Thistlewood Farms made!
2. Deep Fall Front Porch
If you're lucky enough to have a deep front porch, then you have even more design possibilities! Take a look at this lovely fall front porch decoration that The Wood Grain Cottage put together!
3. Small Fall Front Porch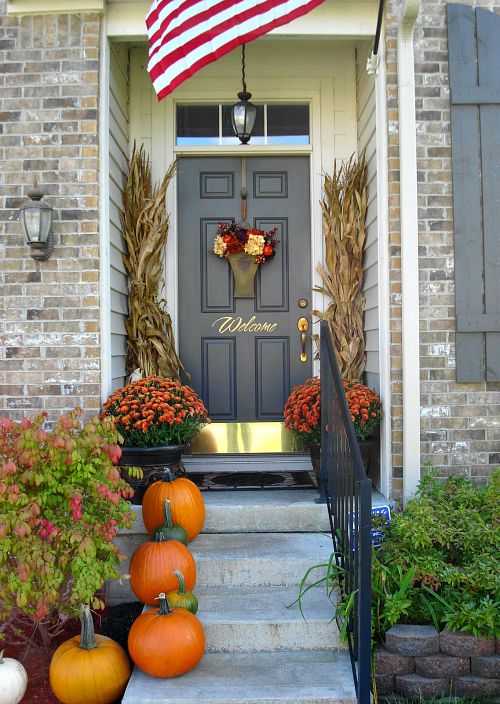 But what if your front porch is small? Don't worry, you can still make it beautiful! Get inspired by how Thrifty Decor Chick decorated her pretty small fall front porch!
4. Pumpkin Fall Front Porch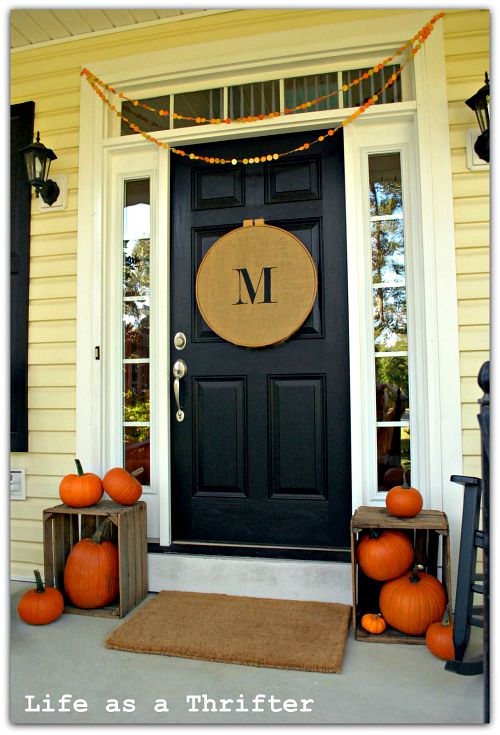 If you love pumpkins, then this is the porch for you! I imagine this would look pretty with some decorated pumpkins, too! Take a look at how Life As a Thrifter arranged her pretty pumpkin fall front porch!
5. Fall Wreath and Front Porch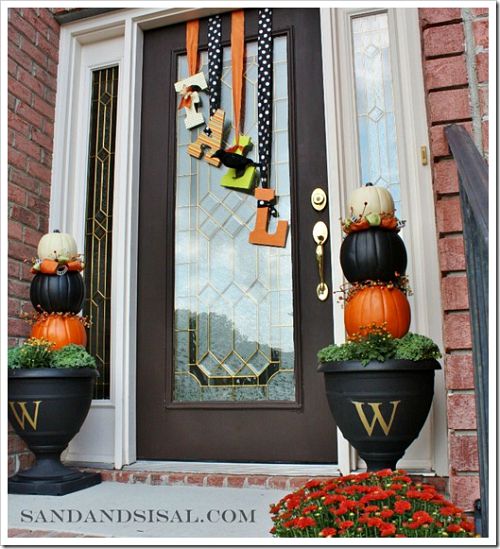 This fall front porch is perfect for Halloween and fall in general! Check out Sand and Sisal's fall front porch and DIY fall wreath!
6. Polka Dot Front Porch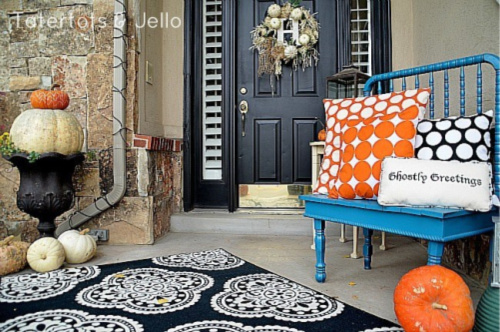 Maybe you're more inspired by elements from polka dots?? Then you'll love this fall front porch arranged by Tatertots & Jello!
7. White and Blue Fall Front Porch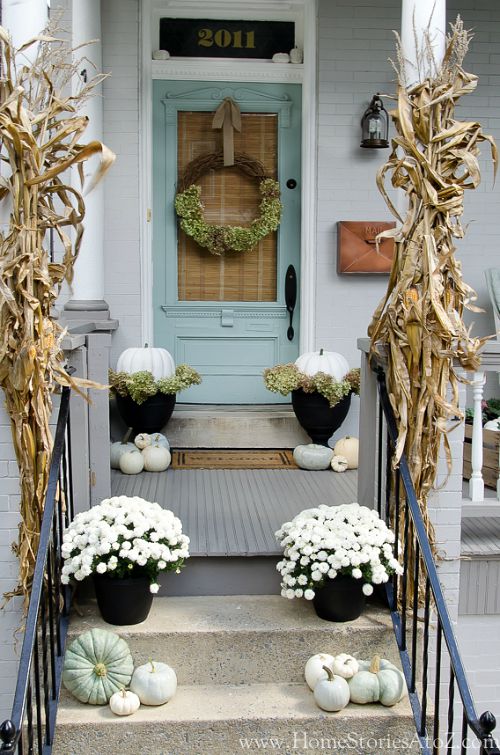 Fall decor doesn't have to be all orange and brown! If you'd rather use lighter colors, then this porch is the perfect inspiration! Take a look at the pretty white and blue fall front porch that Home Stories A to Z designed!
8. Wide Fall Front Porch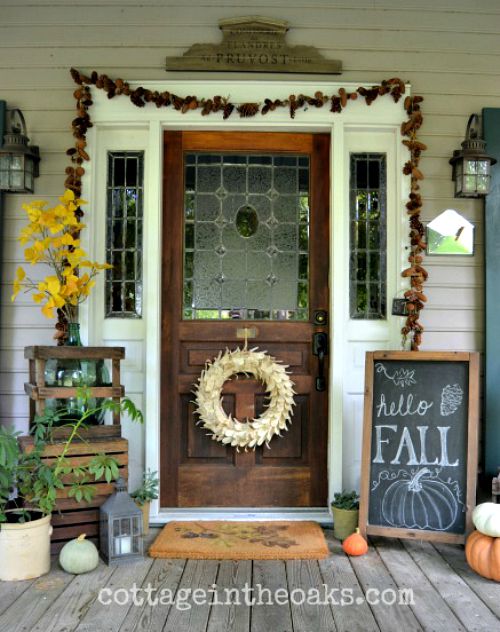 Porches come in all sizes! If yours is more wide, then you may want to arrange your fall decor like this! Get inspired with this pretty fall front porch arranged by Cottage in the Oaks!
9. Garland Fall Front Porch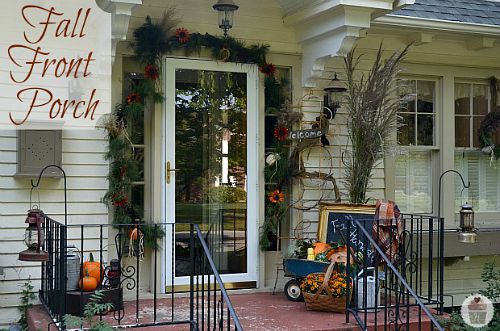 Garlands aren't just for Christmas! Take a look at the pretty fall front porch arrangement that Hoosier Homemade made with a garland!
10. Art Pumpkins Fall Front Porch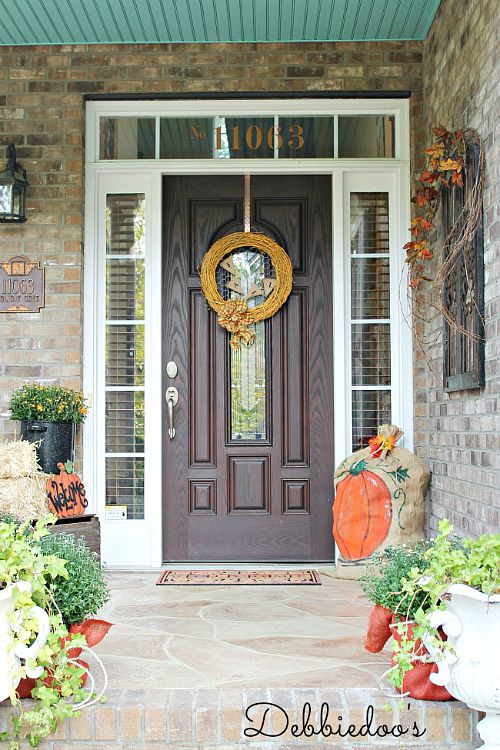 You don't have to put actual pumpkins (real or plastic) on your front porch. Instead, how about some pumpkin art or pumpkin signs? That's what Debbie Doo's did with this beautiful fall front porch!
11. Vintage Front Porch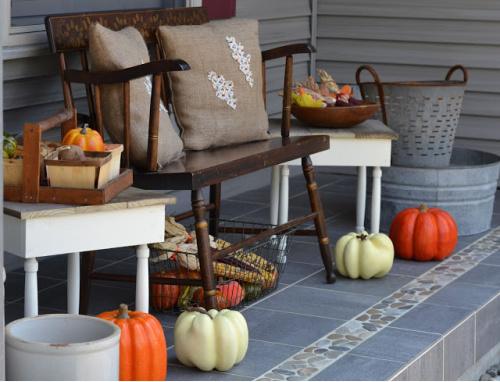 Over at the Shabby Love Blog, they blew it out of the water with this stylish and charming Vintage Front Porch.
12. Charming Fall Porch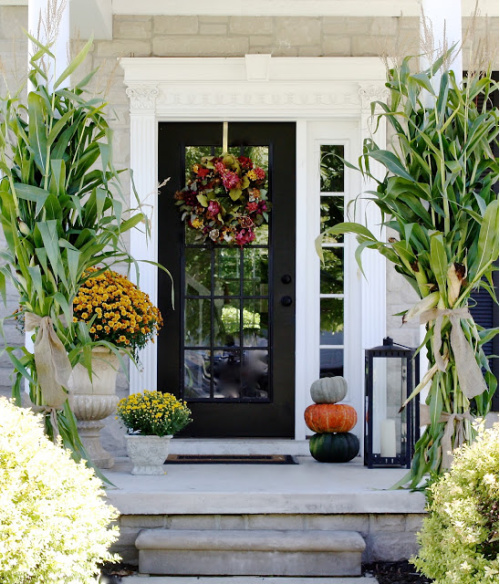 This stunning fall front porch is filled with greenery from corn stalks and has subtle pops of color. The Yellow Cape Cod did a fantastic job bringing it all together.
13. Inviting Fall Porch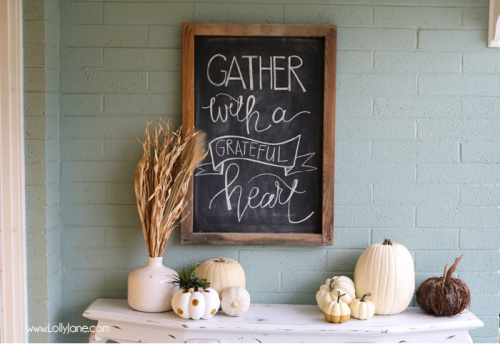 Nothing is more inviting than this delightful and welcoming front porch from Lolly Jane. I can't get over the cream colors and chalk board!
14. Vibrant Purple Porch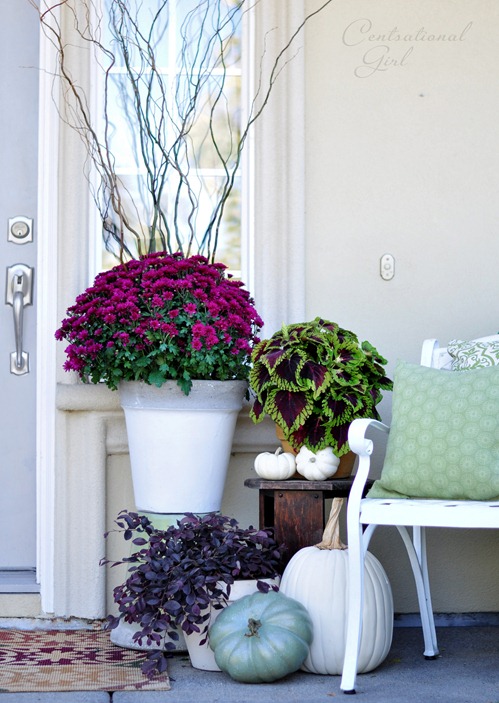 Centsational Style was brilliant when she decided to add some deep purples to her porch. This vibrant purple porch is just what you need for fall.
15. Farmhouse Style Front Porch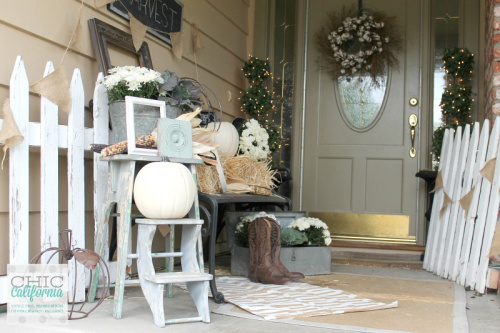 I love the collection of farmhouse style decorations and items Home Style Life used to create this stylish front porch. It's timeless and gorgeous!
How do you like to decorate your fall front porch?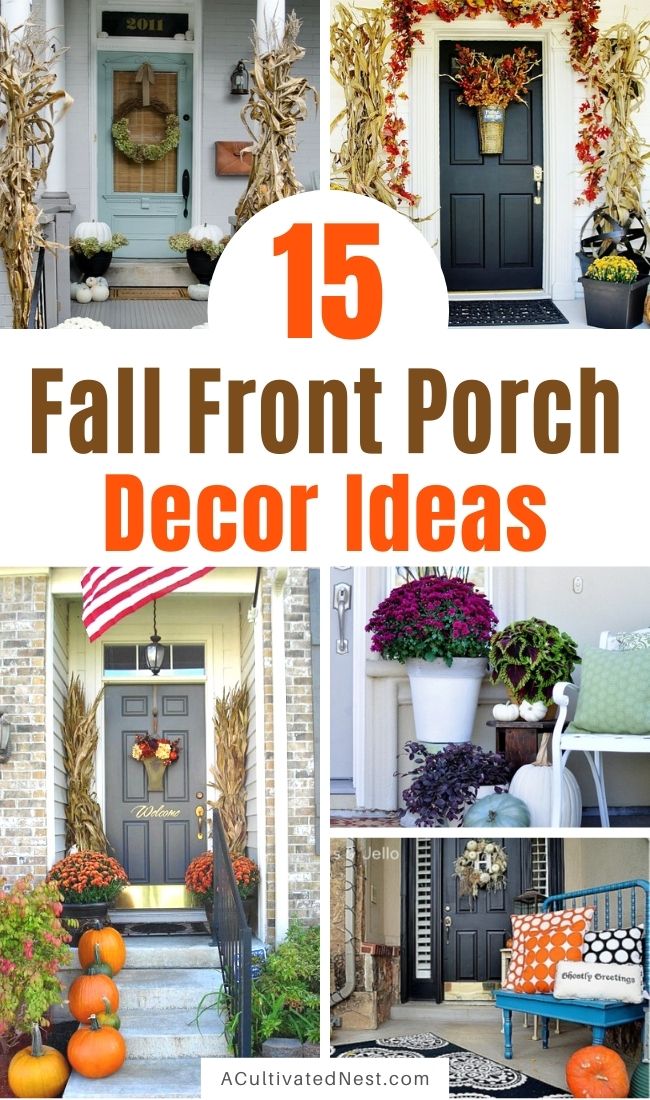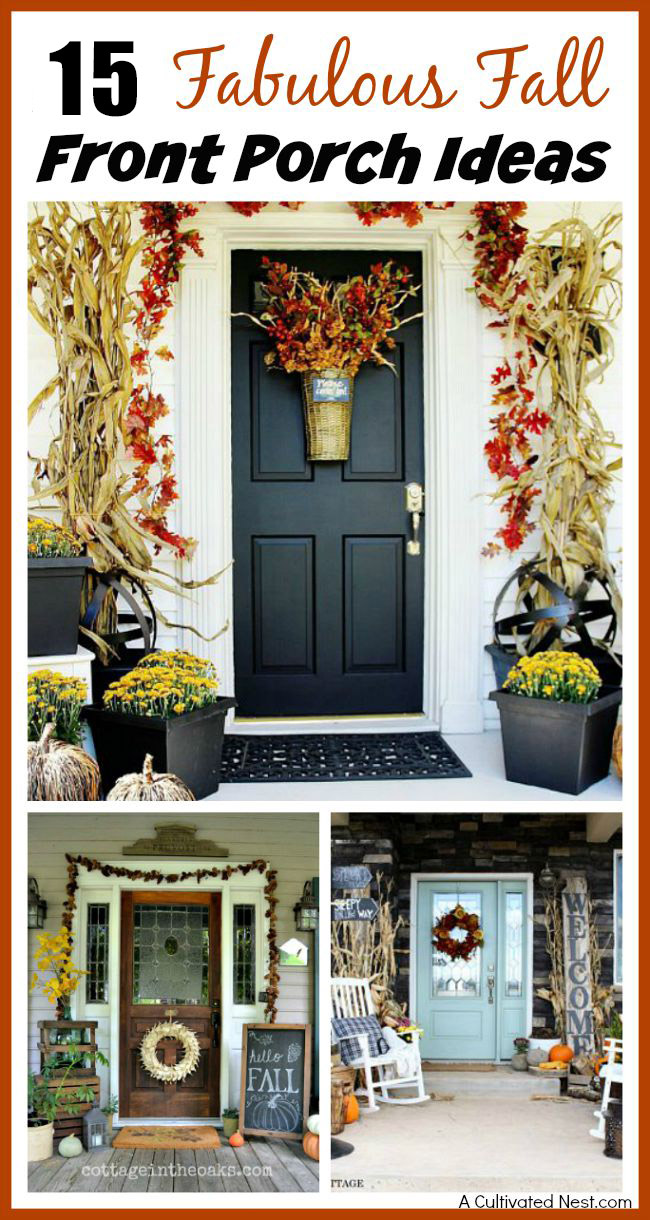 You may also be interested in: Decorating with Mums