Frugal Homemaking Tasks.
Today's homemaking is a much more luxurious version of what homemaking looked like 50-100 years ago. Washing machines, dishwashers, and even lawn mowers are way different than how they started out. And many appliances these days are "smart" and can do so much more than just their basic functions. But some of that comes at a financial cost. If you'd like to get Back to the Basics of Homemaking and be more frugal, there are several things you can do!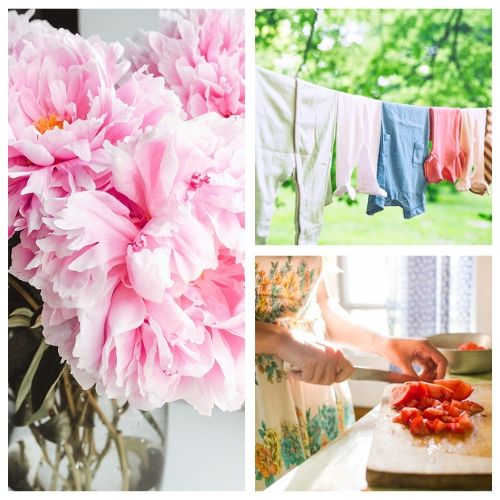 Disclosure: This post may contain affiliate links to Amazon and/or Etsy, which means that I may earn a small commission from some of the links in this post. Please see our Disclosure Page for more information.
Good homemaking doesn't require fancy gadgets or top of the line appliances. Everything you need to do to run your home well can be done with simple tools and old fashioned techniques. If you're not tech savvy, this type of homemaking can be a lot less stressful! Plus, you'll save a lot of money!
Back to the Basics of Homemaking
1. Cook More at Home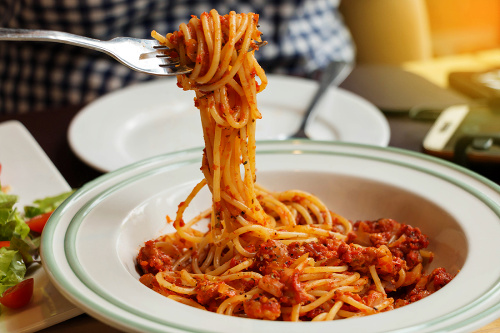 As I mentioned before, things were a lot different 11 years ago. Families didn't have the luxury of going out to eat every night. Instead, people ate at home. It saved them money. Eating at home also gave them a sense a family. One of the ways you can go back to the basics of homemaking is to start cooking and baking at home more. We have lots of easy frugal recipes for you to start out with. And get the kids to help, they'll love it!
2. Clean Your Home
It can be hard to juggle the house, kids, a spouse, and everything else in the 21st century. However, the basics of homemaking include cleaning your home, and if you do that yourself instead of hiring a cleaning company, you'll save a lot. You may find that setting themed days helps your home get clean and stay clean (Monday you clean the bedrooms, Tuesday you clean the bathrooms, etc.). A cleaning binder can help a lot with this, so you should definitely check out the printable A Cultivated Nest cleaning binder! And it's more than okay to make a chore chart and get your kids on board with doing chores and cleaning the home. Or save time and just get our printable chore charts!
3. Managing Your Finances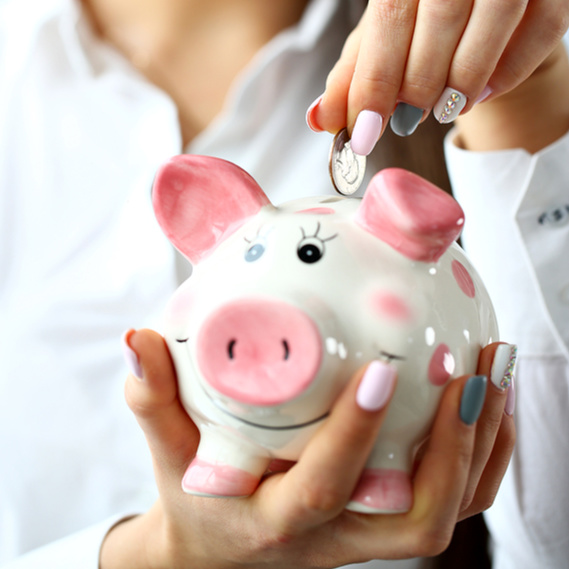 Another aspect of basic homemaking is managing your household's finances. Yes, this can be stressful, but you can do this! Managing finances includes creating a budget, balancing the bank account, paying bills on time, and keeping everything straight. If done well, you'll actually find that the end result is much less stress as you'll know that your finances are in order.
100 years ago managing household finances looked very different to how it is these days. Now there are a lot of great tools to help you. You can use budgeting apps, online bill pay, or use your bank's smartphone app to help balance your bank account. I also highly recommend using a pen and paper budget binder, which is why I created the A Cultivated Nest printable budget binder!
4. Meal Plan
Running a household is not for the faint of heart. This is especially true if you have children. There is always something that needs to be done! Having food in the house is a big job. Cooking is a big enough job on its own, but the food doesn't just walk itself into your home (unless you use a meal delivery service). You're going to have to do grocery shopping, which means sticking to a grocery budget. To make that easier, here are 50 ways to save money on your groceries. And don't forget to use your smartphone to get cash back via shopping rebate apps! Here's my post on my favorite grocery cash back app that helps me save hundreds per year on groceries!
Once you have your groceries, you'll need to figure out what to make with them. That's where meal planning comes in handy. If done right, it's both a way to reduce the stress of constantly figuring out what to eat, and a way to match up what you eat with what's on sale!
I also recommend using a recipe binder to keep track of your favorite recipes. The A Cultivated Nest printable recipe binder even comes with a printable weekly meal plan template!
5. Keep Up With Laundry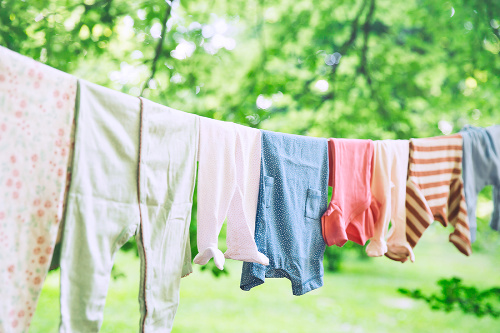 Going back to the basics of homemaking includes staying on top of laundry. It's amazing how easy laundry has gotten in some ways, but also how much harder it has become in others.
Washing laundry for a bunch of people is HARD work. However, keeping up on laundry can help you feel less stressed out. If you can create a laundry schedule that works for you, you will be better off.
Laundry includes washing clothes, drying, folding, and putting it all away. If you choose to hang up your laundry on a clothesline, you'll save money, but it may add a bit of time to your laundry schedule. But I've heard that a lot of people find hanging laundry very relaxing.
A Few Thoughts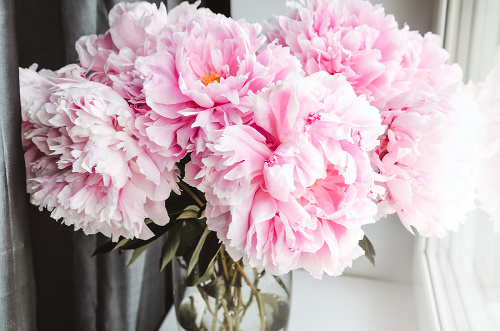 The basics of homemaking have never changed. However, the way they are done has! We are all busier now than ever. So it's important that you find a way to fit homemaking into your schedule and make it work for you. Don't worry if the way you manage your home is different from how your favorite YouTube family or Instagram family does it. Everyone's homemaking style is different, based on their schedule, their family, their home, and their own interests.
Cleaning, cooking, doing laundry, and managing money may not feel like the most prestigious job in the world. However, it's a vitally important one. Without good homemaking, a family can't thrive. So never underestimate how important your role as a homemaker is.
And while you can go very old-fashioned in your homemaking style, keep in mind that the tools in your home really can make homemaking a lot easier on yourself. So if you can fit them into your budget, you definitely should consider replacing aging appliances or getting advanced tools like a Dyson vacuum or a Roomba. And remember that you don't have to totally splurge to make those things happen. Wait for sales, buy used items, or get slightly older models. But know that the newest tech isn't critical to your success as a homemaker. Inexpensive basic tools like a broom, simple vacuum, and entry-level dishwasher are all perfectly fine.
To keep your homemaking tasks from taking all of your time, be sure to read through our many articles on budgeting and cleaning, plus our frugal recipes!
Which of these basic homemaking tasks do you feel is most important? Which one do you struggle with the most?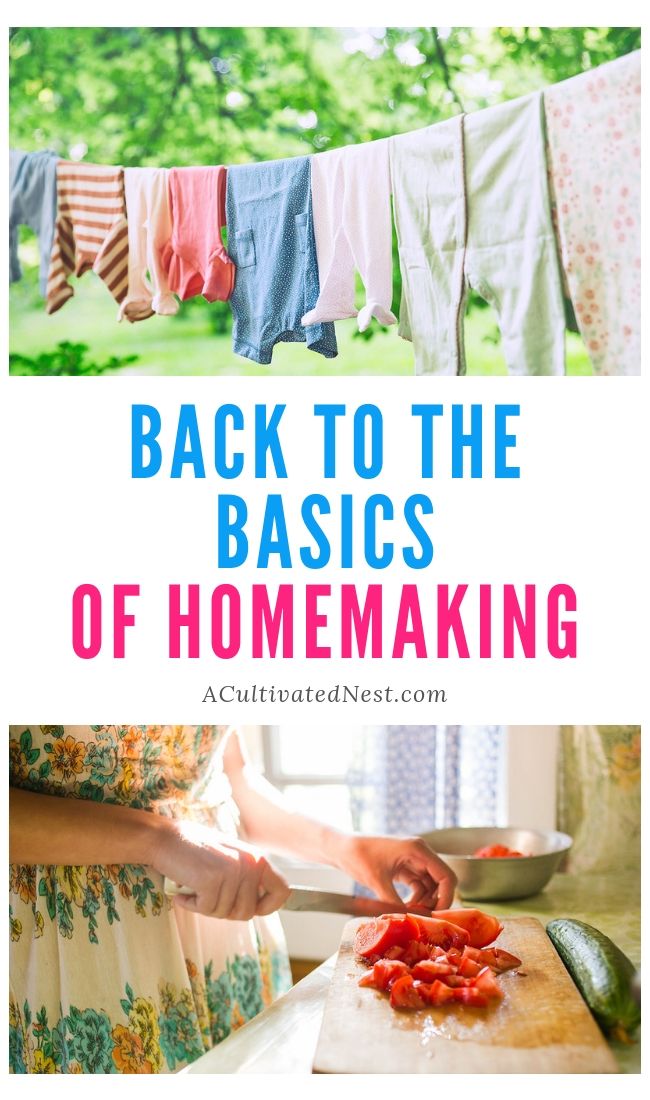 You might also be interested in: 7 Daily Disciplines for Every Homemaker