Cooking and serving food is a necessity to life. It is a good idea to plan your meals in advance to save yourself the trouble of standing in the kitchen not knowing what to make… or worse, needing to go to the store for that one ingredient you don't have! But nowadays, you have a couple options when it comes to meal planning. In particular should you DIY your meals or use a meal delivery service? Let's look at the pros and cons!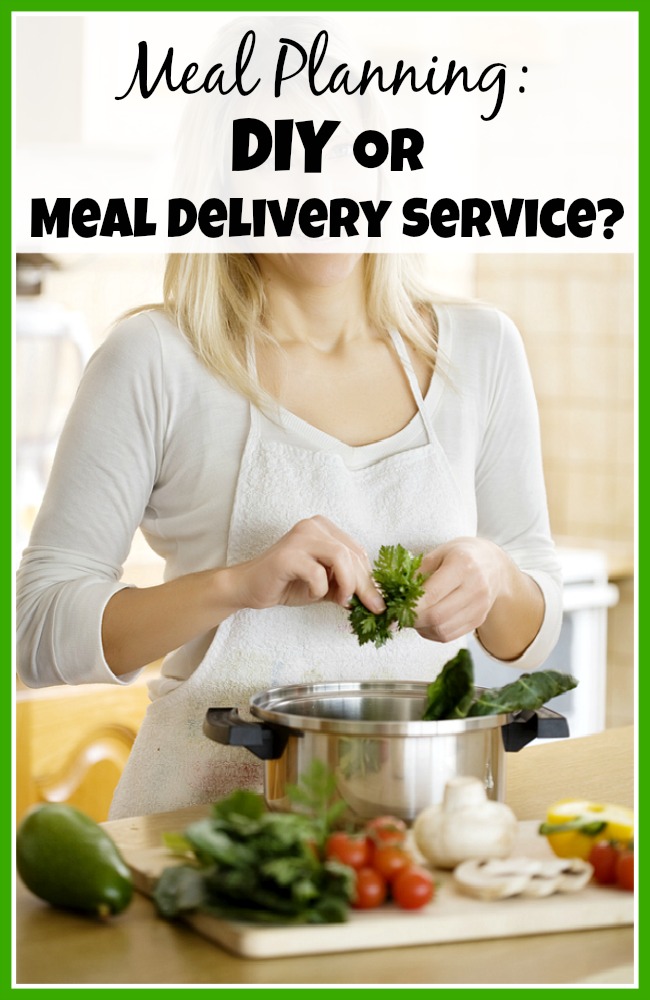 Disclosure: This post may contain affiliate links to Amazon and/or Etsy, which means that I may earn a small commission from some of the links in this post. Please see our Disclosure Page for more information.
If you're interested in meal delivery services, nowadays you have several to choose from. Maybe even too many to choose from! One of the most popular services is Blue Apron. They send you pre-measured ingredients, and offer a lot of tasty recipes!
Meal Planning: DIY or Meal Delivery Services?
For some, meal planning is a fun and enjoyable task in the kitchen. For others, the thought of spending so much time scouring the Internet for new recipes plus shopping and cooking is a real headache.
Thankfully, you have options when it comes to planning your family's meals. You can choose to do it all yourself with the help of some cookbooks or websites. On the other hand, you can just give all that work up to a meal delivery service which will deliver the ingredients for delicious meals (or even the meals themselves!) right to your door.
Let's take a look at both options. Hopefully this will help you decide which method of meal planning is right for you!
Pros of DIY Meal Planning
Some may choose to simply do their meal planning on their own. There are lots of perks to doing so, including:
Freedom to choose what you serve your family. When you browse Pinterest or food blogs for inspiration, you can put together a weekly or monthly plan that you know your family will love.
Sticking to the basics. Doing your own meal planning lets you decide how adventurous you want to be with your recipes. You may plan with staples like tacos, pizza and spaghetti – things that are quick and easy to fix.
Save money. If you shop on a tight budget, DIY'ing your meal plan may make more sense for you. You can browse sales ads from week to week, planning your dinners around low prices so you don't go over your budget.
Pros of Meal Delivery Services
Save time. Once you place your order online, you are done until the food arrives at your door. It takes out the guesswork of what's for dinner, so there's no wasted time trying to figure out meals.
Prevent impulse buys. Since you won't be grocery shopping, meal delivery services take out the temptation of buying more than what's on your list.
Help you try new meals. These services usually offer inventive meals you may never try on your own. Even if you need to eat in a certain category (gluten-free, vegan, etc.), meal delivery services can freshen up your everyday recipes.
Improve your cooking skills. Some services, such as Blue Apron, provide members with interactive videos and tutorials to help you out in the kitchen. If you are new to cooking, or aren't feeling too confident in your skills, these may be a great incentive for you.
Why Not Both?
It's totally possible to DIY and use meal delivery services for your meal planning. If you are pressed for time during certain months of the year, you can incorporate both to save time and money, and to relieve any stress you feel about cooking and serving healthy meals to your family.
Have you ever used a meal delivery service?
This post contains affiliate links to Blue Apron. Please see our Disclosure Page for more information.
You might also be interested in: