DIY Mother's Day Jar Gifts.
Mother's Day is right around the corner! Skip the stores and try making something this year. Your momma is sure to love something special that you made especially for her. Imagine her face lighting up when she opens her lovely homemade gifts! She is going to be so happy. Here are 10 Pretty Mother's Day Gifts Using Jars to get you started.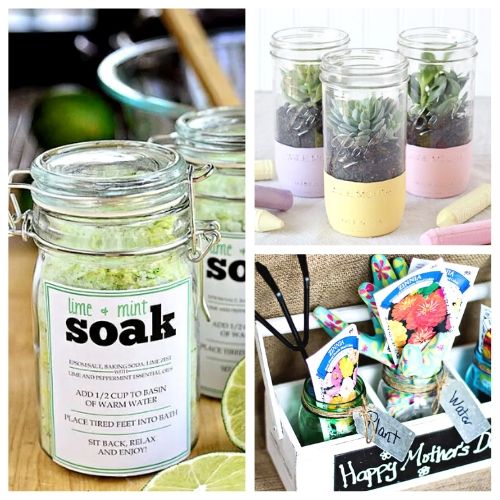 Disclosure: This post may contain affiliate links to Amazon and/or Etsy, which means that I may earn a small commission from some of the links in this post. Please see our Disclosure Page for more information.
Your Mother, Mother-in-law, sister, or friend will love these Mother's Day gifts using jars! I find that making homemade gifts is so much fun for me, but they always seem to love them. Store-bought gifts have a time and a place for sure, but something homemade means someone took the time to make something, especially for me. What could be more thoughtful than that?
10 Pretty Mother's Day Gifts Using Jars
Showing how much you love your mom or dear family member is so simple with these thoughtful gifts. It's important to remember she is going to be excited that you remembered her, so it doesn't have to be fancy. Remember these tips when you get started:
Use her favorite colors. If you know what colors she loves, include them in the gift. She will enjoy it even more!
Make these jars for friends, neighbors, teachers, and daycare workers too. Many of those moms don't realize how important they are to your family. Show them with a little memento.
Use various types and sizes of jars. If you are making several gifts, you can use a variety of jars. You don't have to stick to just one kind. You can even reuse jars you have saved over the years too. This is a great frugal option.
1. Painted Mason Jar Succulent Planter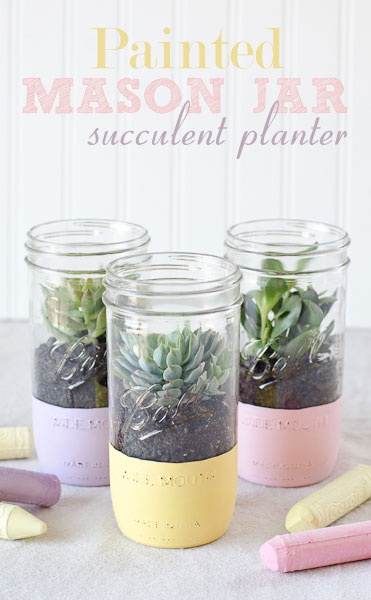 This painted mason jar succulent planter from The Golden Sycamore is gorgeous. Mom is going to feel extra special knowing you made such a lovely and delightful gift.
2. Mason Jar Picture Frame Vase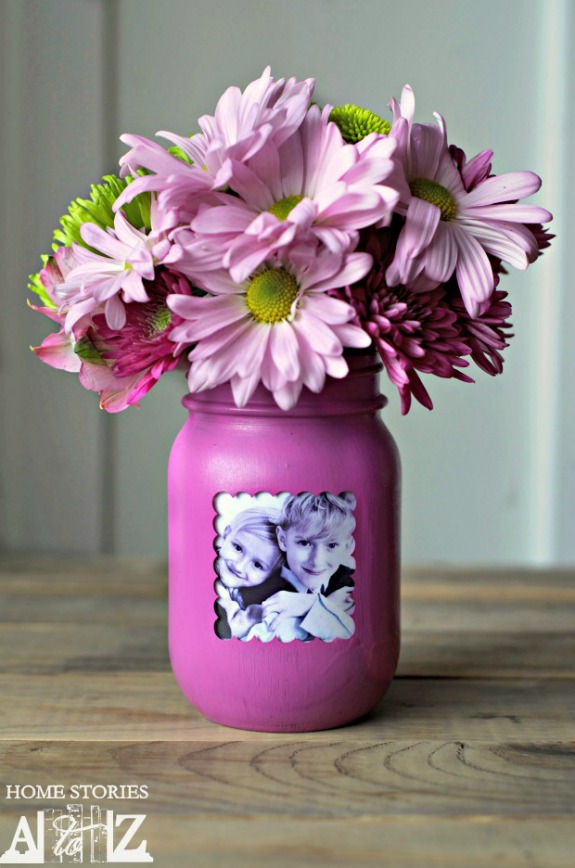 What could your mom possibly love more than flowers and a picture frame vase? Home Stories A to Z thought outside the box when they came up with this gorgeous idea.
3. Spa In A Jar Gift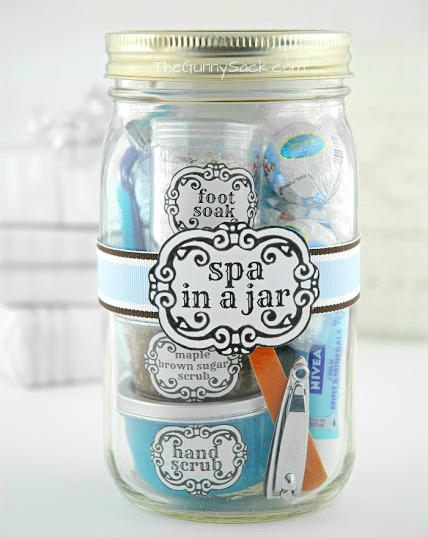 Put together your own Spa in a Jar like this one from The Gunny Sack. Every mom just needs some time to relax because she is so busy taking care of everyone else. This is a terrific gift idea!
4. Lime & Mint Soak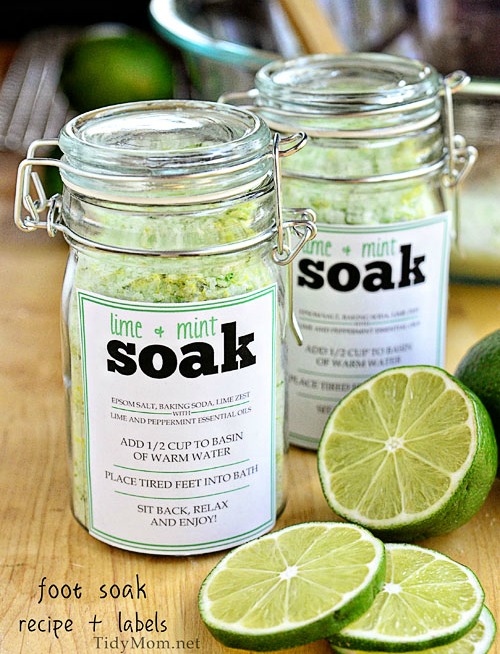 You are going to want to make some of this DIY Lime and mint foot soak for yourself too!  Tidy Mom did an amazing job of making something creative and incredible too.
5. Mason Jar Herbs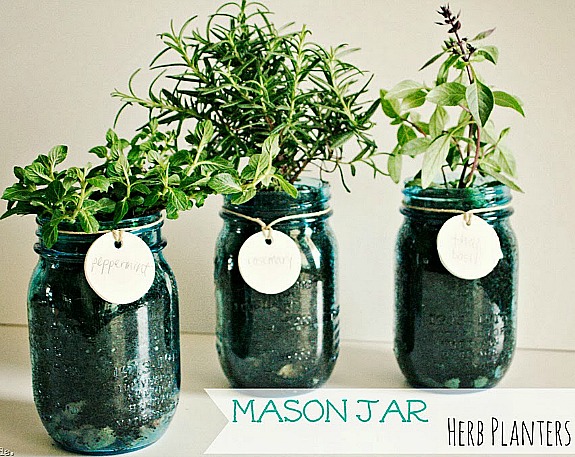 These Mason jar herb planters from home.made are fabulous for the foodie in your world. It's so wonderful to have all the herbs you need right on hand any time you need them.
6. Lemon Sugar Scrub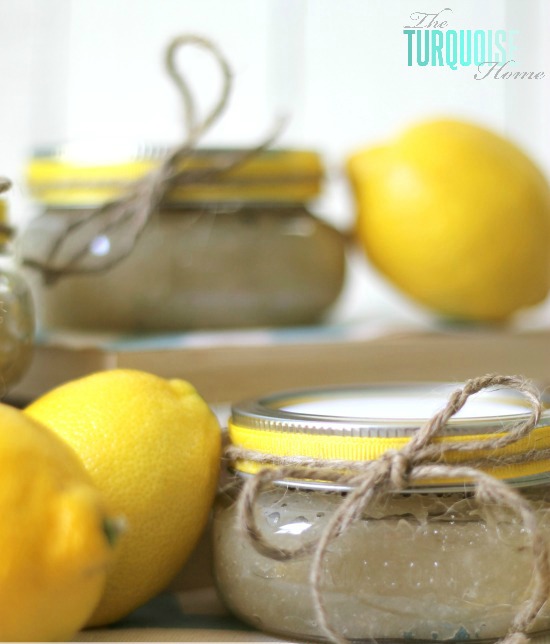 The Turquoise Home created this irresistible DIY lemon sugar scrub. Not only does it smell heavenly, but it also leaves your skin so smooth and silky feeling.
7. Mommy Survival Kit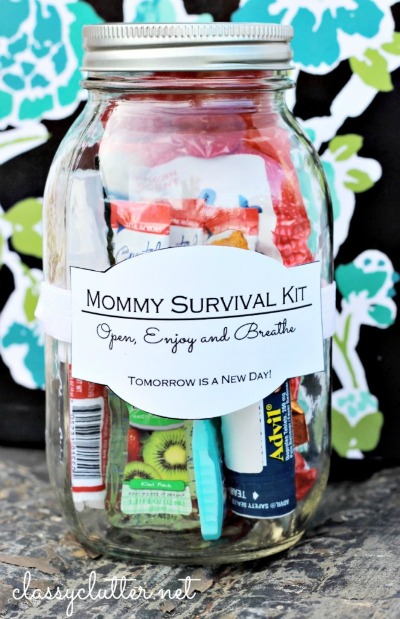 Classy Clutter was super thoughtful and came up with a Mommy Survival Kit in a Jar. It's filled with all the things moms need to get through the day. Perfect for traveling or keeping around the house. This is a cute gift idea any mom is going to love.
8. Love In A Jar Gift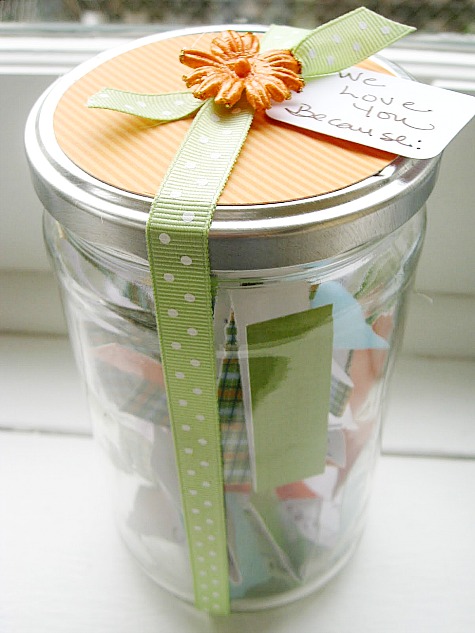 We love you because… New Nostalgia's DIY Mother's Day jar gift idea has everyone in the family fill out slips of paper to put in the jar. There is a good chance this gift is going to make your mom cry, but that's okay; they will be happy tears.
9. Apothecary Jars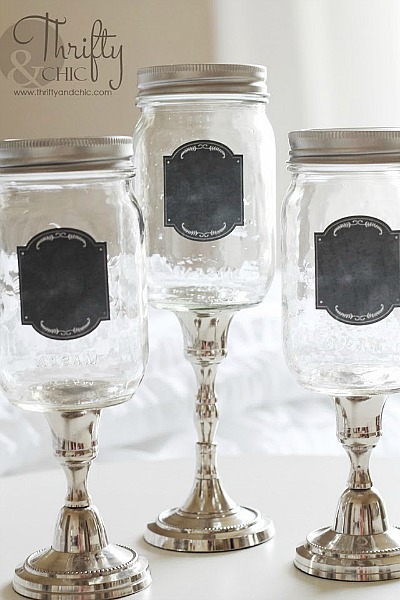 Make these cute apothecary jars from Thrifty and Chic and fill them with Mom's favorite candy, tea, or give as-is, and she can fill them.
10. Mason Jar Gardening Gift Set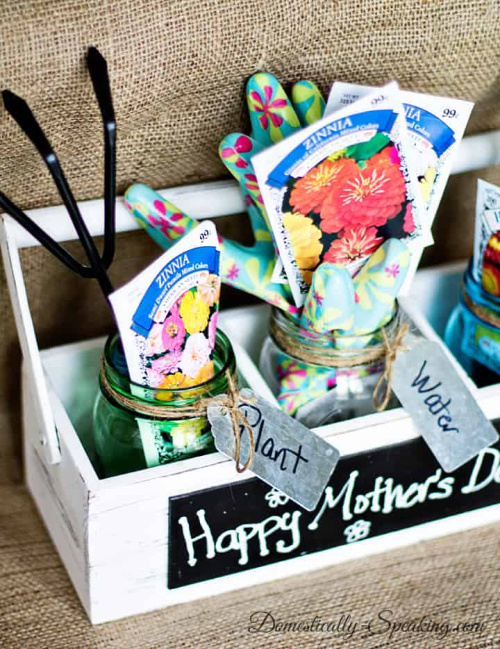 If your momma loves gardening, she is going to go wild for this Gardening Mason Jar gift set. It's adorable, and Domestically Speaking did a great job coming up with something incredible.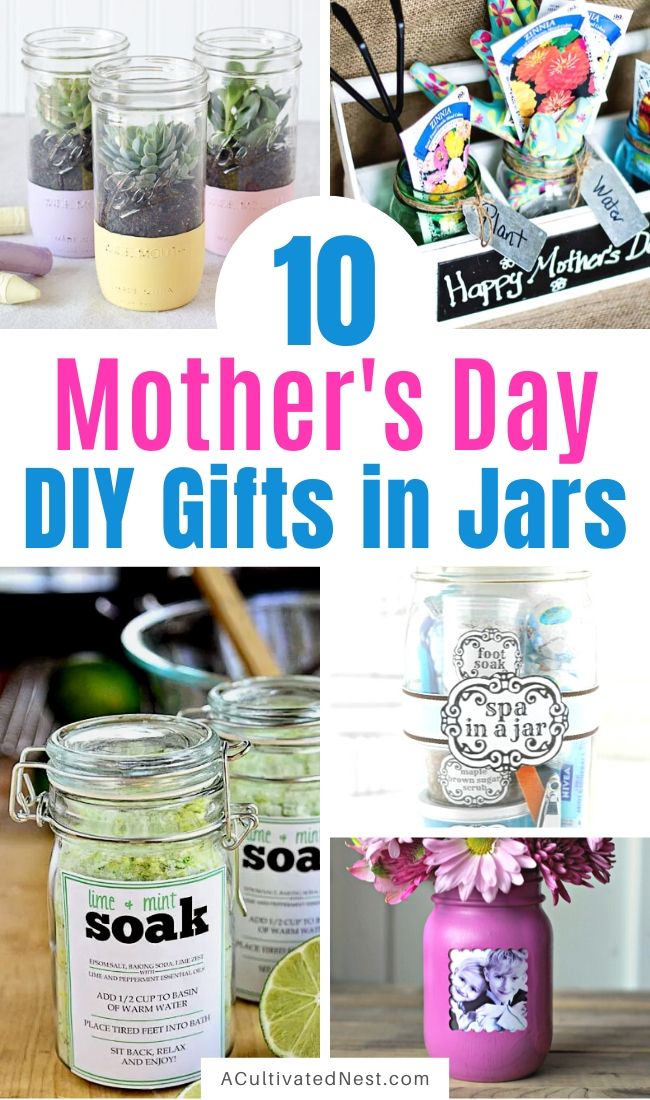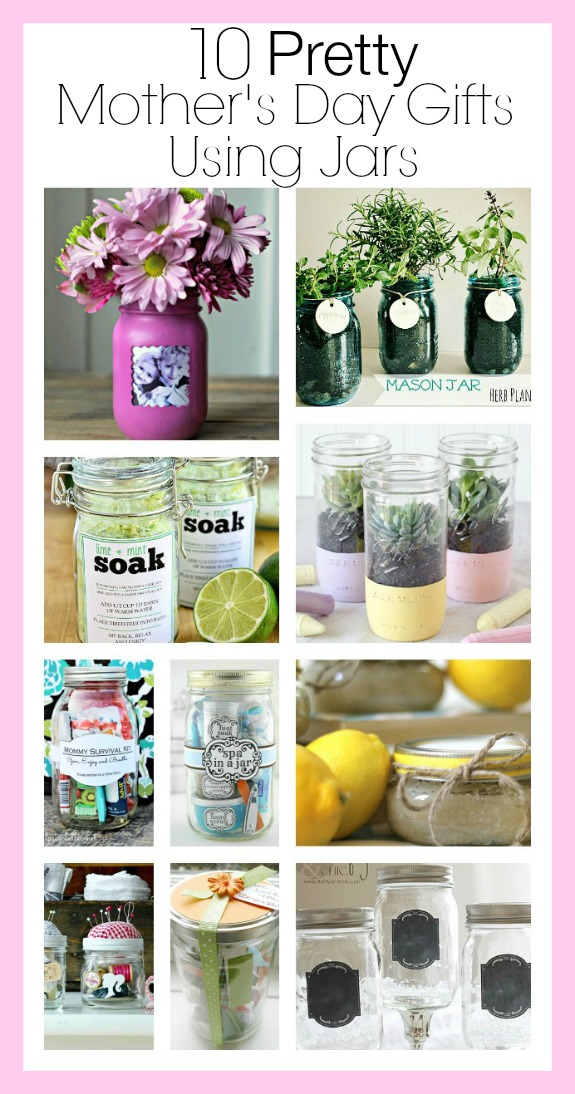 You might also be interested in: 10 DIY Mother's Day Gifts Any Mother Would Love